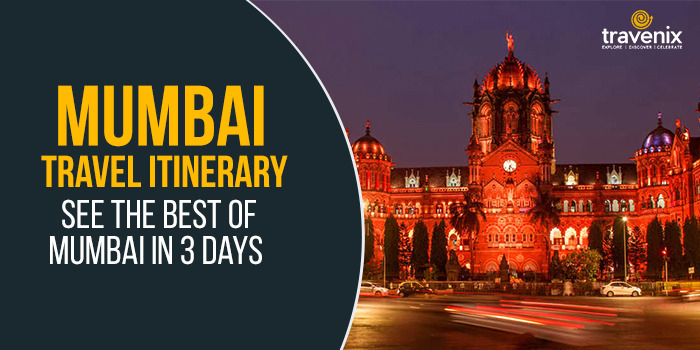 Tourist Guide – 3 Days Itinerary to See the Best of Mumbai
Known to be one of the most spectacular skylines in the world, Mumbai boasts of an impressive display of skyscrapers and is one of the most exciting places to explore. The dining, shopping and nightlife options, plus world-class shows and attractions just add to the beauty and charm of the city.
As most trips to Mumbai reveal their story, here is a three-day itinerary, which will take you to all the great places this ever-surprising entertainment and finance capital has to offer. However, if you have less time to explore Mumbai, our 1 Day Mumbai Travel Itinerary may help you in deciding on which places shall be explored.
3 Day Mumbai Travel Itinerary From Day Life To Nightlife
The 3 day Mumbai travel itinerary reveals the top things to see and do in Mumbai.
Day 1 in Mumbai
On your Day 1 in Mumbai, we suggest you to have breakfast at your hotel and then leave for the sightseeing. The very first location to be visited in the morning on Day 1 is The Gateway of India.
Destination 1 – Gateway of India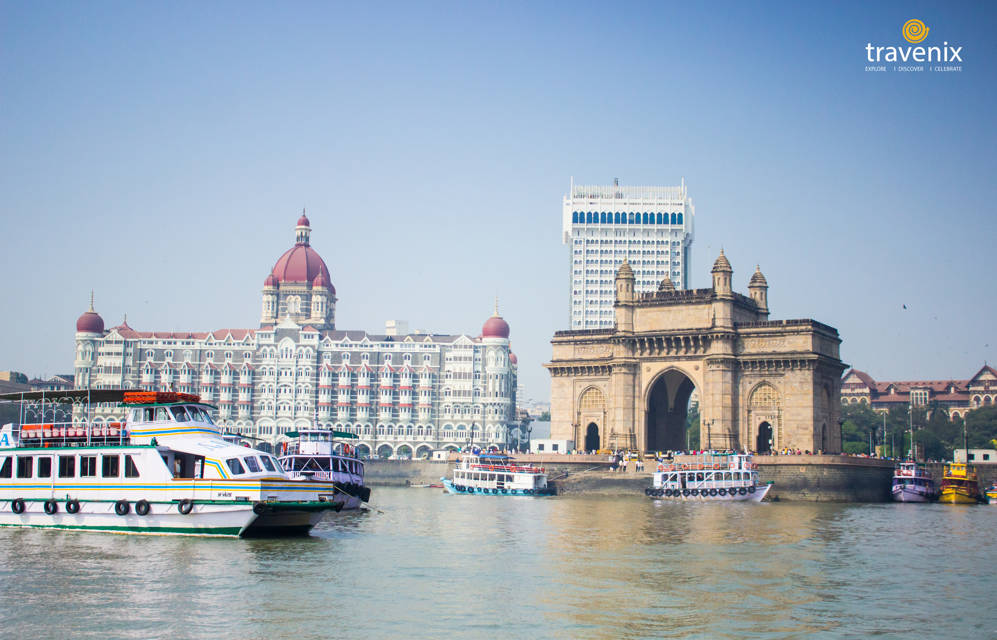 Post breakfast around 9 AM, it is the time to reach Gateway of India. Situated at Apollo Bunder, the Gateway of India is the most renowned landmark of Mumbai and is the beginning stage for most sightseers who need to explore the city. Planned by the British architect, George Wittet, this monument is seen as an incredible landmark which reveals about and commemorates the visit of King George V and Queen Mary to Mumbai.
The foundational stone of this historic monument was set somewhere around 1913. The entrance is 26 meters high and united with four turrets. The lattice work which is carved on stones is highly mind-boggling. The curve alone was worked at the expense of 21 lakh rupees. It is designed in Indo-Saracenic style and seems like a cross breed of the Arc de Triomphe in Paris.
The Gateway faces the tremendous Arabian Sea, and is close to Mumbai's another fascination, Marine Drive, a street running parallel to the ocean. It is visited by a large number of individuals over the world consistently and is a noteworthy figure in the lives of the general population of Mumbai, as the Gateway characterizes the loftiness of the city that is the climax of both, memorable and present day social condition.
Best Time To Visit Gateway Of India
The Gateway of India is open 24 hours on all days of the week. However, if you want to enjoy the beauty of the place and the Arabian Sea, you are advised to visit there early in the morning. That time you can find beautiful birds chirping around, the rising sun adding to the beauty of the sea and surroundings.
Entry Ticket Price at Gateway Of India
There is no cost or ticket to be purchased to see Gateway of India. It is an open public place which can be visited free of cost.
Destination 2 – Elephanta Caves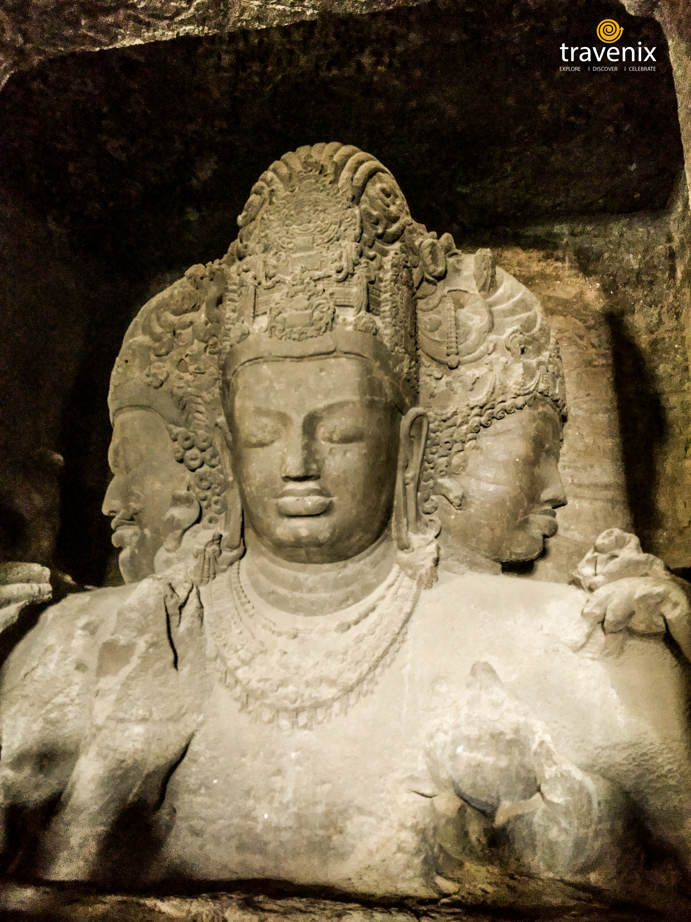 From The Gateway of India, it's time to head toward Elephanta caves. To reach Elephanta Caves, you have to board a ferry from The Gateway of India. Found on the Gharapuri Island, this is another incredible vacation destination in the region of the enormous Mumbai metropolis.
Just 10 kms away from The Gateway of India, there is a quiet and picturesque Island called Elephanta Island. The island is named so because of its resemblance to an elephant. Therefore, the caves on the island are referred to as Elephanta Caves which have also secured a place in UNESCO Heritage List. The caves date back from 5th century CE.
The entire area of the cave is 60,000 sq ft. As soon as you enter the cave, you find a massive hall where a large statue of Maheshmurti – a three headed Lord Shiva Sculpture is placed. Likewise there are other Shiva statues too, namely 'Shiva Nataraja' and 'Ardhanarishvara'. From the island one can enjoy the beauty of sea and soak in the nature around.
Not only this, on the island if you climb s little uphill, you will be pleasantly surprised by the shopping options you will find there on the island. From sculptures to paintings, clothes to jewellery, you can find many amazing items. This way you can get home some exclusive souvenirs from Elephanta.
Best Time To Visit Elephanta Caves
The first ferry toward Elephanta Caves from Gateway of India leaves at 9 AM every morning. So, it is good if you reach there before and reserve a place for yourself. In the evening, the last ferry that comes from Elephanta Caves to Gateway of India is at 5 PM. So, plan your visit between 9 AM and 5 PM.
Entry Ticket Price at Elephanta Caves
To reach the caves, you have to travel on a ferry or a boat from Gateway of India. The ticket price for a super deluxe boat is about ₹ 200 per adult and nearly ₹ 90 per child. However, if you want to go by an economy boat, you will be paying lesser amount than the deluxe boat. The entry ticket to Elephanta Caves is ₹ 60. You can also enjoy a toy train ride there, which is for just ₹ 10.
Destination 3 – Colaba Causeway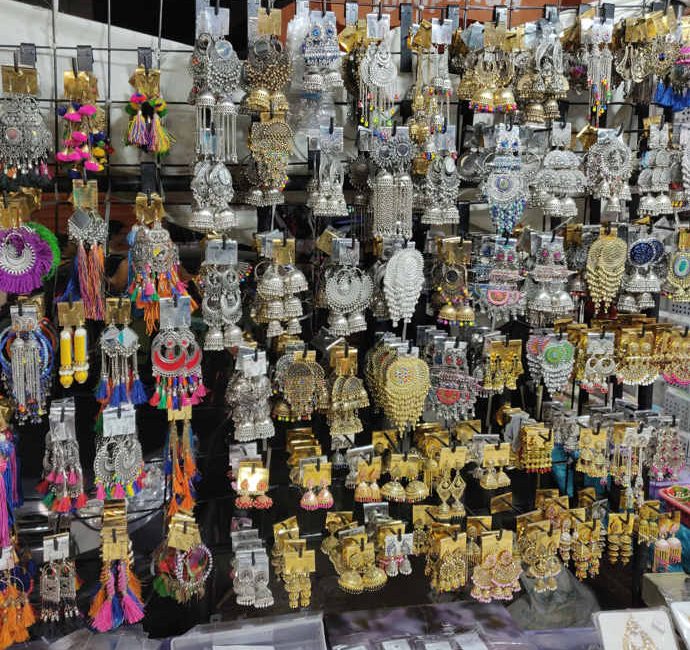 Now it's time to have an authentic Mumbai style lunch before moving ahead for the day. For lunch, you can reach Colaba which is near The Gateway of India. Ancient cafes like Leopold Café, Mondegar Café serve multiple cuisines where you can have your lunch.
Post lunch, you can explore the Colaba Causeway, which is a local market at Colaba. There you can find almost everything from ancient and traditional jewellery to galaxies of bags and footwear, from exotic shawls to T-shirts with unique slogans and mottos. You can also find some amusing household items and accessories, unique perfumes and precious stones. To get the best price, you have to have excellent bargaining skills.
Best Time To Visit Colaba Causeway
Colaba Causeway market opens at around 3.30 PM and remains open till late at night. So in between, you can visit there and do your shopping.
Entry Ticket Price at Colaba Causeway
Prices of the items at the market could be a little high. Therefore, your presence of mind and bargaining skills can help you save some percentage of your hard earned money.
Destination 4 – Chhatrapati Shivaji Terminus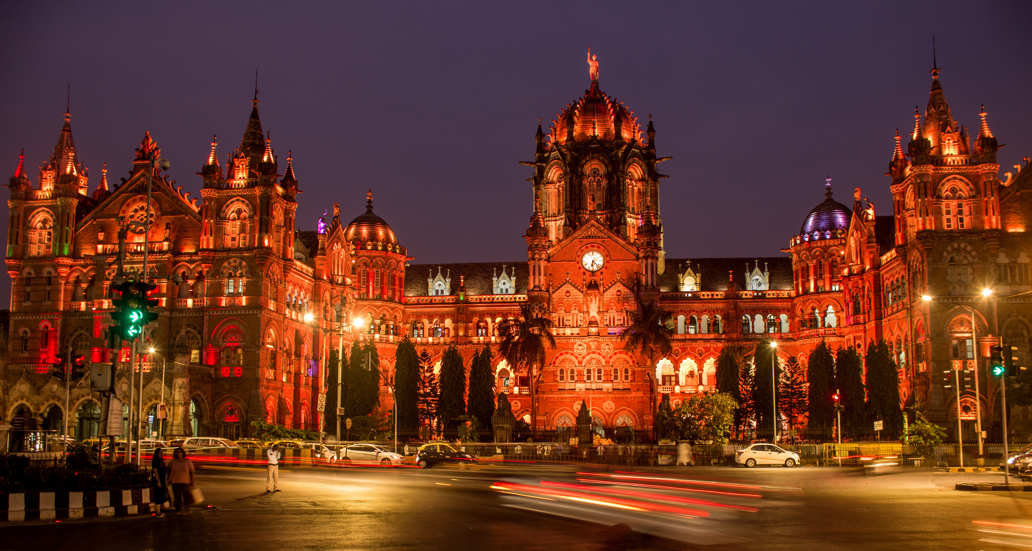 Post your shopping at Colaba Causeway; it's time to head toward the famous historic monument of the city previously known as Victoria Terminus but presently Chhatrapati Shivaji Maharaj Terminus (CSMT); it stands high among the top 10 railway stations in the world. For approximately 130 years, the iconic monument has stood tall and has become the symbol of Mumbai.
The monument is designed in Victorian Gothic Style, which reveals a blend of themes derived from Indian Traditional Architecture. The turrets, pointed arches, eccentric ground plan, wood carving, tiles, ornamental iron, brass railings, and grills just add to its aesthetics.
This terminus is always crowded and has an important role to play as this is essentially a transit point where people get on or off the suburban or long-distance trains and make their way towards their destinations.
Best Time To Visit Chhatrapati Shivaji Terminus
The terminus looks attractive during the night. So by the time you reach there, it will be almost dark or getting dark. Then you can have a full-fledged view of this beautiful historic monument.
Entry Ticket Price at Chhatrapati Shivaji Terminus
To have a detailed view of the terminus, you have to pay no entry fee. It is free of cost to visit.
Destination 5 – Girgaon Chowpatty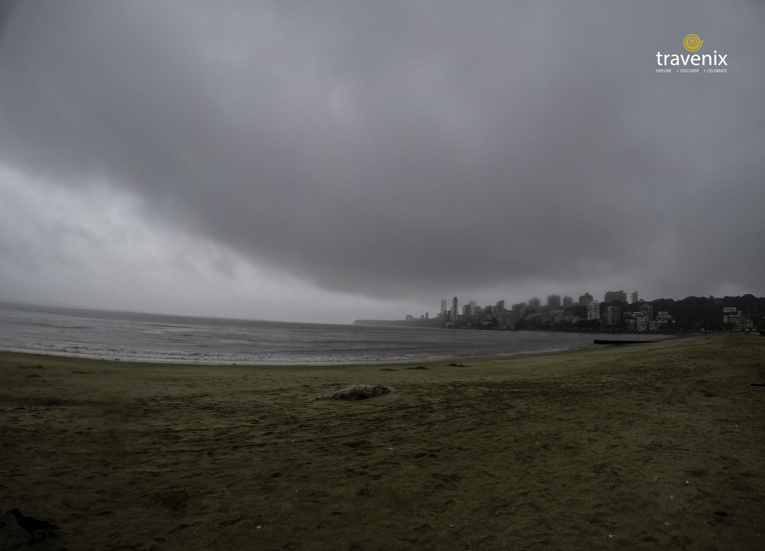 Since its dusk, for day 1 the last destination to be visited will be Girgaon Chowpatty. It is one of the most famous points in the city. When it is dark and the street lights are on, the beach looks mesmerizing. This place is famous for astounding walkway, beautiful viewpoints, and brilliant construction.
Here you can enjoy authentic Mumbai Street Food like Vada Pav, Pav Bhaji, Gola, Kulfi, Pani Puri and many more. From there, you can enjoy the beauty of Marine Drive which is just 10 minutes away by foot. 
Best Time To Visit Girgaon Chowpatty
Since it is a beach, it is open throughout the year. You can visit here anytime and enjoy the serene nature and beauty of the place. However, the night time is the best to roam around here as, among the lights, the walkway comes alive.
Entry Ticket Price at Girgaon Chowpatty
There is no entry fee to visit this place.
Day 2 in Mumbai
On Day 2, we will cover Sanjay Gandhi National Park and Global Vipassana Pagoda. The best time to leave for the place is around 8 AM. However, before leaving for the destination, you should have your breakfast at your hotel or you can have dosa or poha while making a stop at some café or restaurant at Borivali. You are also advised to keep some snacks handy with you for a quick bite. 
Destination 1 – Sanjay Gandhi National Park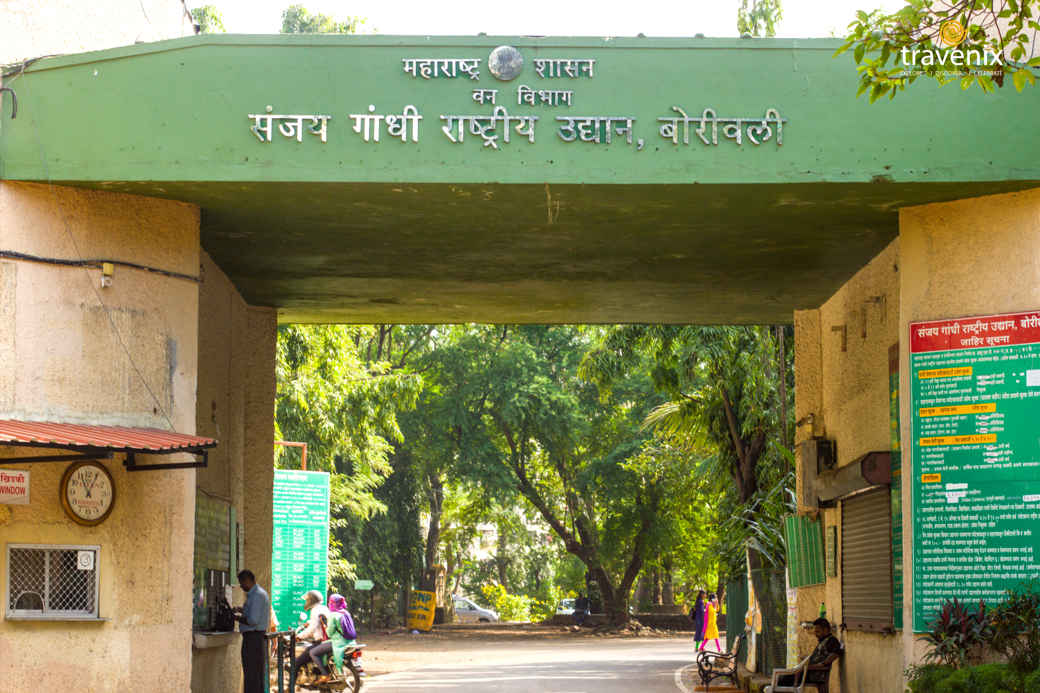 Previously known as Borivali National Park, Sanjay Gandhi National Park attracts more than two million tourists a year. The park has secured its place among Asia's most visited parks.
This lush green marvel spreads across an area of 104 sq km and has immense historic, geographic, ecological and artistic significance. The park is also considered as the lungs of the city as it is surrounded by lush green grass and trees which prevent the city's pollution to enter the area.
The park is home to more than 20 lions, about 4 tigers, a large number of leopards, Indian flying foxes, spotted deer and many more rare animal species. To have a sneak-peek into wild life, you can board on wildlife safari inside the park.
Kanheri Caves At Sanjay Gandhi National Park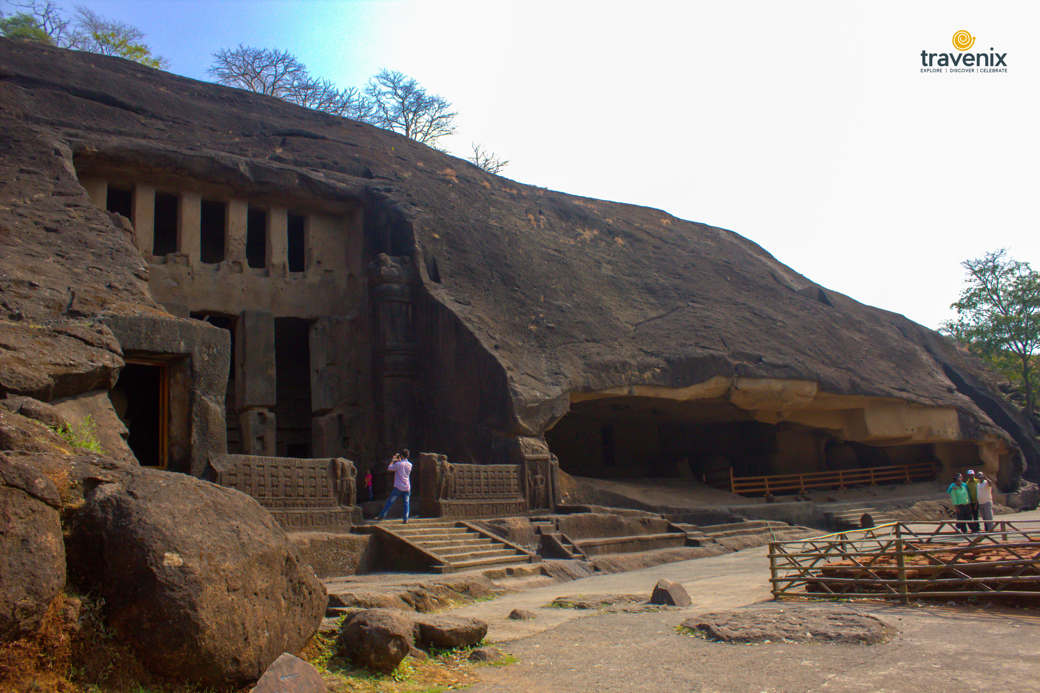 Another tourist destination inside the park is Kanheri Caves. Dating back from 1st Century BC, Kanheri Caves is one of the oldest caves. The natural Basalt formations, ancient Indian styled architecture and the 109 special entrances to the caves make this cave the biggest tourist attraction.
In ancient times, the monks used to stay there and have used these caves as individual rooms. Each cave has a stone podium which is believed to be used as a bed during those times. (theclickreader.com) Inside the caves, there is one big hall which houses a big Buddhist Image known as Dagoba. In addition, there are a large number of paintings inside the caves among which many are unfinished. There is also a water harvesting system inside the caves which awestruck the tourists and visitors.
Best Time To Visit Sanjay Gandhi National Park
The park remains open on all days except Mondays. The visiting timings are from 7.30 AM to 6.30 PM. I suggest you to reach the park by 8 AM because it will take 3 to 4 hours to explore the place.
Entry Ticket Price at Sanjay Gandhi National Park
About the prices, the entry fee to the park is about ₹ 40 per person. For Safari, it costs around ₹ 60 per person for 15 minutes. You can also enjoy boating there which costs around ₹ 80 per person for 15 minutes. If you are carrying a camera, you need to pay around ₹ 50 for it.
Destination 2 – Global Vipassana Pagoda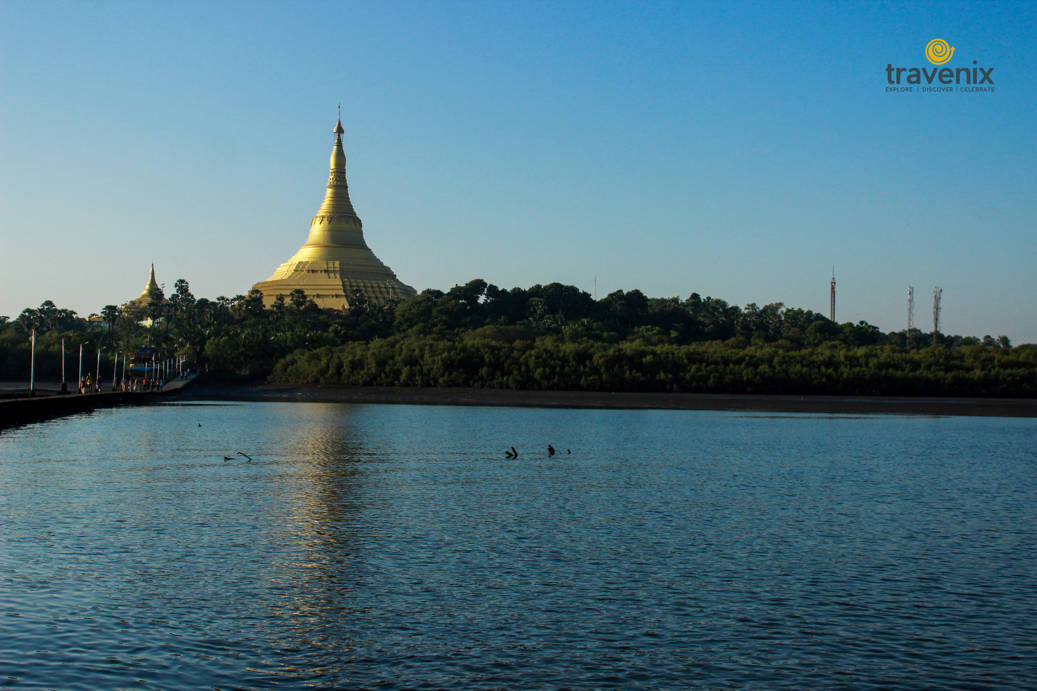 Post our visit to Sanjay Gandhi National Park, it's time to grab a bite. Borivali is housed with many multi-cuisine restaurants like the Spice Republic, The Fusion Kitchen, B-103 and many more where you can have tasty and healthy meals at reasonable prices.
From Sanjay Gandhi National Park, you can reach the Global Vipassana Pagoda monument by two ways. One is a roadway and the other one is a waterway. The road will take around 1 hour 15 minutes depending on traffic. However, the waterway can help you reach the destination in less time. From Sanjay Gandhi National Park, you can take a rickshaw to reach the nearby Gorai Jetty Point. There you can board on a jetty to reach the Global Vipassana Pagoda monument. The point where the Jetty will drop you will have two places nearby to visit. One is the Global Vipassana Pagoda monument and the other is Essel World. So if you have some extra time, you can also enjoy at Essel World which is one of the most famous amusement parks in Mumbai.
Inaugurated in 2009 by Pratibha Patil, the Global Vipassana Pagoda stands high as one of the city's best architectural buildings. This less than a decade building was constructed in the memory of Gautama Buddha and is a symbol of peace and harmony. People come here for meditation sessions. The big hall inside the building possesses the relics of Lord Buddha and can accommodate at least 8000 people at a time.
What makes one amazed is the structure of the dome which was built without the support of any pillars and still stands the same way. With a height of approximately 29 metres, the dome has become the highest dome made of stone in the world.
The Global Vipassana Pagoda reflects the culture of Myanmar. Hence it bears a tower shrouded in genuine gold and is covered by a beautiful umbrella piece given by Myanmar. The main doors of the building are carved out of wood in Myanmar and the principle building material was sandstone which was imported from Rajasthan. The pagoda's architecture is a perfect blend of the best of old Indian and current innovation.
Now after a day of so much excursion, its time to have dinner and sleep. However, before dinner, you should try some street food at Borivali. Later for dinner, you can locate some restaurant nearby and head back to your hotel.
Best Time To Visit Global Vipassana Pagoda
The monument remains open all the days of the week, that is from Monday to Sunday from 9 AM to 7 PM.
Entry Ticket Price at Global Vipassana Pagoda
There is no entry fee to the place. However, if you are going by jetty from Sanjay Gandhi National Park to the Global Vipassana Pagoda, it will cost you around ₹ 50 for a two way journey.
Day 3 in Mumbai
On day 3 in Mumbai, we will head towards Dadar, but before leaving its time to have a tasty breakfast. Since Mumbai is always high on traffic, we recommend you to have your breakfast at the hotel. By 10 AM, we will leave for our Day 3 first location point – Shree Siddhivinayak Temple.
Destination 1 – Siddhi Vinayak Temple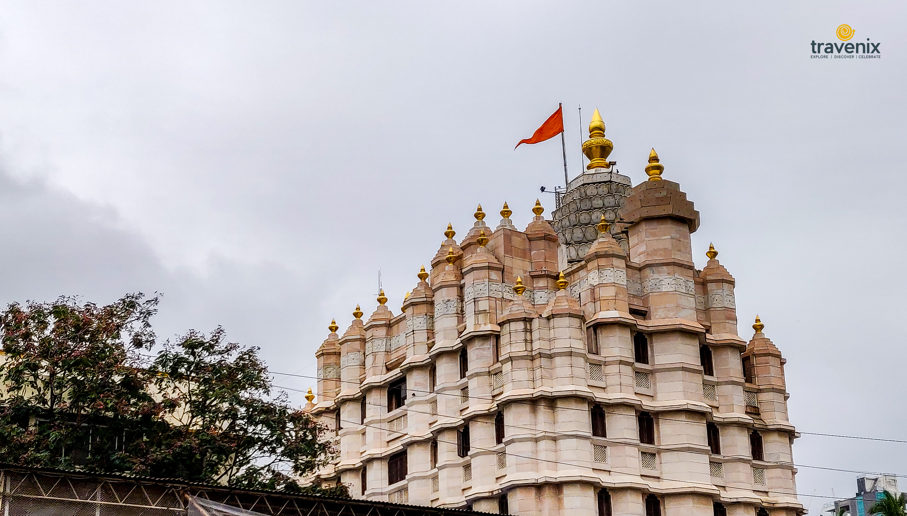 Committed to Lord Ganesha, Shree Siddhivinayak Temple of Mumbai is one of the most famous temples of India. It is situated in the Prabhadevi region of the city. The credit for the development of the temple goes to Vithu and Deubai Patil. Made in the year 1801, Shree Siddhivinayak Ganapati Mandir is visited by a large number of individuals every year.
As soon as you enter the premises, you will find a little mandapam (lobby), where the icon of Siddhi Vinayak (Lord Ganesha) has been cherished. The sanctum has been fitted with wooden entryways that have been carefully cut with the pictures of the Ashtavinayaka (the eight appearances of Lord Ganesha). Its internal rooftop has been flawlessly decorated with gold plating.
Siddhivinayak or Lord Ganesha holds a significant position in the Hindu folklore. It is accepted that any new work, new spot or new belonging will thrive on the off chance that one goes to the ruler before beginning or utilizing it. This is one of the principal reasons why famous individuals, including government officials and big names like Aishwarya Rai, Amitabh Bachchan, Sachin Tendulkar, consistently visit the sanctuary.
One of the tight paths that lead to the premises of the Shri Siddhivinayak Temple is known as the 'Phool Gali'. The road stays specked with an enormous number of people, where one can discover business people selling tulsi blossom laurels, coconuts, desserts, and so forth – to be offered to the Lord. The sanctuary observes an outstandingly huge surge of fans, during Angarki and Sankashti Chaturti. Nearby there is a flower market where you can buy beautiful flowers and offer them to God in the temple.
Best Time To Visit Siddhivinayak Temple
General timings to visit the temple is from 5:30 AM to 9:50 PM. It is always crowded, so it may take you 1 to 2 hours for Darshans. However, Tuesdays receive exceptionally high crowd. If you want to attend Aarti there on any day, then you should know the Aarti schedule.
Aarti Schedule from Wednesday to Monday
      Kakad Aarti – From 5:30 A.M to 6:00 A.M
      Shree Darshan – From 6.00 A.M to 12.15 P.M.
      Naivedhya – From 12.15 P.M to 12.30 P.M
      Shree Darshan – From 12.30 P.M to 7.20 P.M
      Aarti -Evening – From 7.30 P.M to 8.00 P.M
      Shree Darshan – From  8.00 P.M to 9.50 P.M
      Shej Aarti – The  last Aarti of the day: 9.50 P.M
Aarti Schedule on Tuesday
      Shree Darshan – From 3.15 A.M to 4.45 A.M
      Kakad Aarti – From 5.00 A.M to 5.30 A.M
      Shree Darshan – From 5.30 A.M to 12.15 P.M
      Naivedhya – From 12:15 P.M to 12.30 P.M
      Shree Darshan – From 12.30 P.M to 8.45 P.M
      Aarti – Night Prayer: From 9.30 P.M to 10.00 P.M
      Shej Aarti – The  last Aarti of the day:12.30 A.M
Entry Ticket Price at Siddhivinayak Temple
There is no entry fee to visit here.
Destination 2 – Kabootar Khana, Dadar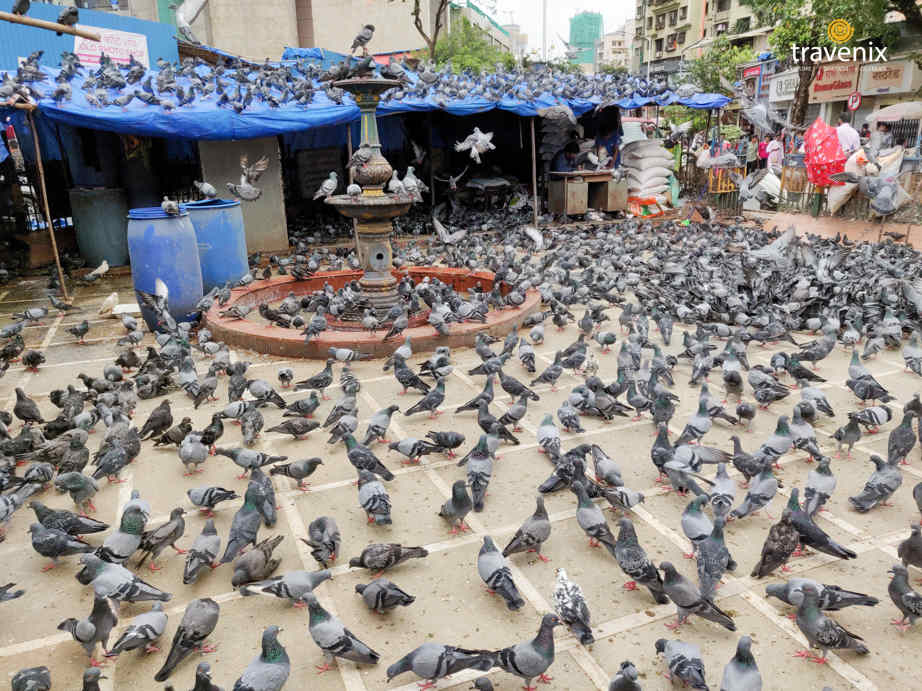 Kabootar Khana at Dadar is one of the most iconic tourist attractions. The place is almost 80 years old, where about 3000 to 4000 pigeons are fed. Everyday around 1800 to 2000 Kilograms of grains and regular diets like Roasted Chickpea, Milo, Maize and many more are what pigeons are fed with.
It is located exactly near Dadar railway station in West on Javale road. Nearby there is a wholesale and retail market from where you can shop for items like utensils, silk sarees, cosmetics, and many more everyday usage items at a cheaper price.
To keep the place hygienic and free from any diseases, veterinarians from famous Bombay vets college and BSPCA keep visiting this place regularly to vaccinate the pigeons. This location is also prominent among Bollywood directors and actors as they often click scenes from here.
Best Time To Visit Kabootar Khana Dadar
Since it is a public place, there is no specific time to visit. However, to make sure you enjoy the beauty of the place with the pigeons around, you are advised to visit before 5 PM because with the dusk approaching, the birds may return to their nests.
Entry Ticket Price at Kabootar Khana Dadar
There is no entry fee to this place.
Destination 3 – Worli Sea Face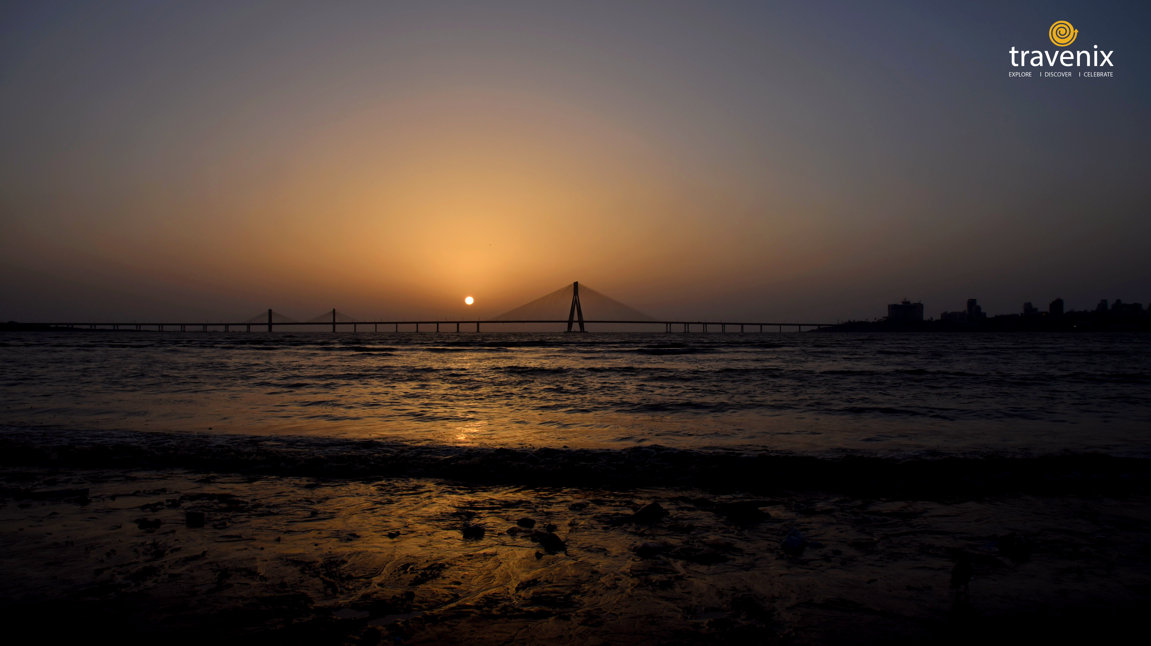 Now it's almost afternoon and it's time to have lunch. Being in Dadar, you can easily locate many restaurants and food outlets here like Prakash, Aswaad, Angrezi Dhaba, Gomantak, Chaitanya and many more. After lunch, you will go to the nearby Worli Sea Face.
From Kabootar Khana, Worli Sea Face is just 15 Minutes. The place is famous for its picturesque and peaceful surroundings. From here, one can enjoy the view of the Bandra Worli Sea Link.
This place is one of the popular places of interest among all age groups. Mostly people can be seen jogging, exercising here. Moreover, there is a statue of RK Laxman's The Common Man which seems like it stares into the sunset every day.
The time will pass so quickly here that you will not realize spending 3 to 4 hours viewing the beauty of the Arabian Sea and sunset. Worli Sea Face also gives you an opportunity to enjoy Mumbai Street Food. You can find many roadside stalls nearby that serve sandwiches, Vada Pav, Frankies, burgers and many more.
Best Time To Visit Worli Sea Face
Worli Sea Face is a public interest kind of place. Therefore it has no time limit to visit there. However, for a splendid exposure to the place, you can visit early in the morning while the sun is rising or you can visit during the sunset.
Entry Ticket Price at Worli Sea Face
There is no entry fee to this place.
Destination 4 – Party Places and Pubs, Bandra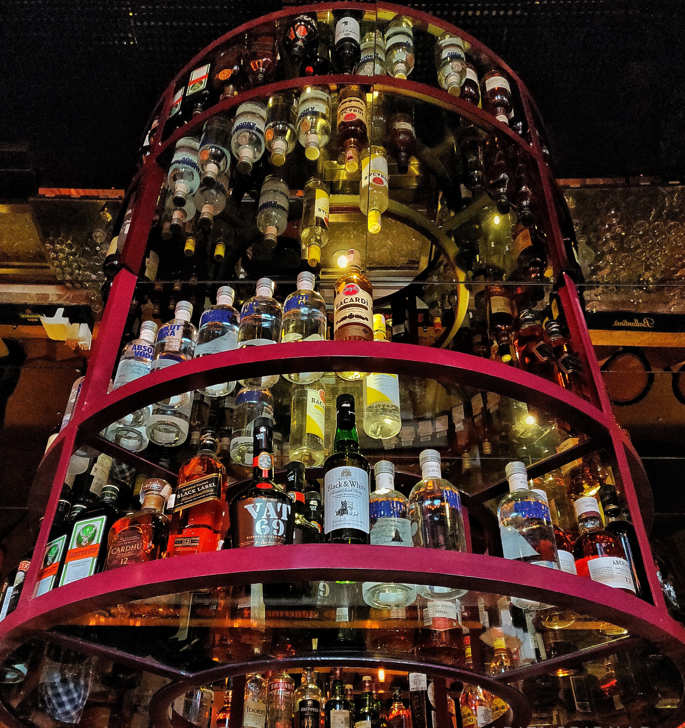 Being in Mumbai for 3 days and not enjoying the nightlife will be like missing something special about the city that never sleeps. As compared to the day, Mumbai becomes more beautiful and attractive during night.
Spending a night out in Mumbai can leave you with lifetime good memories to cherish forever. Though Mumbai has a lot of places for partying and pubbing, Bandra is known to be the hub of the party places. So, post your visit to Dadar, it's time to head to Bandra. However, in Dadar also you can have party and do clubbing like at Kamala Mills. There are innumerable options for you across Mumbai.
At the pubs and bars, you can enjoy live music, live performances of the amateur and professional artists. Party places like Toto's Gorge, Doolally Taproom and many more are the biggest attractions for the pub lovers.
Best Time To Visit Pubs in Bandra
Pubs and bars in Bandra open generally from 6 PM onwards and close by 1 AM. However, if by chance you are in Mumbai on a weekend, then Friday Night is the best to visit and enjoy the nightlife in Mumbai.
Prices at Pubs and Bars in Bandra
Pubs and bars might be a little heavy weight on your pocket depending on how much you spend on food and drinks at the respective place. However, on average, it costs around ₹ 1500 per person.
Where to stay during this 3 days trip in Mumbai?
Since you will be on a trip for 3 days in Mumbai, I suggest you to stay at a location from where you can easily access all these places. Juhu and Bandra are among the best locations for you to stay for 3 days. However, depending on your budget you can decide which area to stay in. Juhu has got many pocket-friendly hotels whereas at Bandra you can find 3 to 5-star hotels for a perfect stay. Moreover, you can also find yourself some rooms on rent for a short span of time on Airbnb at reasonable prices. 
If you have a high budget, you can plan a stay at any of the luxurious hotels like The Taj Mahal Palace, or The Oberoi in South Mumbai. For medium budgets, it is recommended to grab a hotel in the upper suburbs of the city like Bandra or Khar. However, for a low budget, hotels at places like Vilé Parlé West, Juhu, Andheri can meet the requirements.
How to roam around the city for 3 days?
Whether you are visiting the city for the first time or more, it is always good to hire a cab or a taxi to roam around the city; especially when you are on a trip. This is because traveling on your own conveyance gives you a chance to explore the city and surrounding places thoroughly as you do not have to rush to catch a bus or a train. It is very easy to book a cab in the city as Mumbai is one of the cosmopolitan cities with almost every trending facility.
However, based on your interest, you can still travel on public transport like a bus or train to experience a Mumbaikar's life.
Which is the best weather to visit Mumbai for 3 days?
No matter what the weather is, Mumbai is always flooded with tourists throughout the year. However, if you are still concerned about the best months or the best weather to visit Mumbai, let me ease it for you. 
From November to February, Mumbai receives the most pleasant weather. Since it is a coastal area, during these months the temperature falls down almost 10°C. Hence, the days remain cool and it becomes easy to explore the city. 
From March to May, Mumbai receives the maximum humidity as summers will begin from March onwards. The temperature mostly reaches up to 40°C which is not suitable for outdoor activities and hinders the travel plan of a tourist. 
From June to October, Mumbai receives the Monsoon which brings enormous rainfall and creates waterlogging. This impacts the transportation of the place adversely and does not allow the tourists to roam around freely. 
Overall, for an outstanding and cherishable experience in Mumbai for 3 days, you are advised to visit between November and February.
Final Thoughts
You can even combine a visit to the city with a day trip to the Bollywood Industry which is the Film city and tick off this bucket-list must-see. 
With only three days of travel in this attraction-loaded city, I have tried my best to jam-pack as much as possible. Are all of you non-planning travelers gasping at this strict Mumbai itinerary? If you have something to add on to the list, do share it in the comments below. Spontaneous adventure is always welcome. 
Latest posts by Vibha Sharma
(see all)