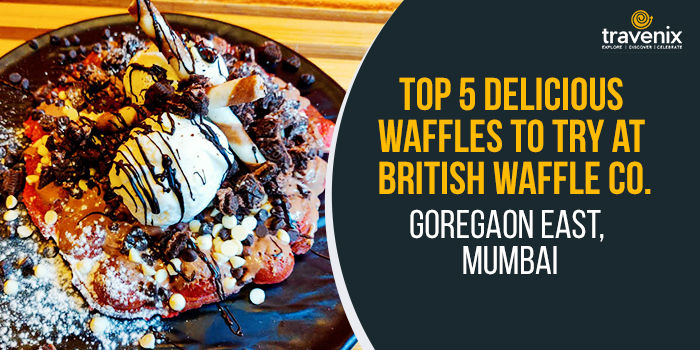 Top 5 Delicious Waffles to Try at British Waffle Co. Goregaon East, Mumbai
Waffles and pancakes have become popular among the youth. The British Waffle Co. is the newest joint serving waffles, pancakes, thick shakes and much more. But what sets this café apart from the others is their varied choice of savoury waffles! They serve three different types of savoury waffles ranging from Chaat Waffle to Pizza Waffle. They also offer customers the option to make their own waffles, wherein they can choose the base, toppings, and the ice-cream. That way you could pick what you love!
Top 5 Waffles to try at British Waffle Co.
Travenix has exclusively covered the best selling waffles of British Waffle Co. and here's what we think!
1. Truly Nutella Waffle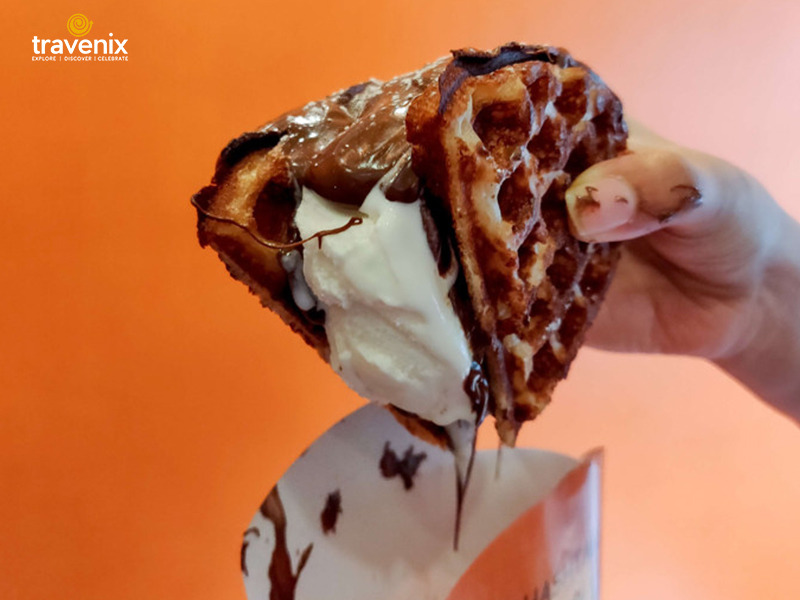 Who doesn't love Nutella? And a waffle with a thick layer of Nutella topped with a huge scoop of ice-cream is what we call a perfect dessert. Nutella waffle is a simple treat to the stomach as well as the pocket!
Travenix Rating – 4/5
Price – ₹ 149/-
2. Red Velvet Bubble Delight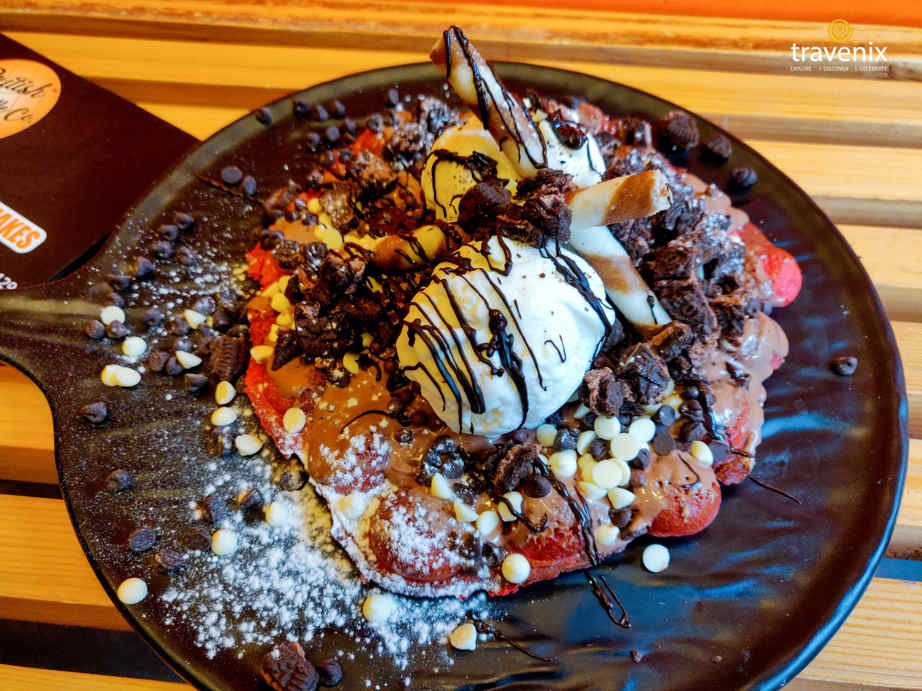 Red Velvet is a dessert lover's paradise, and to have it with a waffle is truly an absolute, well, delight! The bubble waffle is layered with evenly applied milk chocolate spread, topped with two scoops of vanilla ice-cream, a lot of waffle sticks, loads of chocolate chips and to end with, is sprinkled with crushed Oreo. Is this, or is this not heaven? We would definitely go with the former.
Travenix Rating – 4/5
Price – ₹ 229/-
3. Chaat Waffle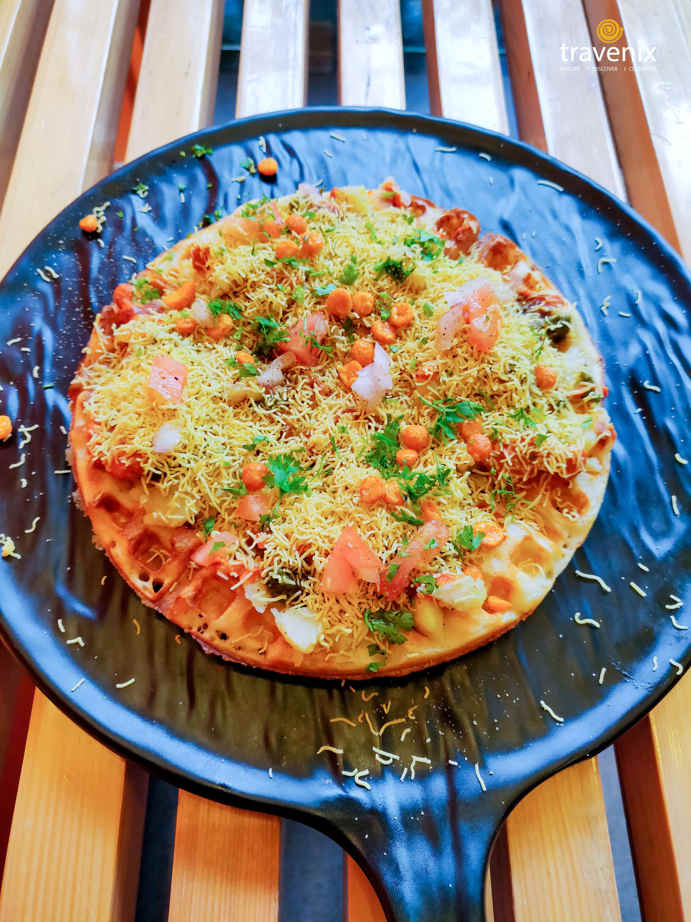 One of their many savoury waffles, Chaat Waffle makes us realise that the combination of the two is actually really good! Just like any chaat, the Waffle is topped with potatoes, tomatoes, onions, four different types of chutneys, and of course, lots of sev. The Waffle is soft and delicious.
Travenix Rating – 4/5
Price – ₹ 99/- 
4. Classic Pizza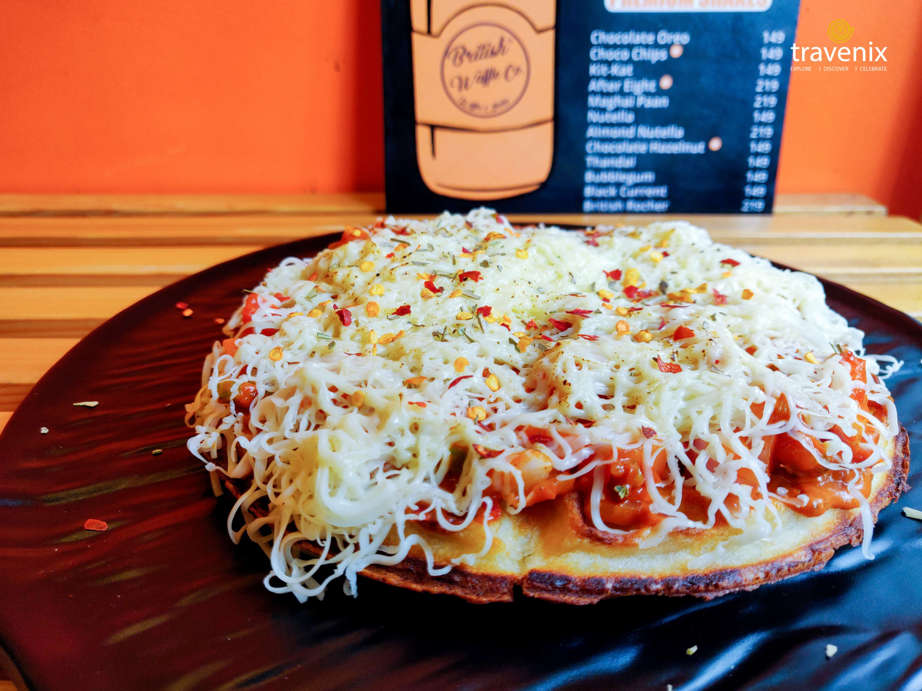 If you are in for a pizza experience, but with the base as the waffle, well this is just the thing for you. The waffle is first topped with evenly spread mexican chilli sauce, then onions, tomatoes, capsicum and cheese are added to it. It is then garnished with oregano and chilli flakes. The cheese is then flamed with a blow torch. A definite must try!
Travenix Rating – 4/5
Price – ₹ 129/- 
5. White Chocolate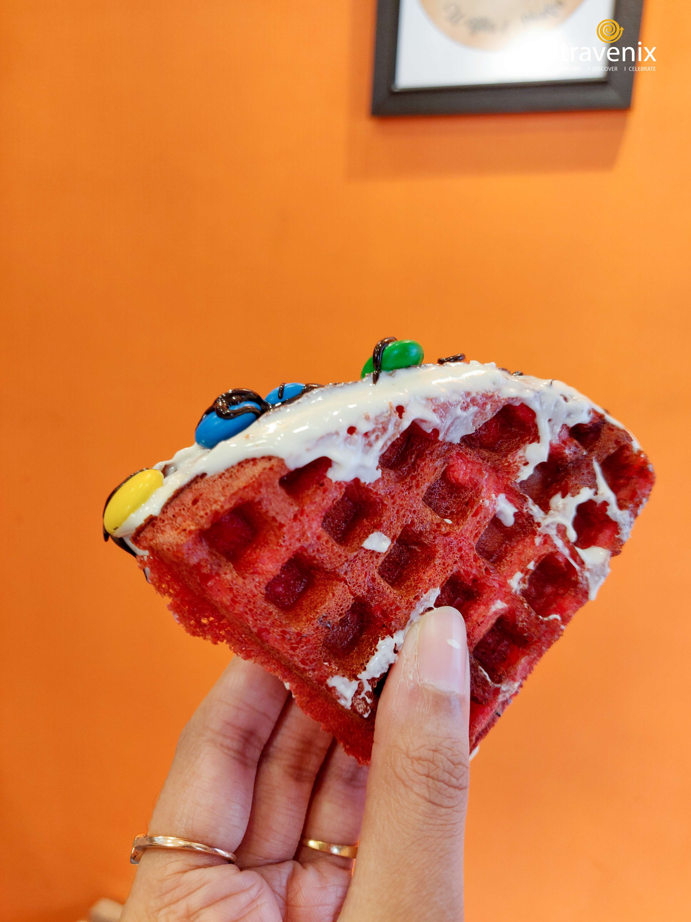 White Chocolate is liked by a selected few, but this, we ensure, will be loved by all. The Red Velvet Waffle is topped with White Chocolate. The hotness of the waffle is definitely balanced out by lots of White Chocolate. As the icing on the cake, the Waffle is further topped with loads of colourful gems, which definitely makes it an amazing dish for your taste buds.
Travenix Rating – 3.5/5
Price – ₹ 129/-
British Waffle Co. is a small quaint café, but their Waffles and Pancakes are to die for. The staff friendly, and all of the dishes are freshly baked. Though fairly new, we would definitely suggest you give this place a try.
Latest posts by Vibha Sharma
(see all)