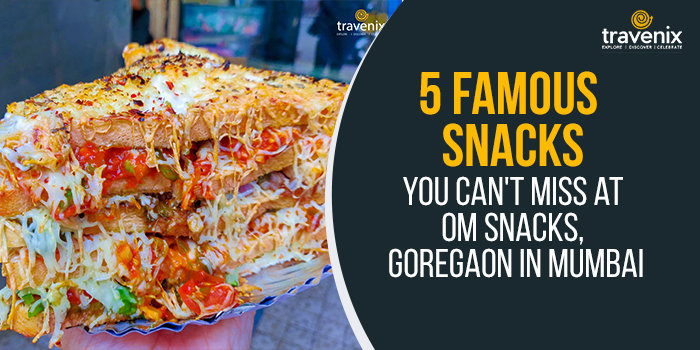 5 Famous Snacks You Can't Miss at Om Snacks, Goregaon in Mumbai
If you love everything with cheese, cheese and more cheese, well, you are at the right place. Om Snacks is a small stall at Gagan Shopping Centre in Goregaon with a variety of pizzas, sandwiches, chaat, pastas and much more. What's more? Most of their dishes come with an abundance of cheese and a lot of flavour.
Om Snacks is famous among the youth for its fusion dishes. They have another outlet in Chakala, Andheri.
Top 5 Snacks at Om Snacks
We had the top 5 dishes of Om Snacks, and here's what we think!
 1. The Hulk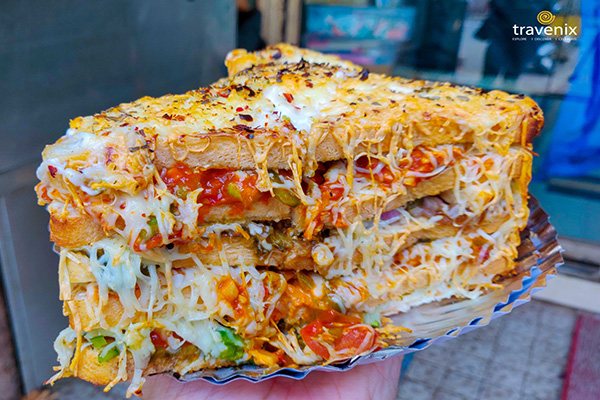 True to its name, this hulk sandwich with 7 layers weighs around 1kg. Each layer has different vegetables mixed in different sauces, with lots of cheese in each layer. This sandwich is one of their many best-selling dishes. The Hulk has everything, from vegetables to cottage cheese to mayonnaise and of course lots and lots of cheese. Taking a bit of all the layers at once can be difficult but all the layers together give your taste buds a rollercoaster ride.
Travenix Rating – 4/5
Price – ₹ 299/-
2. Open Chilli Cheese Toast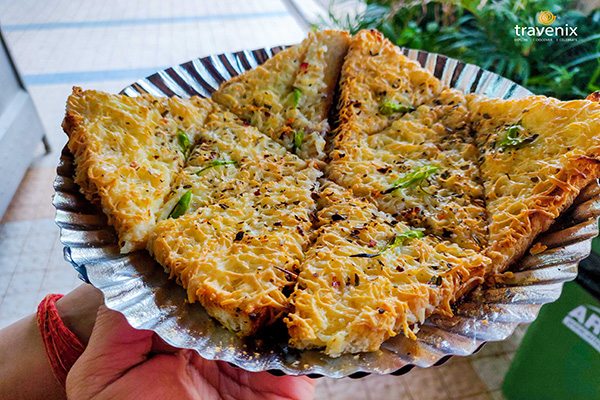 This chilli cheese toast with a twist can set your tongue on fire, but the taste is balanced out with loads of cheese. This open toast is layered with mayonnaise, cheese, and loads of green chillies, it is then baked and served with different sauces. Clearly, Open Chilli Cheese Toast is not for the faint hearted. A simple dish, but with a lot of flavour, it's a definite must try.
Travenix Rating – 4/5
Price – ₹ 110/-
3. Mayo/Russian Pizza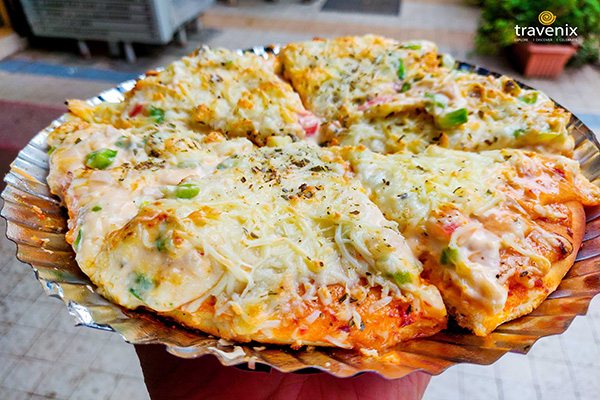 This pizza is topped with vegetables mixed with mayonnaise, topped with cheese. The base is soft and is in turn topped with red sauce mixed with mayonnaise. It has a sweet but a tangy taste to it, a perfect combination for anyone who cannot handle spice. There are Jain variants of this pizza as well. This is definitely worth it for its price. 
Travenix Rating – 4/5
Price – ₹ 120/-
4. Pizza Shots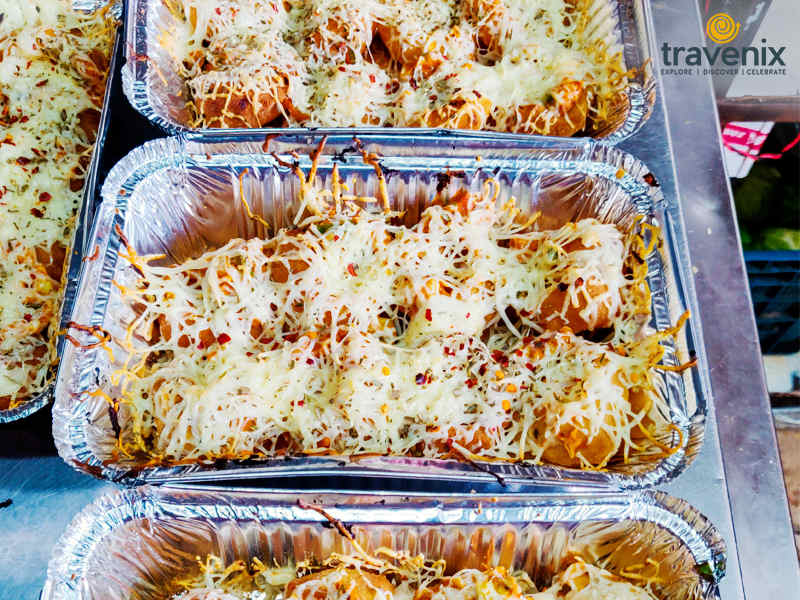 Pizza Shots are chaat with a twist. This chaat  includes various vegetables like bell peppers and cottage cheese, topped with chilli flakes and lots of cheese. It is then baked and served hot. Pizza Shots is something different and one of their exclusive and best-selling dishes at Om Snacks. Dig into this Italian chaat, and enjoy this fusion of Indian and Italian cuisine.
Travenix Rating – 3.5/5
Price – ₹ 100/-
5. White Cheese Pasta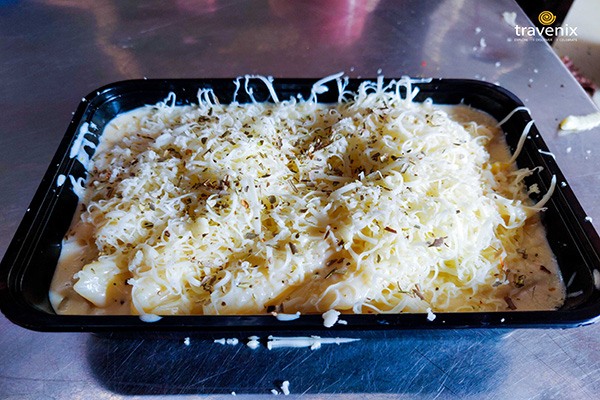 This pasta is a cheese lover's paradise. The pasta is made in white cheesy sauce, made from all-purpose flour, milk and cheese. Then it is topped with even more cheese and chilli flakes, and served hot. White Cheese Pasta is another of their bestsellers, an all-time favourite of their customers.
Travenix Rating – 3.5/5 
Price – ₹ 140/-
Well, cheese is a way of living, and if you like a blend of cuisines at affordable prices, this is just the place for you. All dishes are freshly cooked by the staff, served piping hot. You can savour their delicacies at the stall or take it to go. Regardless, we ensure that you will love it!
Latest posts by Vibha Sharma
(see all)