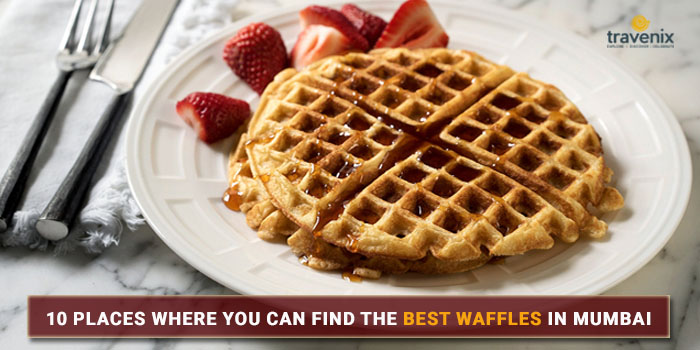 10 Places Where You Can Find The Best Waffles in Mumbai
Crunchy, fluffy and light, waffles are a blessing that still remain highly under-appreciated. Since they are pretty versatile in their nature, they make for particularly delicious desserts. If sweet, chocolate-filled waffles aren't for you, we're sure you'll appreciate the savory side of this dish.
Waffle it up!
Of late, Mumbai has begun to realize the potential of waffles, and we're happy that we have lot of new places coming up serving different versions of it. If you are looking to try some of the best waffles in Mumbai, we've made a list that you should definitely check out.
1) Tea Villa Café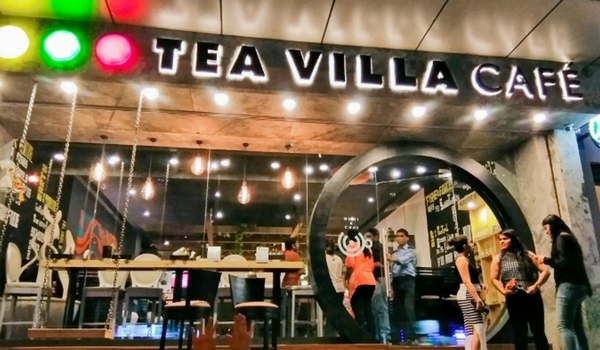 A waffle lover's delight, Tea Villa Café has more than 10 varieties on offer in their menu. With tons of melting chocolate and nuts to add richness to it, their Nutty Buddy waffle stands out. If you're in the mood for something simple, give their KitKat waffle or their Berry Blast waffle a try. Tea Villa Café also allows you to make your own waffle; so get creative and make a lip smacking combination of your own.
Where: Bandra, Mulund, Chembur, Vile Parle, Lower Parel, Malad West, Fort, Andheri, Kandivali, BKC, Juhu, Grant Road
2) Coffee by Di Bella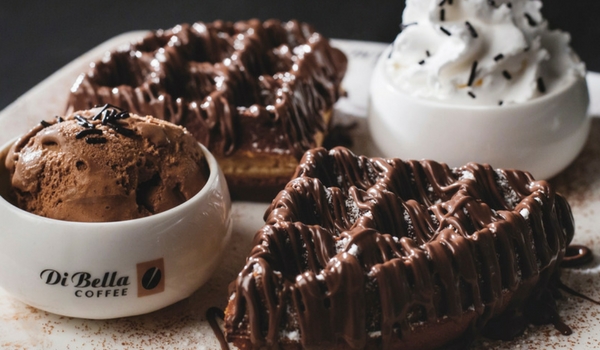 Coffee by Di Bella is always coming up with desserts that your sweet tooth simply can't resist. Their 'Explosion by Chocolate' waffle oozes with sweetness, while the Belgian Gem Waffle topped with chocolate ice cream impresses with its balance. Drifting away from the usual chocolate layering, their mango waffle is refreshingly good.
Where: Bandra, Mahim, Kemp's Corner, Andheri, Borivali, Kurla, Santa Cruz, Breach Candy, Vikhroli, BKC, Juhu, Linking Road
3) Waffles 2 Go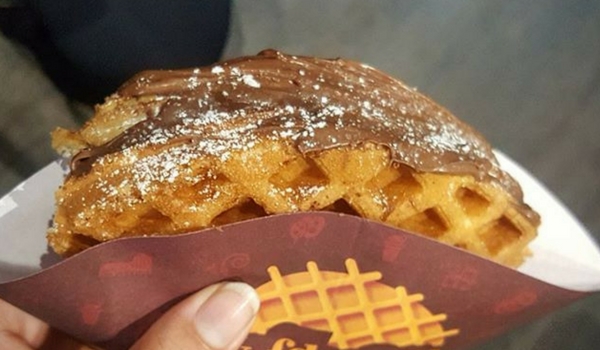 Focusing entirely on waffles, Waffles 2 Go is a tiny little café in Mulund that is far too underrated. The seating arrangement is limited, but their neat packing makes sure you can take your waffle anywhere you go. Give your taste buds a sweet surprise by indulging in the goodness of their Belgian chocolate waffle; you will not regret it.
Where: Mulund
4) World of Waffles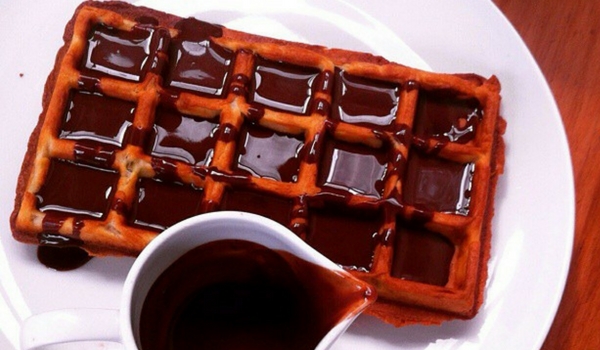 Move over; old, boring combinations, World of Waffles offers you a treat of kiwis, Ferrero Rochers and caramel atop your waffles. Their Candy Stick Waffle and the Brownie Waffle will totally redefine the dish for you.For their creative variations and the richness of taste, you cannot give these waffles a miss.
Where: Vile Parle, Kurla, Mulund, Kandivali
5) The Belgian Waffle Co.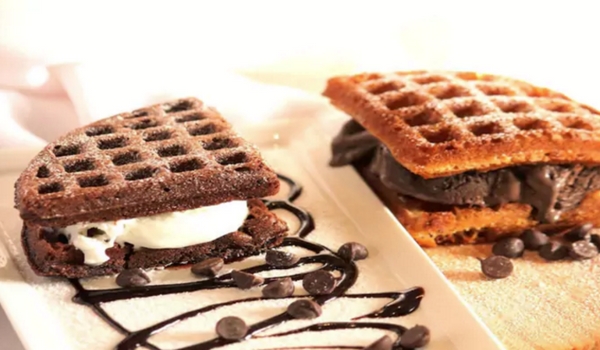 The Belgian Waffle Co. shows no restraint when it comes to being playful with its waffles. Rendered perfectly, they offer waffles topped with the creaminess of cheesecake and red velvet cake. If that's not your type, you always have the classic maple syrup and chocolate waffles to choose from. It is one of the best places to try out light, Belgian waffles in Mumbai.
Where: Nariman Point, Mulund, Bandra, Colaba, Andheri, Kandivali, Dadar, Matunga, Chembur, Santacruz, Mira Road, Thane, Ghatkopar, Goregaon, GirgaumChowpatty, Versova
6) Whatta Waffle!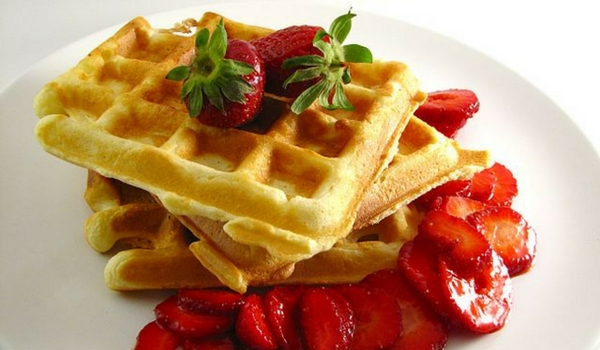 A favorite among Mumbai brunchers, Whatte Waffle brings a savory twist to the evergreen crunchy waffles. Top up your waffle with jalapenos, olives and onions, as cheese fills out all the spaces on its surface. It's a pizza in a waffle;something you should try at least once. Their Marshmallow-Nutella waffle is another tricky combination that they managed to pull off well. Additionally, their Strawberry Belgian Milk Chocolate waffle, which is among the must try desserts in Mumbai, wins over you with its crunchy base.
Where: Thane
7) Z's Creamery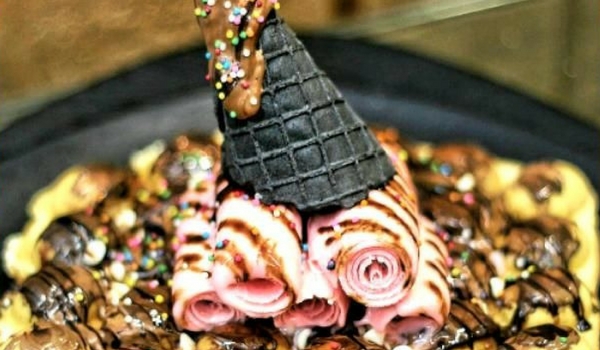 Even before you place your order, Z's Creamery manages to grab your attention with its witty dessert names: Choco Gone Nuts, Dragon's Breath Ice Cream and Chocolate Road are only some of them. Z Creamery's Black Monster is a delightful waffle loaded to the brim with coffee beans, chocolate anda brownie. Their signature dish, the Reverse Volcano, is a stunner too; though theice-cream takes the center stage in this one, the waffle adds a great crunchy twist to it.
Where: Kandivali
8) The Waffle Factory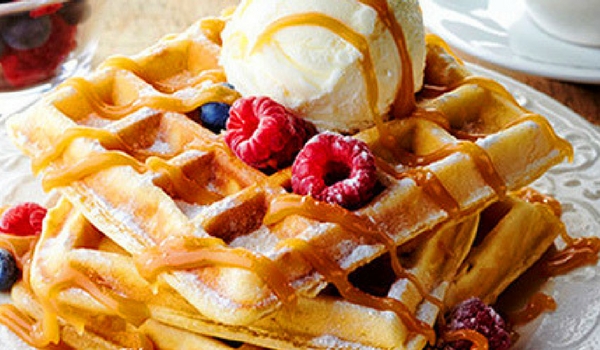 A neat little café, The Waffle Factory has a lot to offer to waffle-lovers.Light and crisp, The Waffle Factory's Yin and Yang waffle combines the goodness of white chocolate with Nutella, and is an absolute delight. It is however, overshadowed by the TWF explosions waffle in its popularity there. True to its name, your mouth will explode with chocolate with that one!
Where: Ghatkopar
9) Fable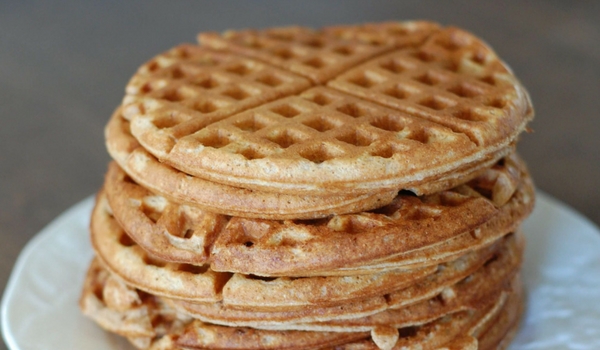 Straight out a fairy tale, Fable's interiors seem as impressive as its waffles. The Black Forest Waffle, with its whipped cream and hot chocolate is deeply delicious. Their waffles are also eggless; so all vegetarians can gobble it down without any guilt.
Where: Juhu
10) Indigo Deli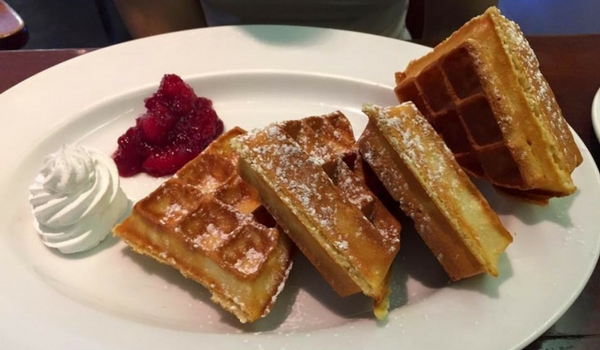 Indigo Deli's classic waffles are simple, yet perfectly done. Loaded with fruits and topped with a generous amount of maple syrup, their breakfast waffles are great to kick start your day. Also, try their special Drunken Waffles if you are in the mood for some fun; it packs a punch with its combination of rum, raisin, jelly and ice-cream.
Where: Lower Parel, Colaba, Kurla, Powai, Malad, Bandra, Ghatkopar, Lokhandwala
Are you ready to dig into some waffles already? Also, let us know about your favorite waffle places in Mumbai in the comments below.
Image Credits: Zomato, Mouthshut, Magicpin, Touristpin, Wikimedia Commons, Thatfoodieposts, Coffee By Di Bella, LBB, CityShor
Latest posts by Vibha Sharma
(see all)