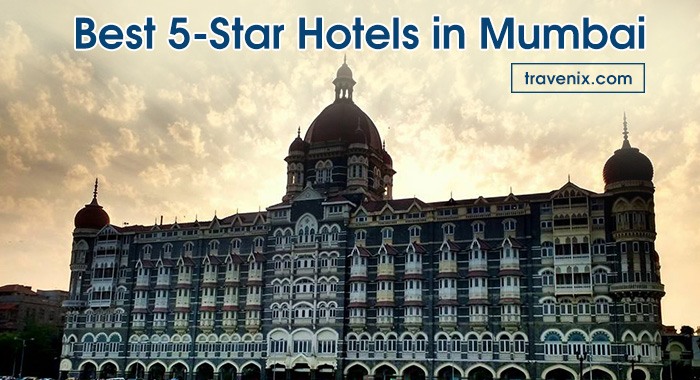 Best 5 Star Hotels in Mumbai – 10 Luxury Hotels in Mumbai
A leisure holiday for the romantic couple or a business trip for the suave gentleman is more than likely to end up in the entertainment and business capital of the country, Mumbai; or as many of the locals still call it, Bombay. Mumbai is an amalgamation of choices that usually leaves the seeker befuddled and confused. So far, we've given you a ton of options for top notch street food all over Mumbai. Now, we endeavour to walk you through the more luxurious and opulent side of Mumbai.
Best 5-Star Indulgence in Mumbai
When you're looking at five star hotels in the business capital of the country, some facilities can be taken for granted. For instance, all of these hotels come with spas, gyms, pool facilities and airport concierge. However, if you're going to shell out some big bucks, you need to know more. Read on to get a more hands on feel for each of these hotels. You can look far and wide, but you won't find better luxury in Mumbai. Sit back, grab a martini and read on.
10. Vivanta by Taj President
Located in South Mumbai's business district, this hotel is a favourite for leisure and business travellers alike. It has some of the coolest bars this side of town and has restaurants that will leave you satiated.
While most hotels on this list boast of extravagance, Vivanta means business. Backed by top notch technology, the Hotel ensures that all your business needs will be met with efficiency.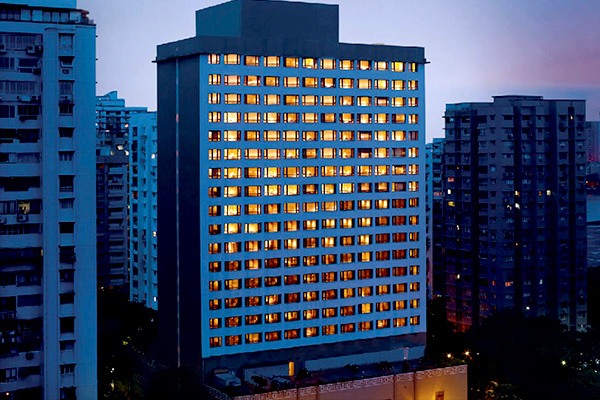 This is not the place you go to when you want to spend a weekend in, it is the place you go to when you need to get things done while basking in luxury and efficiency.
Where: 90, Cuffe Parade, Mumbai
Average Price: Starts from Rs 10,000
Google Rating: 4.4/5
9. Sofitel Mumbai BKC
While most hotels on this list bask in the grandeur of the past, Sofitel is proudly modern & avant-garde in its ambiance. It is located in Bandra Kurla Complex, a fast growing financial district.
The service here is expert and pertinent. This is a luxury experience with the frills trimmed off to give it a better edge, making it the perfect business hotel. After a long day of work and meetings, executives can relax by the pool side, awash in blues or pay a visit to the holistic spa.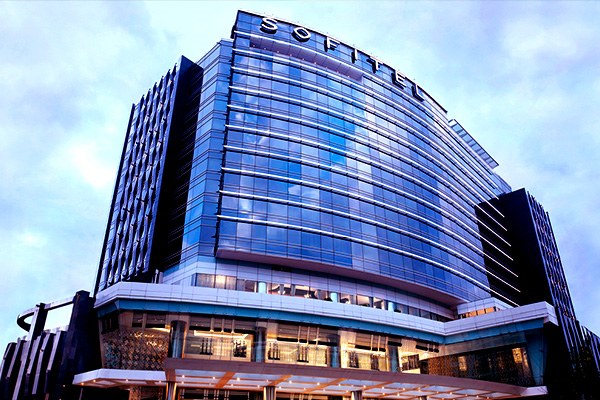 The hotel also boasts of a loyalty program and a privileged club membership for frequent travellers. Sofitel is an experience that is equal parts pertinent, cutting edge and luxurious.
Where: C 57 Bandra Kurla Complex Bandra East Maharashtra, Mumbai
Average Price: Starts from Starts from Rs 11,000
Google Rating: 4.4/5
8. The Leela Mumbai
While Sofitel is the perfect business hotel, the Leela is perfect for a romantic getaway or a leisure trip to Mumbai.
You will find yourself happily lost amidst eleven acres of lush gardens, quaint ponds, sleepy fountains and cascading waterfalls. It is an island of tranquillity set in the very heart of the hustle and bustle of Mumbai.
The décor is very tasteful, elegant and calming. In fact, everything about the hotel is meant to put you in a content mood.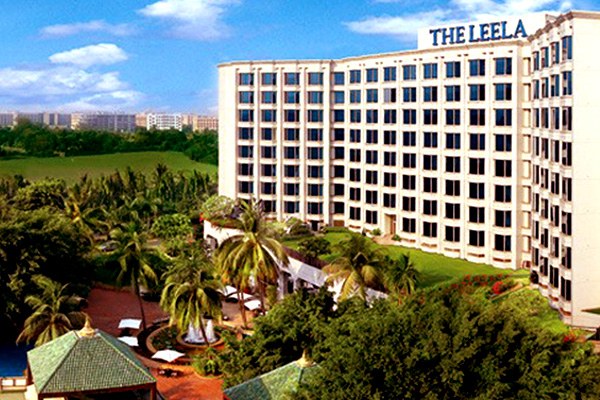 Don't let the ambiance fool you though, it is backed by state of the art technology to ensure that you have nothing short of the most comfortable stay. From the moment you step inside, you will awash in its warmth. Kick back, relax and enjoy.
Where: Andheri Kurla Road, Sahar, Mumbai
Average Price: Starts from Rs 10,000
Google Rating: 4.4/5
7. The ITC Maratha Mumbai (Formerly The Maratha)
An ambiance that is drenched in history and culture acquired over the centuries, The Maratha is the definition of majesty. With architecture and ambiance inspired by its namesake, the Maratha Dynasty, this hotel is a portal in time.
It is a tasteful confluence of technology and top notch Indian hospitality that is just as good as, if not better than, its peers.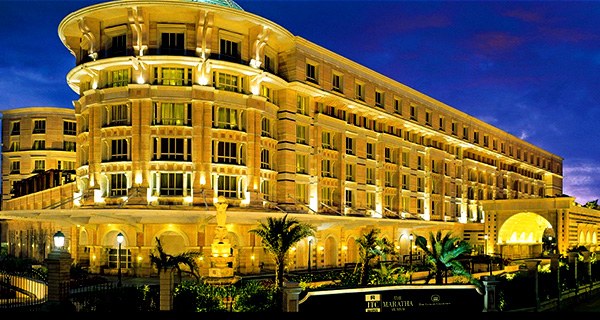 Each floor features a different theme that is channelled through the hotel's art collection. A walk through its halls is sure to make any art enthusiast feel giddy.
The same level of care has been taken in its restaurant spread as well, at the head of which is the Peshwa Pavillion, with its tall ceiling and lavish spread. If you ever feel like living like a king for a few days, you know where to go.
Where: Sahar Elevated Rd, Sahar, Airport Area, Andheri East, Mumbai
Average Price: Starts from Rs 12,000
Google Rating: 4.5/5
6. Four Seasons Hotel
A world away from the previous entry's majesty, the Four Seasons is contemporary, chic, open and inviting. It is designed to put you at ease, and the stellar service ensures that all your needs are met.
One of the things to note is that the rooms are much larger and much more open than those of most of its peers. The restaurants and bars are a fine amalgamation of casual, sophistication and style.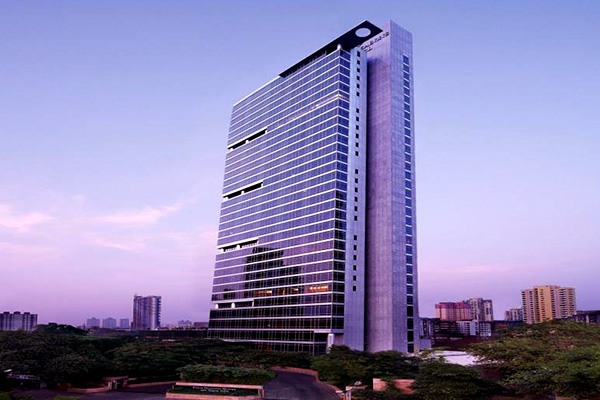 Most of the rooms have a stunning view of the Arabian Sea, which is pretty much the best view to wake up to after a long night of working or partying. This is a business hotel that is sure to keep your mood light and keep you feeling fine, no matter which way the business meeting goes.
Where: 1/136, Dr. E. Moses Road, Worli, Mumbai
Average Price: Starts from Rs 14,000
Google Rating: 4.4/5
5. InterContinental Marine Drive
This hotel combines utility and luxury in a strange but perfect marriage. It is for the savvy business traveller who needs to get things done but also has a need for luxury.
The meeting facilities and rooms come with cutting edge technological facilities. There is also an in house meeting planner to make sure that even the smallest details are taken care of. It is located in close proximity to Nariman Point, giving you a much-needed edge over the Mumbai traffic.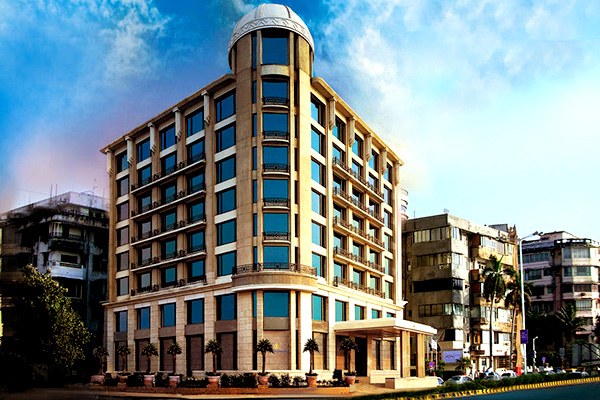 There is also a wide variety of dining options and a rooftop pool. The rooms are spacious and boast a minimalistic boutique ambiance. No matter the time of the day, the 24 hour butler and concierge services will take care of all your needs.
Where: 35, B Road, Marine Drive, Churchgate, Mumbai
Average Price: Starts from Rs 11,000
Google Rating: 4.4/5
4. The Trident, Nariman Point
In a city that never sleeps, there's something or the other to do at any time in the day and the Trident is perfectly located for you to do just that. This iconic Hotel adds to the stunning Mumbai skyline with its 35 floors and 555 rooms to choose from.
The rooms provide a panoramic view of either the dreamy Marine Drive or Queen's Necklace. The Trident does not compromise on anything and takes its customers very seriously.
One of the things that stands out is the impeccable cleanliness of the place. Even the smallest tasks are handled with diligence and care by the staff.
Where: Netaji Subhash Chandra Bose Road, Nariman Point, Mumbai
Average Price: Starts from Rs 13,000
Google Rating: 4.6/5
3. The St. Regis Mumbai
India's first St. Regis, this hotel is in the heart of the city. It's next to the popular Palladium Mall, and is a stone's throw away from the Mahalakshmi Race Course. The hotel is a union of the past and the present, with an entrance that is a throwback to the opulent 80s, with a grand hall, chandeliers et al, to welcome guests.
Right from the moment you step inside, you are bathed in luxury. The St. Regis Mumbai also features one of the best nightclubs in Mumbai, Exo. The pool is beautiful, with a stunning view of the city, making it an ideal place to lounge and read as the evening sets in.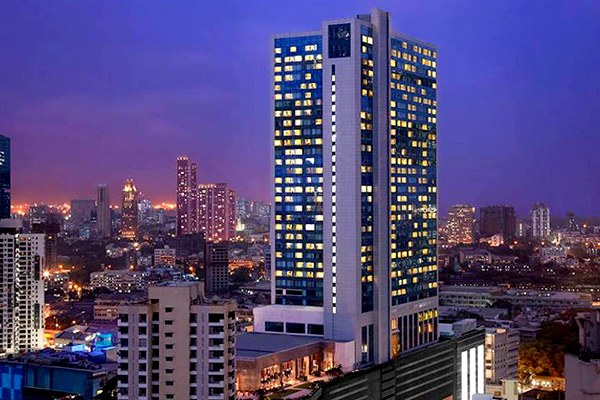 What sets this Hotel apart and earns it a top spot on this list is the amazing service and attention to detail. This is a perfect getaway for a few romantic evenings or a quick business call.
Where: 462, Senapati Bapat Marg, Lower Parel, Mumbai
Average Price: Starts from Rs 15,000
Google Rating: 4.6/5
2. The Oberoi Mumbai
One of the older hotels on this list, the Oberoi is pure class. The view of the ocean from the hotel is one to die for. You will be awash in the beautiful blues of the sunrise and the warm oranges of the sunset.
The beach attached to the hotel gives guests a private and quiet solitude from the hustle and bustle of Mumbai life. A vast array of dining options caters to the refined pallets of every guest.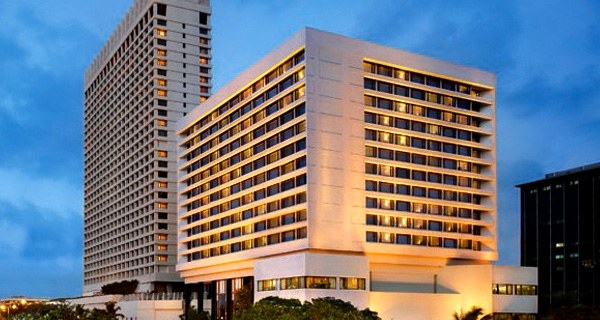 While most hotels on this list boast of a butler service, the Oberoi offers each guest a personal butler. It is no surprise then that the Kohinoor suite, which has its own Jacuzzi and sauna, has played host to many visiting heads of states. It is undoubtedly the crown jewel of Queen's Necklace.
Where: 216, Netaji Subhash Chandra Bose Rd, Churchgate
Average Price: Starts from Rs 16,000
Google Rating: 4.6/5
1. The Taj Mahal Palace Mumbai
It should come as no surprise at all that the number one spot on this list belongs to this century plus old marvel. The hotel has its own unique history and has become a part of Mumbai's lifeblood. The Taj has played host to kings, princes, CEOs and entertainers throughout its colourful journey. Even the king of pop, Michael Jackson himself stayed at the Taj Mahal Palace back when he visited India.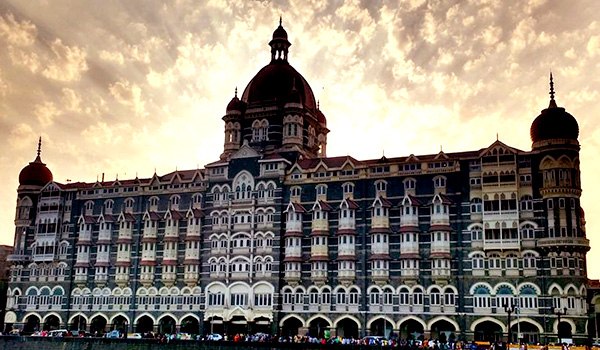 And we have no doubt his trip was as successful and as enjoyed as it was, in no small part due to the unparalleled service and luxury this hotel offers. Beset on either side by the Gateway of India and the Arabian Sea, this architectural marvel has become a landmark in itself. The art collection is magnificent, the furniture is grandiose, the architecture is divine.
We can go on forever about how grand this hotel is and words would still fall short of truly capturing it.
Where: Apollo Bunder, Apollo Bandar, Colaba, Mumbai
Average Price: Starts from Rs 12,000
Google Rating: 4.4/5
We hope that this will narrow your search down. We can guarantee that these are the very best of opulence, elegance, style and class when it comes to Mumbai. Do leave us a reply should you end up spending time in one of these hotels. It will be an experience of a lifetime, THAT is assured!
Latest posts by Vibha Sharma
(see all)