8 Best Vegetarian Street Foods You Can't Miss at New Marine Lines – Mumbai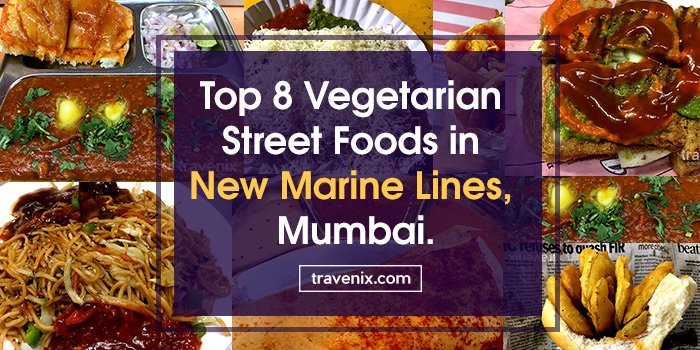 New Marine Lines is a famous locality in South Bombay (SoBo), very close to the sea and Marine Drive. The place was named after a military establishment built by the British in the 19th century, called the Marine Battalion Lines, which was later converted to Air Force residential quarters.
Very close to Churchgate, New Marine Lines is now home to various government offices, famous religious places, and also well-known schools and colleges. So, one can imagine that this place is home to a crowd belonging to all age groups.
Tasty Street Foods of New Marine Lines
While we were out there exploring this place and going absolutely gaga over a massive 'book-sale', we heard a lot about the khau gali at New Marine Lines that everyone seemed to talk about. So we decided to go check out what all of this hullabaloo was about. Needless to say, we were swept off our feet by a street full of food on either side, with the crowd feasting upon the variety this street had to offer. We too joined in, and weren't disappointed at all!
So here is the list of the most popular dishes we tried at New Marine Lines.
1. Amul Pav Bhaji – Lenin Pav Bhaji Corner
The Amul Pav Bhaji at Lenin is loaded with butter that melts all over the bhaji, making it even more delicious. The bhaji is yummy, with the veggies and spices mixed well. The pav served is also buttery and sprinkled with masala, and complements the bhaji well.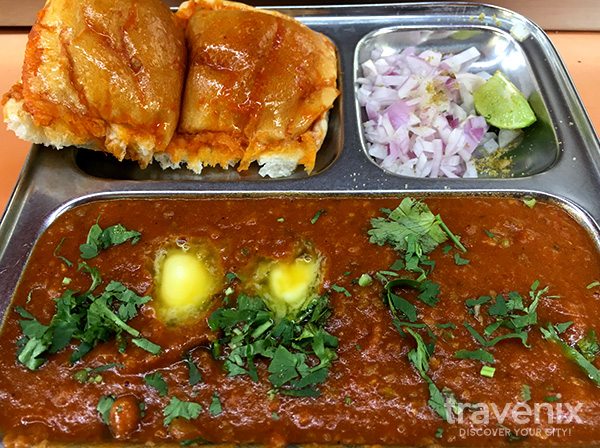 Where: 35/37 Khau Gali, New Marine Lines, Mumbai
Price: ₹ 60/-
Rating: 3/5
Other Great Dishes Here: Noodles, Fried Rice
2. Veg Hakka Noodles – H.B.S.B Famous Chinese center
As we sat nodding our heads to the outro of 'Lean On' (that's right, the stall has an in-house pop DJ), our delightfully colorful dish was served. The noodles are good but that's not what makes this dish great. It's the complements that elevate this dish to the next level. It comes with a yummy choice of veg. Manchurian, and chilly sauce (if you are anything like us, you'll take copious amounts of both and bathe your noodles in them), and the sautéed vegetables are done just right. Overall, the dish feels like an Indian version of an amazing Chinese dish. It does have a bit more oil than it ought to, though.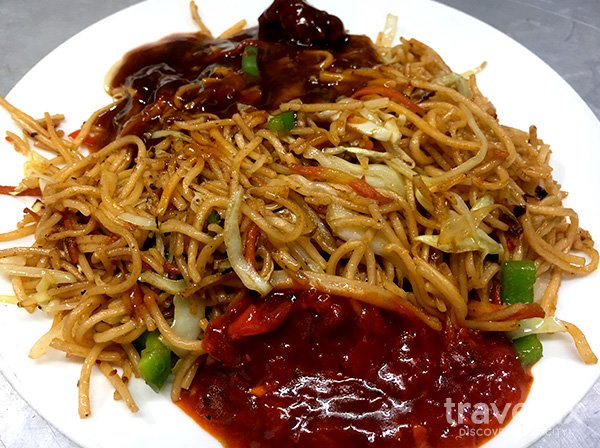 Where: End of Khau Gali, Opp Patkar Hall, Near Canara Bank, New Marine Lines, Mumbai
Price: ₹ 45/-
Rating: 3.5/5
Other Great Dishes Here: Veg Manchow Soup, Omlet Pav, Chicken Singapore Noodles
3. Bhajji Pav – Ramlu Bhaiyya Snacks Corner
While not lacking in colors that please the eye, the bhajji pav at Ramlu Bhaiyya snacks corner leaves the palette slightly disappointed. The besan (gram flour) mixture that goes into the pav hits a little off center, and is not as flavorful as an Indian street food accompaniment ought to be. However, the bhajji is well done, and is just the right amount of crispy. While that alone does not save the dish, the good quantity might just – for a quick eat at least. It also comes with a side of chutney that is rather blasé.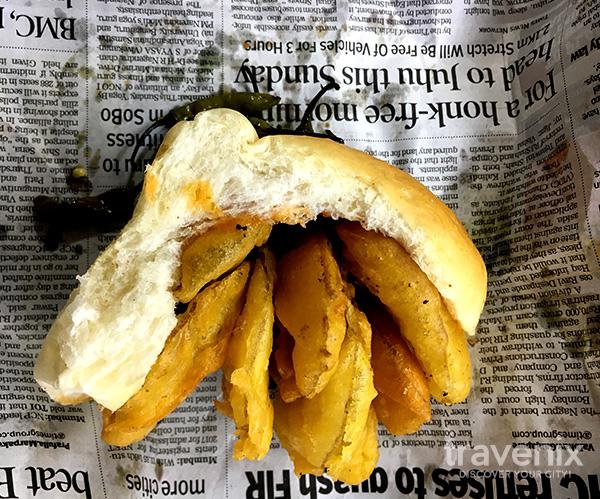 Where: End of Khau Gali, Opp Patkar Hall, Near Canara Bank, New Marine Lines, Mumbai
Price: ₹ 12/-
Rating: 2/5
4. Cheese Chilly Toast – Sai Shabri
For the uninitiated, the cheese chilly toast originated as an Indian twist on the traditional English cheese toast. With its ease of preparation and small number of ingredients, it quickly became the perfect evening snack. The one at Sai Shabri comes loaded with cheese, and is the right amount of spicy and crispy. The chilly isn't overwhelming, and the toast isn't too crisp. This is the perfect dish to have with a side of cool soda. However, having said that, the cheese leaves one feeling slightly disappointed. It could have been more flavorful and rich. All things considered, the dish is a good one and definitely worth a shot.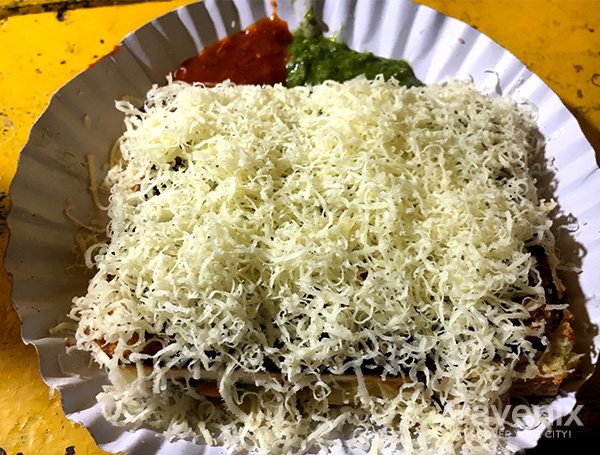 Where: Stall no. 16, Khau Gali, Opp Patkar Hall, Near Canara Bank, New Marine Lines, Mumbai
Price: ₹ 45/-
Rating: 2.5/5
Other Great Dishes Here: Samosa Sandwich, Veg Paneer Cheese Pizza
5. Paneer Frankie – Hans Ras Mandir
The paneer frankie is another dish that originated as an Indian twist on a Western classic. The one word that comes to mind after eating the dish in question is – Chatpata (spicy) and that, in a very good way. The paneer is soft and well-cooked, seems to have absorbed the spices well and bursts with flavor. This is street food done right. You are promised a spicy, tangy Indian street food dish, and that is exactly what you get.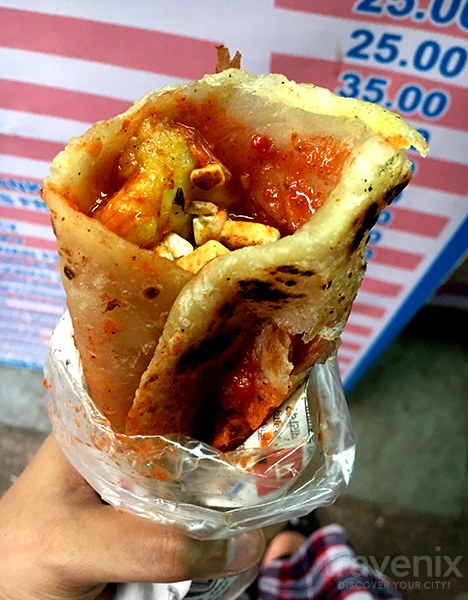 Where: Khau Gali, Opp Patkar Hall, Near Canara Bank, New Marine Lines, Mumbai
Price: ₹ 35/-
Rating: 3/5
Recommended Combination: Mango shake
Other Great Dishes Here: Cheese noodles frankie, mayonnaise schezwan frankie
6. Mysore Masala Cheese Dosa – Ganesh Dosa center
The name is quite a mouthful, and so is the dish. It is large and will leave your hunger sated for a while at least. While the dosa itself is very well made, the crispiness is just right, the filling inside is the right amounts of tangy & spicy, and the cheese is smooth. However, the many chutneys that accompany the dish are rather lackluster and only the lahsun (garlic) chutney is a worthy accompaniment. As a whole, the dish is tasty, filling, and a great twist on a South Indian classic.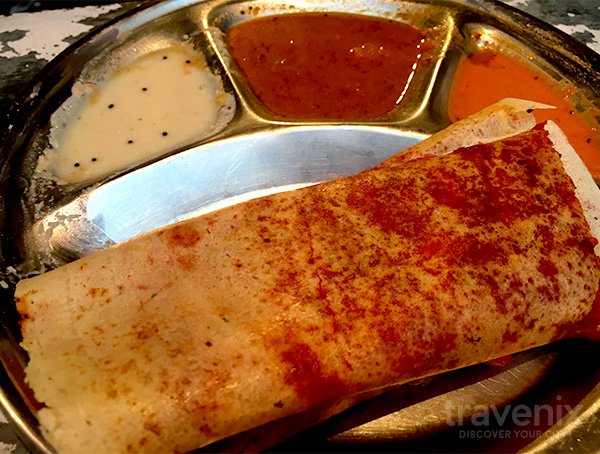 Where: Khau Gali, Opp Patkar Hall, Near Canara Bank, New Marine Lines, Mumbai
Price: ₹ 65/-
Rating: 3/5
Other Great Dishes Here: Chole Bhatura, Veg Cheese Dosa
7. Veg Brown Toast Sandwich – Aarey Sarita
This is a sandwich done right. The fact that it's very famous amongst the students of the nearby SNDT Women's University stands as a proof of that statement. It's a crispy, spicy sandwich that is loaded with capsicum, cucumber, tomatoes and onions; which is basically the standard sandwich fare and that's the point, it's a well-done sandwich. The chutney that is served with it is also very good and the dish is quite filling, for a sandwich.  Also, for the health conscious, this dish is rather healthy, since it is made with brown bread.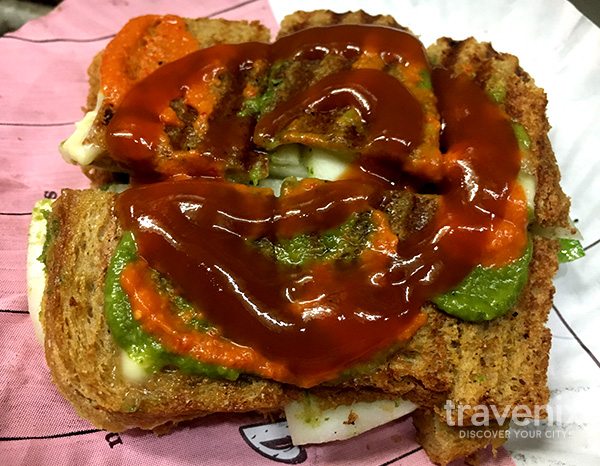 Where: In front of SNDT Women's University, Nathibai Thackersey Road, New Marine Lines, Mumbai
Price: ₹ 30/-
Rating: 3/5
Other Great Dishes Here: Chocolate toast, Maggi Toast Sandwich
8. Chinese Bhel – Vishan Zunka Bhakar Kendra
Earlier, we had an Indian twist on a classic Chinese dish, but this is the opposite. A Chinese twist on a classic Indian snack. This is basically a crispy friend noodle dish, loaded with spices, sauces and veggies. It is light and yummy and has just the right amounts of Chinese tang to the Indian spice. The noodles are crispy but have a smooth texture, thanks to the sauce, and the sauce itself is very tangy and zesty. The vegetables mix perfectly well in this dish and only add to the flavor.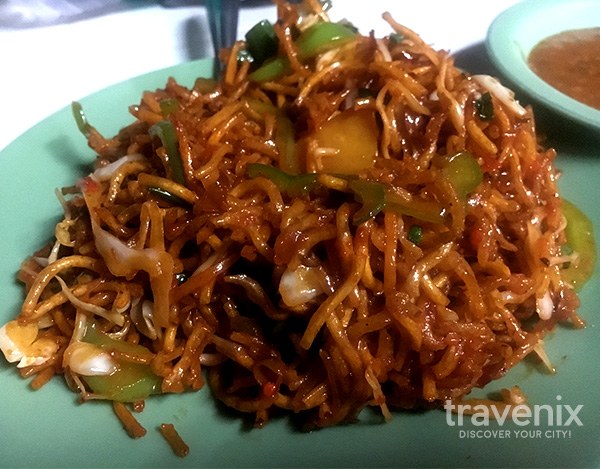 Where: Near Nirmal Niketan College, New Marine Lines, Mumbai
Price: ₹ 100/-
Rating: 3/5
Other Great Dishes Here: Veg Combo Triple Rice, Veg Paneer Noodles, Samosa Cheese Roll
Go out there and explore this khau gali! Let us know what other great dishes you've feasted on here, in the comments below.
Latest posts by Vibha Sharma
(see all)