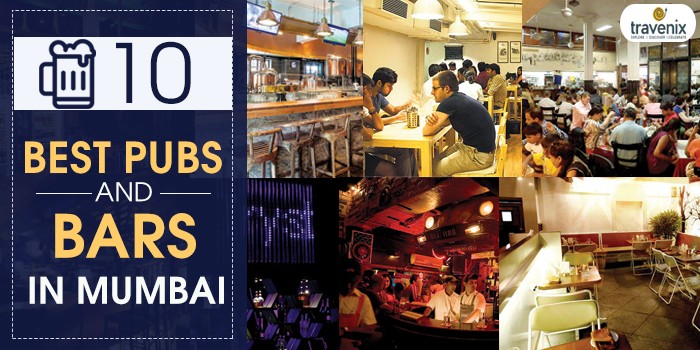 10 Best Pubs and Bars in Mumbai
Mumbai is a city that never sleeps, and truly so, it has a very active nightlife. It is common to see people roaming around the city well past bedtime and the sheer number of pubs and clubs in the city are proof enough for this. Be it weekday or weekend, it is a common sight to see these places packed with people.
Mumbai's Nightlife
With some of the finest pubs of India in town, it comes as no surprise that on a daily basis, all these alcohol havens are frequented by food and alcohol lovers. With such a wide variety of places available with different ambiances, ranging from quaint and sophisticated to loud and energetic, everyone has something to look forward to. Here, we present the best of the lot for you!
1. Baroke
Located in the southern part of Mumbai, this pub has its interiors done well. The amazing food combined with rocking music makes the atmosphere absolutely thrilling. Known for its great Bollywood numbers, this is a hit among all the Bollywood buffs out there!


Where: Hotel Krishna Palace, 96/98, Sleater Road, Nana Chowk, Grant Road, Mumbai.
2. Tryst
This is the place where trippy lights make the whole environment wild by synchronizing with the beats, and this takes the music to another level. Any dancing maniac is sure to love the thrilling ambience and this is probably the reason why it's common to find a young crowd here all the time.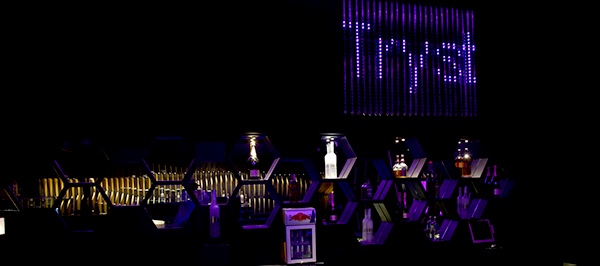 Where: Phoenix Mill Compound, High Street Phoenix, Senapati Bapat Marg, Lower Parel, Mumbai.
3. Woodside Inn
Every weekend, it is common to see Woodside Inn packed, with its patrons sipping on their Long Island Iced Teas and beers. It is one of the few places in town that also offers beer from Indian breweries like Gateway Brewing Co. With some lip-smacking pizzas and burgers to keep you company and 90's alternative rock playing in the background, you're sure to fall for this place.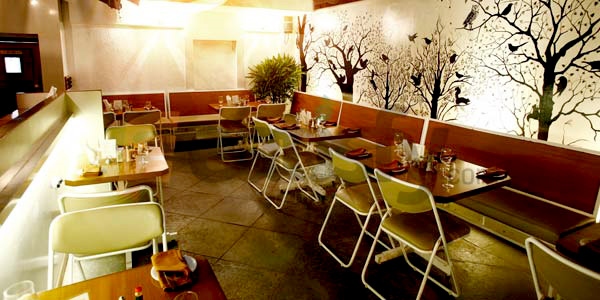 Where: Colaba, Lower Parel, Oshiwara
4. Doolally Taproom
One of the very best pubs out there, Doolally Taproom is THE place for beer lovers. With a short and crisp menu, they offer some of the finest alcohols with good food; the house fries with their dips deserve a mention here. With three branches across town and board games to keep you entertained, it's about time that you headed here!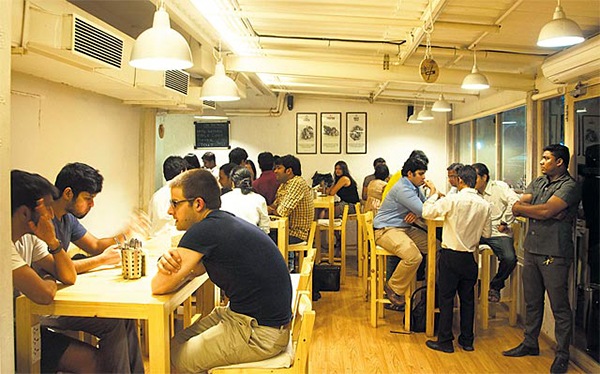 Where: Kemps Corner, Bandra Reclamation, Andheri
5. British Brewing Company
The BBC of Mumbai has a warm and cozy atmosphere with some elegant infusions like Fresh Fruit Martini and Whiskey Sour. A huge liquor menu and 'vodka golas' are here to satisfy all your alcohol cravings and the delicious non-vegetarian food is a hit here as well. For some lazy time sipping a chilled glass of beer, there is no better place in town than BBC!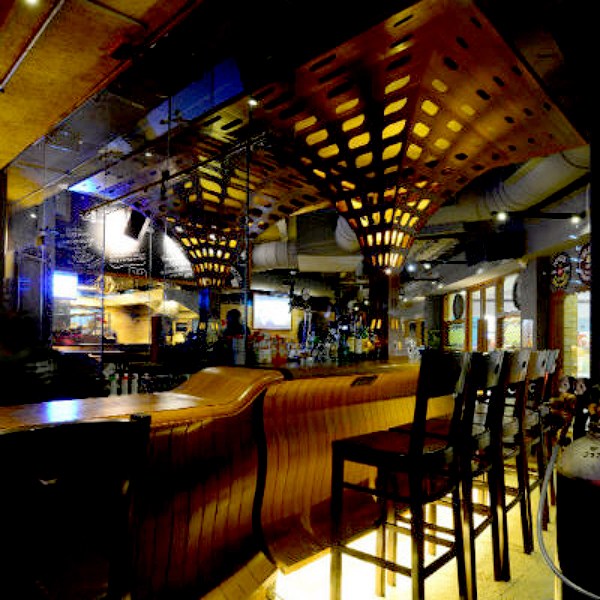 Where: Lower Parel, Thane, Goregaon
6. Leopold Café and Bar
With a vintage ambience, this café is an instant favorite among all residents and tourists alike. Known for its mouthwatering food and the popular 'Beer Tower' with its tap, this café is packed all the time, be it day or night. Experience the Mumbai from the 1800s right here, as that's how old this place is. Reason enough to visit, isn't it? Located nearby is the first 5 star hotel in Mumbai – Taj Mahal Palace Hotel!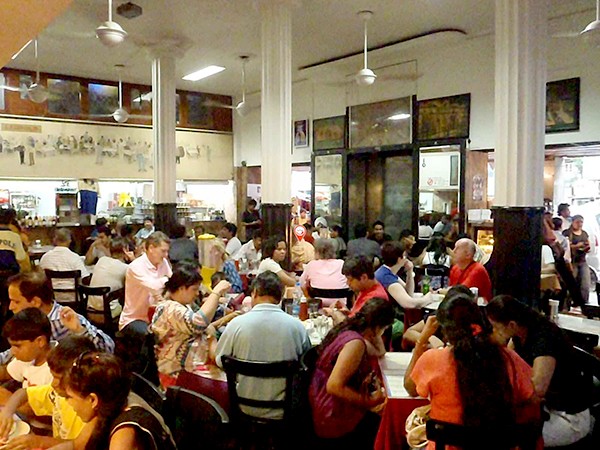 Where: S.B. Singh Road, Colaba Causeway, Mumbai.
7. The Irish House
This is the quintessential Irish pub right in the heart of Mumbai. With seven branches across town to help you reach your favorite place with ease, you are guaranteed some good ol' beer here. With an extensive and exciting alcohol menu and delicious food to accompany it, this place is a favorite among all.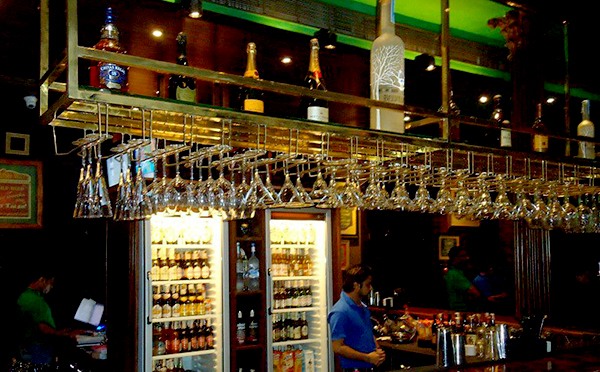 Where: Phoenix Mills Compound, High Street Phoenix, Senapati Bapat Marg, Lower Parel, Mumbai.
8. The Barking Deer
This microbrewery opened up just a couple of years back and since then, it has been producing some excellent beers. The four main brews available here are – the IPA, Belgian Wit, Bombay Blonde and Honey Bee Braggot. The pub also hosts some epic events like basics of beer brewing. How cool is that?!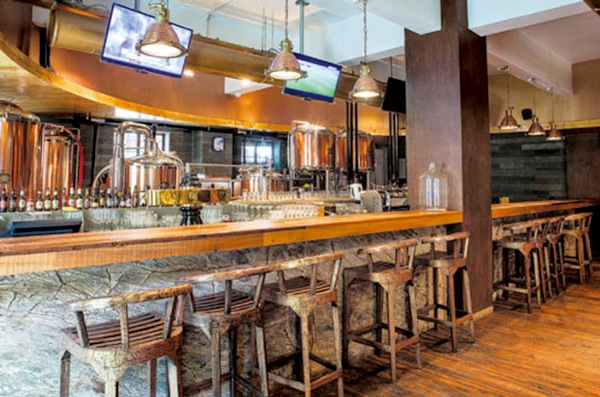 Where: Mathuradas Mill Compound, Senapati Bapat Marg, Lower Parel West, Mumbai, Maharashtra 400013
9. The White Owl
The White Owl is where you should head to after a grueling day at work. Order a beer and jalapeno cheese poppers and you're sorted for the evening. What's more is that they make their own beer! With live music to give you company and some intriguing décor to fascinate you, you're sure to spend quite some time here, be it solo or with some company.


Where: Lobby, Tower 2 B, One Indiabulls Center, Senapati Bapat Marg, Lower Parel, Mumbai
10. Toto's Garage
It is difficult to imitate a good place, but impossible to copy the best; this is true for Toto's Garage. A typical pub in the midst of Bandra with a 70s and 80s ambience and retro hits playing in the background, it's all you need for the weekend. Cheap and plenty beer with loud music and some great food to accompany the drinks is sure to kick all your worries out.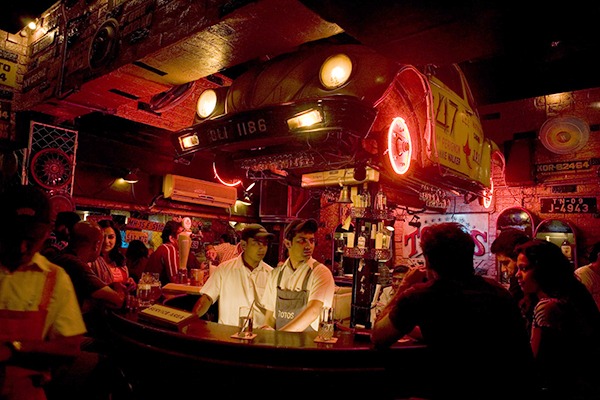 Where: Dr KB Hedgewar Road, Bandra West, Mumbai, Maharashtra 400050
These are some of the best pubs out there in the city but this list is definitely not exhaustive. Each place in Mumbai has something to offer and this stands true for all the pubs as well. Do share your experience with us after you visit the above pubs (we're sure you will!). Also do let us know your favorite drinks in the comments below!
Image Credits: Zomato, Tryst Mumbai, GroupTable, Hindustan Times, High Street Phoenix, Burrp, Chatpati Diary, HighApe, White Owl, CNN Travel. 
Latest posts by Vibha Sharma
(see all)