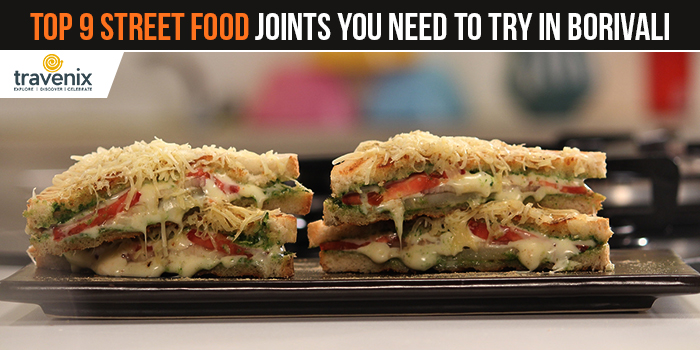 Top 9 Street Food Joints You Need to Try in Borivali
Located in the north-west of Mumbai, Borivali is largely a residential hub that is also home to a popular green tourist spot in the city- the Sanjay Gandhi National Park. The park is known to have 1000 species of plants and 40 species of mammals. So, if the nature lover in you takes you there, we are sure you'll need some good food to get you going on your visit.
Borivali's Variety Will Bowl You Over
We've done all the tasting for you so that you get only the best of the lot while you're there. We've got tangy, sweet, crunchy, munchy – all ready for you. Check out the list of street picks that will keep your tummy happy the next time when you visit Borivali.
1. Yogurt Parfaits – Flavours 24
The exquisite Yogurt Parfait at Flavours 24 is made with the goodness of blueberry and dry fruits. The first layer is fully covered with dry fruits, while the berry along with yogurt brings out the flavor in the next layer. The combination is refreshing and a perfect way to end a heavy meal.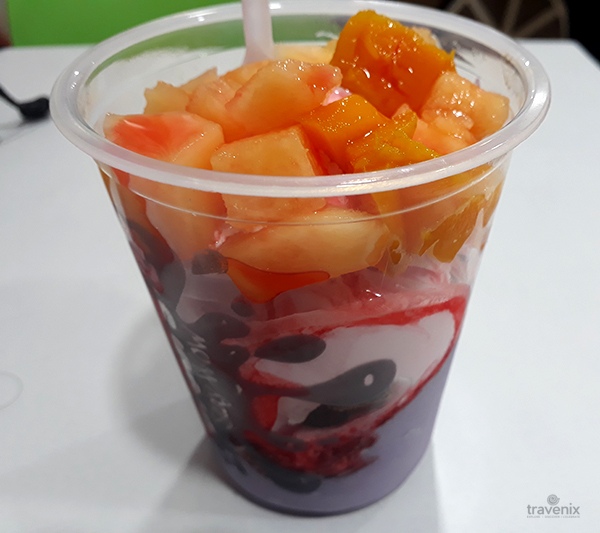 Where: Shop No.5, Maakrupa Bldg, Shimpoli Road, Opposite Salute Hotel, Borivali West, Mumbai
Price: ₹150
Rating: 5/5

2. Mayo Magic Toast – Food Bites
Loaded with olives and cheese, the Mayo Magic Toast at Food Bites is a delightful treat to snack on. The top layer of the toast is barely visible as it is completely covered in cheese. The stuffing inside, which is filled with well-cooked vegetables, adds some flavor to the toast. Another layer of mayo on top completes the dish. Overall, it is a great dish that is definitely worth your money.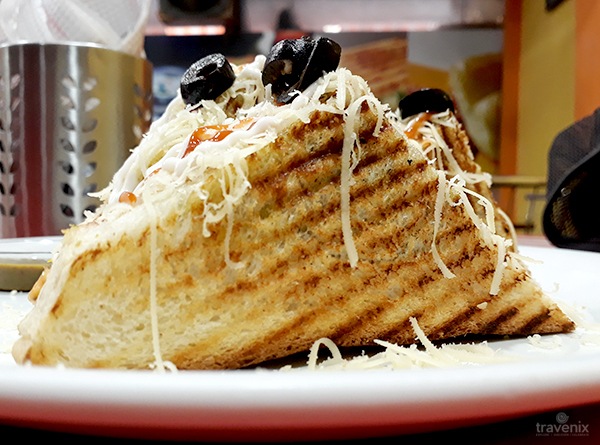 Where: B/1, Ma Krupa Building, Shimpoli Road, Borivali West, Mumbai
Price: ₹110
Rating: 4.5/5
3. Pav Bhaji Dosa – Dwarka
Combining the tanginess of pav bhaji along with the crispiness of a dosa, this dish has all the right ingredients to make it to your favorite all-time street food. At Dwarka, the dosa is smooth, crispy and full of butter. Instead of your regular vegetable stuffing, the inside of this dosa is spread with pav bhaji. The pav bhaji has a strong, spicy masala that gives the regular dosa a hot makeover. Apart from what it offers for the taste buds, it visually appealing too. It is worth a mention that Dwarka really knows how to present food well.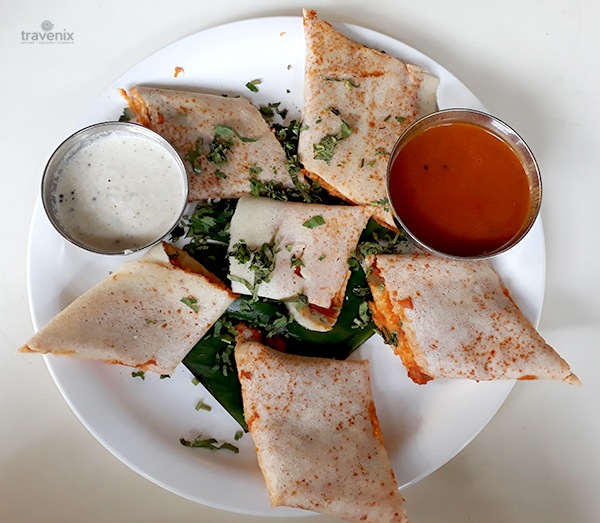 Where: Dwarkesh Society, L.T. Road, Borivali West, Mumbai
Price: ₹95
Rating: 4/5
4. Apple Cucumber Cooler – Sabras
Caught up in the middle of a dull day? This fancy looking cooler is all you need to lift your spirits up. It's got a spunky green look tht instantly catches your eye.. Of the two layers in it, the upper half is covered is loaded with the goodness of cucumber while the bottom is concentrated with apple. It is a combination that mostly has mild flavors, but the flavor of mint is strong enough to give the drink a great kick. It's a drink for everyone who needs to chill.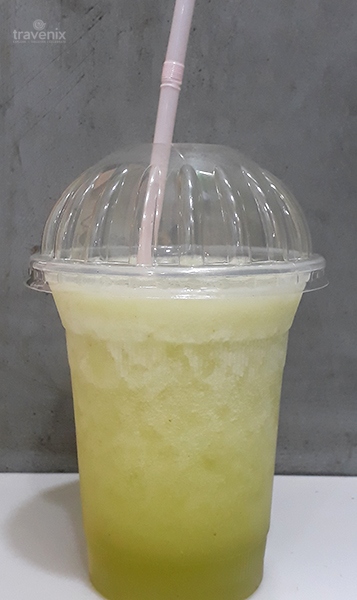 Where: Shop 5, Om Sadachar CHS Ltd, Shimpoli Road, Borivali West, Mumbai
Price: ₹110
Rating: 3.5/5
5. Veg. Cheese Paneer Frankie – RK Chat Corner
In the mood for something cheesy and tangy? Head straight to RK Chat Corner. They have a lot of options, but their Veg Cheese Paneer Frankie really stands out. The frankie is stuffed with a good number of paneer pieces to ensure that your tummy is loaded by the time you finish it. The masala in it really spices this frankie up well.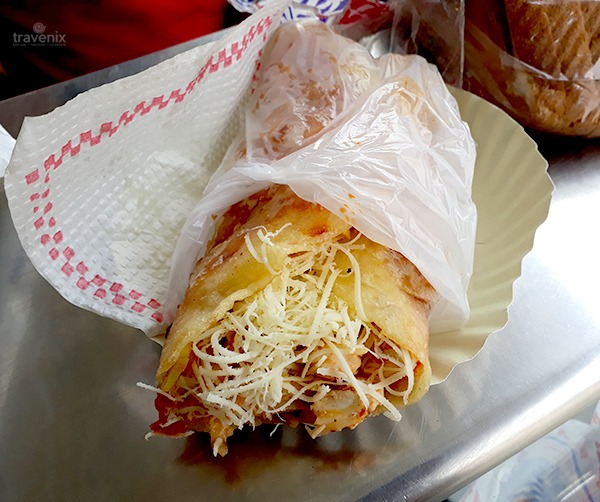 Where: Sun Plaza, Opposite Diamond talkies, I.T Road, Borivali West, Mumbai
Price: ₹60
Rating: 3.5/5
6. Paneer Dosa – Kumar Pure Veg Restaurant
Bringing together paneer and dosa – two of the most beloved foodie choices – Paneer Dosa has the ingredients you can't go wrong with. Packed with paneer, this dish is great for those times when your hunger pangs are killing you. It is more like paneer bhurji stuffed inside the dosa, which really is a great combination. Go to Kumar's for the Paneer Dosa and we promise you will not be disappointed with the hearty treat.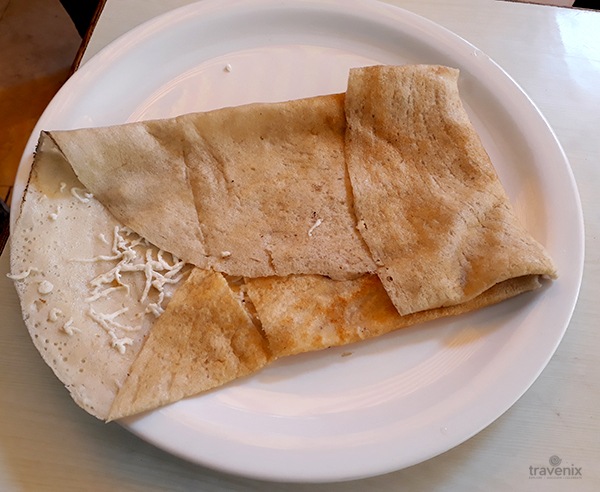 Where: Opposite Pantaloons Showroom, Shimpoli S.V. Road, Borivali West, Mumbai
Price: ₹100
Rating: 3/5
7. Dahi wada – Pipasi Lassi Snacks
The classic Dahi Wada is a snack that every street food lover craves for. Deep fried urad dumplings dunked in sweet yoghurt is the best treat you can give your tummy while ensuring that it still stays light. At Pipasi Lassi Snacks, the spicy and tangy tamarind and mint chutneys put on top of the dumplings are full of zest. It is garnished with some red chili powder and roasted cumin powder as well, which makes it an absolute treat for the taste buds.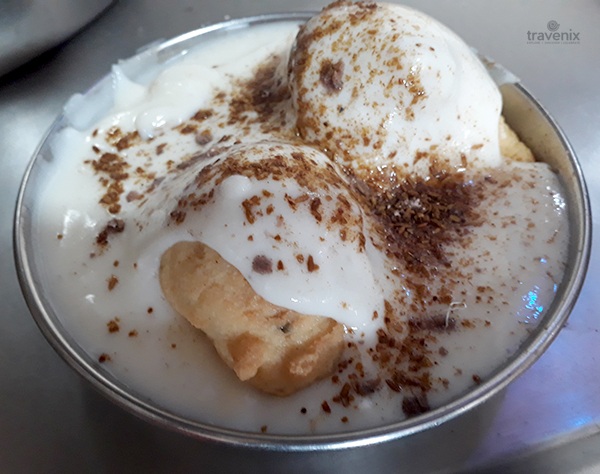 Where: 70, Goyal Shopping Arcade, Borivali West, Mumbai
Price: ₹50
Rating: 3/5
8. Mendu wada – Panchvati Tea and Cold Drink House
The desi doughnut or Medu Vada is a great snack to begin your day with. It's extremely soft on the inside, but crunchy and crispy on the outside. Panchavati cooks them all to perfection. The taste of urad is only accentuated when you combine it with the traditional coconut chutney. Overall, it is a great dish.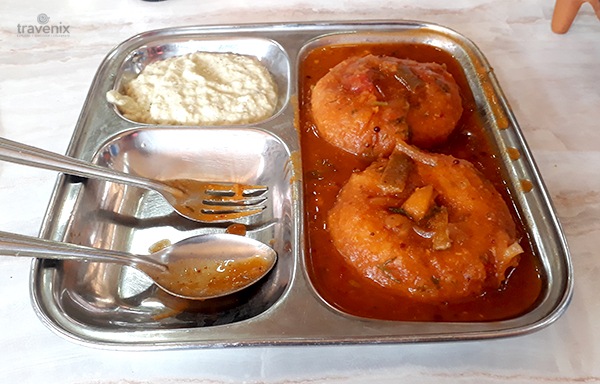 Where: Shop No. 4, Arunodaya Shopping Centre, Market, Swami Vivekanand Road,
Sundar Nagar, Borivali West, Mumbai
Price: ₹40
Rating: 3/5
9. Dry Fruits Falooda – Heem Sagar Restaurant
A punchy pink color draws your attention instantly to this falooda. Filled with a generous mix of dry fruits and jelly, the Dry Fruits Falooda is a delight that you should definitely try. All those with a sweet tooth will undoubtedly give the dry fruits falooda a big thumbs up!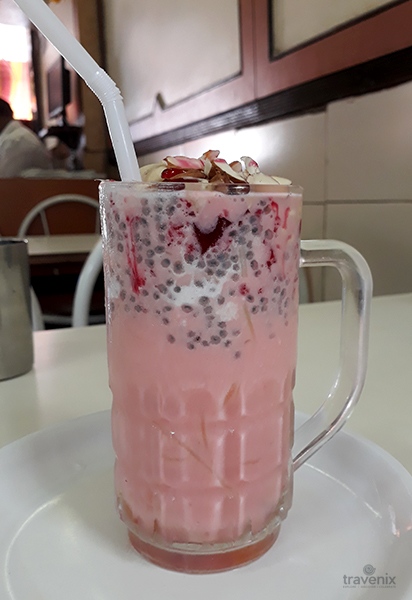 Where: 9, Jaya Talkies Compound, SV Road, Borivali West, Mumbai
Price: ₹110
Rating: 3/5
Have you tried out any of these street food joints yet? Or do you think we have missed out on your favorite local food joints in Borivali that totally deserve to be up there on this list? Do let us know about anything that you might have to say, by leaving a comment on this post. Like and Share so that your friends can gorge on these delicacies too.
Latest posts by Vibha Sharma
(see all)