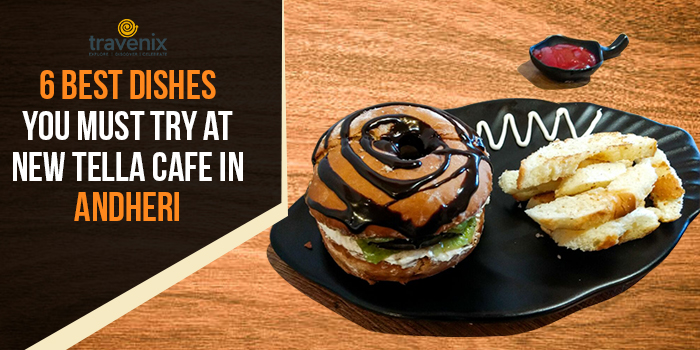 6 Best Dishes You Must Try At New Tella Cafe In Andheri
Is there anyone really who doesn't love Nutella? As an ardent fan of its chocolaty goodness, the chefs at New Tella Cafe in Andheri decided to take it upon themselves to convert those who aren't willing to give it due credit for its heavenly contribution. They have come with innovative dishes that are all about bringing out the best of Nutella.
Innovation And More
From Nutella Jar Shakes to Nutella Fries and even Nutella Dessert Burger, they're serving it all at New Tella Cafe. It definitely wins with its shock value, but they've also got some savory and classic dishes for those who aren't very experimental. We tried some of their dishes and here's our verdict on it.
1. Nutella Dessert Burger
Think Burgers are meant to be savory? Nah, New Tella has its own Nutella-filled sweet surprise for you. Two sugared donuts form the base for this dessert burger, while a sinful Nutella Patty makes for the main filling.
Your normal burger is filled with veggies, but what's the dessert equivalent for it? Exotic fruits. Slices of kiwi and strawberry combine with chocolate to make this one of the best burgers we've had. It's unlike anything we have tasted before. It's full of calories, but we aren't complaining at all. Actually, we are really thankful to New Tella for this new favorite on our food list.
2. Hawaiian Pineapple Mojito
This tropical drink is a delight on a hot summer afternoon. It oozes of the sweetness of pineapple which is complemented well with the freshness of mint and lime.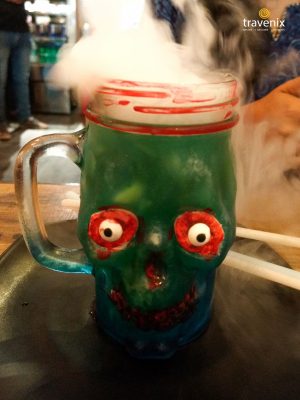 Blue Curacao takes care of its visual appeal by adding a touch of a gorgeous blue tinge. It is a refreshing drink which deserves to become more popular.
3. Pull Apart Cheese Garlic Bread
Cheesy Garlic Bread has conquered the appetizer menu everywhere, but very few restaurants know how to make it well. Count New Tella Cafe among the few ones who can nail it. Just as the name suggests, its beauty lies in pulling it apart.
It's like an avalanche of cheese out of it after that. Even at the risk of sounding cliched, we'd say it melts right in your mouth. We like our garlic bread cheesy, but those who crave for a stronger garlic taste may be disappointed by its subtle flavor.
4. Nutella Banana Pancakes
The power of Nutella can pump life into any dessert. Nutella with Banana is a combination that is tried and tested, so we knew what to expect when we ordered this dish. Thin slices of banana over waffles create a canvas for Nutella to spin its magic.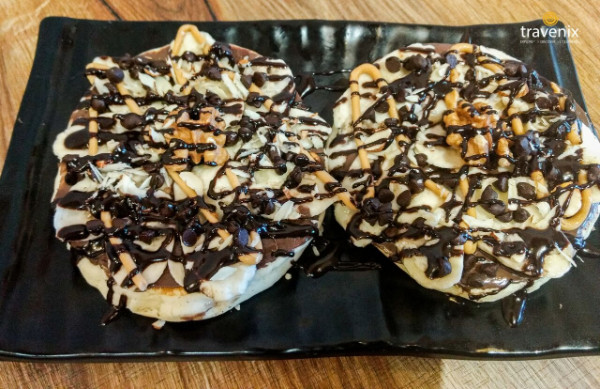 But we were surprised by the maple syrup and peanut butter added to the mix. It's a dish that departs from your regular recipe, so it may a hit for some, while for many the combinations may be just amiss.
5. Towering Potato Wedges
Towering Potato Wedges is for those who like a dash of spice in every bite. At the core of this dish are your average crispy potato wedges, but the sauces transform it into something absolutely phenomenal.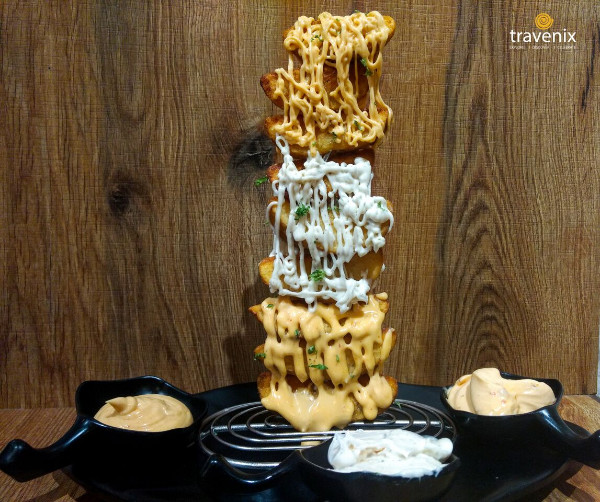 Chilli garlic and ranch potato wedges are mixed up and then topped with honey chipotle sauce – yep, it's an absolute burst of flavors together! There is only a hint of honey which is great, otherwise, it could have played a spoilsport for the spice party our tastebuds enjoyed. It's a great dish that we couldn't get enough of. Wish the portion size was slightly bigger for this one!
6. Eggs Benedict
Eggs Benedict may be a common classic dish, but cooking it well requires some really good orchestration. You have to make sure your egg is poached just right, not even a little undercooked or overcooked.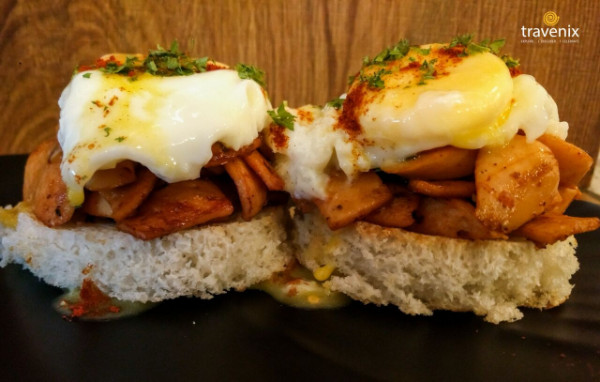 On top of that, your hollandaise sauce needs to have the right consistency to flow creamily over your English muffin. Then your bacon too needs to be sufficiently crunchy. Eggs Benedict at New Tella gets it all right. They have substituted bacon with chicken sausage and chicken salami, and we're happy as long as the dish is yummy. We'd definitely recommend it for your next Sunday brunch.
Have you been to New Tella Cafe yet? Tell us what you liked the most there and how your overall experience was, in the comments section below.
For those who are yet to go, we'd say you definitely have to try their Nutella Dessert Burger! To visit the cafe, head to Shop No 3, Mayfair Building, Oberoi Complex, near Empressa Hotel, Andheri West.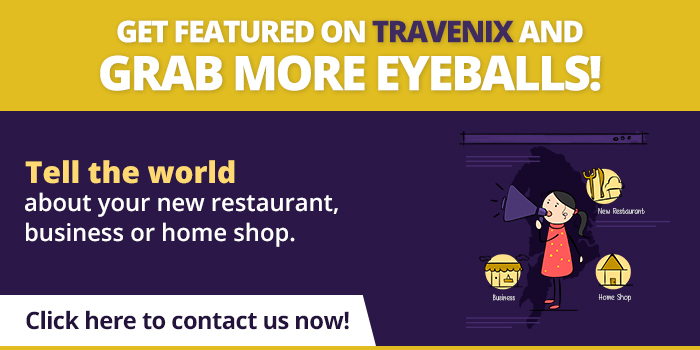 Latest posts by Vibha Sharma
(see all)