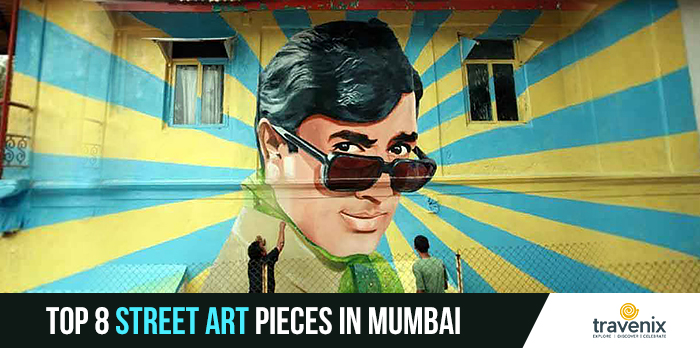 Top 8 Street Art Pieces In Mumbai
Whether street art and graffiti counts more as an expression of culture, political dissent or exists merely as vandalism, is a subject that has been debated upon for long. But one thing is for sure, it adds a pop of color and vibrancy to the streets. Mumbai also has some interesting street artworks on display; you just need to know where to find them.
Murals Speak Louder Than Words
These artworks range from giving meaningful social messages to humorously tackling sensitive issues. Some of them don't really have a message to give, while others work as smart advertising gimmicks. The Bean Bag graffiti that is found in various areas across the city was made just to ensure that bean bags became more popular! If you're interested in checking out more street art in Mumbai, follow us as we explore some of the best that the city has to offer.
1. Mahatma Gandhi Mural
Legendary Brazilian street artist Eduardo Kobra painted this iconic Mahatma Gandhi mural that adorns the South and East side facades of the Churchgate Station.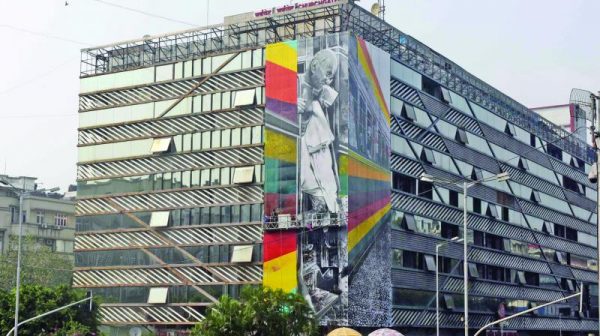 Kobra is known for his portraits that are vibrant and use innovative geometric shapes for visual appeal. It is huge (25 meters long and 8 meters wide), so there is no chance you'll miss it if you're anywhere near the station.
2. Amitabh Bachchan mural
Mumbai's obsession with Bollywood translates into beautiful street art as well. If you're walking down from Mehboob Studio towards Bandra Bandstand, you'll see a huge mural of Amitabh Bachchan on a bungalow on the left.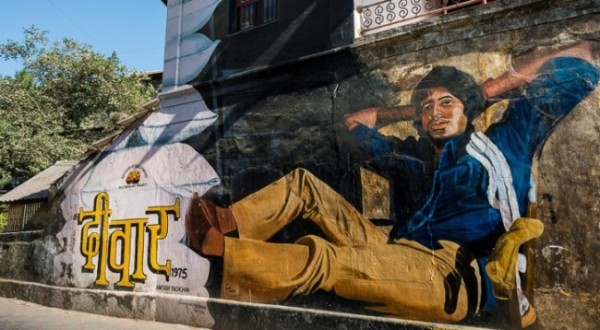 Amitabh Bachchan's popular image as an angry young man comes across even through this mural that is inspired from a scene from his movie, Deewar.
3. Street Art By Bond
Bond Truluv is a renowned graffiti artist from Germany who is well known for his art pieces that experiment with letterforms. His works are easy to identify — all of them spell out his name in some form.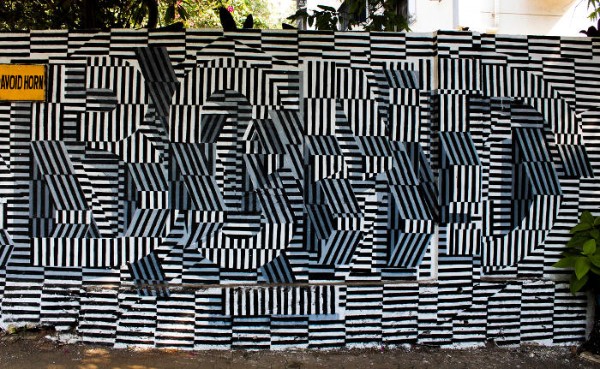 As a part of St+Art India project, he created the Bond monochromatic piece near Mount Mary Basilica in Bandra West.
4. Sustenance at Sassoon Docks
The Sassoon Docks were transformed last year when St+Art project brought in numerous artists and creative persons together. The area showcased art installations, artworks as well as murals.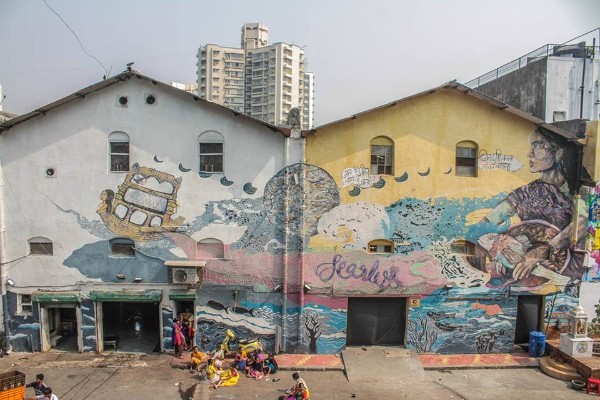 Shilo Shiv Suleman's mural at the dock creates to give out a social message about the changing role of women in the fishing activities. Covering two buildings, the mural depicts how women have been trying to break rigid social structures.
5. Anarkali Mural
This was the first one among the iconic Bollywood stars murals that adorn all of Chapel Road now. You can find this stunning Anarkali mural near Duke's Restaurant near Chapel Road.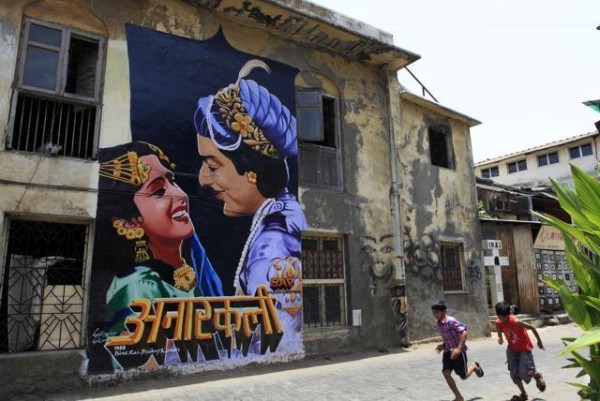 Artist Ranjit Dahiya, along with his friend Tony Peter created this masterpiece which tells the story of the movie Anarkali, a commoner, who falls in love with a prince.
6. Between Us By Nina Pindalfo
Nina Pindalfo is a Bazilian street artist whose work has been exhibited in New York, Germany, Brazil, London and Florida.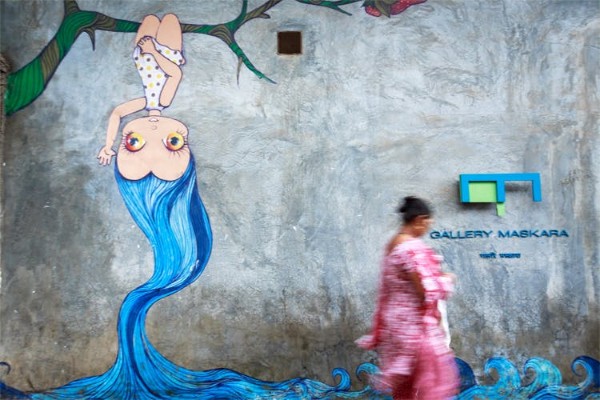 Her work outside Gallery Maskara in Pasta Lane in Colaba showcases a girl hanging from the branch of a tree. The painting exudes innocence and childlike wonder.
7. Artwork At Lion Gate Wall
Mumbai's chaotic life has been a muse for many painters, musicians, and filmmakers. Street artists are not to be left behind. An artwork at The Lion Gate Wall looks at the city from the perspective of its maritime trade from the 19th century.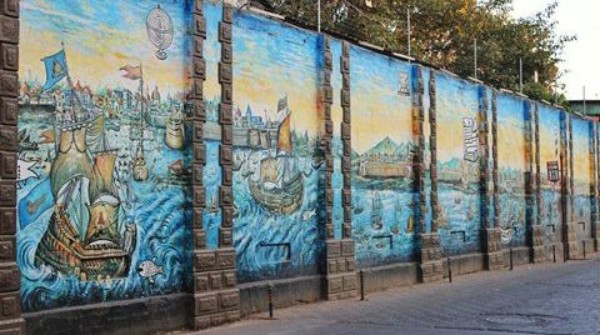 Who created this artwork still remains a mystery, but it is definitely an ode to the city that is beautifully done. It is said that this artwork was created to cover the wall fully as people had spoilt it by spitting on it.
8. Rajesh Khanna Mural
Right after Ranjit Dahiya heard about the news of Rajesh Khanna's demise in 2012, he knew he wanted to pay a tribute to him through street art. He had only completed Amitabh Bachchan's mural as a part of Bollywood Art project a week before.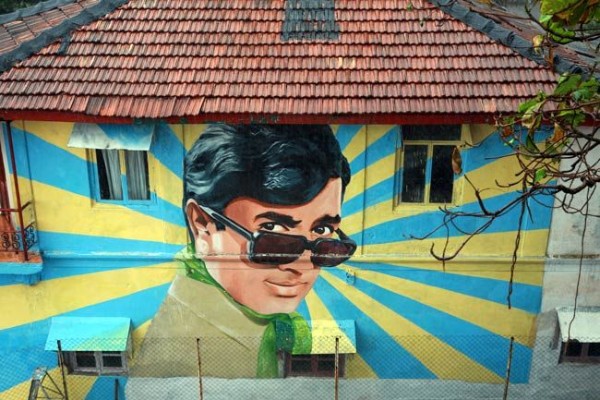 He went back to the same place and spoke to the house owner about his new idea. Rajesh Khanna's mural is adjacent to that of Bachchan's Deewar mural, painted on the wall of the same house.
Mumbai has a lot more art to showcase. Just take a stroll through Veronica Street or Chapel Road in Bandra and you'll stumble across numerous art pieces that make Mumbai's graffiti scene interesting. Which of these is your favorite street art piece? Do let us know in the comments section below.
Image Credits: LBB, Kyoorius, Indiatimes.com, Globetrotter Magazine, NearFox, travel 3Sixty
Latest posts by Vibha Sharma
(see all)