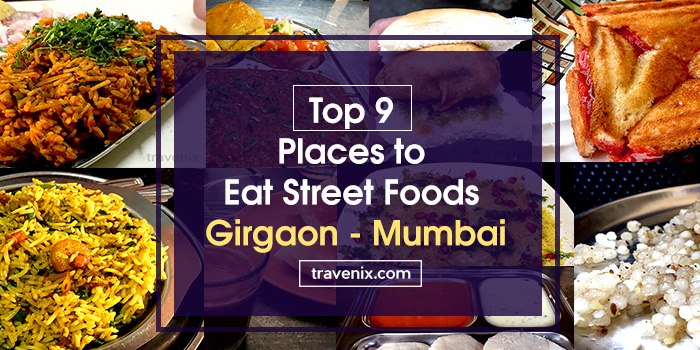 Top 9 Places to Eat Street Foods at Girgaon – Mumbai
In Sanskrit, Gir means Hill and Gaon means village. A view from the top of Malabar hills will justify this interesting name. Girgaon is an area on the tip of Southern Mumbai that is as diverse and varied as it can get. Whether you want to spend the mornings walking along the pristine shores of Chowpatty beach, visit the Royal Opera house or visit various other tourist spots, Girgaon is the place to be. All that walking is bound to get you hungry, and we suggest you have a look at the list we've compiled for you.
The Hunt for Street Food at Girgaon
With a variety of food, you're sure to love this place. But some of the best foods found here are from shops that are basically hole-in-the-wall places that you might just miss if you aren't keeping your eye out. We explored this area and made it easier for you to find such dishes here. Check it out!
1. Special Pav Bhaji – Manohar Pav Bhaji
Finally, a dish that checks all the boxes. The soft, fresh pav is loaded with butter and then cooked in more butter. Delectable! The bhaji is rich, tangy, spicy, and has a peppery after taste. This dish is the definition of good Indian Chat, full of spices that work their magic on to the tongue. Be generous with the lemon squeeze and you have yourself a proper treat. This rich dish is definitely a Chat lover's dream.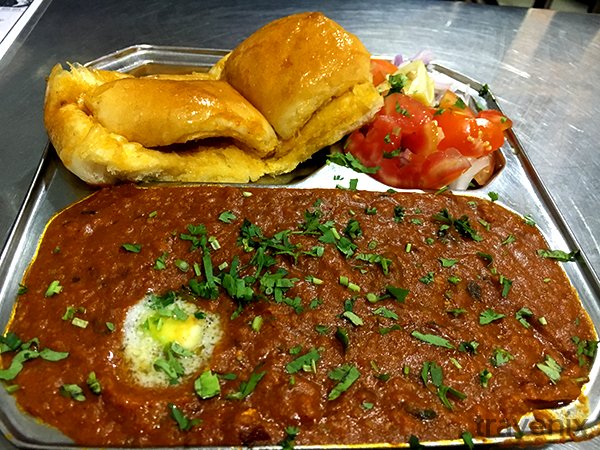 Where: 103, Peerbhoy Terrace Building, JSS Road, Girgaon Naka, Girgaon, Mumbai
Price: ₹ 120/-
Rating: 4.5/5
Recommended Combination: Fizzy Drinks
Other Great Dishes Here: Butter Masala Pav
2. Café Dela Paix – Bun Maska Chai
The classic dish for the weekend philosopher. As you sit against the setting sun and sip on your strong chai, take in the beautiful atmosphere of this ancient Parsi joint and you will feel like you are living history. The soft and fresh bun goes well with a gracious spread of maska. Everything about this place and the dish is simple and inviting. A great place to spend the evening at, chatting with friends.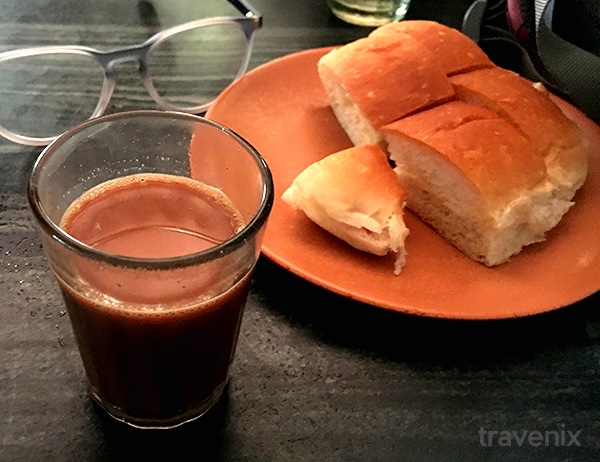 Where: Hazi Ahmed Azmi Road, Near Grand Building, Colaba, Mumbai
Price: ₹ 30/-
Rating: 4/5
3. Tawa Veg Pulav – Jai Hind Hotel
This is the dish you go for when you want a full wholesome meal on the go, without blowing a hole in your pocket. It is steeped in spices and very flavorsome. The ghee and rice go well together and its aroma will catch you by the scruff and not let go. There is also a taste of Pav Bhaji masala in the dish's overall palate but it works in favour of the dish, so we're not complaining. The quantity is more than enough to fill a tummy or two.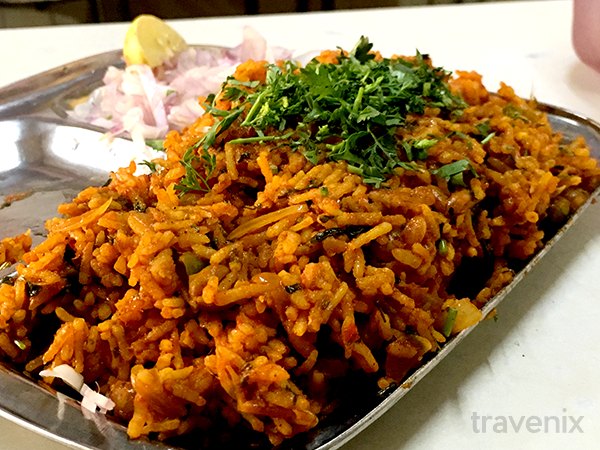 Where: 84/B, Opposite 1st Bhattwadi, JSS Road, Opera House, Girgaon, Mumbai
Price: ₹ 50/-
Rating: 3.5/5
4. Idli – Amey Fast Food
This classic South Indian staple is defined by the sambhar and chutney that accompany it. The sambhar that accompanies the idli from Amey's would make a full blooded South Indian red faced angry. Despite its appealing color, it is watery and simply does not have enough flavor. The coconut chutney on the other hand is well done and the idlis are fresh and soft. They have the beautiful consistency of a cloud that just falls apart inside the mouth. If you opt to have this dish, go for the idli and chutney, leave the sambar alone.
Where: 200/204, Ground Floor, Lenin Wala Building, J.S Road, Girgaon, Mumbai
Price: ₹ 20/-
Rating: 3/5
Recommended Combination: Fizzy Drinks
5. Jam Cheese Toast – Sandwich Katta
This classic dish is very hard to get wrong and just as hard to get perfectly right. The bread is fresh and grilled till it's a perfect golden brown. The mixed fruit jam, butter and cheese go beautifully well with the dish and simply melt in the mouth. The grilled cheese is not drippy but not chewy either. This is a simple dish, done simply well. Brings back memories of watching Cartoon Network as children while munching on jam toast.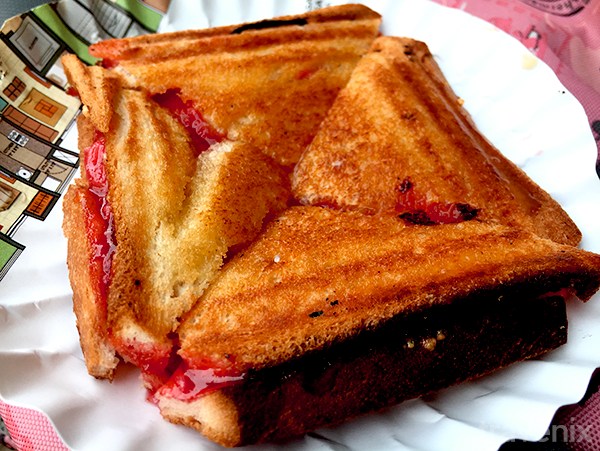 Where: Mehta Mansion, Near Kandewaldi Police Station, Girgaon, Mumbai
Price: ₹ 40/-
Rating: 3/5
Recommended Combination: Fizzy Drinks
Other Great Dishes Here: Masala Toast
6. Sabudana Kichidi – Sakhi Sagar Puri Bhaji Kendra
Sabudana Kichdi, a dish native to the Western Parts of India is made by soaking Sabudana (Sago) in water for a suitable amount of time and then cooking it with spices. The key is to make sure you get the soaking time right, otherwise the Sabudana will be soggy and not appetising. The dish in question here has been soaked well but lacks in the garnishing. It has a bland taste that does not have any special edge to it. However, for a cheap on the go summer snack, it works just fine.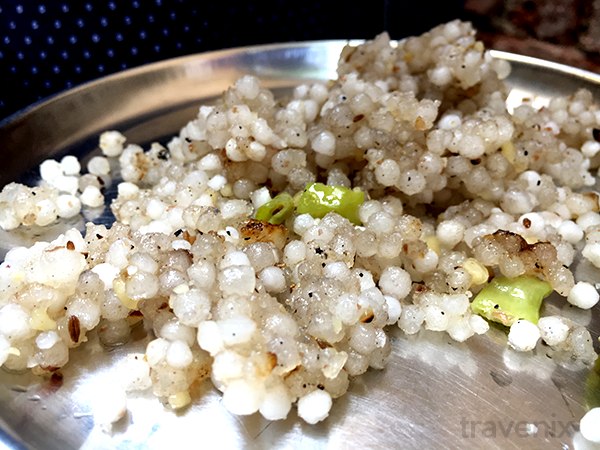 Where: In the lane next to Wheelie Boy Adventures (India) Ltd. Kele Wadi, Mangal Wadi, Girgaon, Mumbai
Price: ₹ 20/-
Rating: 2.5/5
Other Great Dishes Here: Veg. Pulao
7. Vada Pav – Stall
Another dish that slightly misses the mark. The vada, though hot and fresh, isn't cooked through and through. This leaves the eater with a chewy inside to a wonderfully soft pav outside. However, the saving grace (if it can be called that) is the spices which are on point, and the chutneys, which work very well and are flavorful.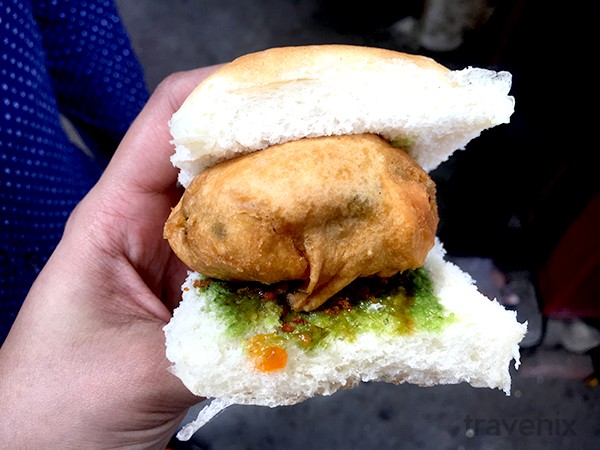 Where: Opp. Wheelie Boy Adventures (India) ltd. Kele Wadi, Mangal Wadi, Girgaon, Mumbai
Price: ₹ 12/-
Rating: 2.5/5
Recommended Combination:
Other Great Dishes Here: Bhajji Pav
8. Prawns Pulav – Voice of India
As the dish was being brought to the table, the first thing that struck us was the tantalizing aroma of the cooked prawns blended in spices. However, that is the only thing that works for this dish. Were it not for the prawns, this would be perfectly well done rice pulav. The prawns simply don't work well here, they are not fresh enough and haven't been steeped enough in the spices. Being a prawn dish, we judged it based on the prawn.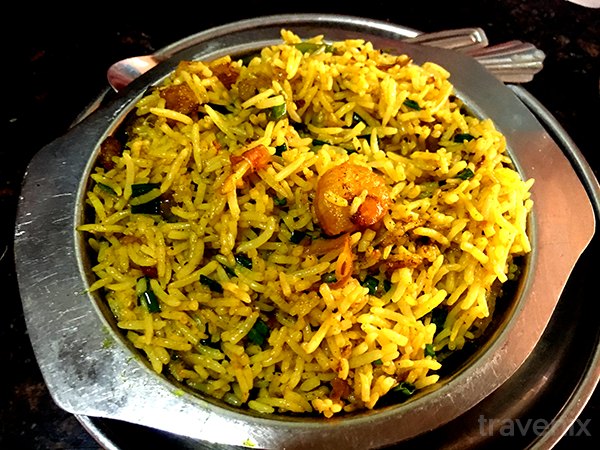 Where: 114, JSS Road, Opp. Central Plaza. Near Girgaun Church, Girgaon, Mumbai
Price: ₹ 120/-
Rating: 2.5/5
Recommended Combination: Fizzy Drinks
Other Great Dishes Here: Veg. Pulav
9. Dahi Papdi Chat – Juicity
Crispy papdi afloat in fresh, thick dahi…what could go wrong? Well, everything else. While the individual elements of the dish shine, they do not blend in well together. The sweet chutney is in excess and drowns out the spicy green chutney. The sprinkling of chilli powder on top simply feels out of place. It is an okay dish and works for the price point.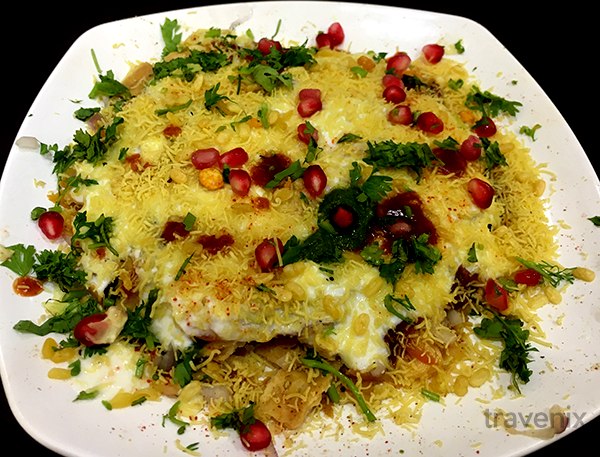 Where: 106, Ground Floor, Peerbhoy Terrace, JSS Marg, Central Plaza Cinema, Girgaon, Mumbai
Price: ₹ 50/-
Rating: 2.5/5
Recommended Combination: Fizzy Drinks
Other Great Dishes Here: Pani Puri
If you enjoy street food and spending long evenings discussing life with friends, do give a few places on this list a visit. If you've been to any of the places mentioned, do let us know of your experience in the comments below.
Latest posts by Vibha Sharma
(see all)