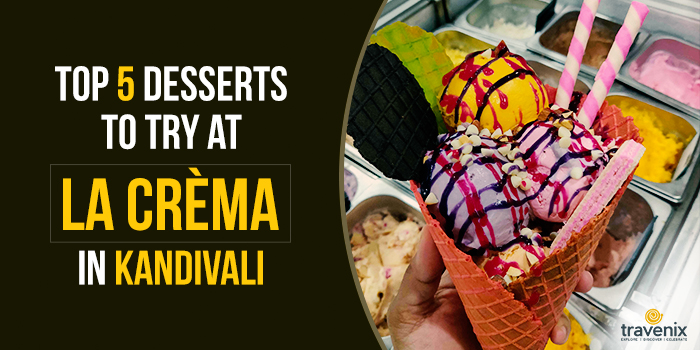 Top 5 Desserts to Try at La Crèma in Kandivali West, Mumbai
Ice creams and shakes are the currency for every summer. With a bookmarked list of dessert parlors in our hand, cooling colors on our skin and vacation plans in our head, nothing feels better than ice creams and daydreams.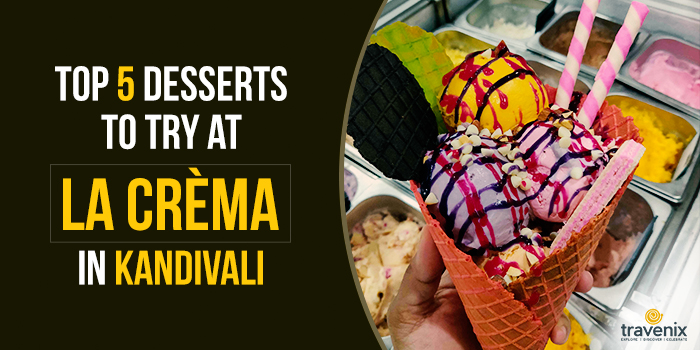 La Crèma  is a newly opened dessert parlor located in Kandivali West. With an ambiance of mint, floral and white colors, it is a treat to eyes as well. Ditching the ice creams and shakes stereotypes, this place offers thick shakes in jars, ice creams in different flavored cones and seasoned creams in beautiful glass. They are picture perfect! The heavenly flavors are all natural and there are no disappointments.
Here are the top desserts you should not keep your hands off:
1. Mango Cream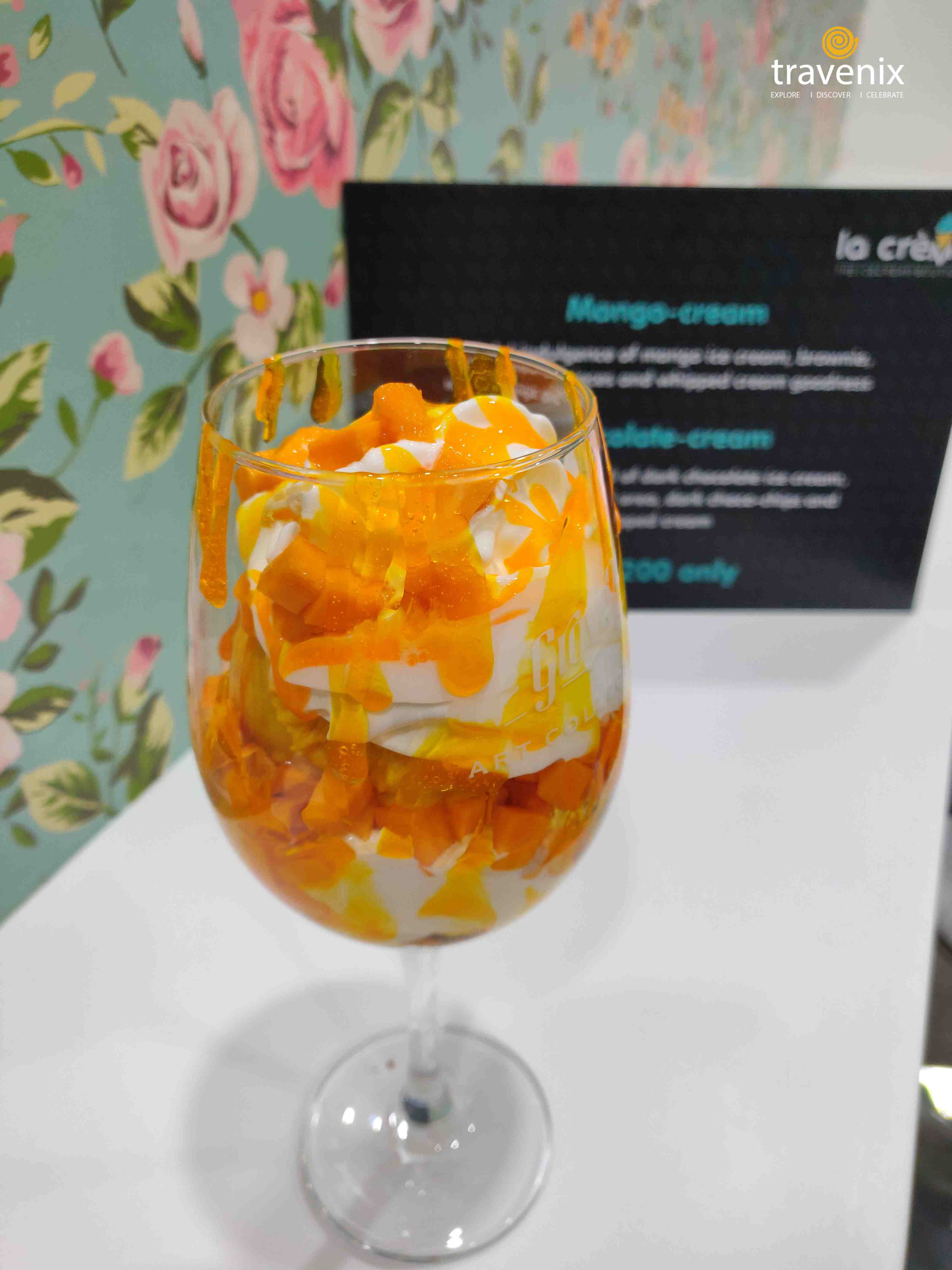 The goodness of Alphonso is stealing hearts! A perfect layer of cake followed by whipped cream, freshly cut mangoes, mango ice cream and some more whipped cream is all we need for this summer. This sinful indulgence is the only sin you will not be punished for.
2. Oreo Vanilla Shake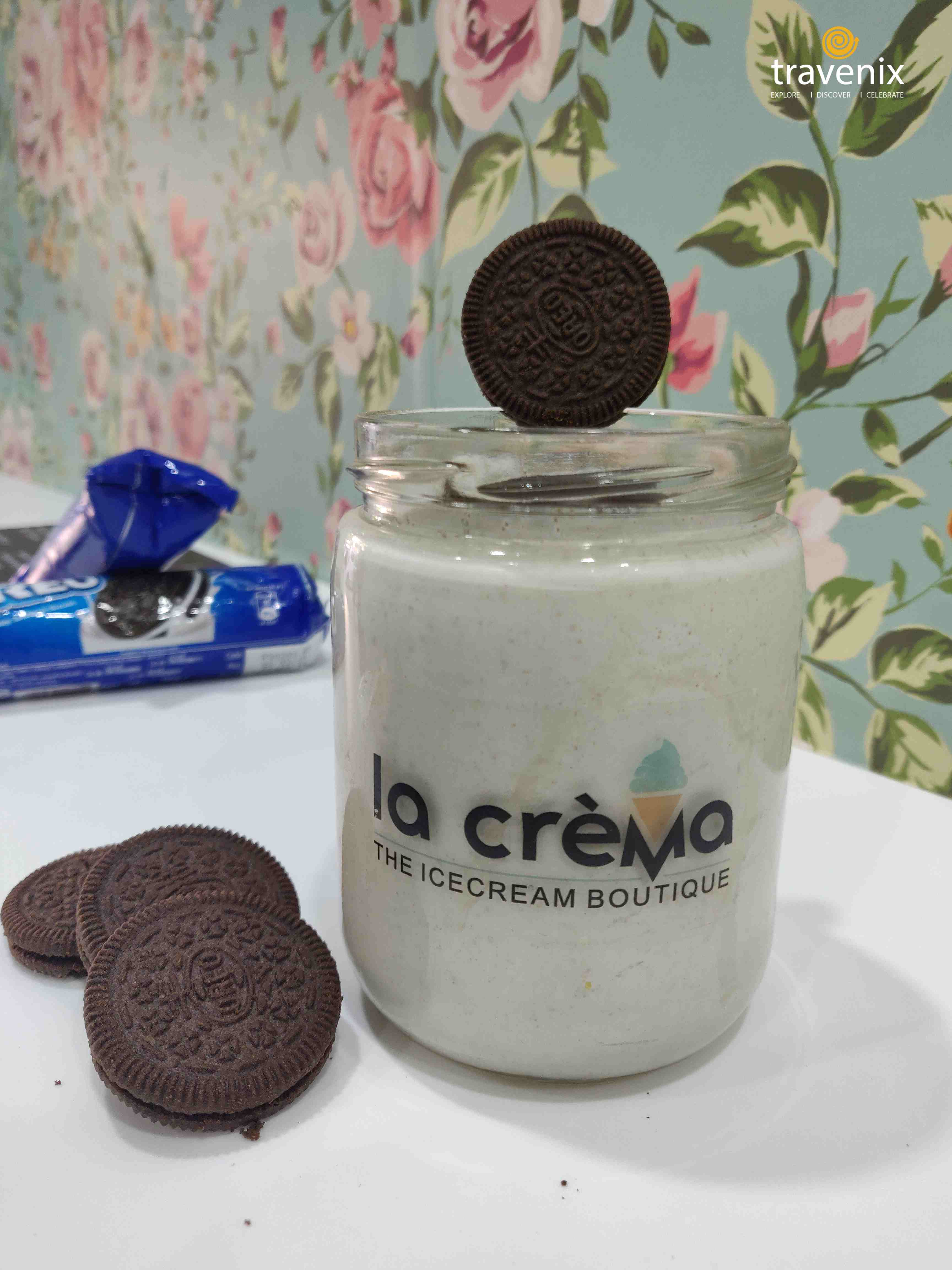 Vanilla is said to have refreshing and calming effects in your body. With its cherry on top, Oreo in this case, it's unbeatable. Served as a perfect blend of Vanilla ice cream, Vanilla sauce, some Milk and Oreo crumbles on top, it will make you sip till the last drop.
3. Nutella KitKat Shake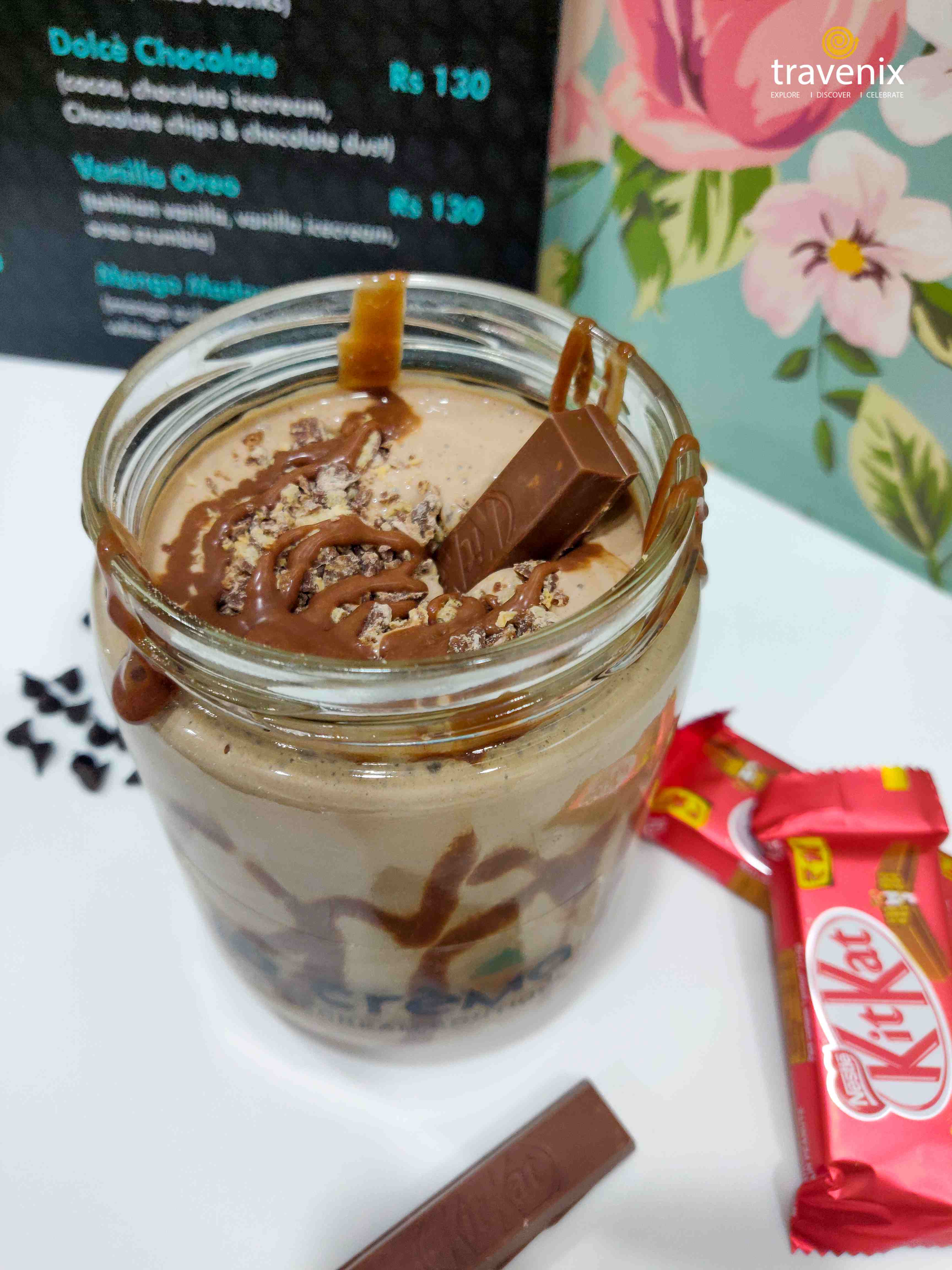 There is never a dull day with chocolate. Being an all season flavor, it never ages with time. Indulge in this companionship of Chocolate and KitKat thick shake by diving into the deliciousness of Nutella sauce, Chocolate ice cream and KitKat chunks. We promise, you will not regret it.
4. Cream Cones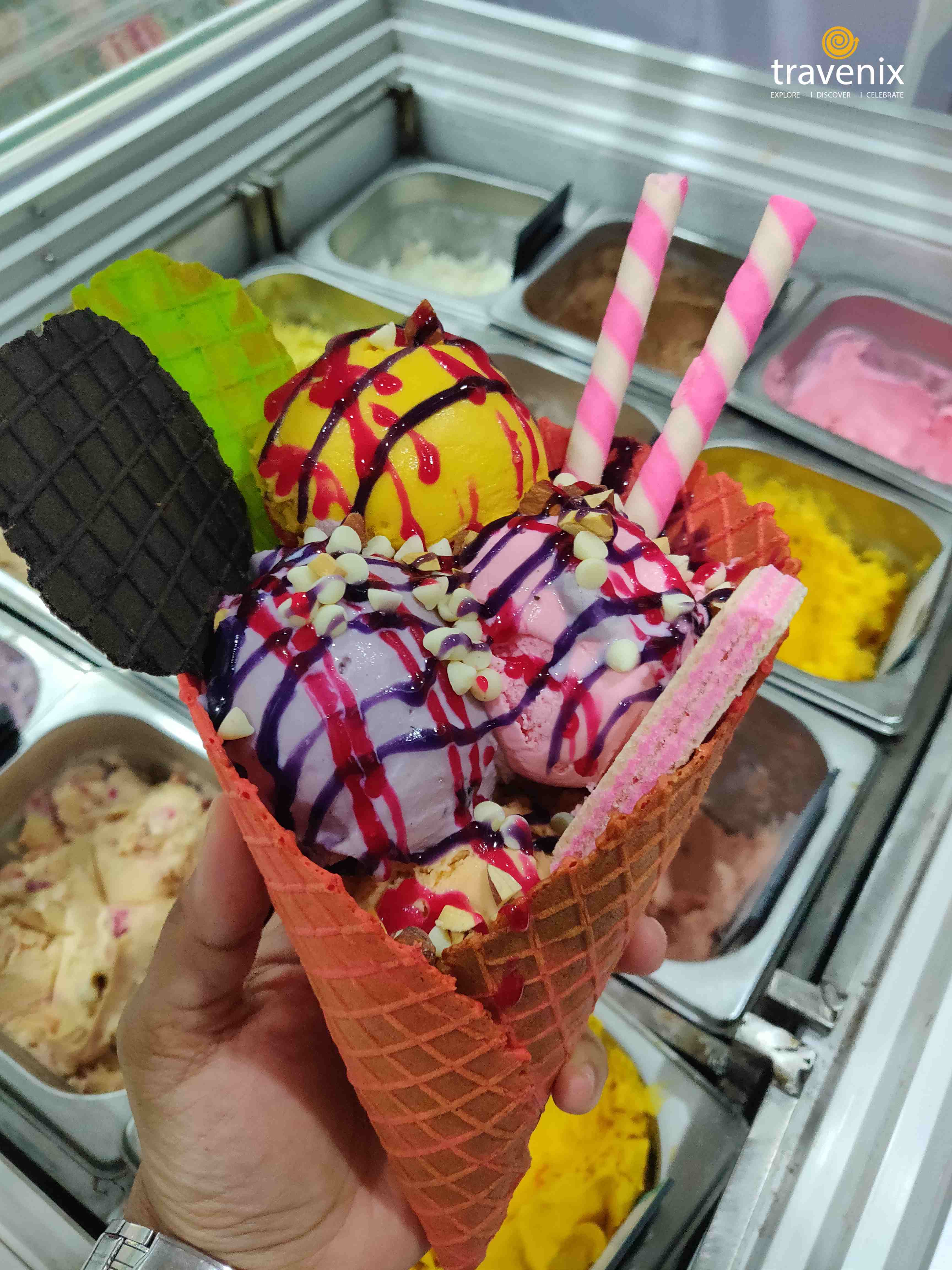 On a few days, even a scoop full of ice cream can make us feel better; and on other days even a bucket does no good. So why be stuck in too less and too much when there are 4 perfectly balanced ice cream scoops just for you? The Berrylicious ice cream with Mango, Strawberry, Blueberry and Orange Strawberry (any 4 flavor of your choice), topped with White Chocolate Chips, Crushed Oreo, Strawberry and Blueberry sauce, Wafer sticks and Biscuits in a Berry Cone is a must try.   
5. Variyali Pista Ice cream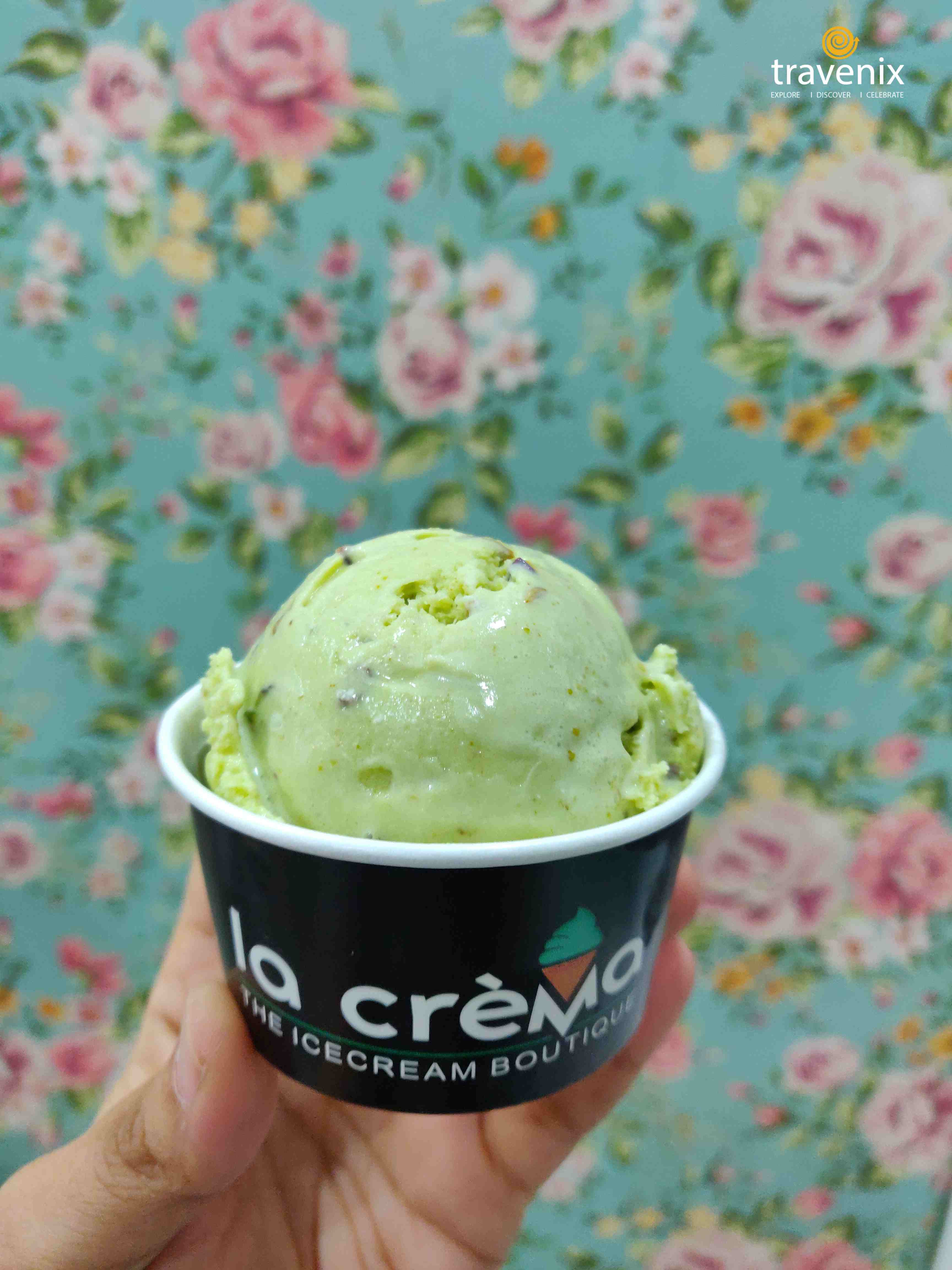 Variyali, also known as 'Saunf' making such a wonderful flavor is no less than a surprise to me. This refreshing Saunf ice cream made my eyes twinkle! Never had I tasted this unique blend of flavors before. The cooling effect of variyali with crumbles of pistachios was a treat to my stomach.
This warm cozy place with some of the best coolers in town should be on your bookmarked list. Still deciding whether to go or not? Take a break and pick your choice of deliciousness. Visit this place with your friends, siblings or family and even if you are alone, don't shy away. It is perfectly fine to visit it alone; because my friend, ice creams need no other companion.
Latest posts by Vibha Sharma
(see all)