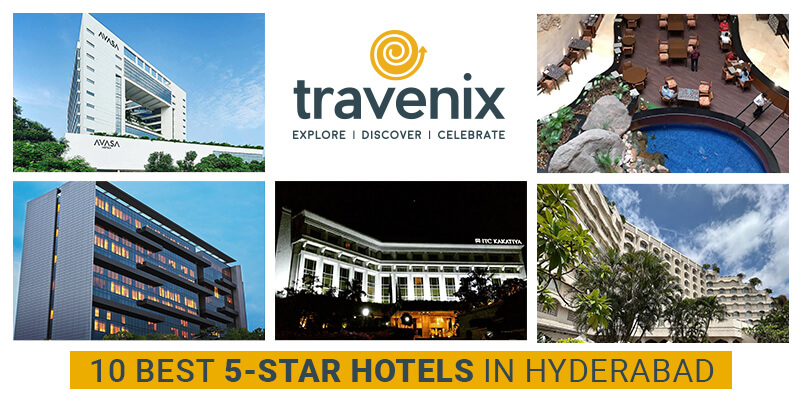 10 Best 5-Star Hotels in Hyderabad for an Extravagant Stay
Who is not excited about traveling to Hyderabad? No one, right? Perfect! The next important thing to do after choosing the destination is comfortable accommodation. So, treat yourself and your family to all the luxury and comfort in the world by choosing these luxury hotels. Whether a holiday trip or a business trip, they cater to your requirements and make your trip exciting and memorable. Here is a little help from us in the form of a curated list of the best 5-star hotels in Hyderabad.
Experience the Luxury of 5 Star Hotels in Hyderabad
Hyderabad is the city of Nizams and Pearls. Nizams symbolize royalty, and pearls signify beauty and elegance. Hyderabad is where biryani meets paratha and is a perfect blend of culture, luxury, beauty, and many more. Don't believe us? Try staying in these Best 5-star hotels and experience the best of everything.
1. Taj Falaknuma Palace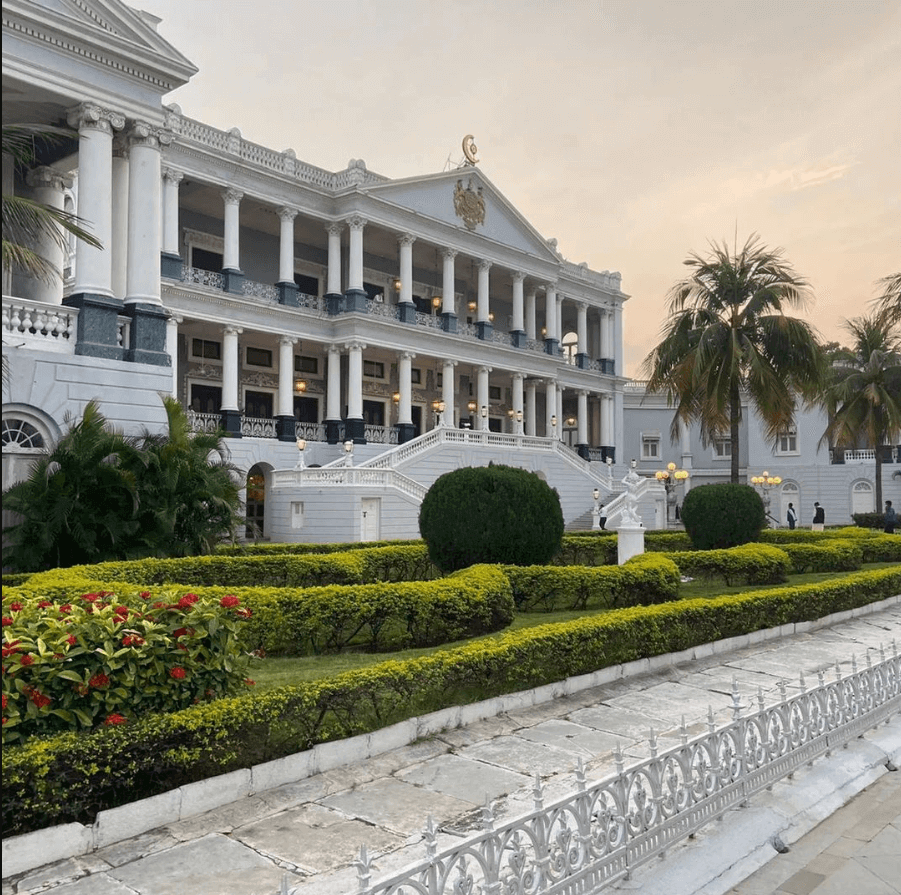 Taj Falaknuma palace Hyderabad, located close to Charminar, was a palace owned by Nizam and later renovated and restored by Taj Hotels. It is a majestic hotel frequented by many celebrities for vacations, royal photo shoots, or lavish weddings. Speaking of marriages, Salman Khan picked this location for his sister's wedding.
The Palace is a fusion of foreign and Indian styles. The suites feature marble flooring and high wood-beamed ceilings, which epitomize grandeur. The oak-paneled Palace Library or the Billiards Room are excellent places to while away a leisurely afternoon. An outdoor pool, a spa, fitness centers, and custom clothing are provided for you to relax. Two of the restaurant's six eating options, afternoon tea in the Jade room and quiet moments in the Hookah Lounge, are highlights. There is also an Italian restaurant and a bar by the pool.
The Palace is about 20 km from the Hyderabad International Airport and 5 km from beautiful Charminar and Chowmahalla Palace.
2. Taj Deccan Hyderabad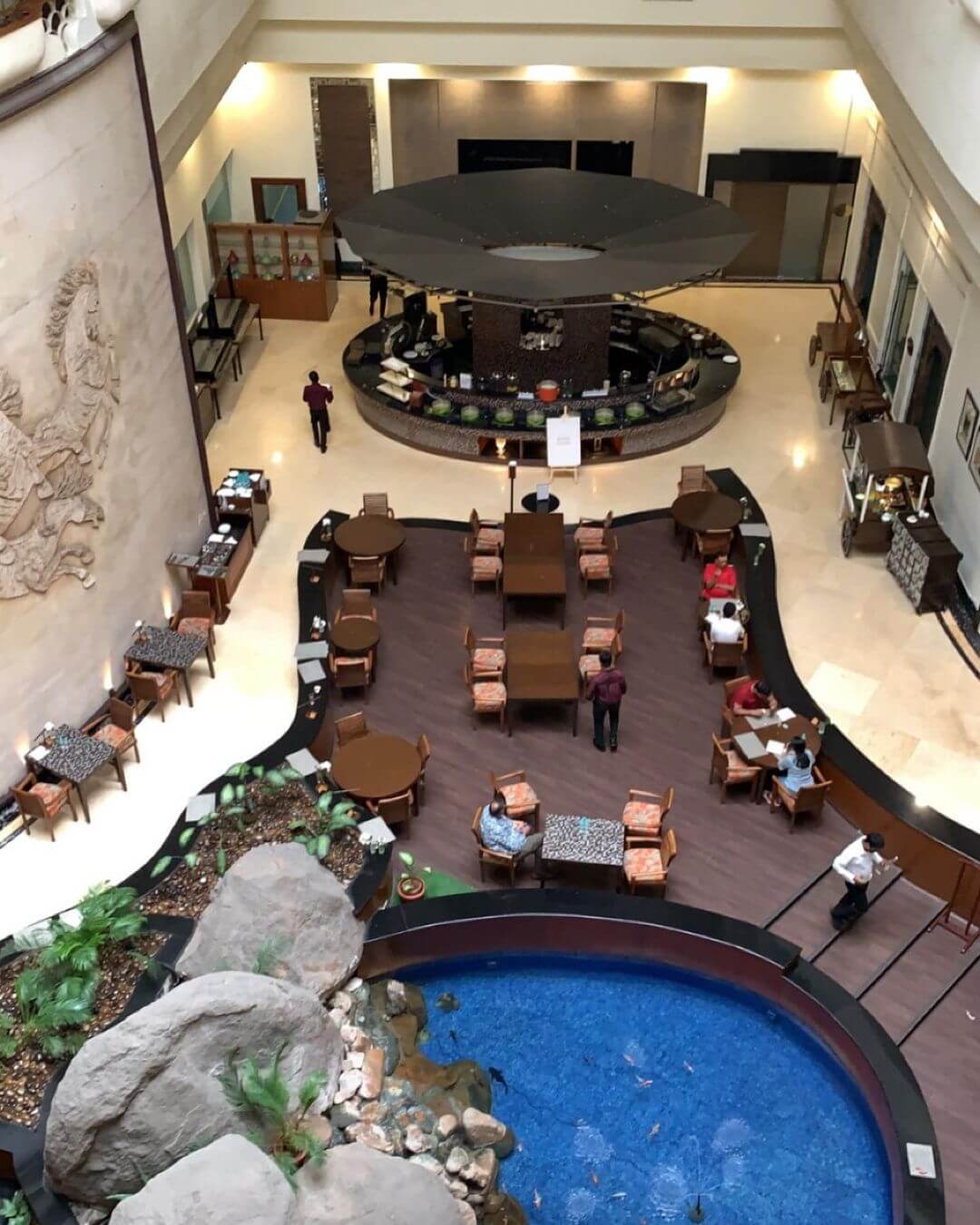 Surrounded by lush gardens and forested hills, Taj Deccan Hyderabad is an excellent accommodation in Banjara Hills. It provides gorgeous suites with wooden flooring, the newest amenities, and balconies with city views. In addition, there are amenities like a health club, an outdoor pool, and a spa where you can pamper yourself with massages and body treatments.
You can relish Thai, Vietnamese, and Japanese dishes at Syn Asian Grill & Bar, and you can also get contemporary South Indian food at Spice Junxion. After a long day, relax at the bar or lounge. The hotel is about 30 km from the Hyderabad International Airport.
3. Taj Krishna, Hyderabad
Taj Krishna Hyderabad, located in Banjara Hills, is an extravagant hotel. With a grand staircase, marble pillars, elaborately carved furnishings, and lavishly designed guestrooms with wooden flooring, it is a must-visit hotel. Business amenities are added to upgraded suites to serve business trips as well. It also features beautiful gardens, an outdoor pool, a gym, and a spa center.
Dining options include restaurants providing Chinese, Italian, and regional cuisines, and the minibar can be restocked with the prior request. At the magnificent tea lounge and bar, you can unwind yourself. The hotel is about 30 km from the Hyderabad International Airport.
4. ITC Kakatiya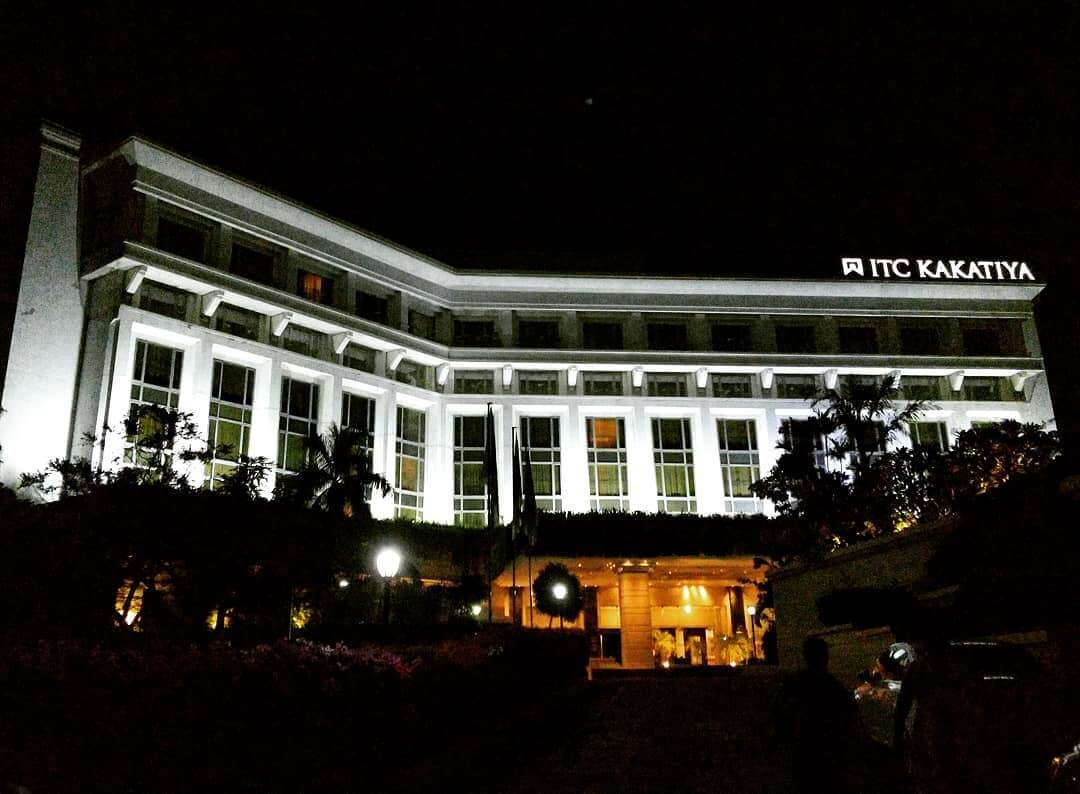 ITC Kakatiya Hyderabad is in Greenlands, Begumpet and it is close to the city's famous tourist attractions like Hussain Sagar, Budha statue, and Jalavihar. This is an extravagant hotel that is breathtaking. Each guestroom is elegantly furnished with beautiful decor and precious upholstery, and some units have a separate seating area. In addition, an outdoor pool to relax, a spa for body and facial massages and treatments, and a wellness center are provided.
A variety of dining options is available so that you can relish multi-cuisine delights at Deccan Pavilion, South Indian delicacies at Dakshin, and Indian delicacies served at Kebabs & Kurries.
ITC Kakatiya is located 32 km away from Hyderabad International Airport.
5. Novotel Hyderabad Convention Centre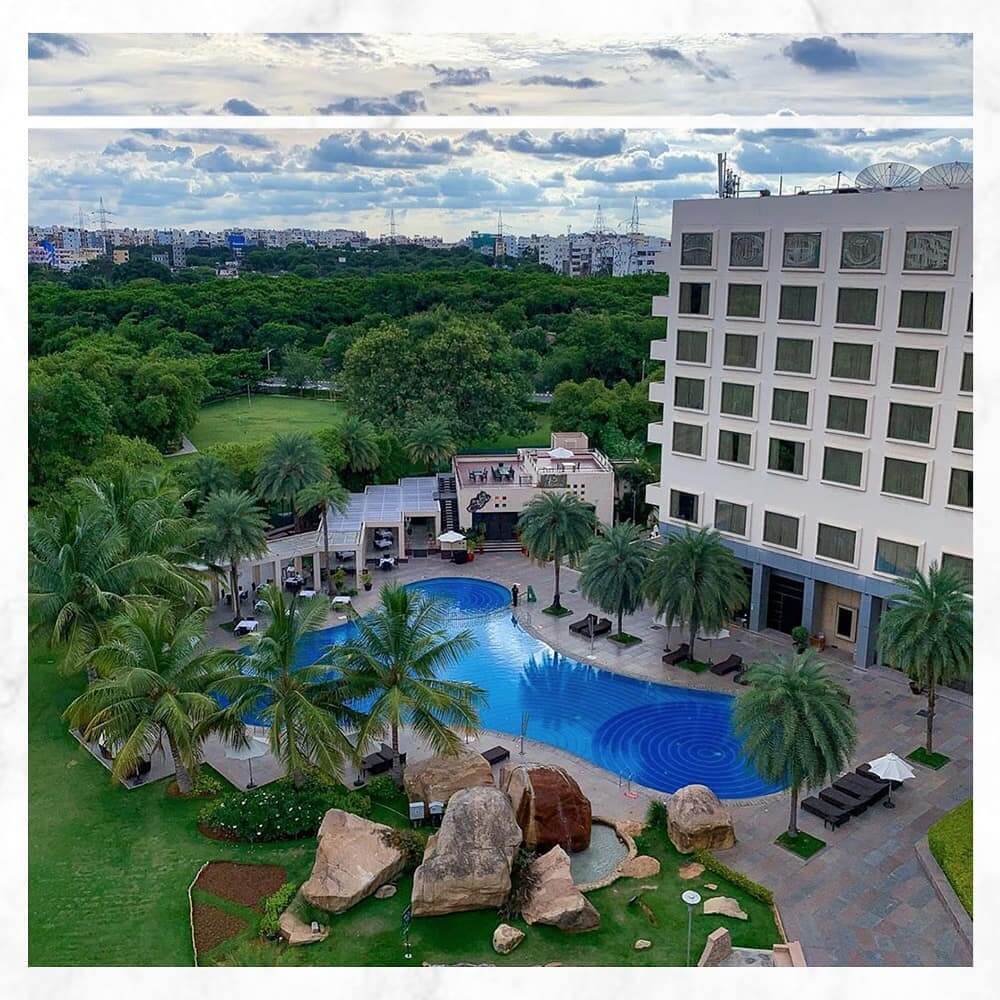 Novotel Hyderabad Convention center is an elegant business hotel close to Hyderabad International Convention Centre, Hi-tech city, making it easy to access. Broad expanses of beautifully landscaped grounds surround this hotel. In their elaborate rooms with the newest facilities, guests discover the ideal mix of style and comfort. A Mexican cantina, two trendy bars, a multi-cuisine restaurant, and a beautiful café are all located on the property. Their spa also offers distinctive Asian therapies. The hotel is about 35 km from the Hyderabad International Airport.
6. Novotel Hyderabad Airport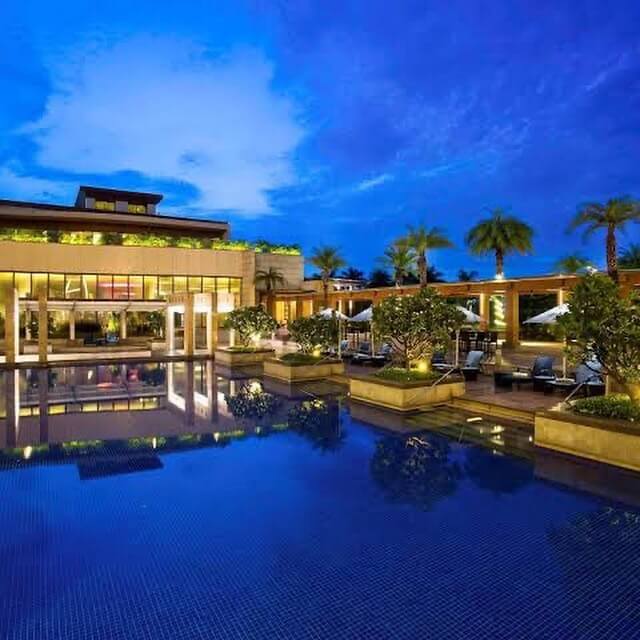 The Novotel Hyderabad Airport, located inside the Airport complex, is equipped with a spa, a salon, an outdoor pool, two brand new restaurants, and luxurious and decorated suits. In addition, it comes with a chic bar, a cocktail lounge, a large floral garden, and some rooms directly adjacent to the pool. Guests can work out at the 24-hour fitness center or take advantage of the well-equipped office spaces for business meetings. There is also a sports arena, a cutting-edge gym, and a spa. For flight check-in, the hotel has an airline kiosk.
7. The Westin Hyderabad Mindspace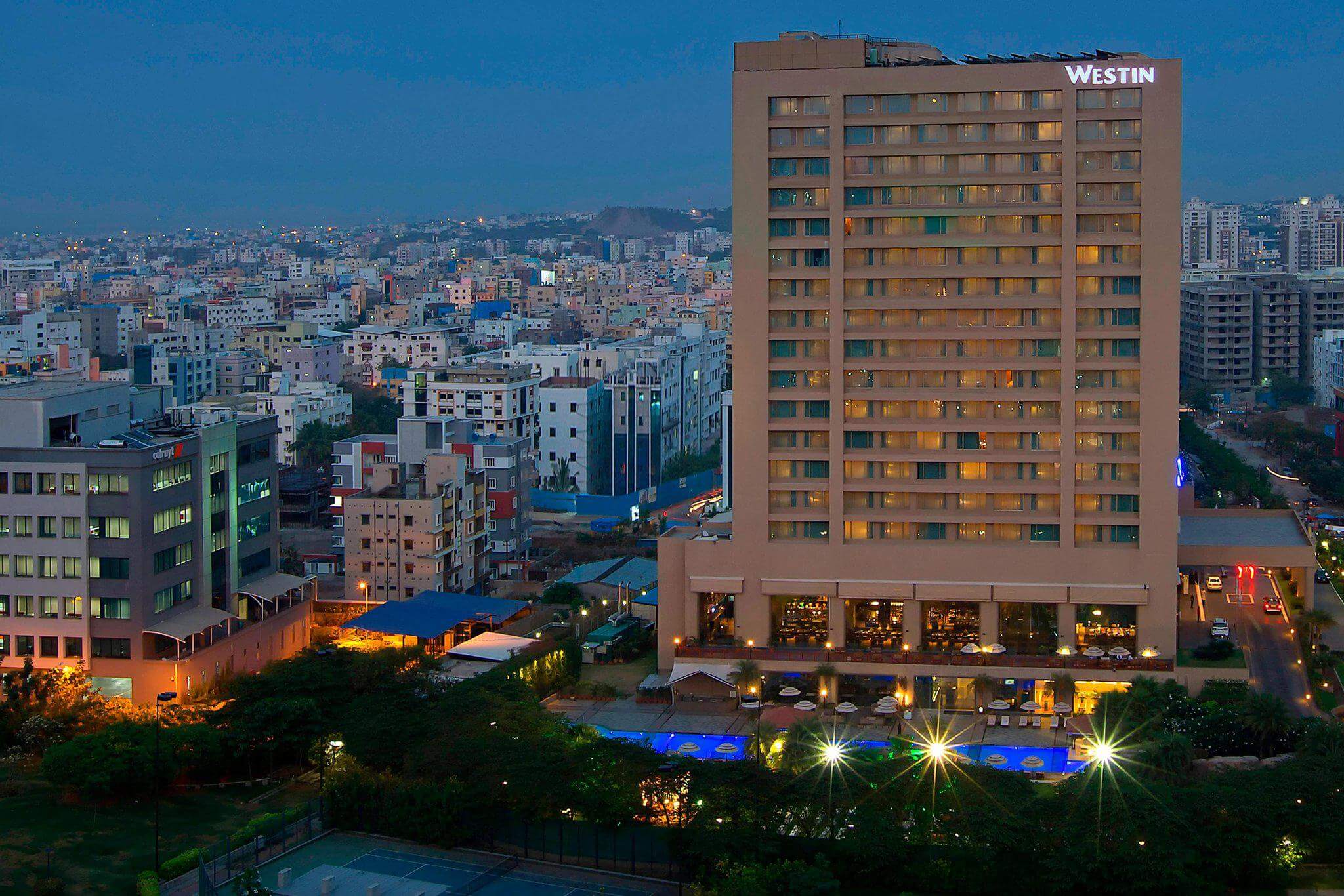 The Westin Hyderabad Mindspace is located in the heart of Raheja Mindspace IT Park, providing luxury and comfort for both holiday and business trips. The suites are luxurious with executive lounge access, soundproofing, a separate dining area, bathtub, and minibars. In addition, the hotel features a 24-hour business center and provides easy access to technological corporations and Hyderabad International Convention Centre, which makes it perfect for a business trip.
You can relax and rejuvenate with facilities like a sauna, unique spa treatments, fitness center, hot tub, and steam room, and there are three outdoor pools, one of which is a kid's pool. In addition, you can relish some delicious Fresh gourmet pizzas, pasta, and Italian wines served at Prego, while Peshwari delicacies can be enjoyed at Kangan.  The hotel is 35.6 km away from Hyderabad International Airport.
8. Hotel Avasa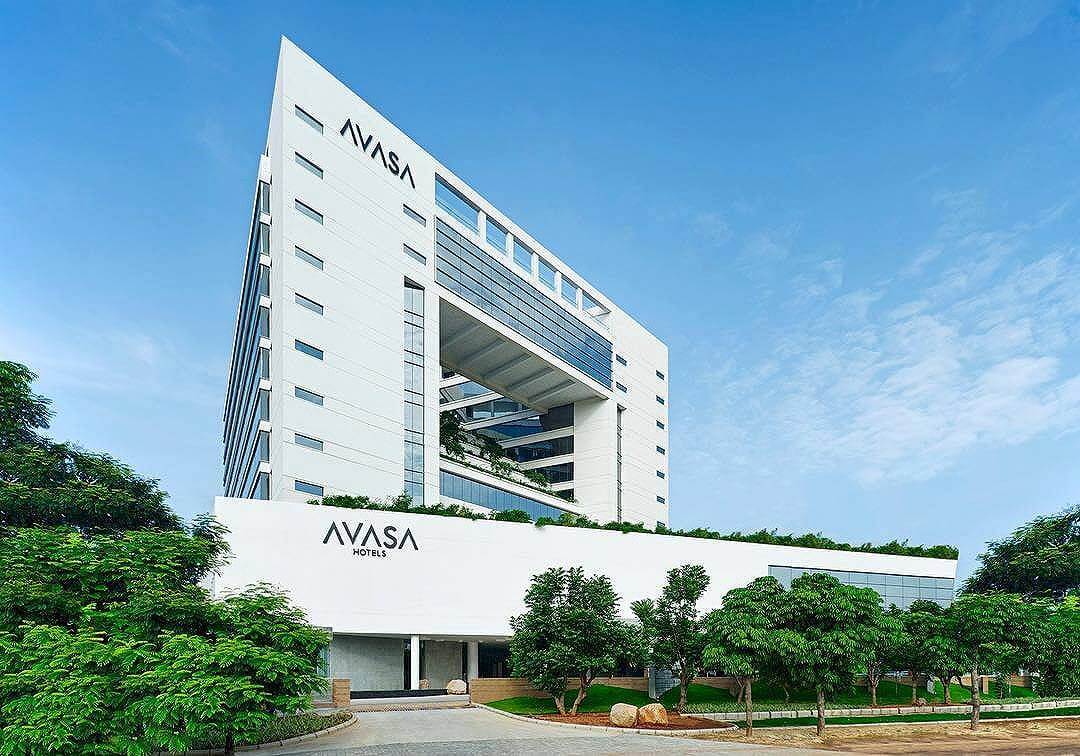 This classic and acclaimed Avasa Hotel is in a Hi-tech city and very near to Hi-tech city metro station and is a modern 5-star hotel in Hyderabad with luxury suites, idyllic furnishing, and contemporary decor spread across 15 floors. The upgraded quarters include a minibar, lounge access, and complimentary drinks. This 5-star hotel also has a spa, a pool, and a corporate meeting space. You can unwind with a soothing massage or work out at the on-site jogging track.
You can enjoy multi-cuisine meals at their four chicly decorated restaurants. The Pi All-Day Dining and Avasa Hotel's all-day dining restaurant serves Indian and European cuisine, whereas Ohm restaurant serves Pan-Asian, traditional Cambodian, and modern Chinese food.  This hotel in the city center is close to shopping malls, recreation centers, and Hyderabad's business district. The hotel is about 35 km from Hyderabad International Airport.
9. Hyatt Hyderabad Gachibowli
Hyatt Hyderabad is one of the best luxury hotels in the city, located in Gachibowli. It boasts a lavish design and unparalleled service as it is the first luxury business hotel to provide pet-friendly apartments. The spacious and comfortable rooms feature a walk-in closet, well-stocked minibar, and ensuite with a bathtub and oversized rain shower, along with other basic amenities. Pamper yourself with the spa's sauna, massages, body treatments, and facials. An incredible infinity pool helps you to relax day or night.
Collage, an all-day multi-cuisine restaurant, Mrs. Mage, an outdoor seating restaurant with a menu including hand-picked treats from around the world, a Tea Lounge, and a Lawn are just a few of the dining options. The hotel is about 30 km from Hyderabad International Airport.
10. Trident Hyderabad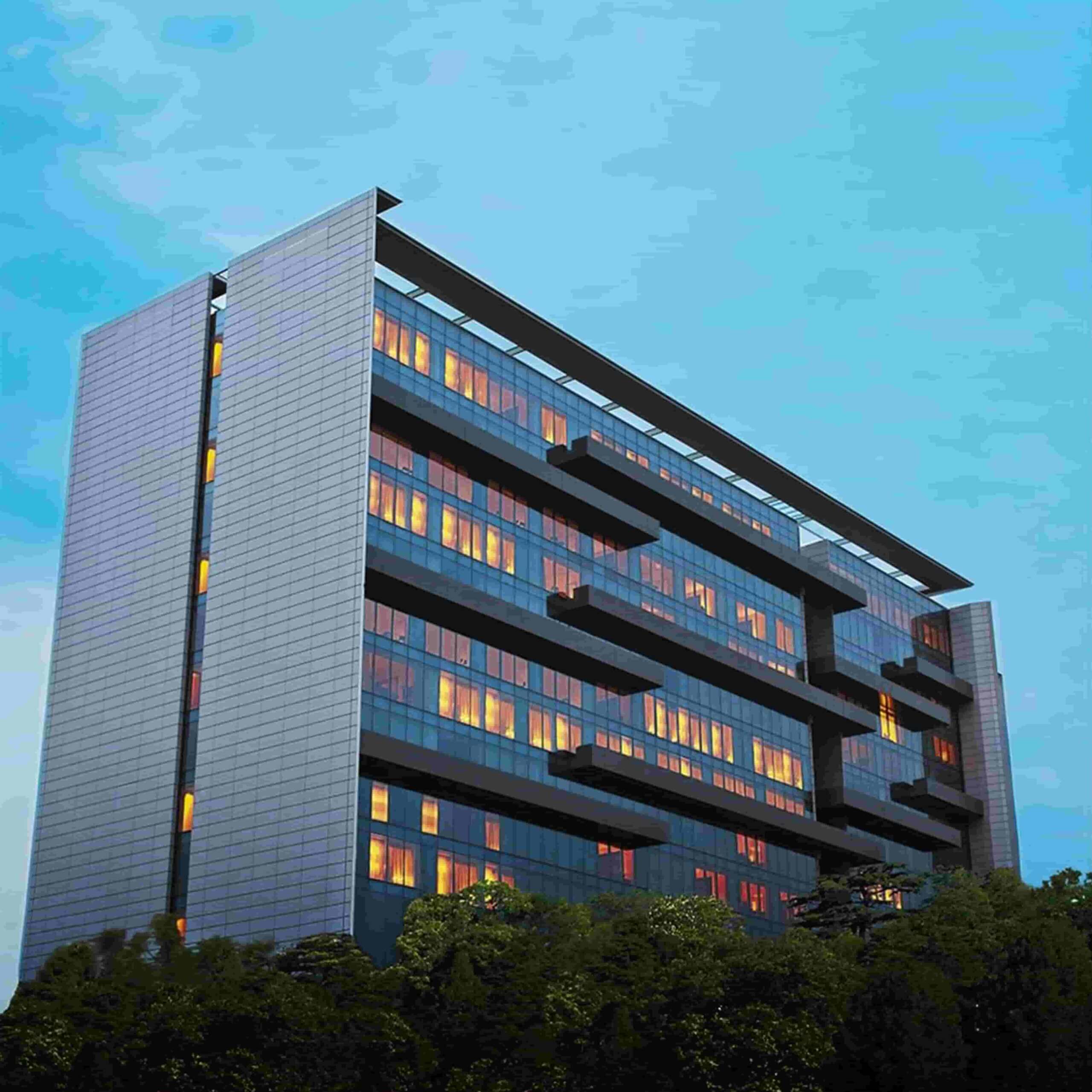 Trident Hyderabad, located close to Cyber Towers, HITEC city and one of the finest hotels that offers you both comfort and luxury while you are on a business trip. The Hyderabad International Convention Center and technology firms are also easily accessible from its well-equipped business center and meeting rooms.
There are several options for dining, including Kanak, which serves Indian food. Amara, a coffee shop around-the-clock, and Cigar Lounge Bar for alcoholic and non-alcoholic drinks. The 24-hour front desk also offers a breakfast buffet and other services like luggage storage and currency exchange. In addition, it has a spa, wellness center, fitness center, and an outdoor and infinite swimming pool where guests can enjoy the skyline. The hotel is about 35 km from Hyderabad International Airport.
Conclusion:
We assure you that these Hotels mentioned above in Hyderabad offer excellent hospitality that will leave you speechless. These best 5 star-hotels redefine luxury, elegance, and comfort in all the little and significant ways imaginable, from the warm interiors and delectable food at their on-site restaurants, stylish bars, and lounges to the sun-kissed pools and expansive event spaces.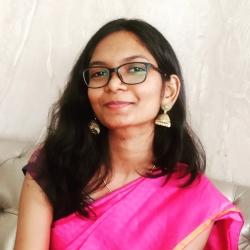 Latest posts by Daty Raj Bodapati
(see all)