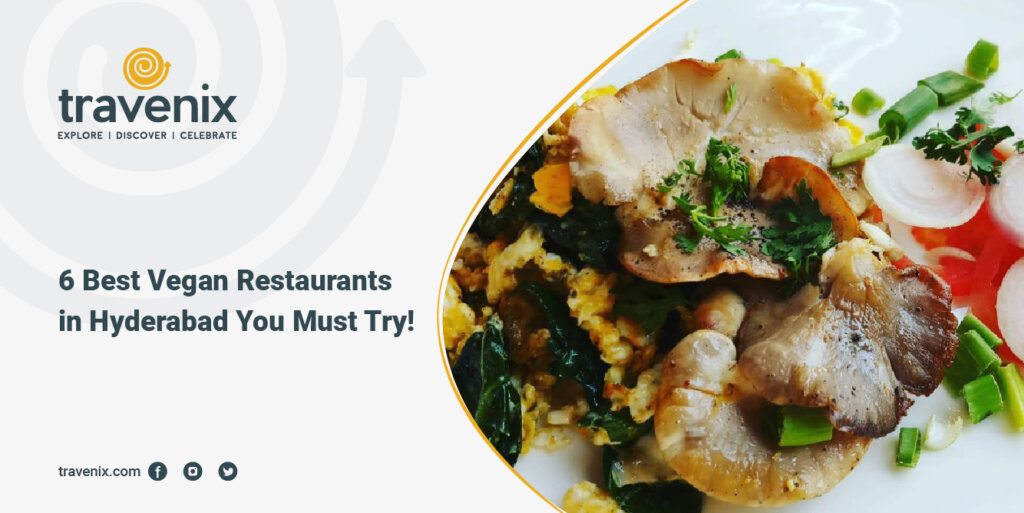 6 Best Vegan Restaurants in Hyderabad You Must Try!
The City of Nizams, the city that celebrates Biryani and Haleem, Our Hyderabad, is also recognized as the 'Most Vegan-Friendly City in India' by PETA (People for the Ethical Treatment of Animals). Undoubtedly, Hyderabad is a city of people with golden hearts who are compassionate towards other living beings. They make little sacrifices by turning into vegans but have a hard time finding Vegan-friendly restaurants or stores. So, if you are a vegan or trying to become one, here is a little help in the form of this list of the Best Vegan restaurants in Hyderabad.
Vegan Restaurants in Hyderabad for It's Best people!
Tired of reading through menus and analyzing each ingredient for hours on end? Unsure if the restaurants are ethical? We got you! These are the list of vegan or vegan-friendly restaurants where you can relish your favorite food without worrying and meet like-minded folks.
1. Terrassen Cafe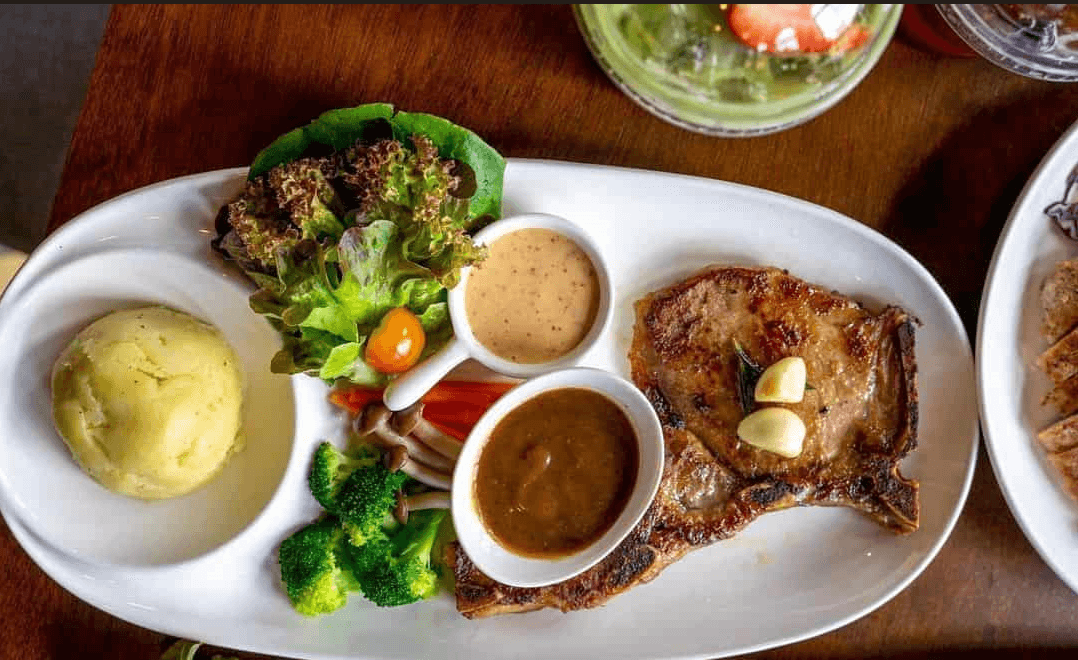 Terrassen Cafe – Poets and Oats is a cafe and the best vegan restaurant in Hyderabad that serves everything from sandwiches, rice dishes, soups, cakes, smoothies, ice cream, juices, pizza, and hamburgers. The Cafe is cozy and cheerful, with colorful and straightforward decorations. Its signature dishes include smoked tofu pizza, Phoebe & Joey sandwiches, an absolute delight for FRIENDS lovers, pumpkin soup-a portion of comfort food, vegan keema noodles, and a warm dish with a tonne of vegetables and soy granules.
And what is Hyderabad without Biryani? Terrassen Cafe serves scrumptious Biryani with mock meat, served with peanut curd raita. And the bestest part of the Cafe is that you can go with your fur babies/friends.
Address:
2. Sage Farm Cafe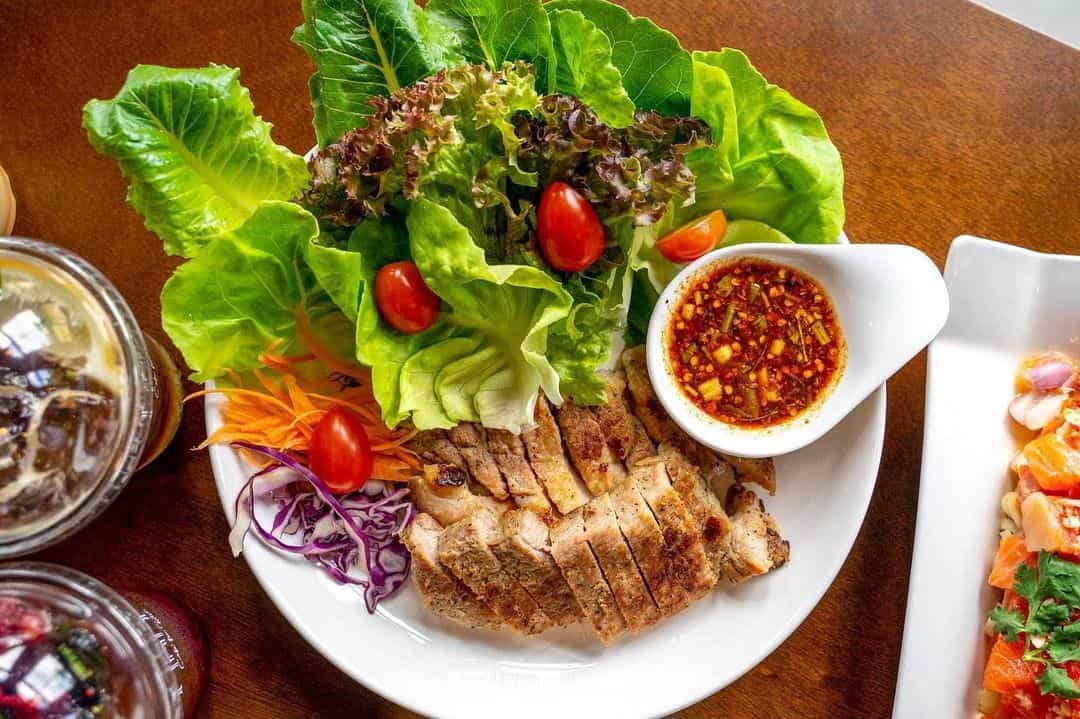 Sage Farm Cafe is beautifully done with simple decor that lights up the space. This cafe is a part of Sage Organics, an organic store and a farm for fresh produce. The cafe follows a farm-to-table concept, where everything served on your plate is from Sage's farm. It welcomes you warmly to its open-air wooden seating arrangement with a pleasant ambiance.
Though not a fully vegan cafe, it has plenty of vegan options on most of its main courses. Their must-try vegan dishes include Nachos and mixed green hummus, Asian vegetable rice bowl, Feta & Spice pizza, and Veg cannelloni-stuffed vegetable pasta baked with tangy tomato sauce. Also, go here to relish their Jowar oats upma, Dairy-free vegan ice creams, and Desserts made with fig and date, coconut, and chocolate.
Address:
3. E'wok – The Vegan Cafe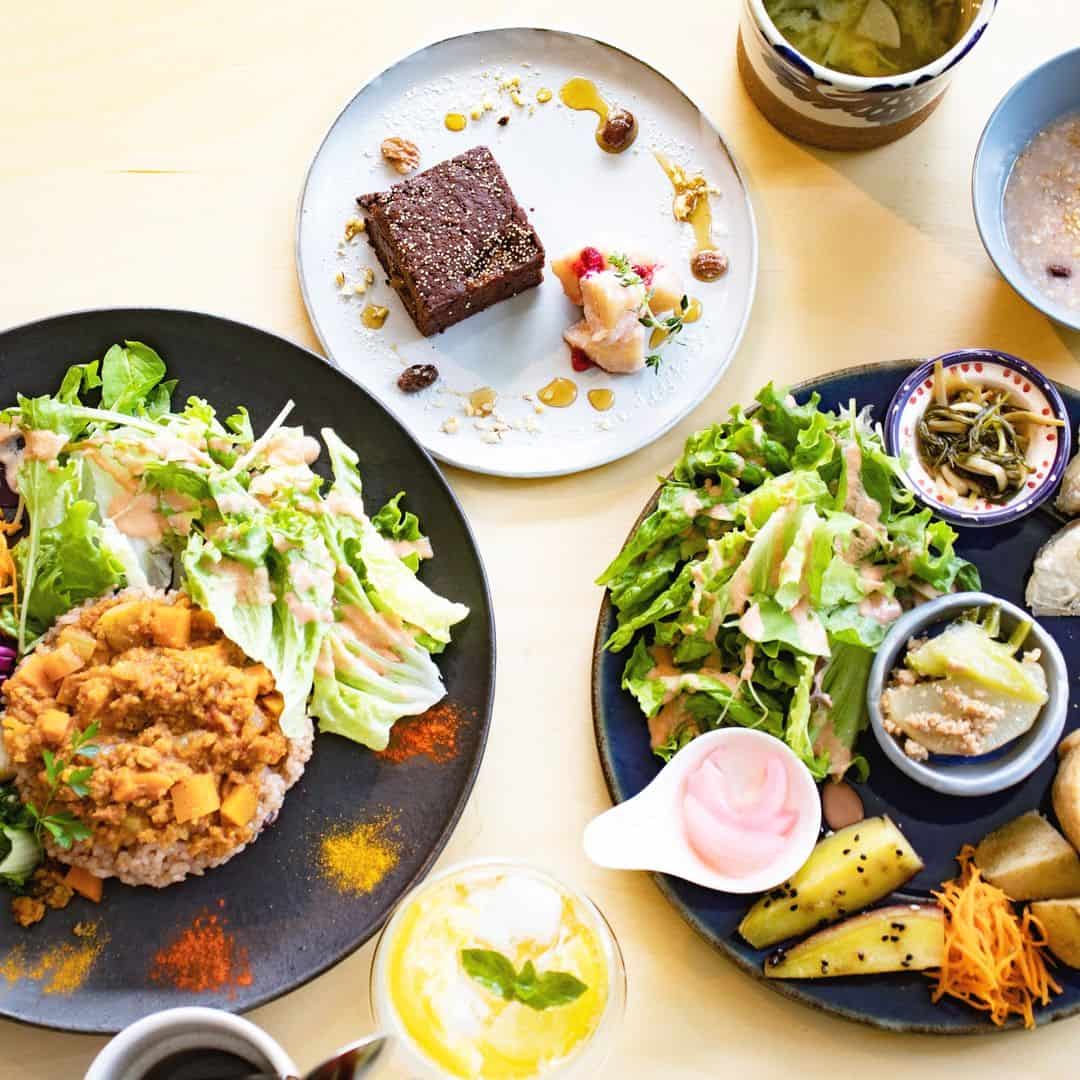 E'wok Store and Cafe, located in Sainikpuri, is a one-stop destination for all the vegans out there. A hidden gem for vegans in the city and the winner of Times Food and Nightlife Awards 2022 in 3 categories. The cafe is classy, with its walls covered with beautiful contemporary paintings. The cafe has a serene and wonderful atmosphere with an open outdoor setting and lovely spacious indoor seating.
They have an appealing menu that includes European, Middle Eastern, Asian, and Italian food. This place is an excellent option if you are a fan of pizzas, burgers, and desserts. Some of their must-try delicacies are Nugget Fugget, Chilaquiles, Kele ke kebab, Pesto & Sundried Tomato Pizza, and Zucchini Brownie & Vegan Vanilla Ice cream if you want to try something different and healthy. But, of course, being a pet-friendly café makes it more impressive.
Address:
4. Plantarium Plant Based Cafe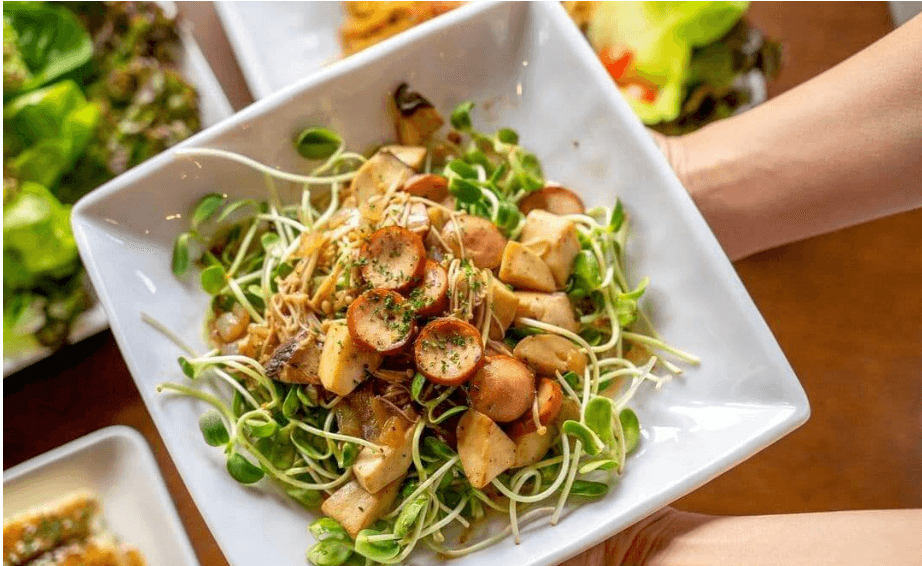 A vegan family founded Plantarium purely out of a passion for making veganism more accessible and affordable. Hyderabad's first 100% vegan store and later upgraded to a cafe. It has a great ambiance with multiple board games to keep you entertained. Here, you may find a wide range of plant-based substitutes, beginning with plant-based milk, curd, tofu, Ice cream, kombucha, and healthy snacks.
Plantarium is a Veggie Champ, popular for Vegan Haleem, Vegan Chicken, Vegan fish, Vegan Duck, and other mock meats. So, the mock meat is prepared using a variety of flours to get that meaty texture. If you love meat but trying to turn vegan, here is your chance without compromising. Also, here is your chance to drag your non-Vegetarian friends to this place and boast about the (not so) meaty options you have got.
In addition, you can also shop for other products in the store, like cruelty-free cosmetics, soaps and detergents, protein mixes, and a variety of vegan treats for yourself and your fur babies.
Address:
5. Aura Cafe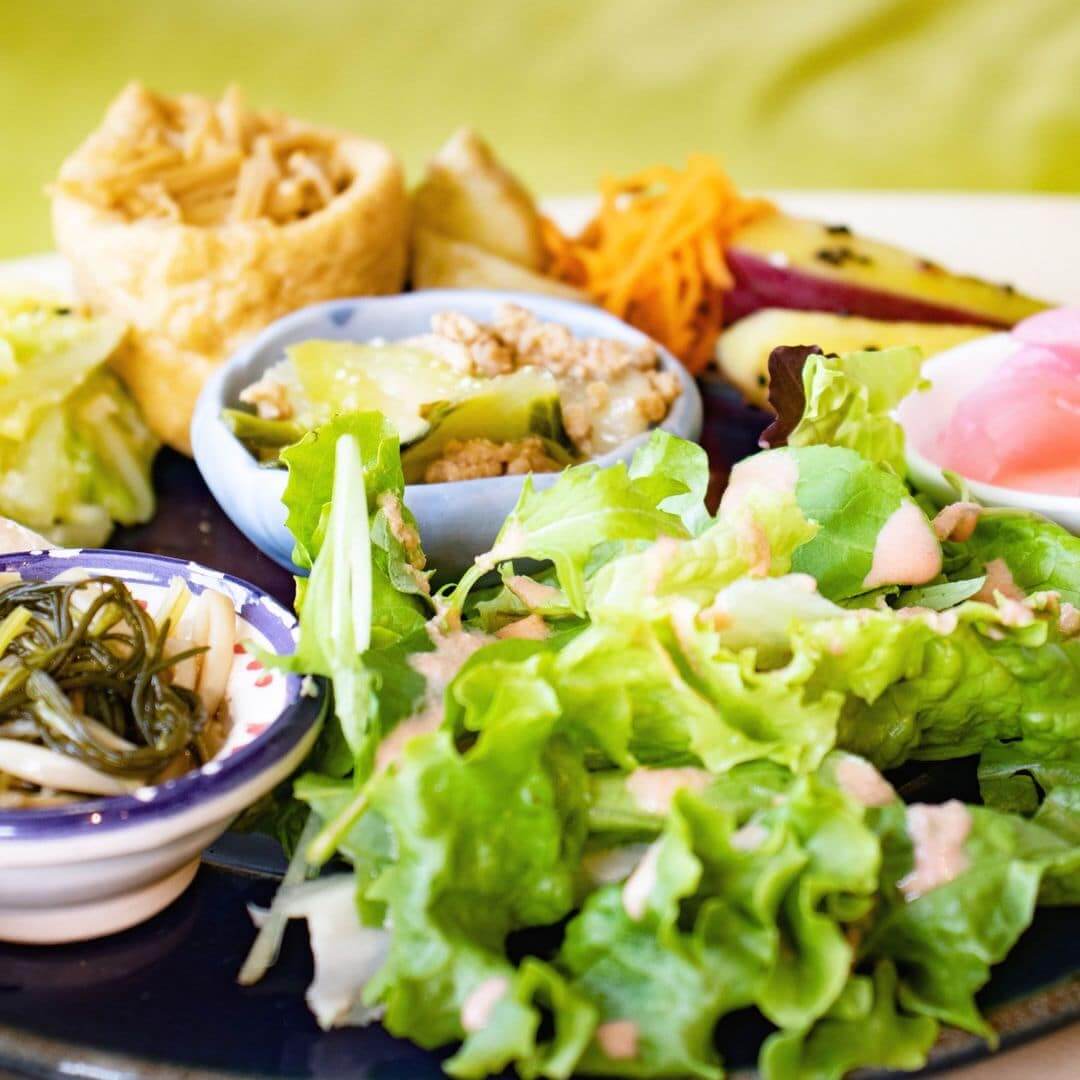 Aura Cafe in Jubilee Hills is a unique and elegant restaurant. Though this is not an out-and-out vegan restaurant, they put their heart and soul into making every dish vegan when you ask for it. They have a great menu and serve all three meals of a day, from salads to main courses, and they have a variety of vegan options for you. This place has a vibrant ambiance with outside seating and a lush landscape. This cafe also has an infusion bar where you may enjoy some drinks of your choice.
Address:
6. Fab Cafe by Fab India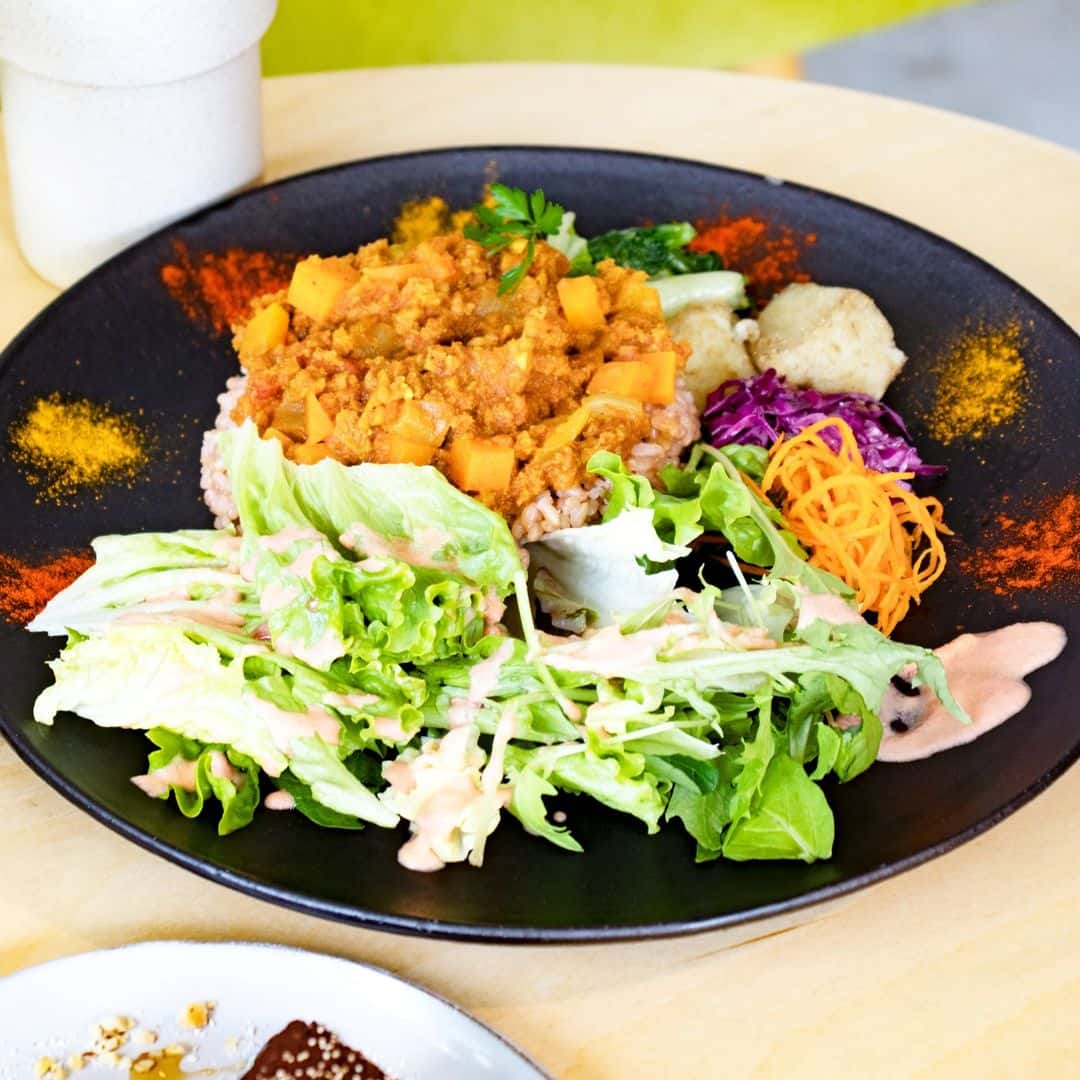 Fab Cafe by Fab India in Gachibowli is filled with stunning artwork on the walls, creating a delightful atmosphere. This cafe has many vegan options as they use alternate ingredients like almond milk, almond flour, and jackfruit flour in various delicacies even though they don't stick to the strict vegan diet. This place has a rule of "No Refined Oils | No Refined Sugars," making it a must-visit cafe if you are looking for healthy and nutritious foods.
Address:
Conclusion:
Those mentioned above are a few Best Vegan restaurants and cafes in Hyderabad that we believe you would love to visit and relish your favorite delicacies. In addition, you can request vegan options in a few vegetarian restaurants as well, thus, making Hyderabad the Most Vegan-Friendly City in India.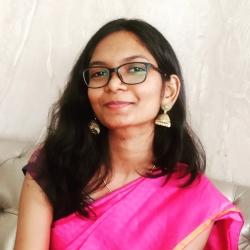 Latest posts by Daty Raj Bodapati
(see all)