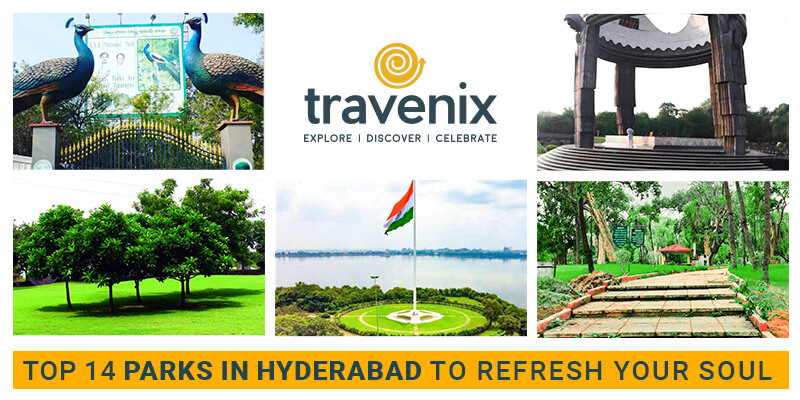 14 Public Parks to Visit With Family in Hyderabad – Refresh Your Soul
Are you someone who wakes up, rushes to work, sees your screens for fun, and complains about being exhausted by the monotony of day-to-day life? "The antidote to exhaustion isn't rest. It's nature." – Shikoba. So, breathe your lungs out and energize yourself. If you live in Hyderabad, you are lucky enough to have beautiful parks and gardens with large lush green patches, lakes, and some fun zones to refresh yourself and spend a day with your family. Here is a curated list of the best parks in Hyderabad.
Lush Green Parks in Hyderabad to Beat Your Blues!
Every one of us, be it young or old and regardless of gender, needs greens in our life for a healthy and happy life. Not only the greens we eat but the spaces we spend in also matter. So here is the list of best parks in Hyderabad, India to fulfill all your green cravings and help you beat your blues!
1. Sanjeevaiah Park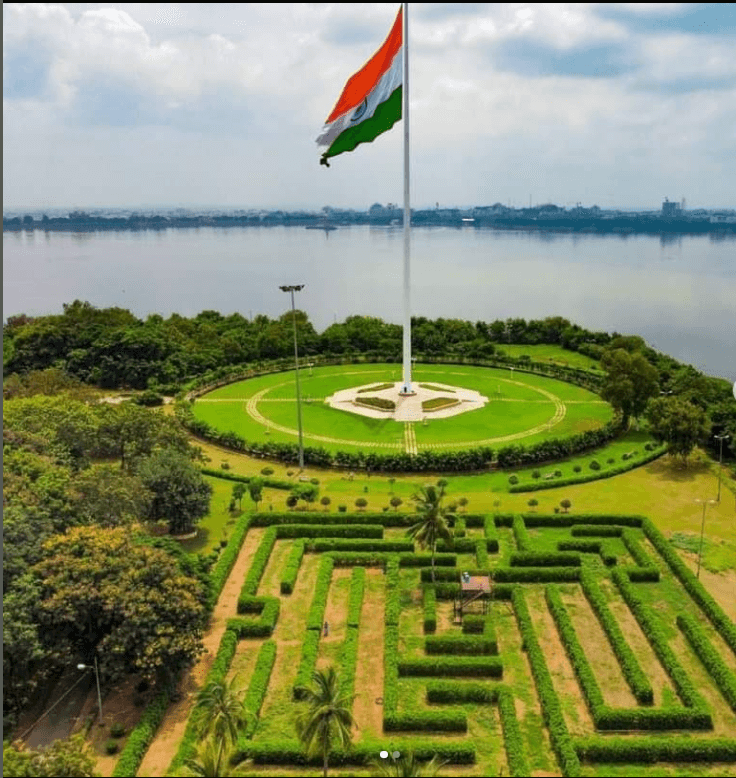 As the name denotes, it is named after the former chief minister of Andhra Pradesh, Damodaram Sanjivayya. Being one of the most famous parks in Hyderabad, it is spread across 92 acres on the banks of Hussain Sagar Lake. Filled with lush green patches and exotic flora and is home to about 100 species of birds and more than 50 species of insects and butterflies. It is a perfect and refreshing break from your daily monotony.
This place is designed with various slides and swings, keeping children in mind. Also, there are many pathways for cyclists and joggers.
Address: CFJG+R5, Hussain Sagar, Khairtabad, Hyderabad.
Sanjeevaiah Park's timings are from 9 AM to 6 PM. The entry fee is INR 20 per person.
How to reach: https://goo.gl/maps/g3XtrBdbw59bXb9d8
2. Lumbini Park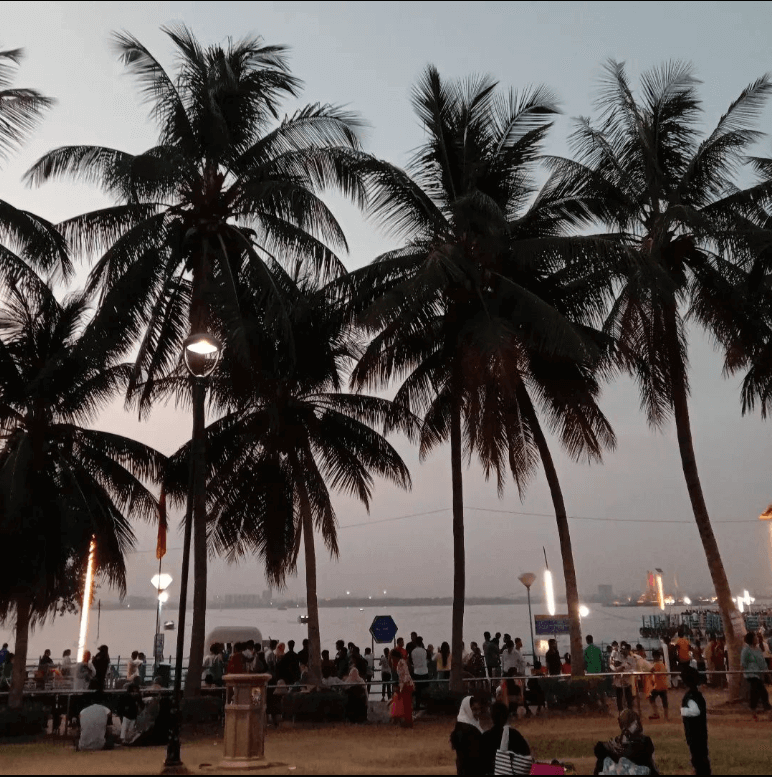 Lumbini Park is named after Lumbini, the birthplace of Lord Buddha. Another beautiful park close to Hussain Sagar is simply perfect for relaxation and amusement. It offers boating spots and a fantastic view of Hussain Sagar. Kids will especially enjoy guided rail-car rides and eateries where they can eat their favorite snacks. The unique attraction of this park is the fountain and laser show in the evening.
Address: CF5F+X72, Opposite Secretariat New Gate, Hussain Sagar, Khairtabad.
Timings are from 9 AM to 9 PM, and The entry fee is INR 20 per adult and INR 10 per child.
How to reach: https://goo.gl/maps/vh4zuHeeQSrejsmV8
3. NTR Gardens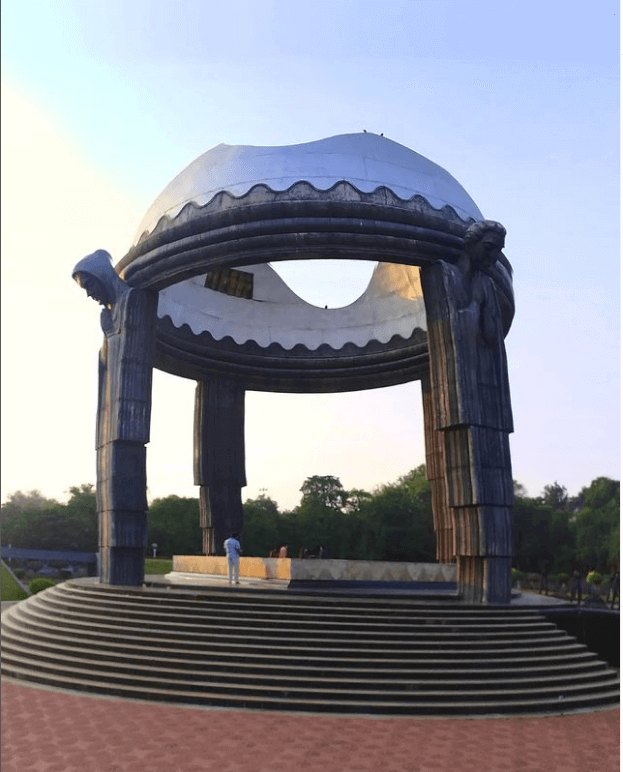 NTR Gardens Hyderabad is built in the memory of the late Chief Minister of Andhra Pradesh, Shri N.T. Rama Rao. A small yet popular recreational park to visit along with family. The park's main attractions are a Japanese park, monorail, cascading waterfall, boating facility, and a play area for kids.
Address: CF69+XGP, NTR Marg, Central Secretariat, Khairtabad.
Timings are 9 AM – 9 PM and open till 10 PM on weekends. The entry fee is INR 15 per adult and INR 10 per child.
How to reach: https://goo.gl/maps/Bkm9mET1o7bwvmdE7
4. KBR National Park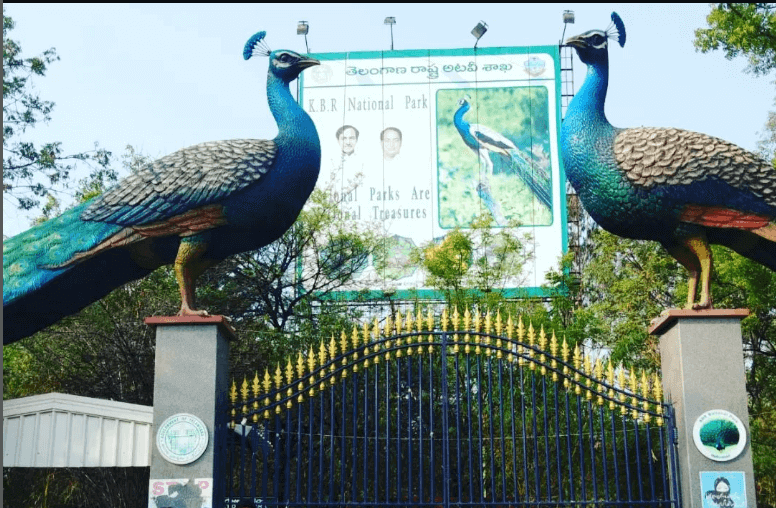 KBR National Park Hyderabad is a lush green space spread across 370 acres, located amidst concrete I.T. parks of Jubilee hills. Park is named after the former chief minister of A.P., Kasu Brahmananda Reddy.
The park is home to over 600 plant species, 140 bird species, and 30 diverse types of butterflies and reptiles, along with animals like pangolins, small Indian civets, peacocks, jungle cats, and porcupines.
Address: CCCF+263, Road No. 2, Jubilee Hills.
The morning timings of the park are from 5:30 AM – 10:00 AM and the evening time is 4 PM – 6 PM. The entry fee is INR 20 per adult and INR 10 per child.
How to reach: https://goo.gl/maps/SF9sxHd66eK1umiw7
5. Public Gardens
Nampally Public gardens, also known as Bagh-e-Aam, is one of the oldest parks in Hyderabad, built by Nizam. It is a beautiful garden, which not only offers peace to the soul but knowledge too, as the park is hosted and maintained by two museums, Telangana state archaeological museum and Health Museum. Thus, this park serves as a picnic spot and educational tour.
Along with museums, Potti Sriramulu Telugu University, Lalitha Kala Toranam open-air theater, Jawahar Bal Bhavan, and the State Assembly building are situated here.
Address: Red Hills, Lakdikapul, Hyderabad.
Timings are 09:00 AM – 06:00 PM, and the entry fee is INR 20 per adult and INR 10 per child.
How to reach: https://goo.gl/maps/2dZ7Qcc4SVZ2nLTA8
6. Indira Park
Indira Park Hyderabad is named after former Prime Minister Smt. Indira Gandhi is located in the heart of the city in a residential area near Hussain Sagar. The park is adorned with towering sandalwood trees and has an award-winning rock garden and boating facilities.
7. Priyadarshini Park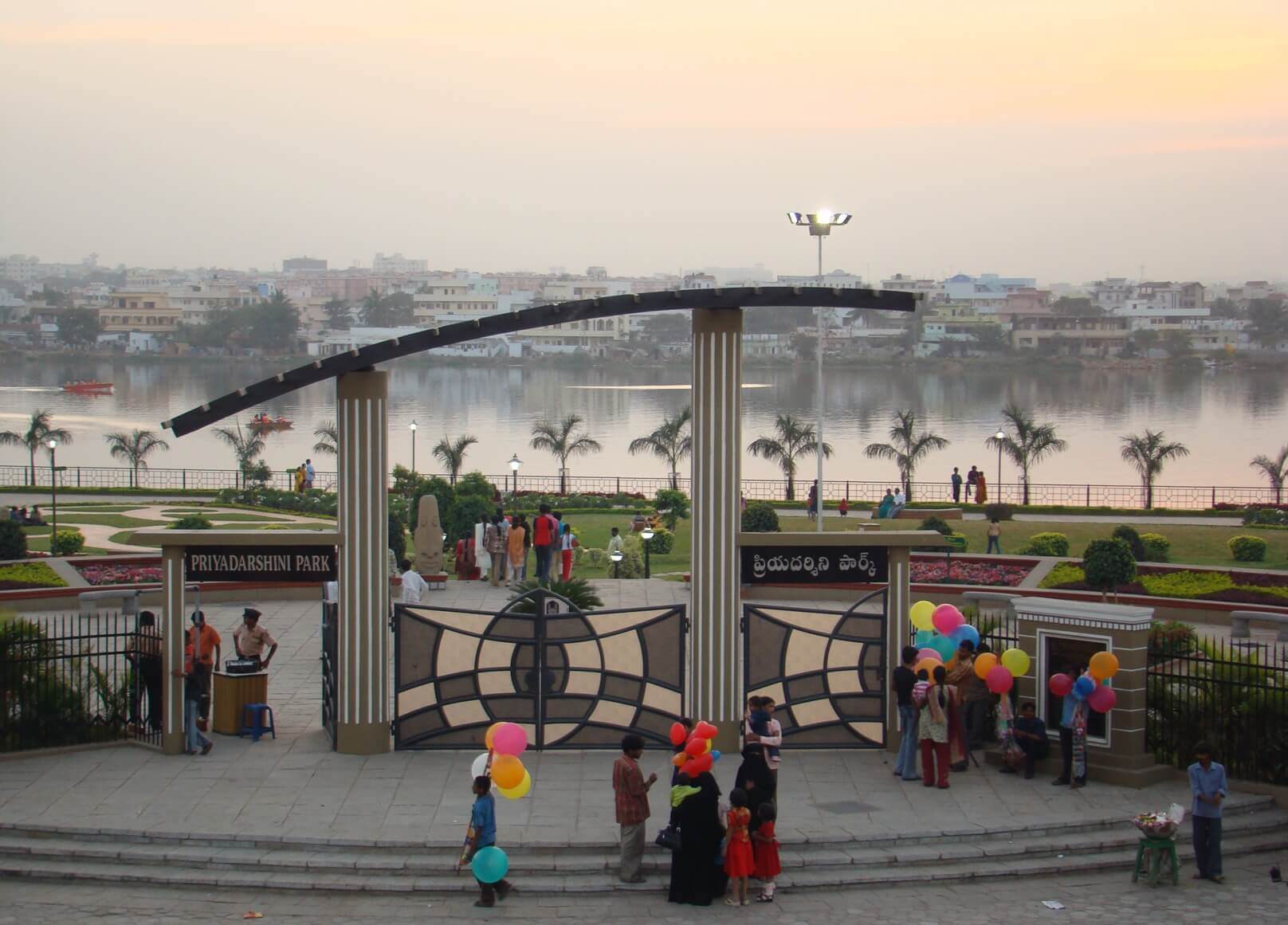 Priyadarshini Park Hyderabad is located on the banks of Saroornagar Lake. The park invites you with a beautiful green landscaped area and a gorgeous view of a lake. The park features rides for children and vendors selling everything from balloons to snacks.
8. Krishna Kanth Park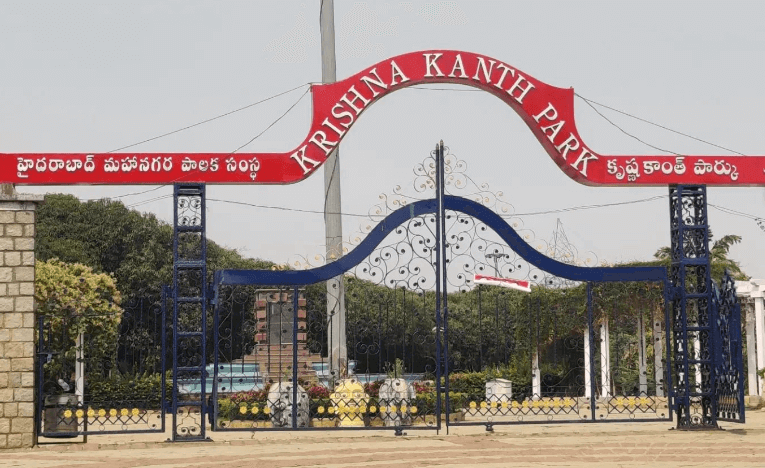 Krishna Kanth Park is located in Jawahar Nagar, named after Shri Krishan Kant, former governor of Andhra Pradesh and Vice President of India. The simple and well-maintained park is popular for jogging and has swings to entertain kids.
9. Hyderabad Botanical Garden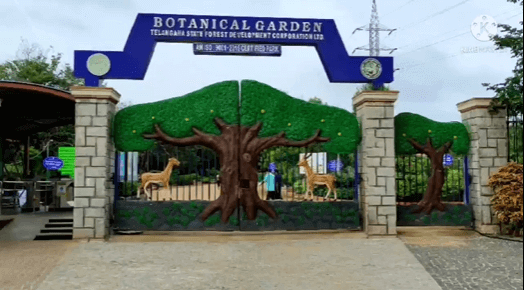 Hyderabad Botanical Garden is an eco-tourist destination developed by the Telangana Forest Department. The park has many sections with medicinal plants, timber trees, fruit trees, ornamental plants, aquatic plants, bamboo, and other rare flora, which attracts tourists from various places. Large bodies of water, rolling meadows, natural forests, lush grasslands, and exquisite rock formations are all part of the park's design, making it the best park for photoshoots in Hyderabad.
Address: F934+HVW, Kothaguda Reserve Forest, Gachibowli Rd, near Hi-tec City, Kondapur.
Timings of the garden are from 6 AM to 6 PM. The entry fee is INR 25 per adult and INR 10 per child
Photoshoot charges are INR 3000 for five hours.
How to reach: https://goo.gl/maps/DqGRJSkYhgCwAJVB9
10. Mrugavani National Park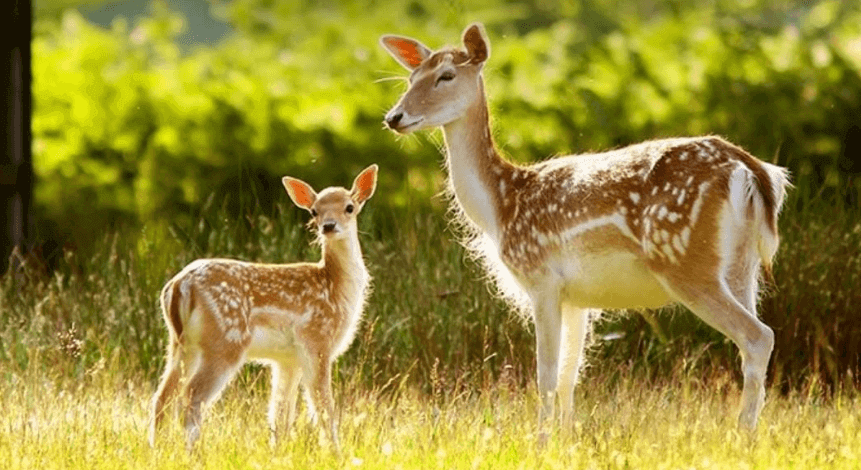 Mrugavani National Park is a perfect getaway, located 25kms away from Hyderabad. For those who want to relax and enjoy nature in its raw form, the park is spread across 1200 acres of untamed land, making it a sanctuary for some wild animals. Attractions of this place are a jungle safari, an environmental Education Centre & Museum, and a tower inside the park, which offers a spectacular view of the vast wild land. In addition, it has Mrugavani Resort and Spa, making it an eco-tourism project which is a fusion of nature and modernity.
Address: 983P+J34, Moinabad, Ranga Reddy District, Chilkoor.
Timings are from 9.00 AM to 5.00 PM. The park is closed on Tuesday, and the entry fee is 10 INR per person.
How to reach: https://goo.gl/maps/dKF13t7u1KceVb8c9
11. Mahavir Harina Vanasthali National Park
Mahavir Harina Vanasthali National Park is a deer national park located in Vanasthalipuram. It is a must-visit eco-tourist spot. It is spread across 3605 acres, making it the most significant green lung space in Hyderabad. The park harbors Blackbuck and other extensive flora and fauna. This is the best place to visit for every nature enthusiast. There is a safari ride and many sheds and viewing towers to provide visitors with a thrilling experience of watching animals in the wild.
Address: 2/B, National Highway 65, 9, Vanasthalipuram Rd, Dwarakamai Nagar Colony, Auto Nagar.
Timings are from 9 AM to 5: 30 PM, and the entry fee is INR 15 per child and INR 20 per adult.
How to reach: https://goo.gl/maps/CZNpeCQSLJ9w4eVx5
12. Kidwai Garden
Kidwai Garden is located in Himayat Nagar, and this is a famous tourist spot. The garden was opened to the public in 1974. This garden has lush green trees, vibrant blooming flowers, and an overall pleasing atmosphere. This park has become an excellent place for children as they can joyfully run around and play, and there are many swings and exciting rides.
Address: Premavathi Pet, Rajendra Nagar, Himayath Nagar.
Timings are from 7:30 AM to 8:30 PM, and the entry fee is INR 5 per child and INR 10 per adult.
13. Jalagam Vengal Rao Park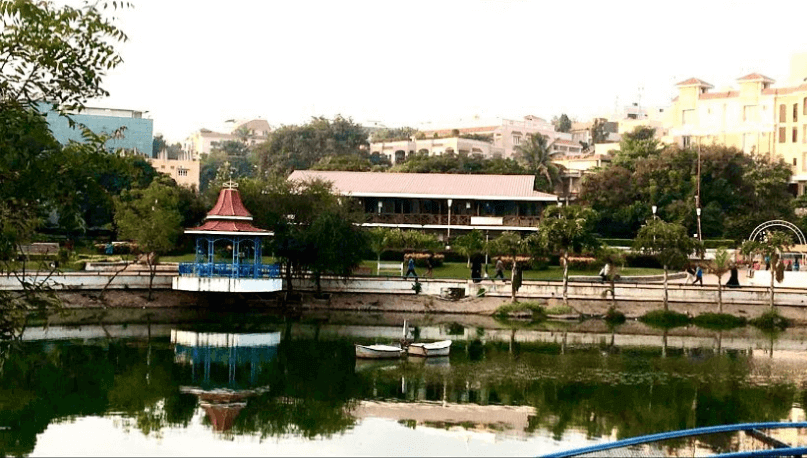 This is one of the best-maintained parks in Hyderabad and is named after one of the chief ministers of A.P. The entire Park is lined with concrete pathways and is a lovely place to walk or jog. Several slides and swings keep the kids entertained, making it a wonderful place to spend relaxing with friends or family. A beautiful pond is housed in a man-made crater in the middle of the park.
Address: Green Valley, Banjara Hills, 8-2-622, Rd Number 1, Banjara Hills.
Timings are 8 AM to 7:30 PM and open at 5 AM on Tuesday. The entry fee is INR 5.
How to reach: https://goo.gl/maps/xJ4o7GdxLNfQUMjN6
14. DGS Melkote Park
Several shady trees make this park an ideal location for an outdoor day picnic. It is also famous for early morning and evening walks. (augustafreepress.com) This place is best for kids as they have many swings and slides and a long skating floor to learn skating. There are also a few shuttle courts for those who enjoy shuttle racing.
Address: B/6, Harivihar Colony Road, Hari Vihar Colony, Bhawani Nagar, Narayanguda.
Timings are 5 AM to 9 AM from Monday to Sunday and 5 AM to 9 AM on Friday. The entry fee is INR 5.
How to reach: https://goo.gl/maps/wdr19mTt7TTjx25s7
Conclusion:
Visiting the city's parks and gardens is one of the best ways to learn about its rich history. Most parks are surrounded by vendors who sell delicious local cuisine at reasonable prices. The beautiful parks in Hyderabad, such as sanjeevaiah park, Lumbini Park, Botanical Garden, and other parks mentioned above, are excellent places to spend time with family. Bring your children so they can play freely in nature all day without becoming bored.
Latest posts by Satish Kumar
(see all)