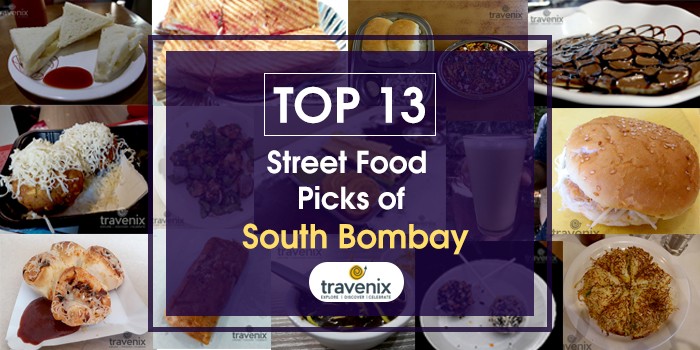 13 Best Local Street Food Joints of South Bombay – Mumbai
Known to be Mumbai's main business locality, the richest urban precinct in India and one of the most expensive in the world, South Mumbai is truly a paradise to visit. Both modern and ancient architecture merge in this area to give you the best of both worlds. South Mumbai also forms one of the most iconic skylines in the world, which can be seen from the Bandra-Worli Sea Link and Marine Drive. This southern most area of the city ranges from Lower Parel to Colaba and has a lot to offer even in historic terms thanks to many British-era buildings still dotting the landscape, especially the Fort area, which is almost completely covered with old buildings.
Gateway to Food
The region also has some of the major attractions of Mumbai like the Gateway of India, Taj Mahal Palace Hotel and the Chhatrapati Shivaji Maharaj Terminus, which are known for their architecture and history across the world. This area is actually huge and you can end up spending the complete day here and still not finish taking in the sights, especially that of marine drive. In such a case, finding some good food to eat can be a time consuming process; to make your job easier, we've listed down the best places to eat in South Mumbai.
1. Jalebi Fafda – Mahalakshi Dugdhalay
The dish is as unique as its name. The jalebi served with fafda makes up for quite a delicious combo. As we waited eagerly for our order to be served, we were partly anxious and partly excited to taste this new combination. The jalebi served is hot, crisp and not very sweet. And this is why we like it so much. It has just the right amount of sweetness to satiate anyone's taste buds. The fafda, made with chana dal, was slightly on the salty side. But then again, this balanced out the dish pretty well. This dish was served with a side of spicy chutney. Anxiety turned into a sweet surprise as we happily ate our way to a very contented tummy.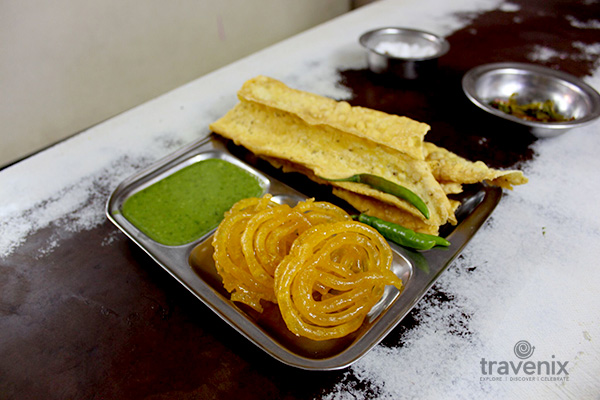 Where: Shop No.1, Joshi Marg, Worli, Mumbai
Price: ₹30
Rating: 5/5
2. Misal Pav – Vaishali Sweet
Misal Pav is one of the traditional go-to dishes of Maharashtra. At every nook and corner of Mumbai, you will find atleast one vendor selling you this. In our quest to find good street food, we happened to stumble upon this Special Misal Pav being served at Vaishali Sweet. This dish is nothing like your regular misal pav. What makes it special is its unusually delightful taste with a perfect blend of all the spices. Despite being true to its traditional nature of misal pav, this dish did not have an over dose of oil, unlike most other misal pavs. Served with fresh pav and a side of onions and lemon, this spicy misal truly won our hearts.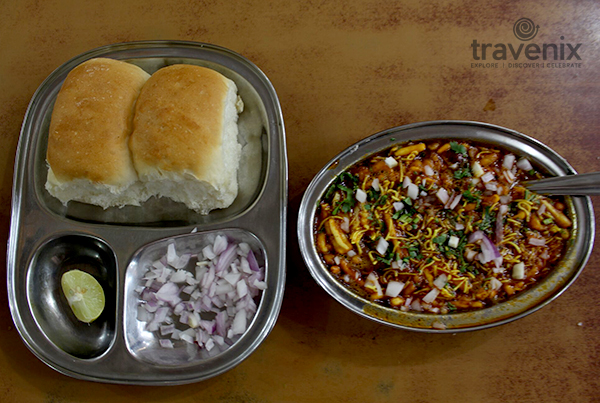 Where: 12.B.D.D. Opposite Ansal Heights, Worli Naka, Worli, Mumbai
Price: ₹50
Rating: 4/5
3. Tandoori Paneer Pizza – Sadanand
Hungry and tired, when we reached this place, we went ahead and ordered the simplest of the dishes. But little did we know that we were in for a surprise. The very sight of this pizza made us drool. A very humble name for an amazing dish, Tandoori Paneer Pizza is a double grilled pizza, topped with two layers of yummy, melting cheesy cheese. The base is thin and crisp but it is topped with layers of awesomeness. Paneer, capsicum and corn accompanied by tasty sauces and seasonings make this pizza a must try.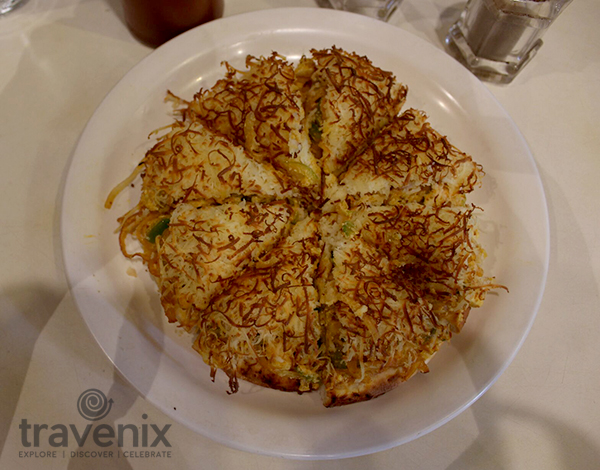 Where:  108, Neelam Building, Worli Sea Face Road, Worli, Mumbai
Price: ₹135
Rating: 4/5
4. Chocolate Treat – Felicita
A true treat, it was a choco-licious dream come true. Topped with loads of chocolate sauce, the pancakes served were fresh, soft and perfectly done. The dripping sauce got us all drooling. We couldn't help but lick the plates clean. This Chocolate Treat at Felicita is definitely a must try.
Where:  Zainab Manjil, AC Market, Tardeo, Mumbai Central, Mumbai
Price: ₹120
Rating: 4/5
5. Mango Milk Shake – Haji Ali Juice Centre
Talking about legends, this juice centre in Mumbai is definitely one. One sip of their mango milkshake, and we truly experienced why it got its status. This milkshake is pure bliss and nothing else. Thick, made from the freshest of mangoes, you couldn't ask for anything else. Loaded with sweet, cut mango pieces, you are sure to fall head over heels for this mango milkshake.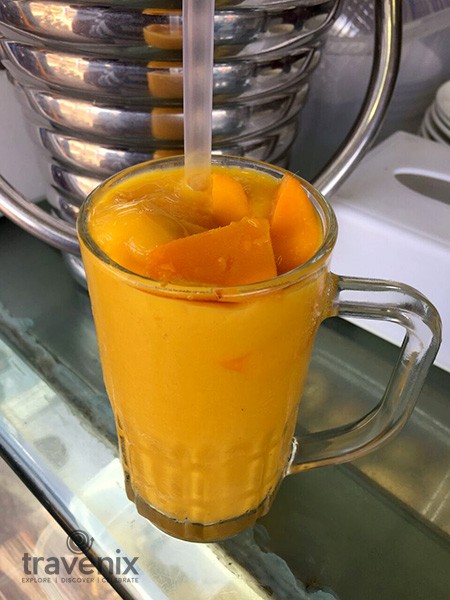 Where: Lala Lajpat Rai Road, Haji Ali Circle, Haji Ali, Mumbai
Price: ₹170
Rating: 4/5
6. Pizza Bun- Srinathjis
Anything that has something to do with pizza must be tried, right? The bun here looks nothing like the pizza but tastes almost like it's a mini version of it. As soon as it was served, the aroma filled the air and we simply dived into the plate to have this fresh treat and boy, was it worth it! If there is one place that shows that pizza is love, it is this.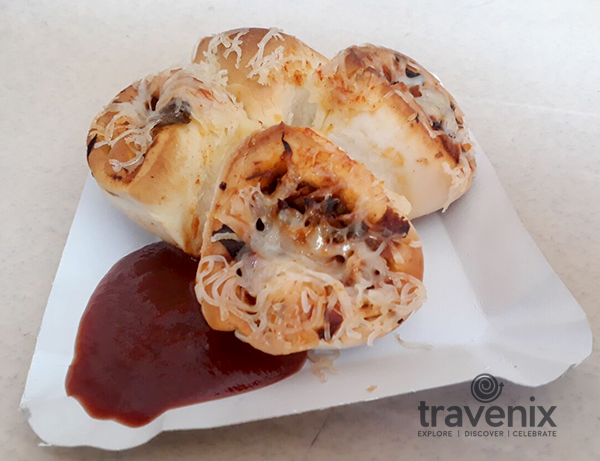 Where: Shop No.1, Near Gopi Birla Memorial School, Wankeshwar Road No.68, Mumbai Central, Mumbai
Price: ₹35
Rating: 4/5
7. Pav Bhaji- Sardar Pav Bhaji
So this is a name that is very popular among all Mumbaikars and is touted to be THE best pav bhaji in Mumbai according to many. The bhaji here is mashed and cooked to perfection and the spicy blend of masalas in it simply leave you craving for more. The generous serving of butter melting on top of it is very inviting as well. The pavs are freshly fried in butter and you can actually see melted butter all over them. It is served with chopped onions and lemon for added flavors. This is one dish you simply can't miss.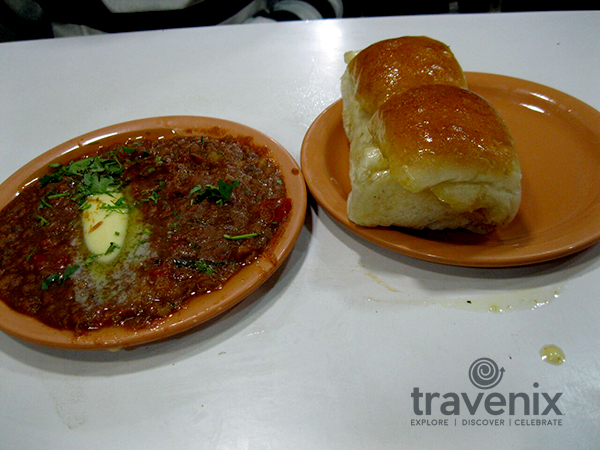 Where: 166-A, 166-B, Tardeo road junction, Mumbai
Price: ₹125
Rating: 4/5
8. Cheese Pineapple Sandwich – Kalpana
Yes, you read that right. We've all heard about/had pineapple as a pizza topping. But pineapple as a sammich stuffing? We packed our hungry tummies and headed down South at once. Needless to say, this was one of the wisest decisions we've made. Soft bread slathered with loads of butter, topped with soulful grated cheese and stuffed with fresh pineapple, this combination is something an adventurous foodie must try!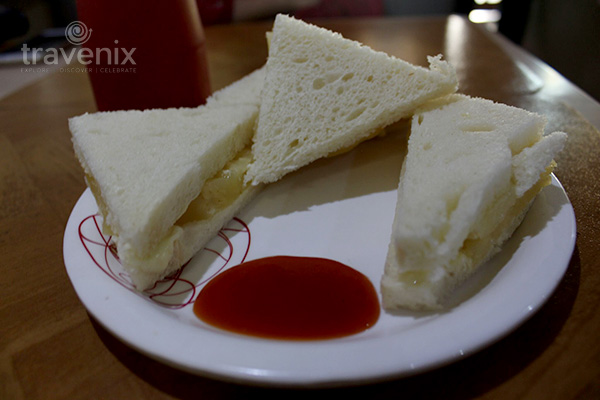 Where: Dr Annie Besant Road, Opposite City Bakery, Worli Naka, Worli, Mumbai
Price: ₹140
Rating: 3/5
9. Hazelnut Cheese Sandwich – Popular Sandwiches
What is the first thing that pops up in your head when we say hazelnut? NUT-wait for it -ELLA! This sammich is loaded with all this beautiful Hazelnut sauce, Nutella spread and cheeeeese. Grilled to perfection, this sammich was loaded with chocolate and we caught ourselves falling in love with this perfect dish.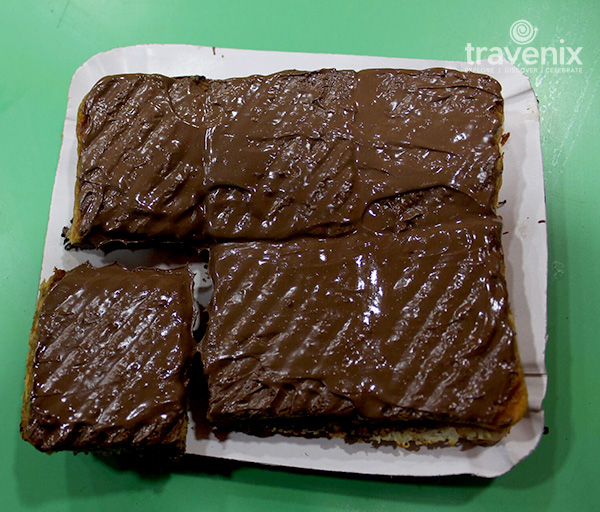 Where: Shop No 2 Opposite Deepak cinema Worli, Mumbai
Price: ₹90
Rating: 3/5
10. Chicken Chilly Dry – High Class Restaurant
Tender and fresh chicken marinated with authentic spices, this dish has taken in the taste of the spices well. The base also has loads of onions and capsicums, and this brings out the flavors even more. We thought the quantity was a little less for our hungry tummies, but whatever we ate, made us happy.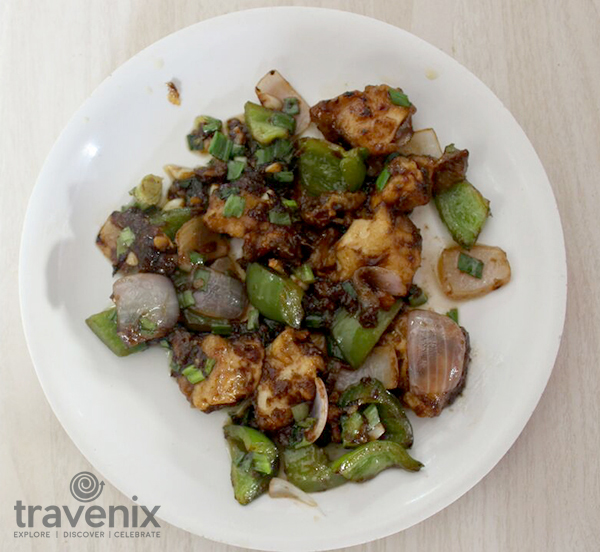 Where: 24, Ali Building, Wadia Street, Tardeo, Mumbai Central, Mumbai
Price: ₹60
Rating: 3/5
11. Chicken Biryani – Haji Ali Canteen
If we were to talk about a very satisfying lunch we've had in a while, it would be this very biryani. The chicken biryani served at Haji Ali Canteen is piping hot, fresh and really yummy. Well cooked rice, perfect chicken masala, tender chicken pieces and a fine blend of spices make for a splendid biryani.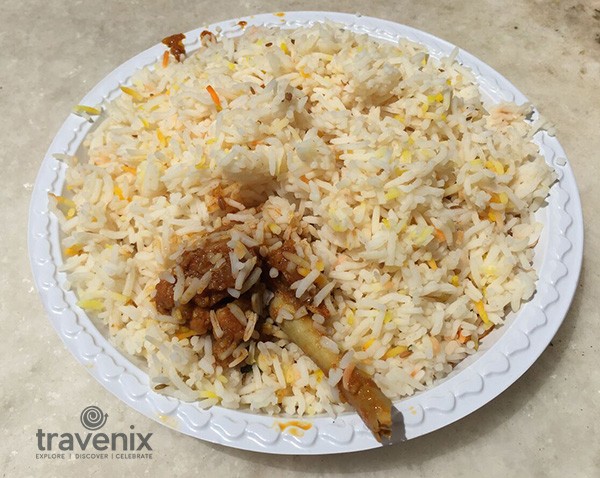 Where: Inside Haji Ali Dargah, Haji Ali Dargah, Mumbai
Price: ₹90
Rating: 3/5
12. Sugarcane Juice- Khan's Juice Center
Who doesn't fancy some good ol' sugarcane juice? It's a treat to watch the canes being put through the machine while the juice is being made and it brings back a rush of childhood memories, doesn't it? The juice is served in a jumbo glass; and added to the juice is ginger and lemon juice to reduce the sweetness quotient and give it a unique twist.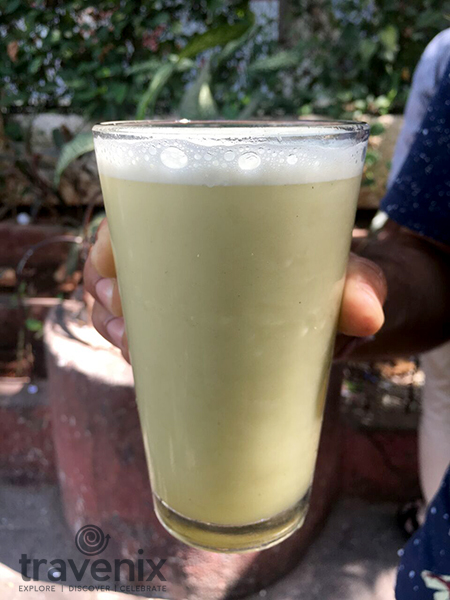 Where: Shop No 19, Bellasis Road, Opposite Samudra Restaurant, Mumbai Central, Mumbai 
Price: ₹20
Rating: 3/5
13. Aflatoon Mithai- Suleman Mithaiwala
This sweet is actually 'aflatoon', made almost entirely from mawa and ghee, and is quite heavy to eat as well. It is topped with dry fruits, is very soft and has a very different flavor because it is baked. We would recommend this to every sweet lover.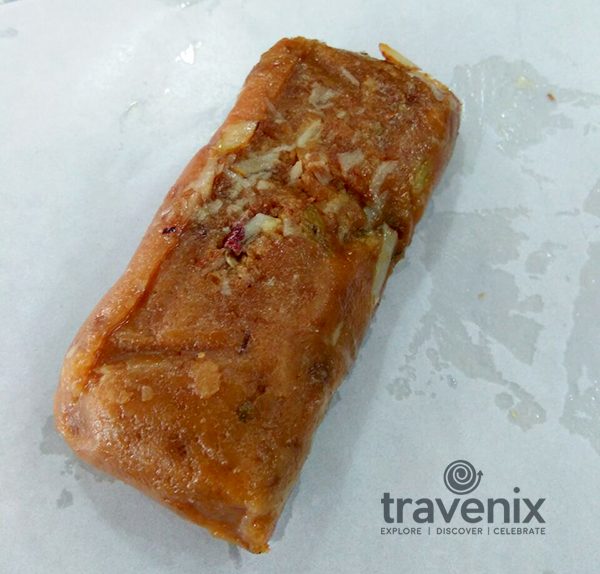 Where: Shop 268-270, Bellasis Road, Near City Centre Mall, Mumbai Central, Mumbai
Price: ₹45
Rating: 3/5
We hope that after going through this list, you're already making your way across the town to South Mumbai to indulge in these amazing dishes. If you have tried any of the above mentioned dishes, do let us know in the comments below and share your experience. If you do come across any other delicious dishes out there, share them with us so that we can let our fellow readers know as well.
Latest posts by Vibha Sharma
(see all)