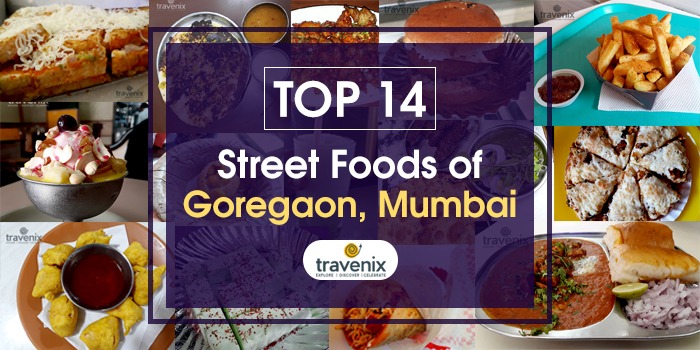 14 Best Vegetarian Street Foods to Try at Goregaon – Mumbai
This once sparsely populated area has turned into a wealthy one with film studios such as Filmistan and Film City opening up here. Many malls have also started to spring up in Goregaon and tall residential complexes have started coming up throughout the area. It also bounds the Sanjay Gandhi National Park and is home to the beautiful Aarey Milk Colony. With thousands of people residing here, food outlets galore have opened up to offer quick bites.
Filmy Bites of Goregaon
With the popularity of Goregaon as a residential suburb increasing day by day, there is a good chance that you might find yourself in the area someday. To satisfy your hunger cravings then, we've listed down the best places to eat in Goregaon so that you can eat in peace.
1. Peru (Guava) Masala Ice Cream- Dairy Don
The Freshly made ice creams here are a hit. The ice cream gives off the aroma of peru and eating it gives you the feeling of eating a chilled peru. Red chili powder and salt are sprinkled on the ice cream to give it the masala twist that gives you both sweet and spicy flavor that combine to make this ice cream a favorite.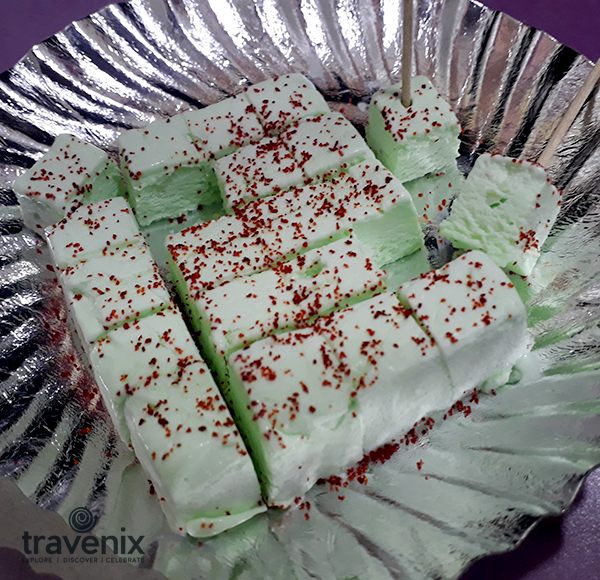 Where: Shop No. 4, Snehadeep CHS, Road No 17, Vidyan Niketan Marg, Opposite Bharat Bank, Off Mahatma Gandhi Road, Goregaon West, Mumbai
Price: ₹70
Rating: 4.5/5
2. AK47 Cheese Grilled Sandwich- Laxmi Balaji Snacks Corner
The name itself makes you wonder what power shots this sandwich must be having. Loaded with bullets of cheese that explode in your mouth with each bite, this sandwich manages to live up to its name; all other ingredients are cooked well and add to the overall flavor.
Where: Rd Number 12, Jawahar Nagar, Goregaon West, Mumbai
Price: ₹130
Rating: 4/5
3. Paneer Tikka Pizza- Mai Veg.
Paneer on a pizza might not be a great idea for many, but the pizza here is made extremely well. Soft base topped with ample veggies and loaded with a thick layer of melted cheese with paneer cubes popping out makes this dish a must have.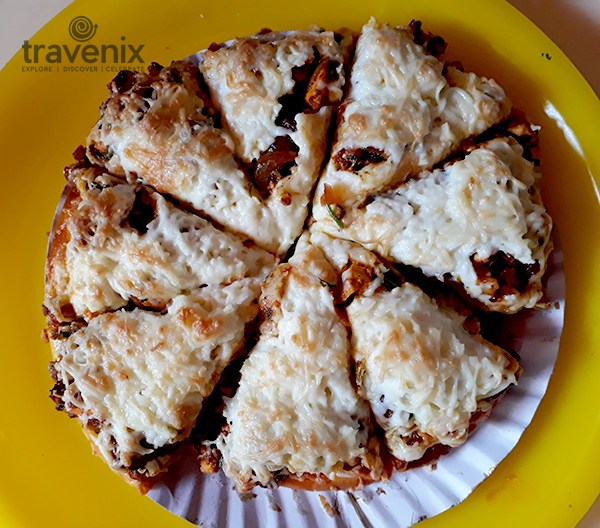 Where: New Mitha Nagar, Mahatma Gandhi Road, Besides Datta Mandir, Goregaon West, Mumbai
Price: ₹140
Rating: 4/5
4. Veg. Crispy- Desh Family Restaurant
As the name says, this dish is made from a mixture of vegetables that are fried and given a crispy twist. The dish looks alluring and the crunchy sound on chewing the veggies makes it an absolute favorite.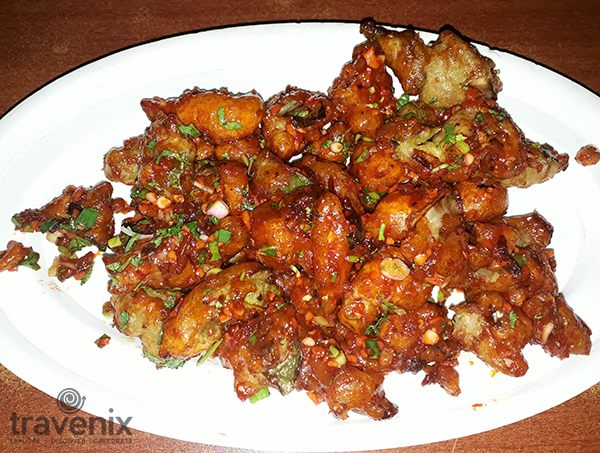 Where: Shop No 14 &15, Girmadevi CHS, Near Arey Signal, Opp.Western Express Highway, Jawaharlal Nehru Road, Sen Nagar, Goregaon East, Mumbai
Price: ₹150
Rating: 4/5
5. Burger- Sai Sweets Veg. Self Service
The burger is made from fresh and soft buns, the patty is freshly fried and has a crunchy outer covering and soft filling. Tomatoes and onions are also stuffed with the patty and the overall taste of the burger is addictive enough to make you want to order one more.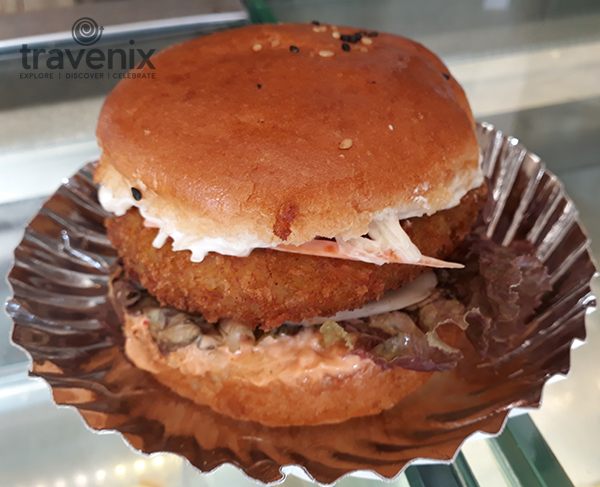 Where: Ground Floor, Nilgiri Building, Opposite Railway Station, Goregaon East, Mumbai
Price: ₹50
Rating: 4/5
6. Mushroom Pav Bhaji- Shraddha Saburi
This is an exotic version of pav bhaji, which is specially made with mushrooms. The soft mushrooms cause tiny bursts of juice with every bite. The pav bhaji is the traditional one and is mashed and cooked well; the pavs are soft and pan fried in butter to give you a buttery feel when eating the dish.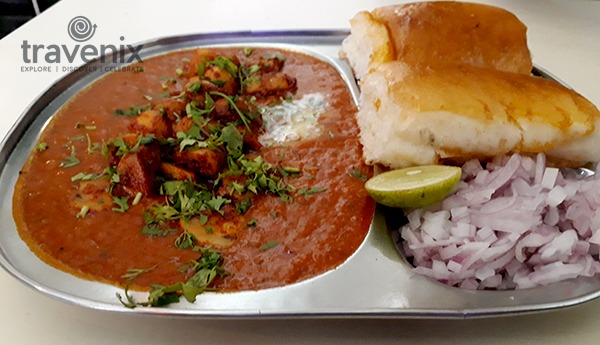 Where: Shop No. 7/4, Geet Govind Bldg, Opp. Cinemax Theatre, Swami Vivekanand Road, Jawahar Nagar, Goregaon West, Mumbai
Price: ₹140
Rating: 3.5/5
7. Ice Cream Soda- Tender Fresh Jayshree Ice Cream Parlor
Ice cream makes a plain soda much better, but the soda here is neither plain nor is the ice cream ordinary. The soda here is made from 7UP, with lemon juice added to it, and is topped with a scoop of chilled ice cream. The combination gives you many flavors with every sip and this makes it a special dessert.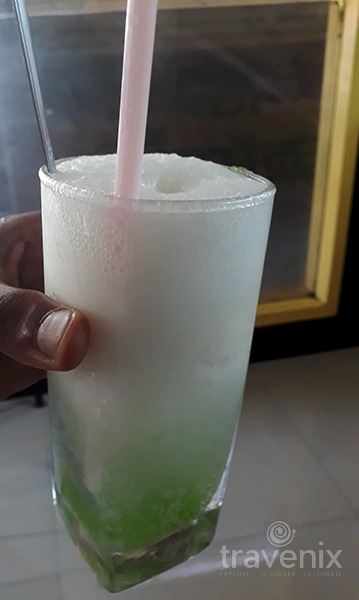 Where: Sant Nivriti Building, Aarey Road, Goregaon East, Mumbai
Price: ₹70
Rating: 3.5/5
8. Pani Puri- Jain Sweet House
Now this is a dish that just can't go wrong; and here, they manage to make some of the crispiest puris out there. Spicy pudina water and sweet and sour tamarind chutney are added to the puri with the filling and served in the traditional manner. Having a pani puri can never be a disappointing experience here, so go ahead and try to stop yourself after having the first plate!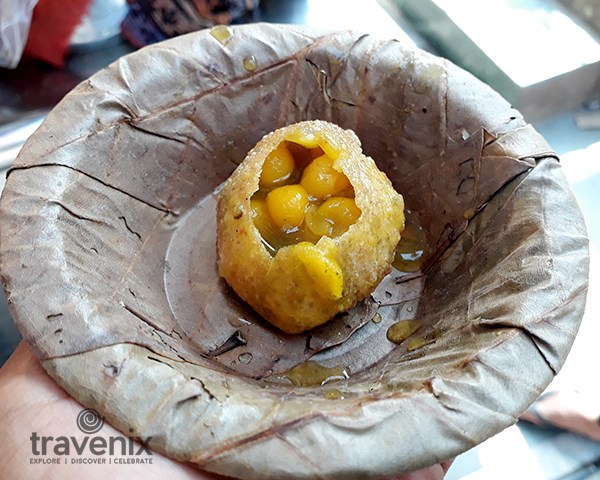 Where: Shop No 3, Ashok Raj Bldg, Topiwala Lane, Goregaon West, Mumbai
Price: ₹25
Rating: 3/5
9. Masala Fries- Urban Burger
These fries are freshly made and are crunchy on the outside and soft on the inside; they are simply perfect. The fries are topped with spicy masala to give them the masala twist and work great as a snack item or as a side dish with a burger.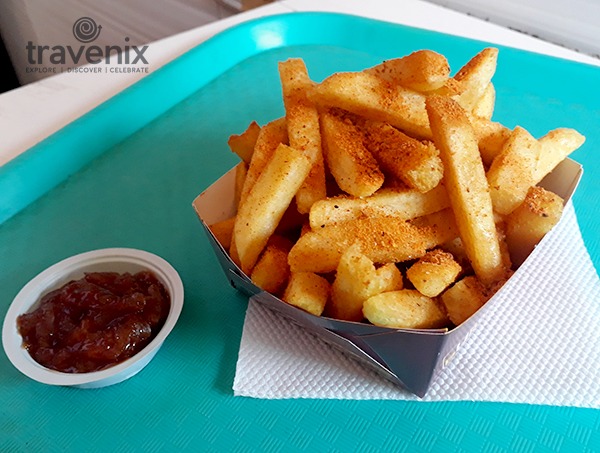 Where: 5, Shaukat Mansion 3, Opposite Ambe Mata Temple, Aarey Rd, Churi Wadi, Goregaon West, Mumbai
Price: ₹85
Rating: 3/5
10. Fruit Salad Ice Cream- Hotel Sanman
The typical fruit salad with a range of fruits mixed together topped with fresh ice cream. The fruits cause a burst of juices in your mouth and the chilled and sweet ice cream gives a refreshing flavor to it that makes this dish one of the healthiest and tastiest desserts.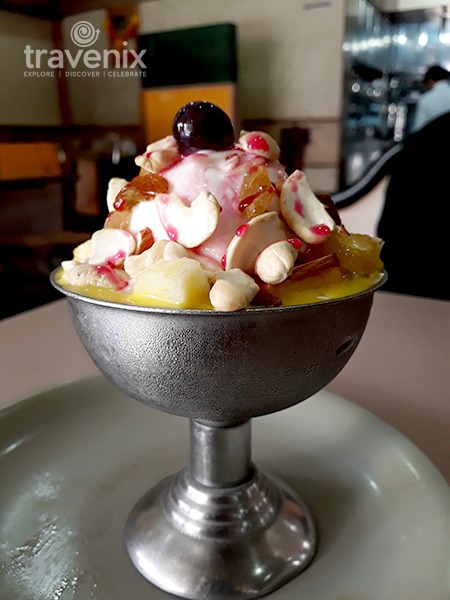 Where: Ashok Raj Building, Monginis, Topiwala Lane, SV Road, Goregaon West, Mumbai
Price: ₹120
Rating: 3/5
11. Cocktail Cheese Frankie- Pure Veg. Fast Food and Chinese Corner
This cheesy frankie is all you need to satisfy your cravings for frankies and cheese. Loaded with cheese and mayonnaise, this frankie is smooth and lovable. The roti is freshly made and melts in your mouth instantly along with the patty, which has a crunchy coating and is soft from the inside. Overall, this is a unique frankie and deserves a shot.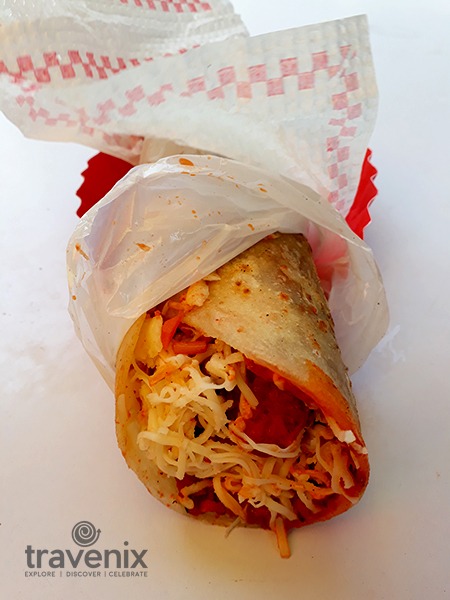 Where: Opposite Lords Universal College, Topiwala Marg, Off Station Road, Goregaon West, Mumbai
Price: ₹45
Rating: 3/5
12. Cheese Pakoda- Vaishali Restaurant
The pakodas are made with maida atta and are fried well enough to keep the oiliness to a minimum. The filling is almost entirely made of cheese and biting the pakoda brings out the melted cheese, which makes it a delight to watch. The cheese goes extremely well with the pakoda and all cheese lovers will definitely fancy this dish.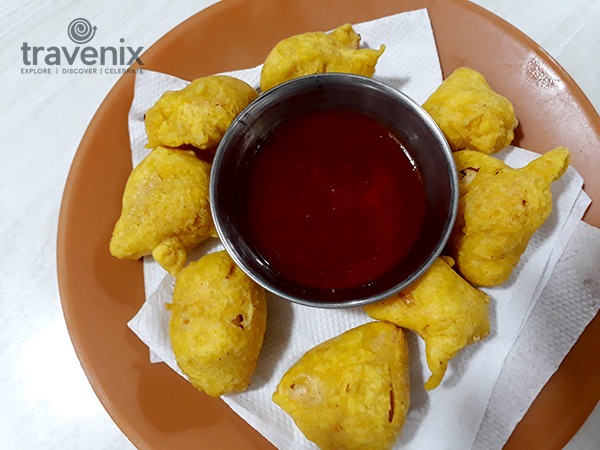 Where: Bhanukant complex, Shop no.3, Goregaon East, Mumbai
Price: ₹90
Rating: 3/5
13. Masala Utthappam- Sainath Veg. Restaurant
This is the typical South Indian dish that you'd expect and it does not disappoint. The utthappam is well cooked and topped with masala chutney that gives it a tangy twist as well. The texture is soft and spongy and it simply melts in your mouth on eating.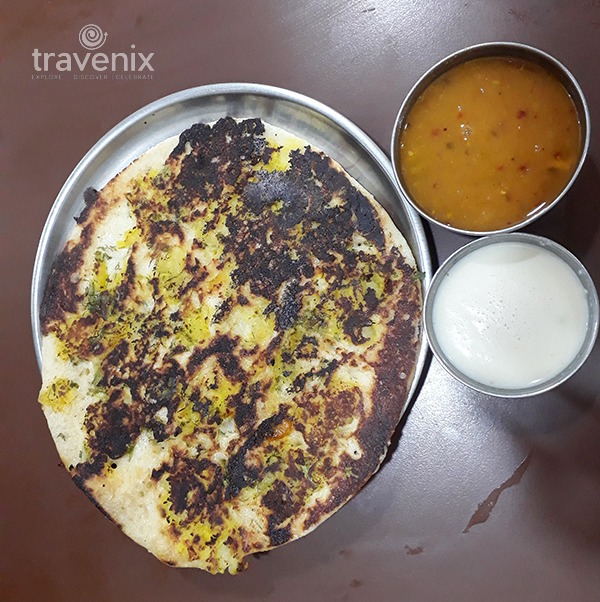 Where: Opposite Anupam Theatre, Goregaon East, Mumbai
Price: ₹65
Rating: 3/5
14. Seekh Paratha- Hotel Garib Nawaz
The seekh paratha here is soft and made to perfection. The filling is simply amazing, is cooked very well and the whole paratha melts in your mouth instantly. This healthy dish is heavy as well and one or two of these can make up a full meal.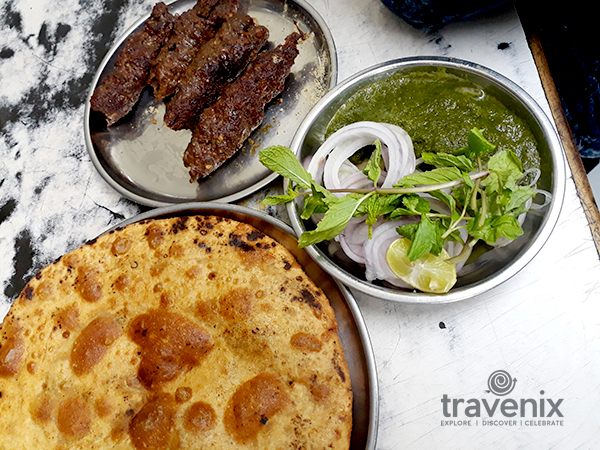 Where: Near Kancha Bar, Link Road, Goregaon West, Mumbai
Price: ₹75
Rating: 3/5
We hope that after going through this list, you've already made up your mind to try some of these delicious dishes. If you do come across any such amazing dishes, do let us know in the comments below and let us know your reviews of the above dishes when you eat them.
Latest posts by Vibha Sharma
(see all)