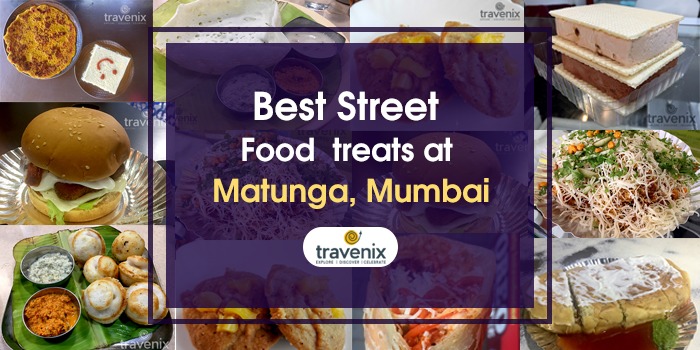 Top 9 Delicious Street Foods to Eat in Matunga – Mumbai
Matunga, located in the heart of Mumbai, was a part of the original seven islands that formed the city. Previously known as Mahikavati, this area is among the first well planned localities in Mumbai. Home to a large population from South India, Matunga's streets are sprawling with cafes and restaurants that serve authentic South Indian food.
In for a delicious treat at Matunga
The area has a good mix of schools and colleges, so it is easy to find to small joints that are reasonably priced. To make it easy for you on your next visit here, we've compiled a list of places that offer the best street food in town. Take a look at them, take your pick, and head there straight to indulge in some yummy food.
1. Appam with Coconut Stew – Arya Bhavan
If you're in the mood for a refreshing change from the usual idli and dosa that the South Indian platter has to offer, head off straight to Arya Bhavan. Though a variation of dosa, Appam is thicker in the middle and is served with fresh coconut stew. The stew —a mix of coconut milk, vegetables and a dash of coriander— alleviates the taste of the bland rice batter in Appam. In addition, the tomato and coconut chutney make this dish a must try.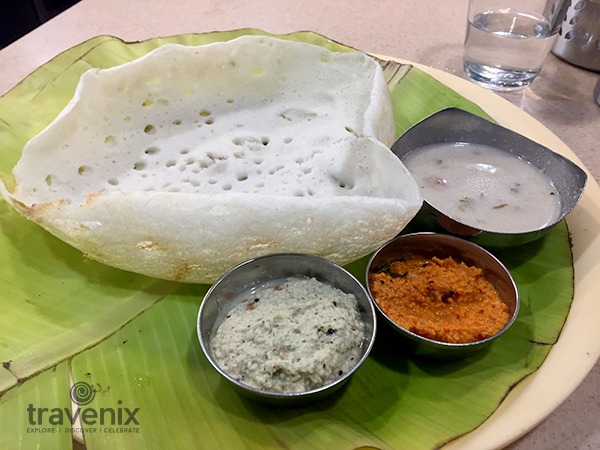 Where: Shop No.9 &10, Bhanujyoti Building,Opp. (Cialis) Matunga Railway Station, Mumbai 
Price: ₹80
Rating: 4/5
Other Great Dishes Here: Idiyappam with Coconut Stew
2. Cheese Punjabi Bhel – Gupta Chat Center
Gupta Chat Centre has a reputation of serving among the best street food in town. One visit there, and you'll realize the place is worth all the hype. The USP of the place lies in serving the simplest of dishes with perfection. The cheese Punjabi bhel is generously garnished with sev, cheese, fresh coriander and grated raw mangoes. While it looks interesting, the tangy Punjabi masala takes you by surprise. It gives the bhel a tangy edge that makes it unique.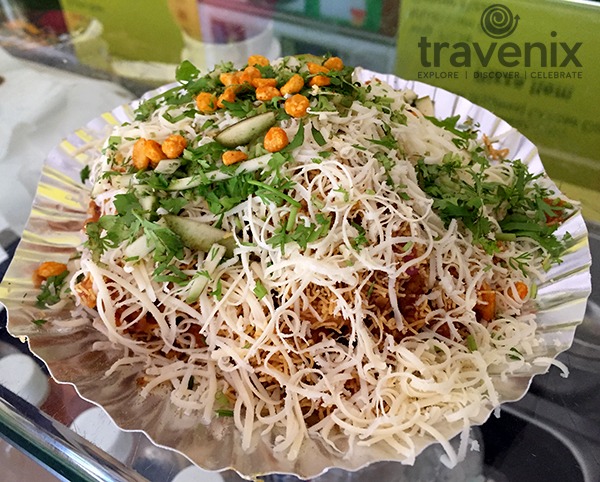 Where: Shop No 3, 4, LBS Market, Matunga East Circle, Mumbai
Price: ₹70
Rating: 4/5
Other Great Dishes Here: Dahi Sev Puri
3. Ice Cream Sandwich (butterscotch & chocolate chips) – Dairy Den
At Dairy Den, chocolate ice cream is served inside a neat package of crunchy wafers. A soft thin layer of butterscotch and chocolate chip ice cream is nestled delicately between the wafer biscuits. Even before you take a bite of it, the sandwich gives you a visual treat. This ice cream sandwich is a great pick for a different dessert.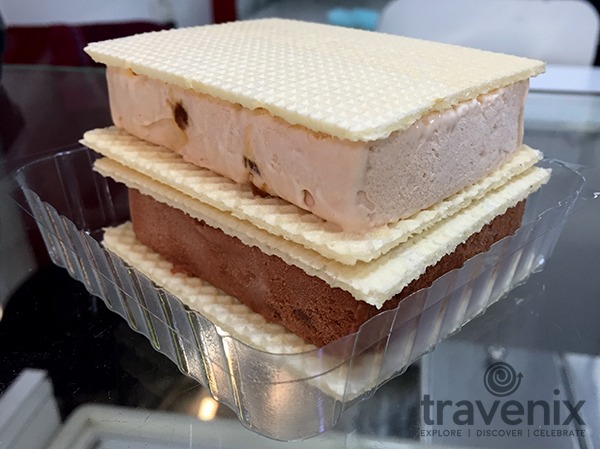 Where: 2, Kalyan Bhavan, King's Circle, Matunga East, Mumbai 
Price: ₹100
Rating: 4/5
Other Great Dishes Here: Try with Different Flavors
4. Corn Cheese Nugget Burger – Cafe 2.0
Calling all the burger lovers around, Café 2.0 is going to make you hungry all the time! An unlikely combination of corn and burgers, this dish manages to restore your faith in the unconventional. Cheese and corn is a standard combination for wraps, but when it is combined with a crispy bun, fresh lettuce leaves and a deep-fried nugget smeared with mayonnaise— the harmony of flavors is truly satisfying. Try this dish to satisfy your burger craving and to try something different.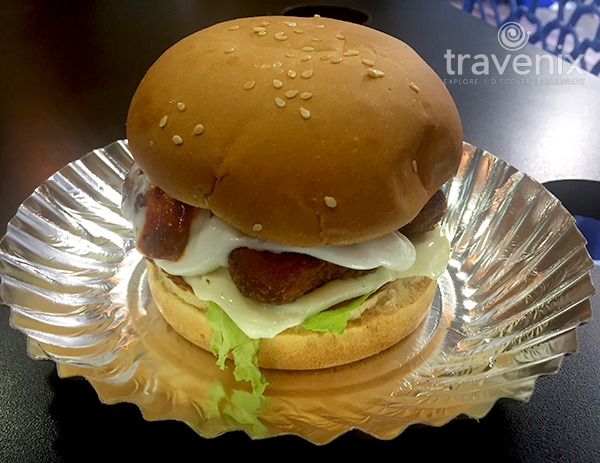 Where: Noor Mahal Building, near Koolar & Co, King's Circle, Plot No:541, Dr Baba Saheb Ambedkar Rd, Matunga, Mumbai
Price: ₹100
Rating: 4/5
Other Great Dishes Here: Cafe 2.0 Special Dishes
5. Paniyaram – Arya Bhavan
Paniyaram is perfect for those who are looking for a snack that is not too heavy. A South Indian specialty, paniyaram are small dumplings made from idli or dosa batter. For all the foodies out there, Arya Bhavan makes very authentic paniyaram. The batter is mixed with asafoetida (hing), coriander and other spices. The overall dish neither too sweet or sour and is cooked to excellence. A dip of the tomato and coconut chutney makes the paniyaram an absolute delight to snack on!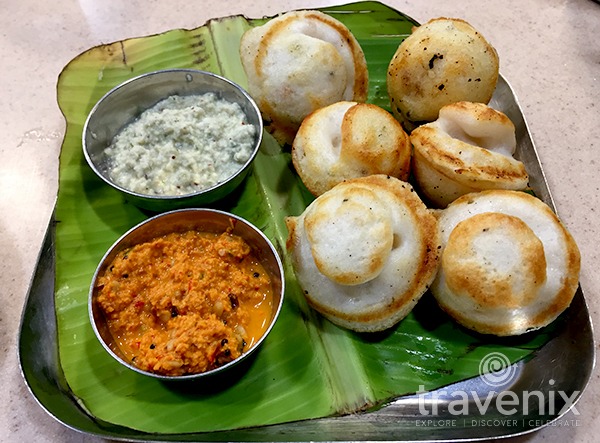 Where: Shop No.9 &10, Bhanujyoti Building,Opp. Matunga Railway Station, Mumbai 
Price: ₹90
Rating: 3.5/5
Other Great Dishes Here: Mysore Masala Dosa
6. Tomato Omelette – Garnish
With a desi twist to the traditional omelette recipe, Garnish's tomato omelette will give you a refreshing change. A cross between a dosa and an omelette, this dish uses rice batter as the base. Eggs, onions, chillies and loads of tomatoes are added to the batter and cooked till it becomes crisp. The end result is a tangy, mouth-watering dish that really needs to be popularized. You are sure to love this dish if you are experimental and love fusion food.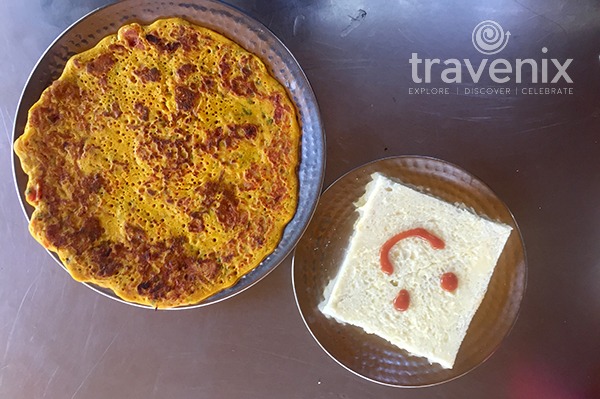 Where: 5, Shri Ram Bhavan, Opposite Arora Cinema, King's Circle Flyover, Matunga, Mumbai
Price: ₹90
Rating: 3/5
Other Great Dishes Here: Onion Uttapam
7. Jackfruit Idli – A. Rama Nayak Idli House
Forget the white, plain idli that you've been gorging on for years because here is the Idli version 2.0. Rama Nayak Idli House has to be mentioned in the list for the creativity that they have brought to the table. Adding a generous amount of jackfruit to rava gives the idli a heavenly twist. With a gorgeous shade of yellow, each bite exudes the flavor of jackfruit distinctly. Just beware; this jackfruit idli is going to leave you craving for more!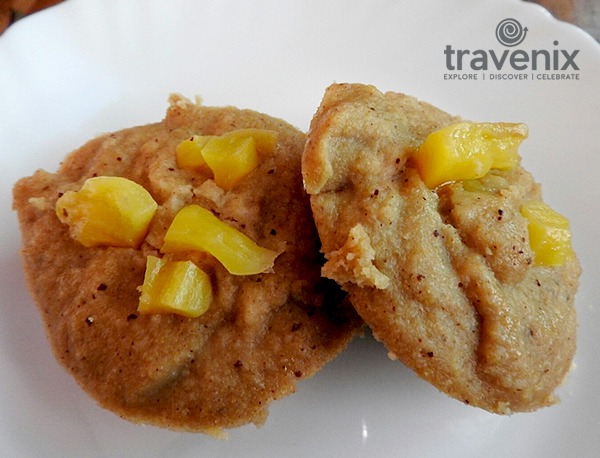 Where: 462, Ram Bhavan, Babasaheb Ambedkar Road, Maheshwari Udyan, King's Circle, Matunga Navjivan Society, Matunga, Mumbai
Price: ₹45
Rating: 3/5
Other Great Dishes Here: Rasam Idli
8. Dabangg Manchurian Franky – Family Park Franky
All the Salman Khan fans out there, the name of this dish is enough to warrant your attention! For the rest, the recipe and the taste should be enough. Just like the movie, this frankie is filled with action (for your taste buds!). Made with the goodness of mayo, cheese, paneer and noodles, this combination is already a blockbuster combination. Add to this, crispy, perfectly cooked Manchurian balls and you have a dish that is a dynamite. Hot, fiery and tangy- it has all the vibrant flavours to make it a great dish. However, for those with a low appetite, the filling may seem a little too overwhelming. Head here with an empty stomach and you will not be disappointed.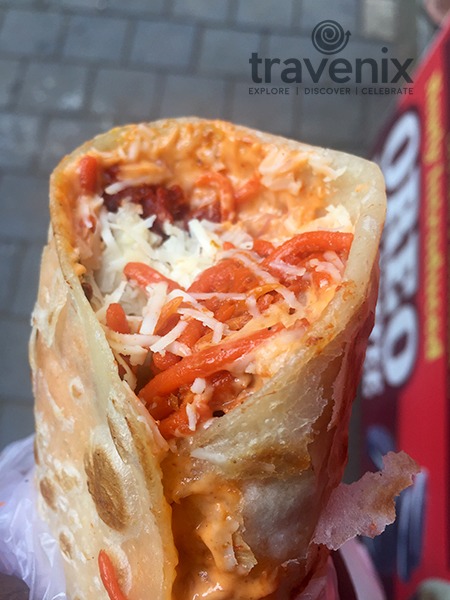 Where: 472,Mohan Nivas, Maheshwari Udyan, King's Circle, Matunga, Mumbai
Price: ₹80
Rating: 3/5
Other Great Dishes Here: Noodles Franky
9. Fajita Panini – Gupta Sweets and Farsan
Fajitas are known for their Tex Mex spices that will burn your tongue. Gupta Sweets and Farsan lives up to those expectations with its Fajita Panini. This sandwich is loaded with sautéed onions, capsicum and a handful of butter that goes into grilling it. And of course, all of this is mixed with masala that will excite all the spice-lovers in town. Overall, it's a great dish that you shouldn't miss out on.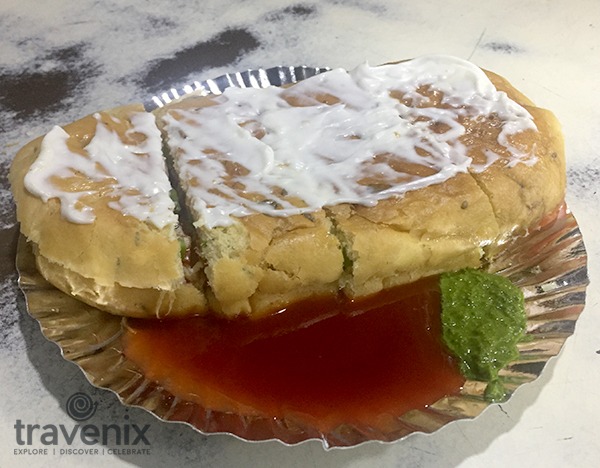 Where: 9, Moreshwar Bldg, L.N. road, Matunga, Mumbai
Price: ₹75
Rating: 3/5
Other Great Dishes Here: Paneer Panini
We hope that you're already making your way to the nooks and corners of Matunga in hunt of these delicious dishes. If you do find any other amazing dishes such as the ones listed above, do let us know so that we can share them with our fellow readers. Share your photos with these dishes on our Facebook page too!
Latest posts by Vibha Sharma
(see all)