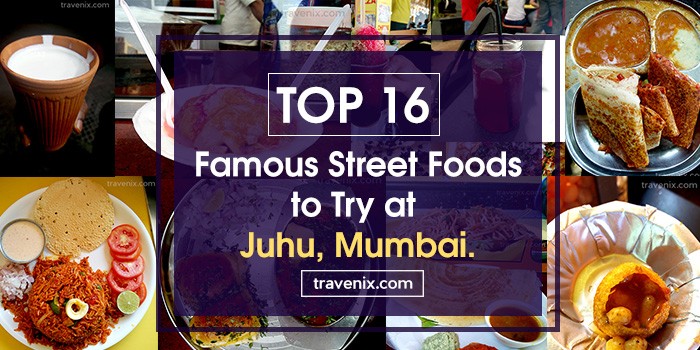 Top 16 Famous Street Foods to Try at Juhu – Mumbai
Most people know Juhu from Juhu Beach, one of the most famous areas in Mumbai. It is one of the most affluent areas of the city and home to lots of Bollywood celebrities; it is also the home to Juhu Airport, which is used by small aircraft, and is India's oldest civil airport. As this is the area that houses Juhu Beach, there are many famous hotels and restaurants that have opened up to cater to the large masses that visit the beach or choose to stay near the beach.
Beachside Delights of Juhu
Juhu Beach is a popular hangout spot for all Mumbaikars and tourists alike; since many years this has been a location where there are lots of recreational activities, and oh yes, how can we forget the delicious food that we get here? Juhu is most popular for its street food, and so here we present the best places to eat in Juhu, so that you can make the most out of your trip to the area!
1. Chili Cheese Paratha- Prithvi Café
The name of this paratha itself strikes your taste buds instantly and the paratha here actually lives up to your expectations. Stuffed with soft and tasty cheese with chilies, this dish gives you the best of both worlds. The paratha is crisp and is served along with Masoor dal, raita and mango pickle, all the three side dishes go perfectly well with the paratha, but the paratha-pickle combination stands out. Probably one of the best parathas out there in the city and worth every penny spent; this is a must try dish at Juhu!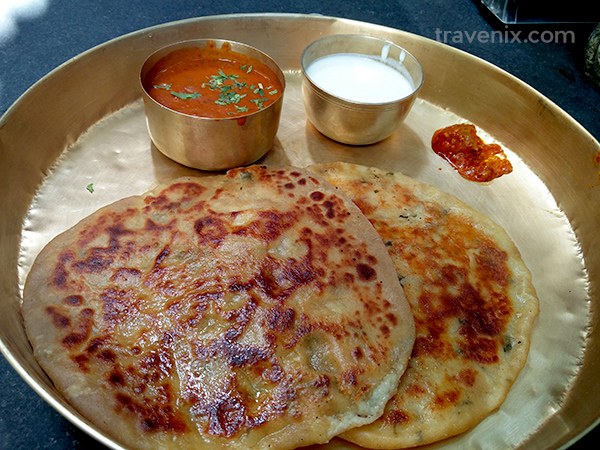 Where: 20, Janki Kutir, Juhu Church Road
Price: ₹ 130.00
Rating: 4.8/5
Other Great Dishes Here: Everything Leaving the Appetizers
2. Kokam Cooler- Prithvi Café
This is the perfect way to escape the summer heat; the kokam cooler cools your body and refreshes you in a flawless manner. It is sweet and has a hint of mint and lemon; andhoney is added to it to make it slightly sweet. This is a must try drink if you do end up at Prithvi Café.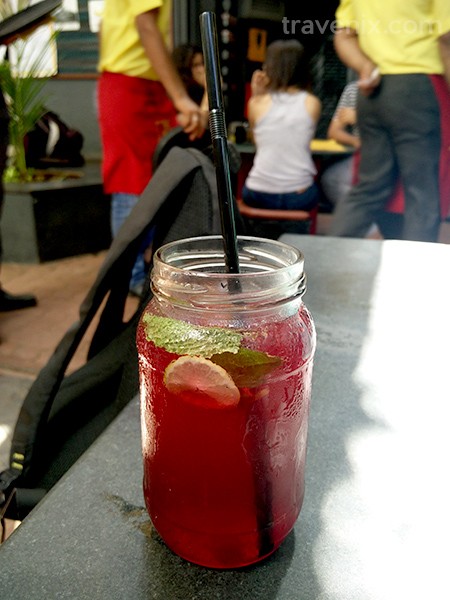 Where: 20, Janki Kutir, Juhu Church Road
Price: ₹ 50.00
Rating: 4.8/5
Other Great Dishes Here: Oreo and Kitkat Milkshake
3. Rabdi Malai Falooda- Bharath Darbar Falooda
This west meets east fusion ends up as a delightful dessert; it is served in a bowl rather than a glass unlike the other faloodas. Instead of ice cream, here we have rabdi and malai kulfi in the falooda which give you a heavenly experience. The falooda is made very well, is easy to chew and gives you a pleasant feel; it is an amazing dish and must be tried by one and all visiting the area.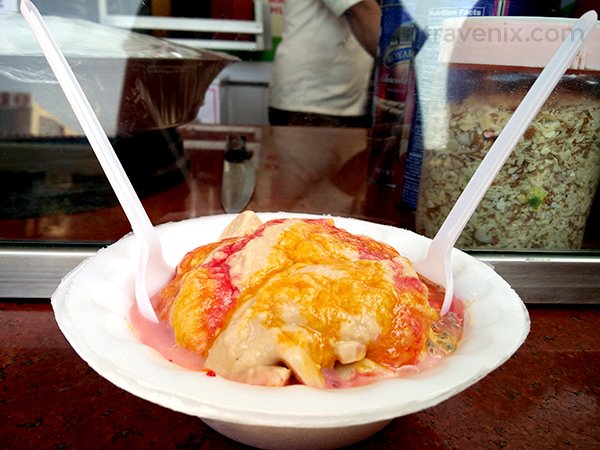 Where: Stall No.38, Juhu Chawpatty
Price: ₹ 130.00
Rating: 4.5/5
Other Great Dishes Here: Plain Malai Kulfi and Rabdi
4. Mysore Masala Dosa- Dhanalaxmi Dosa Center
The dosa is fried in butter rather than ghee, which gives out a different flavor to the whole dish and makes the dosa crisp. The stuffing has a perfect blend of masalas and well cooked potatoes that give out delightful flavors. The dosa is served with sambar, tomato and coconut chutneys, which are made very well and have a homely feel attached to them. The tomato chutney is spicy and sour at the same time, and gives out some amazing flavors that enhance the overall combination of flavors.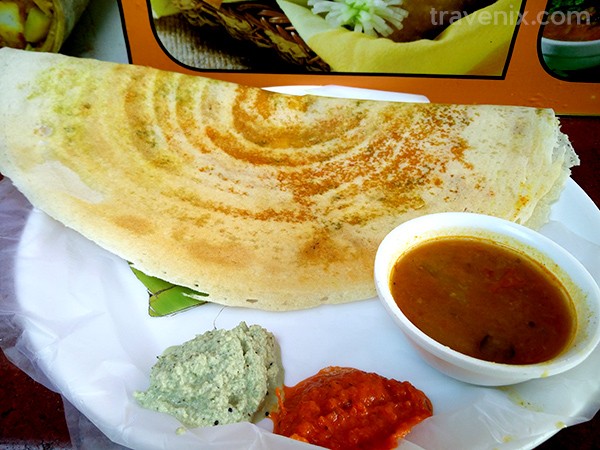 Where: Stall No. Stall 35-36, Juhu Chawpatty
Price: ₹ 90.00
Rating: 4/5
Other Great Dishes Here: South Indian Dishes
5. Chicken Tandoori Momos- Sardarji Restaurant
Tandoori chicken and momos- now that's a combination to which it is almost impossible to say no to, isn't it? The momos are filled with chicken which is tender and perfectly cooked; they are then dipped in batter to give them the tandoori twist. The chutney served with the momos is zesty and has a hint of lemon juice; the combination of the momos and chutney is bound to leave you craving for more!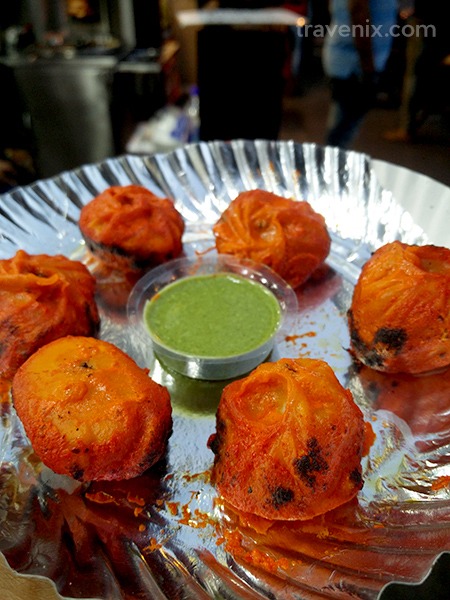 Where: Opp Novotel Hotel
Price: ₹ 99.00
Rating: 4/5
6. Hakka Noodles- Shiv Sagar Pav Bhaji
The noodles are well cooked and are adequately spicy. With each bite you get bursts of flavors in your mouth that give you a delightful experience. Vegetables like onions, capsicums, carrots, beetroots and cabbage are added to the noodles, which make them very healthy to consume as well. This Indianised version of noodles here is great and definitely worth having over and over again.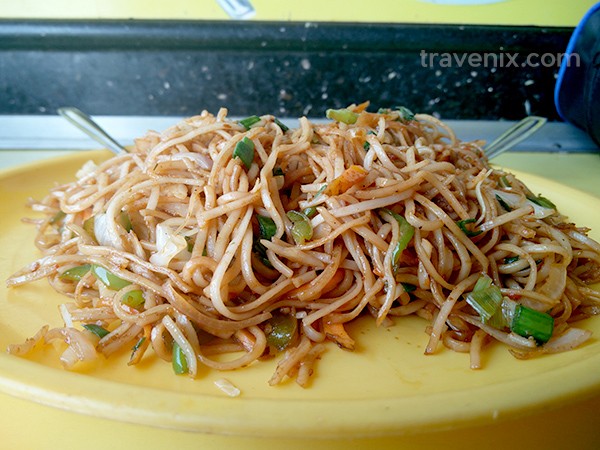 Where: Stall No. 32, Juhu Chawpatty
Price: ₹ 140.00
Rating: 4/5
7. Chicken Tandoori Rumali Roll- Garam Masala
The chicken used is fresh, tender and very well cooked, and it makes your mouth water instantly; the roll is served hot and gives off some amazing flavors which are similar to that of chicken tikka masala. The blend of masalas is just perfect and the taste lingers around in your mouth for long; the roti is soft and melts in your mouth as well. Served along with the roll is mint chutney that has a hint of lemon juice and gives you a blast of flavors when consumed with the spicy roll. This is one of the best chicken rolls out there and definitely deserves a try.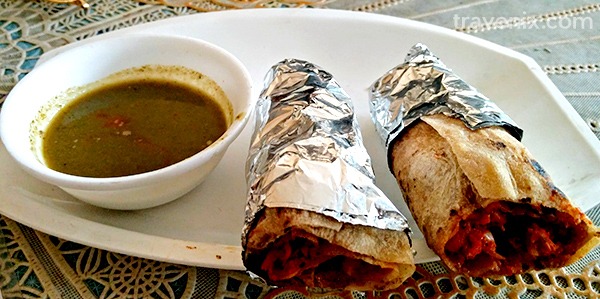 Where: Shop 5, Part 30, Plot 70D, Near Chandan Police Chawki, Janardhan Ramji Mhatre Marg,
Price: ₹ 160.00
Rating: 4/5
Other Great Dishes Here: Other Chicken Rolls, Seekh Kababs
8. Sweet Lassi- Sardarji Restaurant
This is the traditional Punjabi lassi that transports you to Punjab with every sip taken. Served in the traditional earthen glass which is large enough to satisfy all your lassi cravings; it gives a different mud flavor to the lassi which is pleasant and very cooling. The malai is smooth and creamy, and it's too thick to be drunk using a straw; this lassi is bound to draw you back here again.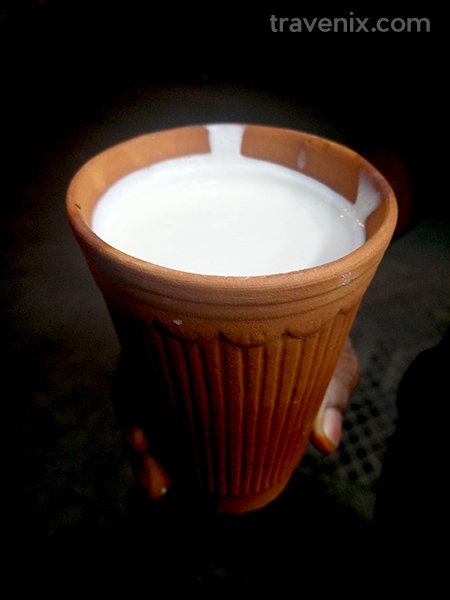 Where: Opp Novotel Hotel
Price: ₹ 59.00
Rating: 3.8/5
9. Pav Bhaji- Mahalaxmi Pav Bhaji Center
Juhu Beach and Pav Bhaji are synonymous, aren't they? The feel of having Pav Bhaji here is different and must be experienced by all. The Pavs are pan fried in butter and garnished with coriander leaves. Butter is served on top of the steaming hot bhaji and seeing the butter melt is sure to water your mouth in an instant; it is just perfectly spicy and gives you a blissful experience with each bite taken. Lemon and onions are provided along with the dish for garnishing as per your need, and they add to the overall flavor.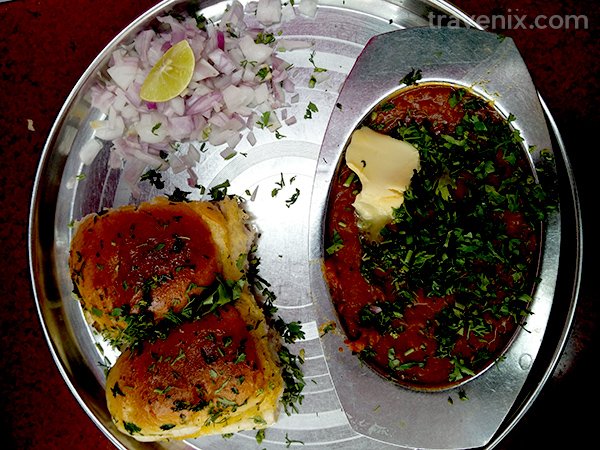 Where: Stall No. 15, Juhu Chawpatty
Price: ₹ 100.00
Rating: 3.8/5
Other Great Dishes Here: Masala Pav Bhaji with Garlic Pav
10. Pani Puri- Shree Laxmi Bhelpuri Chat Center
The puris are perfectly round and crisp; the tamarind chutney here is adequately sweet and the pudina water is extremely spicy as it should ideally be. The filling is that of ragda and potatoes and when this is combined with the chutney and water, it creates a plethora of flavors bursting in your mouth. The filling even has sev and puri pieces, which makes your experience crispier and gives you the feel of having 'sukha' puri with every puri!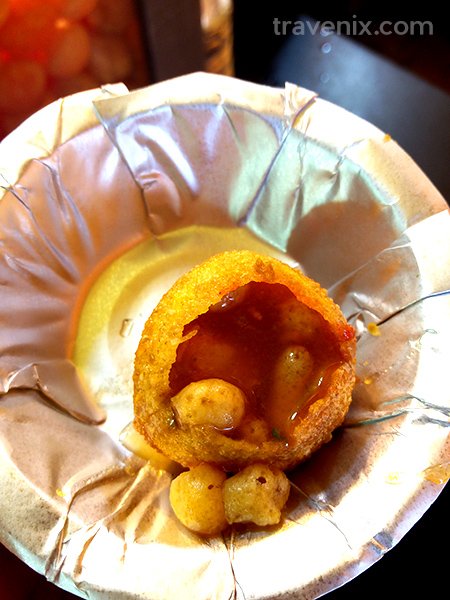 Where: Juhu Chawpatty
Price: ₹ 30.00
Rating: 3.8/5
11. Chocolate Dosa- Nandu Dosa
Now this is a VERY interesting combination- dosa and chocolate! The dosa is crunchy and is roasted with lots of ghee and topped with the most uncommon topping for dosa- chocolate chips! In each bite you get the taste of dosa and the sweet taste of chocolate that is very soothing to one's taste buds. Towards the center of the dosa, the flavors of the ghee, dosa and chocolate become prominent and give you a divine feeling in each bite. The dosa is served hot, and so one can expect some melted chocolate on it, and that is just irresistible, isn't it?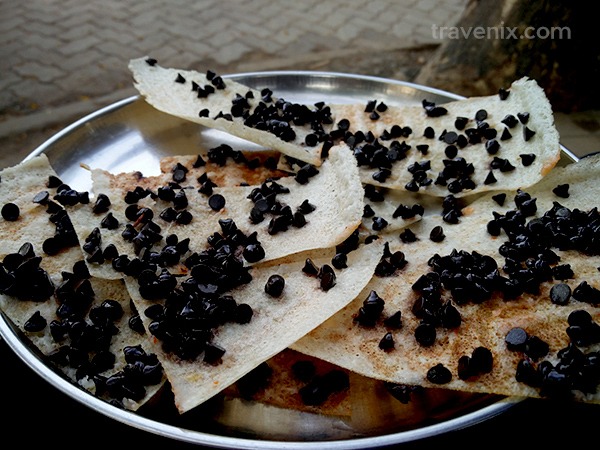 Where: Ritumbara College Road, Behind Chandan Theatre
Price: ₹ 80.00
Rating: 3.8/5
Other Great Dishes Here: Mysore Masala Dosa
12. Chicken Lollypop Gravy- White Way
The chicken here is tender, juicy and soft to bite; the batter used for making the lollypop is adequate and adds to the flavor. The consistency of the gravy is perfect and it gives out an overall spicy taste with a hint of garlic. The best part is that they are Halal certified, so you can go ahead and eat the chicken here at peace. The service here is very quick and rightly so, due to the crowd that comes to eat lunch here every day.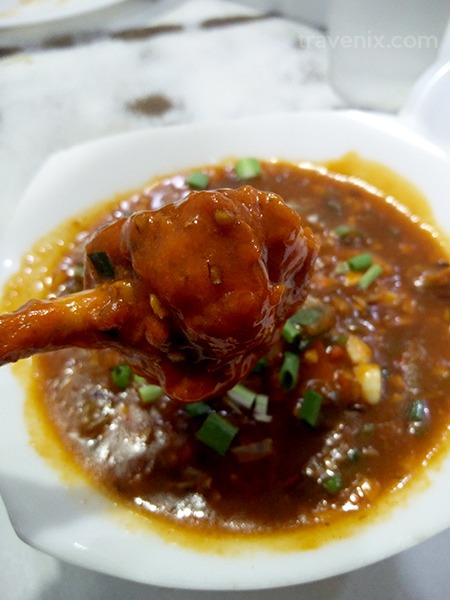 Where: Shop No.1, Zahid Manzil, near Royal Hotel, Juhu Tara road
Price: ₹ 70.00
Rating: 3.7/5
Other Great Dishes Here: Fried Rice
13. Mysore Masala Dosa- Shree Sidhivinayak Food Stall
The filling of this dosa has masala potatoes, tomatoes, spring onions, capsicums and beetroots mashed together and cooked in butter. Pav Bhaji masala is added to the dosa to give it a twist that is delightful; with each bite the vegetable juices fill your mouth and please your taste buds. The dish is served with sambar and chutney, which are delicious as well and add to the overall flavor of the dish.
Where: Juhu Tara Road, Beside SNDT college
Price: ₹ 50.00
Rating: 3.5/5
Other Great Dishes Here: Vada Pav
14. Mix Gola- Surat Kala Khatta
As the name suggests, it's a mix of four flavors- lemon, pineapple, kala khatta and rose. Together, all the flavors cool you down; and even the appearance is very tempting. The sour flavors along with the sweet rose flavor give you a mix of both world at a pretty affordable price! Don't forget to drink all the remaining juice after the gola is over, it's a treat to have that as well.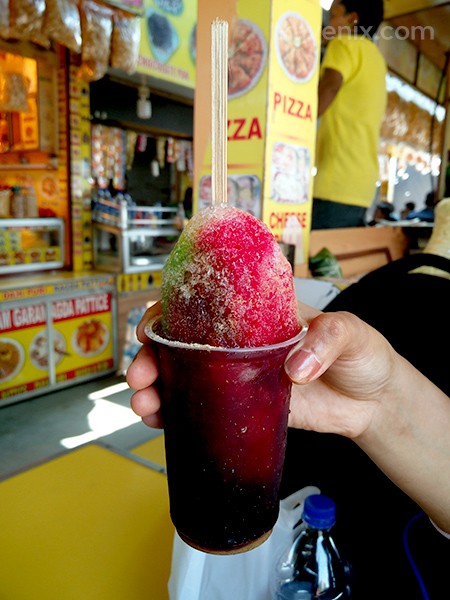 Where: Stall No. 48, Juhu Chawpatty
Price: ₹ 60.00
Rating: 3.5/5
Other Great Dishes Here: Butter Scotch Gola
15. Special Tawa Pulao- Kartik Pav Bhaji and Fast Food
The presentation of this pulao makes you fall for it even before actually tasting it. The rice and the vegetables are perfectly cooked, soft to bite and chew and have moderate flavors. Papad, tomato slices and dahi with pav bhaji masala are served alongside the pulao; the papad gives you something crisp to bite along with the soft pulao. The combination of the dahi and pulao is great and hits the right taste buds.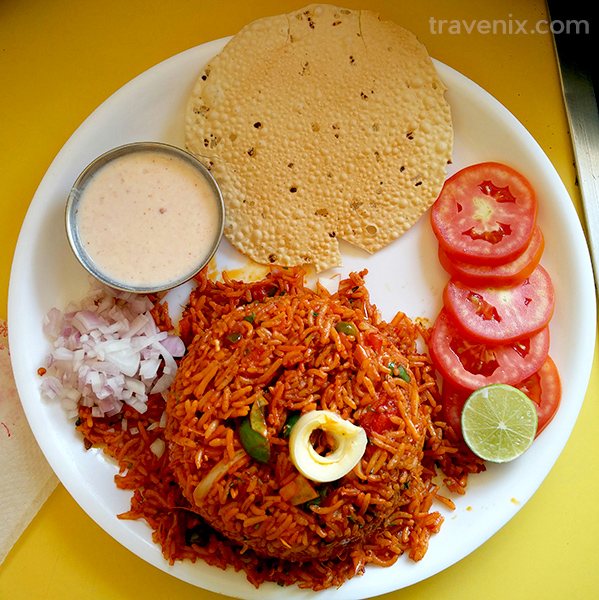 Where: Stall No. 59, Juhu Chawpatty.
Price: ₹ 140.00
Rating: 2.8/5
16. Dahi Kachori- Sagar Sangam
This crisp and spicy kachori tastes great with the ragda that is added to it; the ragda is made well and gives out the distinct flavors of all the ingredients. This is an affordable and quick snack item that one can have on the go.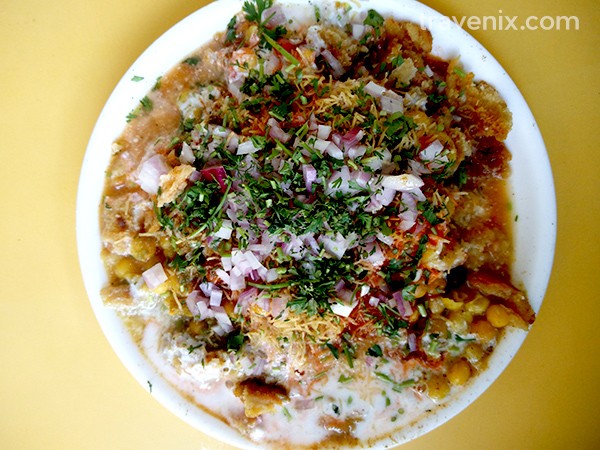 Where: Stall No. 56, Juhu Chawpatty
Price: ₹ 50.00
Rating: 2/5
If you have visited Juhu Beach before and tried some of the amazing dishes that have been listed above, do let us know your experience. If you have come across some dish there that deserves to be in the list, please comment below to let your fellow readers know about it. If you do end up visiting any of the above mentioned places (which we are pretty sure you will), then do let us know about your experience in the comments below!
Latest posts by Vibha Sharma
(see all)