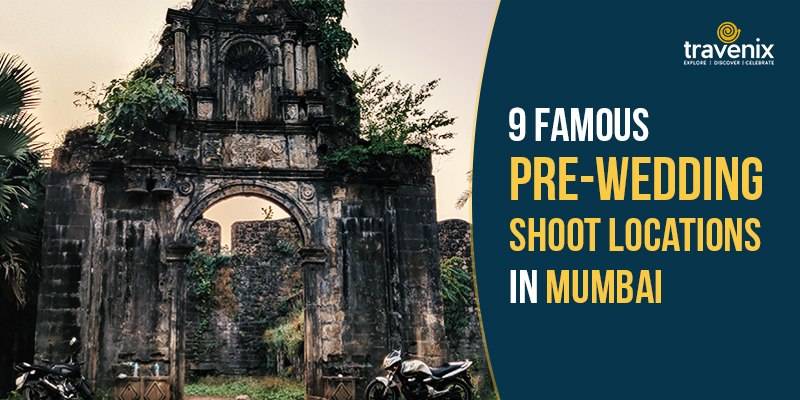 Popular Locations In Mumbai That Are Picture-Perfect For Pre-Wedding Shoots
It is that time of the year again! No, we aren't talking about Diwali or Christmas, we're talking about the Indian Wedding Season. Most people choose to get married in between October to January for many reasons. From celestial intervention to just overall pleasant weather all over India, this is the time many choose to tie the knot. 
Apart from all the shopping, a wedding brings across one particular activity, pre-wedding shoots. You can see the rise in pre-wedding shoots over the past few years, with cinematic shots of engaged couples confessing their love and living their Bollywood dreams. Many people choose to do these shoots in exotic locations both in India and abroad. If you're in Mumbai, we have something special in store for you. Don't believe us? Keep reading. 
Best Locations For Pre-Wedding Shoots In Mumbai
Mumbai, the city of dreams has made another dream come true, this time for soon to be married couples. Let's have a look at some of the most beautiful locations where you can get your pre-wedding photoshoot done in Mumbai.
1. Gateway Of India
How can one forget this iconic Mumbai location? Gateway of India has served as a scenic backdrop for countless photos and memories. For your pre-wedding shoot, the Gateway Of India serves as a beautiful backdrop and as a memorable way to make Mumbai a part of your memory. It is recommended that you go here as early as possible because of its popularity, it tends to get crowded.
Location: Apollo Bandar, Colaba, Mumbai, Maharashtra 400001
Timings: 7 am onwards
Cost: Nil
2. Bandstand and Bandra Promenade
Live out your Bollywood fantasy just right down the street where many Bollywood stars live. The rocky shores of Bandstand along with the sprawling Bandra-Worli Sea Link is a beautiful addition to your pre-wedding shoot.  Before planning your shoot, make sure that there's low tide, otherwise, the rocks are likely to be submerged underwater. You should plan your shoot during sunset, as the lighting tends to be really beautiful.
Location: Bandstand Promenade, Bandra West, Mumbai, Maharashtra 400050
Timings: Always Open
Cost: Nil
3. Kalaghoda
Kalaghoda is called the 'Art District' of Mumbai', with some of the most beautiful architecture and colonial vibes, Kalaghoda deserves to be on your list for a shoot location. There are plenty of colourful and vibrant buildings with beautiful art drawn on them. Sundays tend to be relatively less crowded as it is primarily surrounded by the business district.
Location: Fort, Mumbai, Maharashtra 400001
Timings: Always Open
Cost: Nil
4. Horniman Circle
This gem in South Bombay is a haven for pre-wedding shoots. Its colonial architecture and arch-shaped circle give it an old-world charm. There's also the Mumbai Samachar Building, which is bright red in colour and a good backdrop for your shoot. The best time to visit would be either early morning or even late at night if you want complete privacy.
Location: Fort, Mumbai, Maharashtra 400001
Timings: Always Open
Cost: Nil
5. Asiatic Library
The Asiatic Library in Fort is another architectural marvel. Established in 1804, it houses some of the most important pieces of literature. The exterior of this building is definitely something to be marvelled. Snow White paint and Greek-style architecture along with a large number of steps have made it an iconic pre-wedding shoot location. You'll notice many people taking their photos here and it makes sense why the beauty of this location is rarely found elsewhere.
Location: Town Hall, Shahid Bhagat Singh Road Horniman Circle, near RBI, Fort, Mumbai, Maharashtra 400023
Timings: Always Open
Cost: Nil
6. Ballard Estate
Ballard Estate perfectly encapsulates the spirit of old-time Bombay. With lanes and lanes of empty streets and old Victorian style buildings, there are plenty of photo-ops to go around. Every corner here has a surprise and some of the most truly beautiful buildings that you will ever come across. We recommend going here early in the morning and making use of the empty and beautiful lanes. 
Location: Ballard Estate,Fort, Mumbai- 400001
Timings: Always Open
Cost: Nil
7. Sanjay Gandhi National Park 
Get your photoshoot done amongst lush green nature and serene flora and fauna. A pre-wedding shoot has to be memorable and should have beautiful scenic locations. The massive Sanjay Gandhi National Park makes for the perfect combination of nature right in the middle of the city. 
Location: Western Express Hwy, Borivali East, Mumbai, Maharashtra 400066
Timings: 7 am to 7 pm
Cost: Rs.30 per person
8. Juhu Beach
The inherent vibe of a beach is romantic, and if you happen to find yourself on the Juhu Beach, you would know. Make it the shoot location for you pre-wedding photos and videos and see how beautiful, organic and romantic your pictures turn out. All you need is your partner and let Juhu beach work its charm.
Location: Juhu Beach, Juhu, Mumbai 400047
Timings: Always Open
Cost: Nil
9. Vasai Fort
The Vasai Fort is a perfect location if you want a rustic look to your photos. Murky green walls and a fort in ruins along with contrasting bright outfits make for the perfect attention grabber. Don't hesitate to visit the nearby Vasai beach and get some shots there as well.
Location: Killa Rd, Police Colony, Vasai West, Vasai-Virar, Maharashtra 401201
Timing: 9 am to 6 pm
Cost: Nil
In Conclusion
Whether you're looking for an old-world charm or a romantic mood in your pre-wedding shoot, Mumbai has got it all. You can even execute highly conceptual shoots thanks to the versatility in the pre-wedding shoot locations in Mumbai. If you feel like we've missed a shoot location that you love, feel free to leave a comment below.
Latest posts by Fateha Firdaus Barbhuiya
(see all)