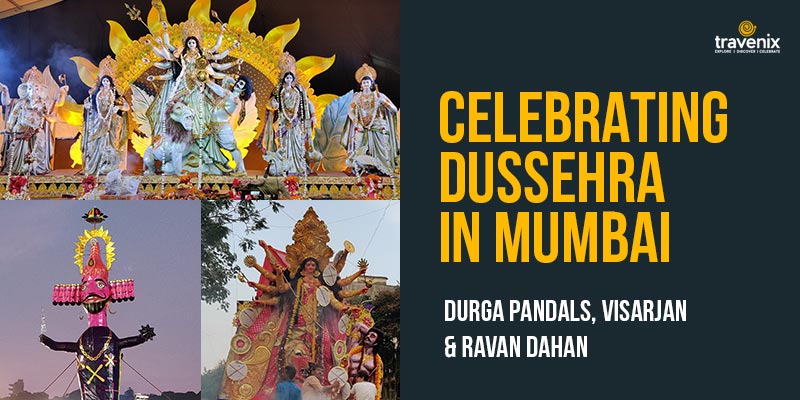 Dussehra Celebrations 2019 – Exclusive Coverage From Mumbai, India
Durga Puja is one of the most awaited festivals in India, where The Goddess Durga is revered through devotion, celebration, joy, and pomp by devotees. It is most popularly celebrated in West Bengal, Odisha, Assam, Bihar, and the surrounding Bengali/Nepali speaking countries. 

Having said that; people of all religions, cultures, societal backgrounds come together to celebrate Durga Puja. It is said that during this festival, Maa Durga comes on the earth as a daughter to be celebrated and revered for 9 days by her devotees. 
If you're curious about knowing how Durga Puja was celebrated in Mumbai this year, we have compiled a list of some of the most beautiful and visually striking pandals in Mumbai, along with the Dusserha celebrations and Maa Durga immersion. 
Our Guide Of The Top 10 Durga Pandals in Mumbai
Although Kolkata is known for its Durga Puja celebrations, the Bengali community in Mumbai pulls out all the stops to celebrate the festival. We're taking you through some beautiful, ornate pandals all across Mumbai that you should add to your pandal hopping list this Durga Puja.
This is a curated list brought to you to give you a glimpse of the vibrant festive spirit of Mumbai and the dedication with which the Durga Pujo festival is celebrated in all corners of Mumbai and make pandal hopping this Durga Puja much easier for you.
1. Adarsh Lane Khar Pandal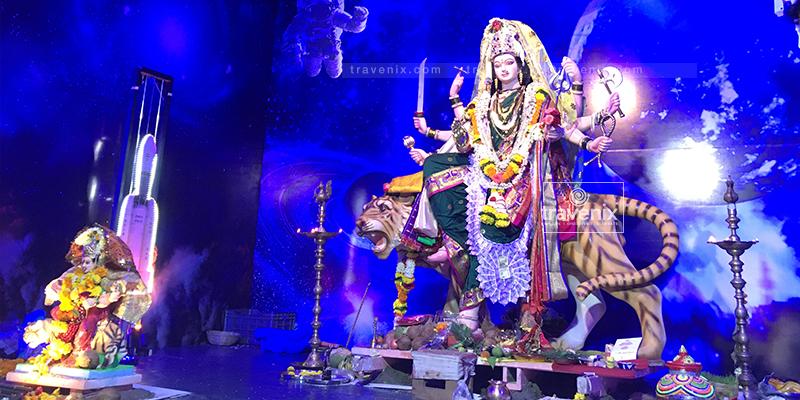 The Adarsh Lane Pandal in Khar was a must-visit this year. Their unique theme is what sets them apart. They have decorated their pandal with a space theme. The stunning decor had elements of ISRO's Chandrayaan-2 and floating astronauts with Maa Durga right in the center to shower you with Her blessings. 
2. Andheri Pandal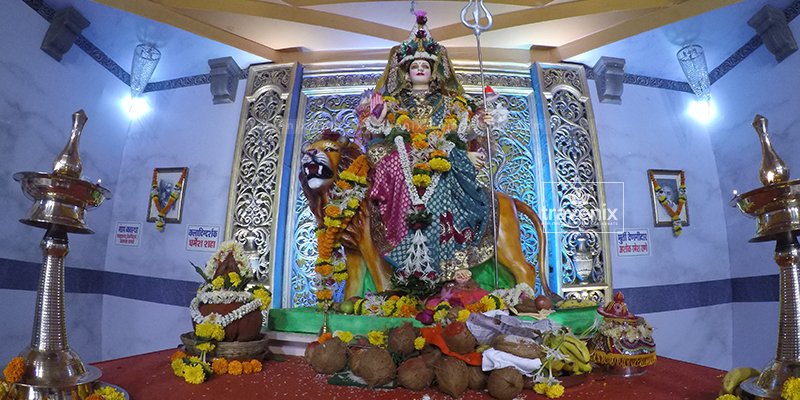 The Andheri Pandal had a no-frills approach with this year's decoration. Their simple yet traditional decor will surely please you. The  Andheri Pandal and its simplicity is commendable. They prove that pandals don't always have to be about ornate decorations, it is the devotion that matters.
3. Jawahar Nagar Pandal

A must-visit pandal this Durga Puja is the one in Jawahar Nagar, Goregaon. You are sure to experience divinity and serenity at its peak here. A popular pandal in Goregaon, it is visited by many people from the neighbouring areas. Their floral and natural decor is going to impress you and enhance your visit. 
4. Khar Pandal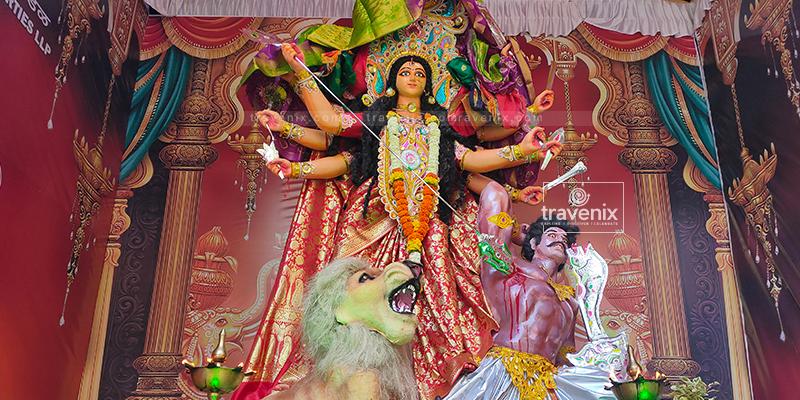 The idol of Goddess Durga at the Khar Pandal is enough to take your breath away, she is shown slaying the demon Mahisharua and yet the calmness on Her face is something to marvel at. The Khar pandal is one of the main and most visited pandals in the area, you can expect some crowd but it will not be much of a hindrance. 
5. Mangal Devi Pandal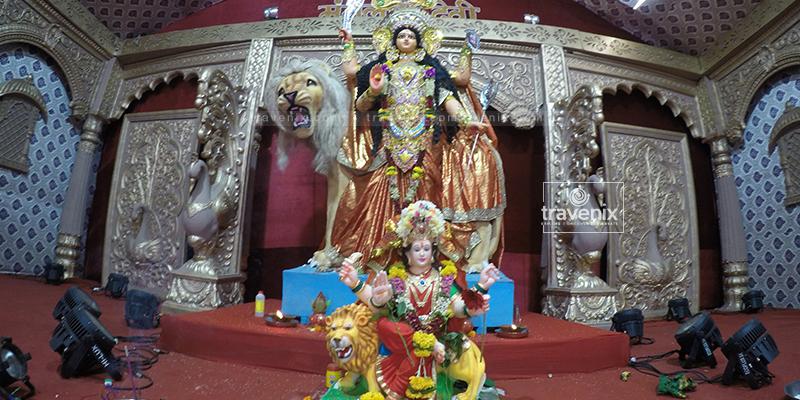 The Mangal Devi pandal in Mumbai has pulled out all the stops this year. With its traditional decor theme which represents a temple fit for Goddess Durga, one must not miss out on paying them a visit. Ornate silver peacocks and a temple inspired structure will definitely invoke the spirit of the festival in you.
6. Railway Colony Khar Pandal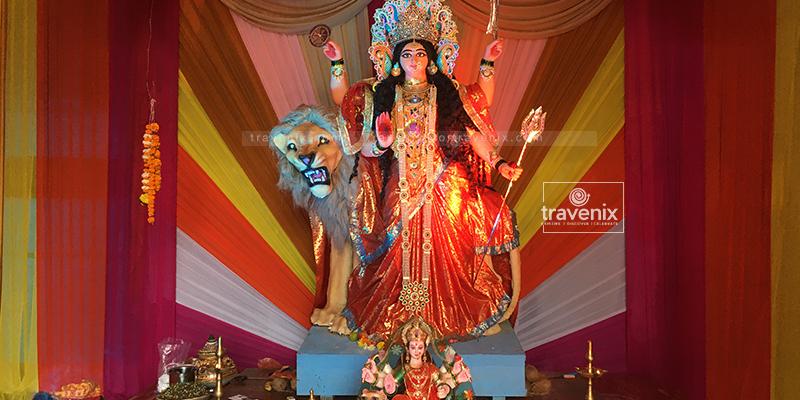 Another must-visit pandal in Khar, the Railway Colony pandal is entrancing and filled with devotion and the Durga Puja spirit. Everyone who visited took some time out to soak in the vibe and aura of the gorgeous pandal and enjoy the festival to its fullest, also treated themselves to some authentic Bengali prasad on the way out; so they're sure to remember this experience forever.
7. Santacruz East Pandal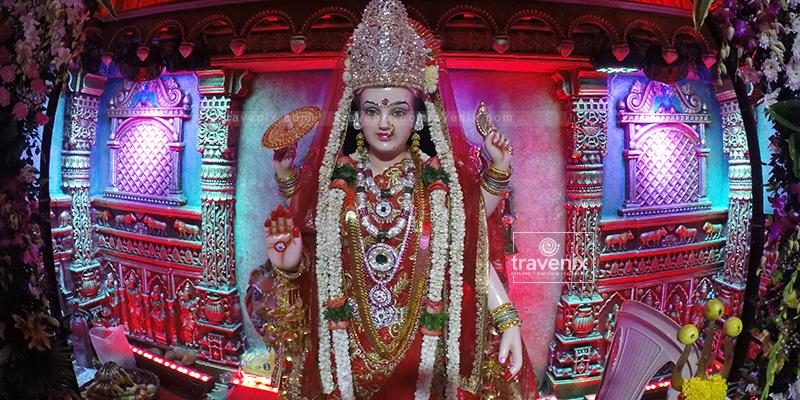 This was one of our favourite pandals in Mumbai. The Santacruz East pandal had left no stone unturned to celebrate Durga Puja. Their attention to detail with this year's decor and the ornate floral decorations really set them apart. It is a testament to their devotion and willingness to give devotees an enriching pandal experience. If you haven't been there this time, we encourage that you pay them a visit next year.
8. Bandra Govt Colony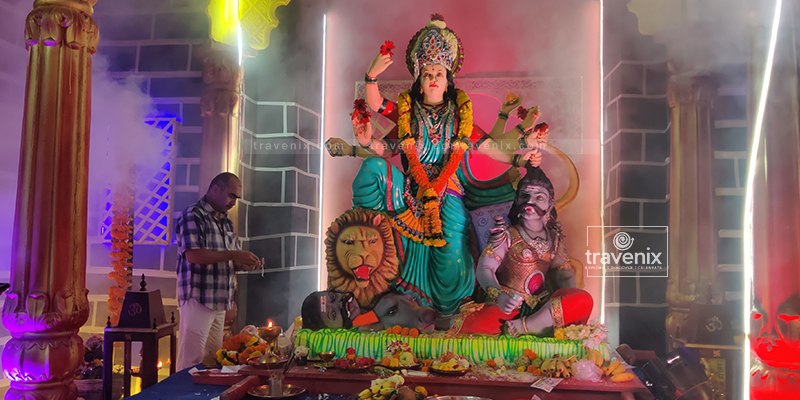 The Bandra Govt Colony is another favourite pandal of ours. Their temple themed decorations transport you into a different atmosphere, where it doesn't even look like a temporary structure. It is a popular pandal in the area so you could expect some long queues during your next visit.
9. Lokhandwala Durgotsav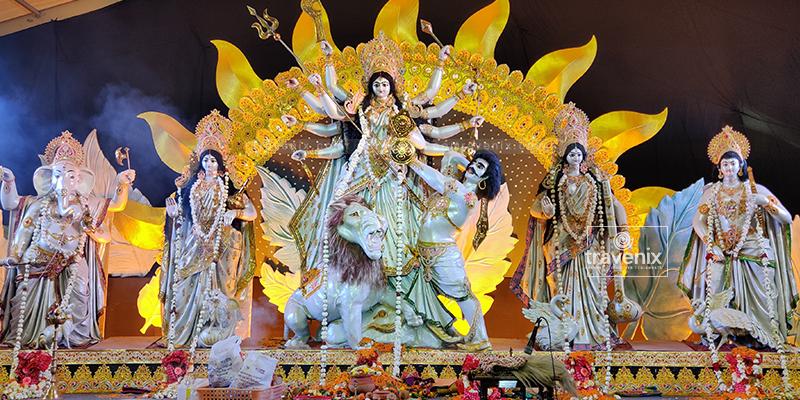 The Lokhandwala Durgotsav in Andheri is perhaps one of the most famous and widely-known pandals in Mumbai. Originally established by Bengali families in 1996, it has now reached mass popularity. The puja is headed by famous singer Abhijeet Bhattacharya and it is also a famous pandal to spot Bollywood celebrities. Their female members perform the enchanting Dhunuchi Dance in traditional outfits and they fly in traditional Bengali drummers or Dhaakis all the way from West Bengal. The Lokhandwala Durgotsav is famous for the prasad it offers, which adds to the experience.
10. Vashi Durga Puja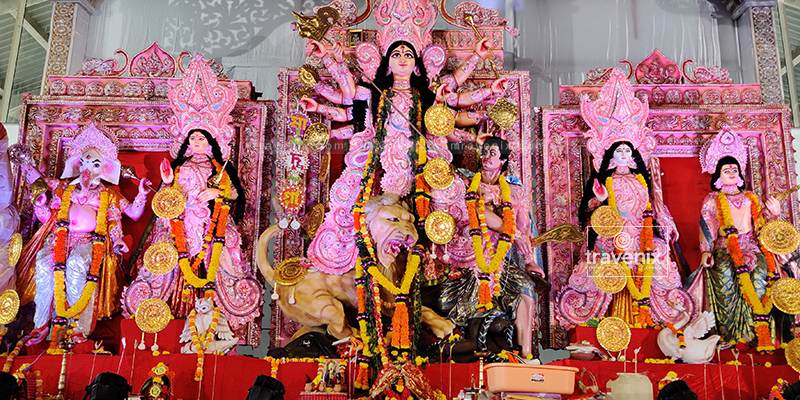 Organized by the Navi Mumbai Bengali Association, The Vashi Durga Puja is one of the grandest pandals in Navi Mumbai. Covered in traditional ornaments and style, the Maa Durga idol invoked the festival's feelings for those who had visited. Apart from being one of the largest idols, it was also eco-friendly. 
Why Is Durga Puja Celebrated?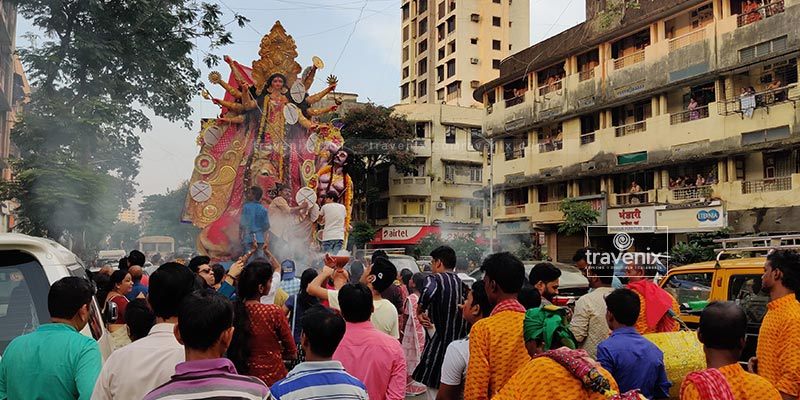 Durga Puja is a 10-day festival to celebrate the victory of Goddess Durga or Maa Durga over the demon Mahishasura. It celebrates the divine feminine power and the celebrations end on the tenth day with "Vijaya Dashmi". 
Vijaya Dashmi or Dussehra is celebrated after the nine days of Navratri and Durga Puja. Vijaya Dashmi is celebrated as a victory of Maa Durga over Mahishasura. (stylerecap) According to folklore, this is the day when the demon was defeated after a fight that lasted for nine days and nine nights. On the tenth day, Maa Durga returns to her heavenly abode. This is signified by immersing the idol in water.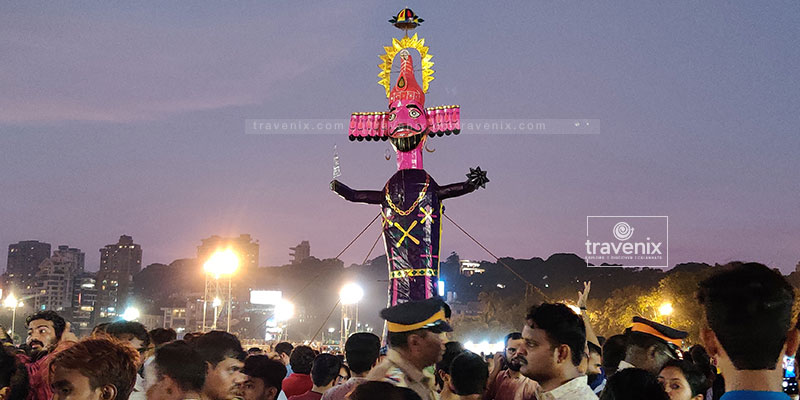 Dussehra is also celebrated on the same day as it is when Lord Ram defeated Ravana. The festival is celebrated by burning effigies of Ravana as a way of representing the victory of good over evil.
In Conclusion
Mumbai doesn't like to hold back in its festive spirit. Just like any other festival, Durga Pujo is celebrated with the utmost fervour. One need not travel far and wide to enjoy this festival, if you're a Bengali living in Mumbai, these pandals are surely going to invoke a sense of familiarity and homeliness. The cultural spirit which is invoked can't be explained in words. One must go and experience it for themselves. 
The main goal behind these pandals apart from celebrating the festival of Goddess Durga is to bring the community together. You need not be a Bengal to celebrate this festival or visit these pandals. Durga Pandals are open to all, regardless of religion, caste or cultural background. 
Watching men, women and children enjoy a much-awaited festival is a sight on its own. These pandals act as a cultural and social catalyst in bringing people together. A community-oriented celebration with food, music, devotion, and love brings joy and happiness in hearts all over the world. These days are cherished by people and are fondly remembered until the next year. 
We've tried our best to bring a comprehensive list of Durga Pandals in Mumbai followed by Dusshera Celebrations and Durga idols immersion, but if we've missed some please do let us know in the comments below. Is there any pandal in this list that has caught your eye? If so, we'd love to hear from you! 
Feel free to drop in your suggestions and experiences of visiting these pandals during Durga Puja in the comment section below. 
Latest posts by Fateha Firdaus Barbhuiya
(see all)