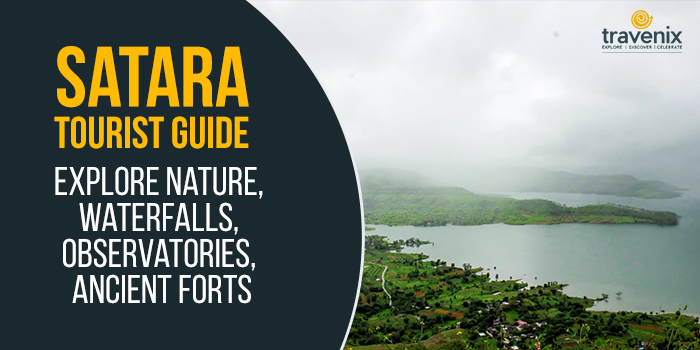 Satara District Review – Best Weekend Getaway from Mumbai
The monsoon has just begun and it already seems to be showering its blessings. Let's call this season 'a chilling time for The Earth'; finally that month where it gets to soak in the rain, worry a little less about the farmers, animals and others. By just talking about the monsoon, I can already imagine myself hogging on to pyaaz ka bhajiyaa, Samosa, Maggi, corn, cutting chai, and litchis for sure. It's time to visit your favorite hill stations, trek in the rains and dance in waterfalls, along with discovering history.
Today, let's give you an imaginative tour of one such hill station, Satara. We know you are probably thinking about the meaning of this name, so let us put you to ease. The name is derived from two words; Saat, meaning seven in Marathi and Tara, meaning hill, thus meaning seven hills surrounding the city. Satara city was famous in the 17th century for being the capital of the Maratha Empire. It lies near the convergence of the river Krishna and its tributary, the Venna.
Everything you need to know about Satara
If you are planning a visit, the below mentioned might help you plan your trip accordingly and will also make sure that you do not skip the best part of it.
Best Weather to Visit Satara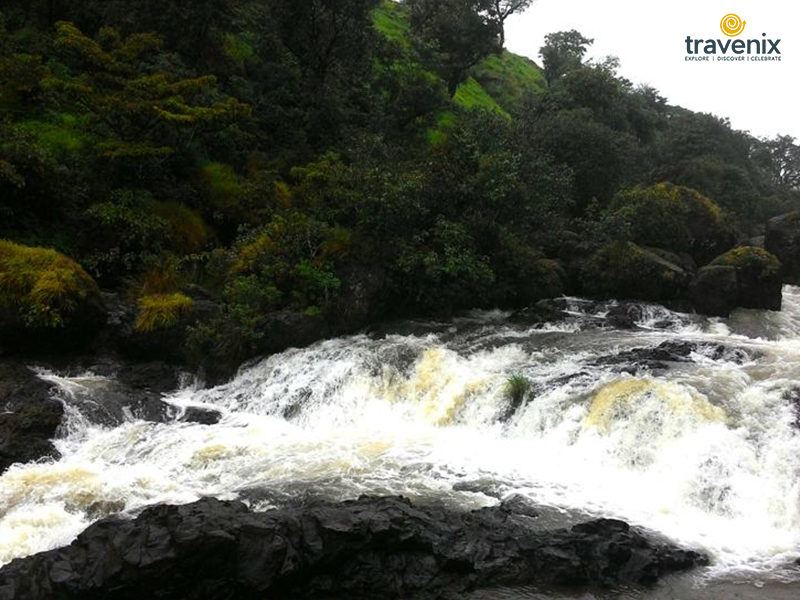 We suggest our trekkers and wanderers to take out their bike, car or trekking suits in the month of June to September i.e. Monsoon. Experience this season like never before with a walk through the clouds, water splashing on your face, the sound of roaring wind and a motivation to see the view from the top. These not just give us immense happiness but also help us recharge and reconnect to the environment.
Climate of all seasons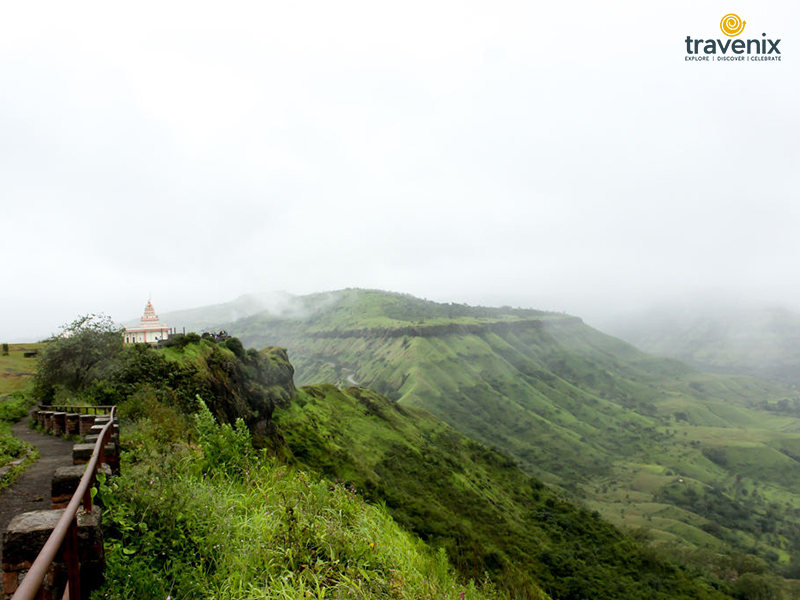 Don't worry, we are not restricting you to visit it only during rains. The place is great in every season, be it summers, monsoon or winters. The climate is never really too hot during summers and neither extremely cold in winters. Though few hill stations experience a rise in temperature, this does not.
Best Way to Reach Satara
You can reach this place by the best three means of transportation: air, train, and road. Traveling to a hill station by road gives you another experience altogether. Driving on a hill with a little mist beside is really filmy. We advise you to be extremely careful while trekking and driving during rains as there are high chances of slipping and blurriness. Follow our trekking advisory and be safe. 
By road: There are several private and public buses available as well from several bus depots like Borivali, Dadar, Thane, Mumbai Central and many more. You can also take NH48 to reach Satara which is around 250 km away from Mumbai.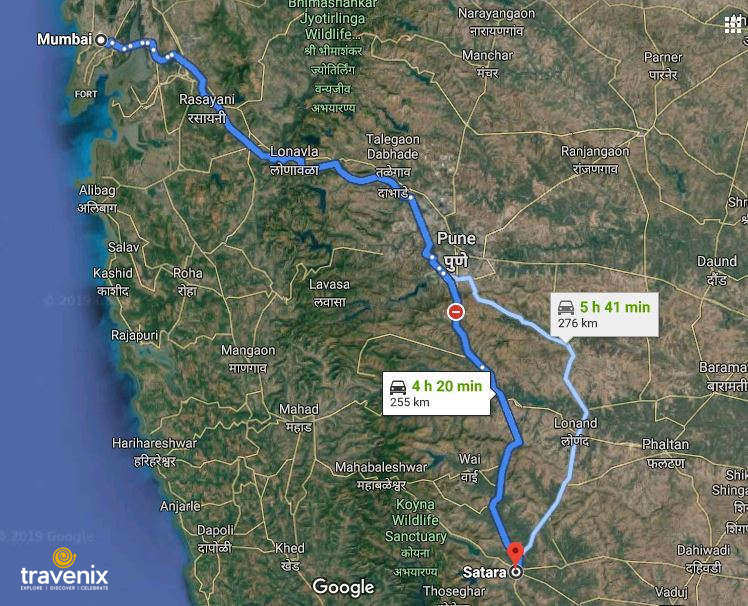 By train: You can find and board several trains from Chhatrapati Shivaji Maharaj Terminus in Mumbai for Satara or Pune.
By air: The nearest airport is Pune International Airport, and by road, Pune is 110 km from Satara.
Staying Facility at Satara
There are several luxurious hotels available for a stay. It is advisable to book your hotels a few days in advance to avoid all the hustle and high prices. Choose your best deals online and plan your stay. You will also find several resorts, villas, and hotels according to your budget.
Food Places at Satara
Maharashtra is famous for lip-smacking and spicy authentic food. If you are planning a trip to Satara, these are few must-try dishes. Do not come back without trying these or you will be added in our list of food criminals.
Kacchi Dabeli
Supnekar Vada
Kanda Poha
Kabadi's pav bhaji
Kandi Pedhe  
Gulkand Halwa
Rajpurohit shop for Namkeen and sweets
These are a few of the specialties and besides these, do visit Rajwada Khau Gali and Satara Chowpatty for the delicious specialty. The restaurants make sure that there is a twist with Marathi food in Punjab dishes.
History of Satara
Before you step inside this city of strong history, it is important to update yourself about the place. Don't miss out on any opportunity to flaunt your knowledge regarding the place, food, and history to your friends and family. Be there a secret tour guide and fulfill your list.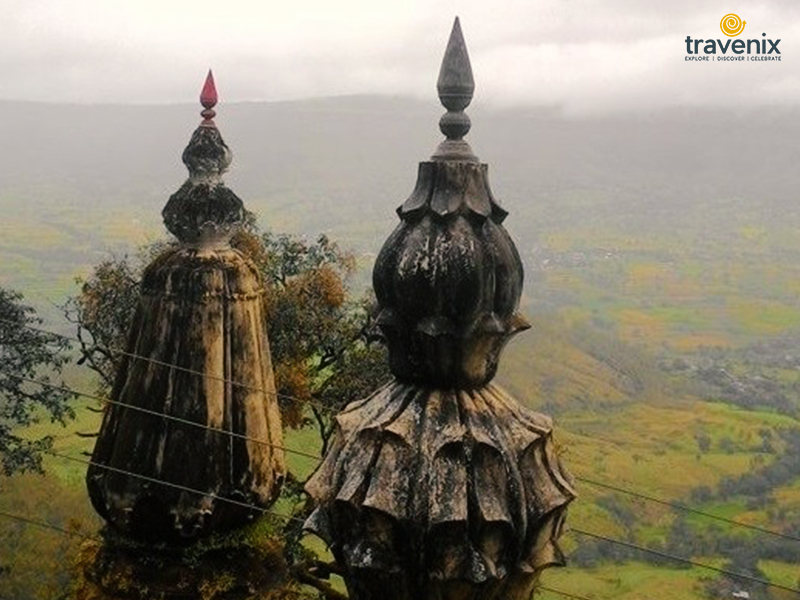 As you know, the city is overlooked by seven hills named Ajinkyatara, Sajjangad, Yawateshwar, Jarandeshwar, Nakdicha Dongar, Kiti Cha Dongar, and Pedhyacha Bhairoba. As a former capital of the Maratha Empire, it witnessed the Independence movement due to being one of the centers. It is also known as Soldier's City and Pensioner's City. The city has a unique statue of Shivaji Maharaj standing near a canon, whereas in other places we usually see his statue riding a horse. The land is famous for its rich heritage and political stories.
Popular Tourist Sites Near Satara
Located at the foot of Ajinkyatara fort, the place hosts a Half Mile Marathon every year. Due to a large number of people participating in this, they have entered the Guinness World Records book for Most People in a Mountain Run.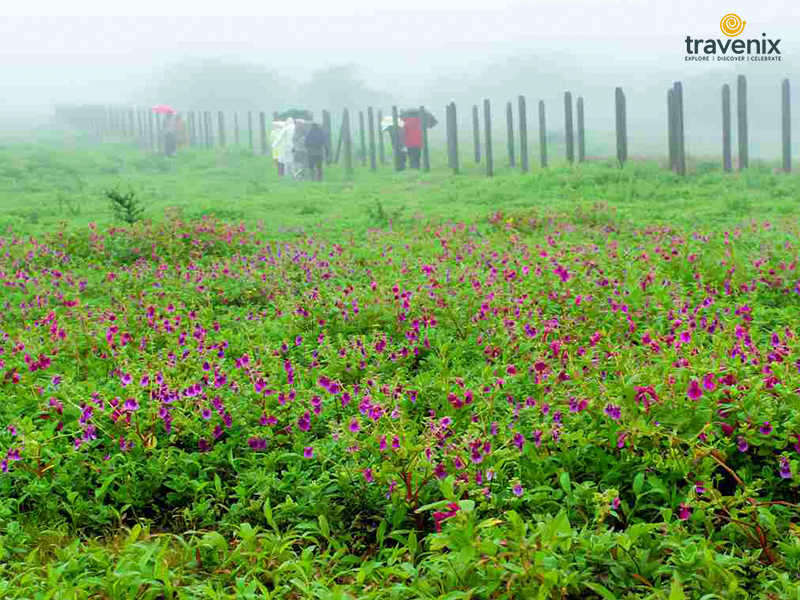 During rainy season, enjoy breathtaking views of:
Thoseghar Waterfalls
Want to feel like you are standing on the clouds? This is your dream come true. This fall is surrounded by mist, clouds and amazing climate. 
Kaas Pathar- Valley of flowers
The perfect season to visit this is from the month of July to September. You will across some absolutely eye-pleasing flowers like smithea and many more. It is an absolute beauty at a few extra steps. You will also discover a variety of butterflies.
Lingamala falls
Trek a little harder to gain a little extra view. The fall is breathtaking but to reach this point, there is a lot of trekking involved.
Char Bhinti
The name means 'four walls' in the local dialect. This fort was constructed in the mid-eighteenth century and was later dedicated to all the freedom fighters. It gives a view of the entire Satara city. 
Pratapgad Fort
The site holds huge importance in the battle of Pratapgarh. Visit this place during the rains and surround yourself with the clouds.
Chalkewadi Windmill Farms
A road through nature to the most serene place. During rains, you might see windmills playing hide and seek with you in the clouds. 
Koyna Dam
The dam is surrounded by most of the greenery. It is one of the largest dams in India and is another treat to our eyes.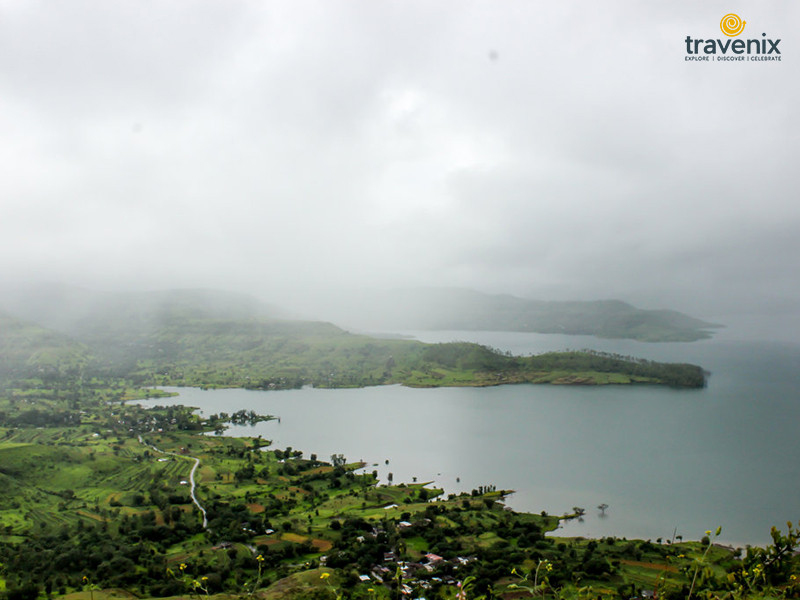 Dholya Ganpati
The temple has made a guest appearance in the many Bollywood movies. Famous for its carved Ganpati Idol, it is over 250 years old. You feel experience different calm and serene here. 
Natraj Mandir
The temple has 108 nitrya poses of Shiva and Parvati. It is a place which will be adored by every dance lover. 
Yamai Devi Temple
For many Maharashtrian families, Yamai Devi is considered as their family deity. Though there is some climbing involved, the temple is easily accessible via road. 
Meruling temple
We call it a hidden diamond of Satara. Considered as the oldest temple, the place generates positive vibes and calms your mind.
These are a few of the must-visit places and sites to grab the essence of the city. Take home great memories and joy.
Conclusion: We can assure you that this trip will bring you happiness and experience like never before. It's a perfect season to take a day off from your window and get your adventure shoes on. Splash some water, walk through clouds, smell some flowers, take some fresh air and eat spicy food. This place touched my heart and I am sure it will yours too. 
Latest posts by Vibha Sharma
(see all)