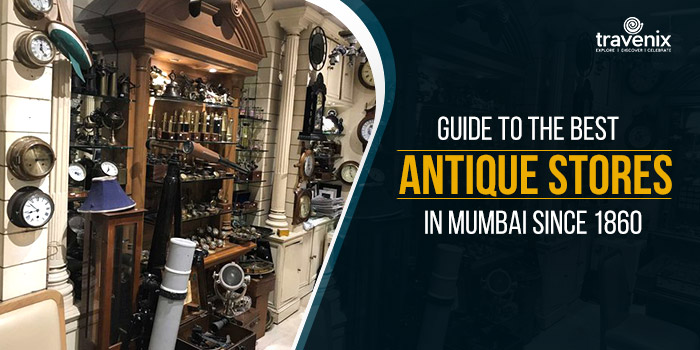 14 Popular Antique Stores in Mumbai – A True Antique Lover Must Visit
Antiques are like treasures from the bygone era that have become more charming with age; perhaps presenting before us the perfect example of "Old is gold". Though with each passing year trends are continuously changing, it is these antiques that have withstood the test of time and still continue to be prized pieces today.
Old-world charm
The antiques blend in aesthetically along with most contemporary as well as classic decor. These vintage beauties can be found in a few selected stores in Mumbai. The antique stores in Mumbai radiate an old-world charm that just leaves you spellbound every time you step into them.
Here is a list of the best antique stores in Mumbai from where you can buy treasures of all shapes and sizes at the best prices:
1. Phillips Antiques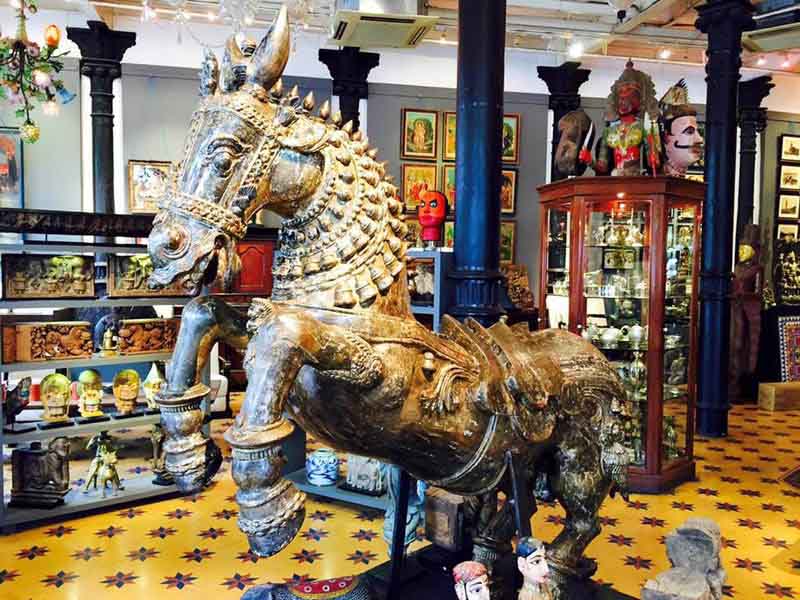 With a legacy of more than 150 years, this shop is undoubtedly one of the best antique stores in Mumbai. From old carvings and maps to decor items and furniture, the diverse collection of antiques will mesmerise you.
Location: Phillips Antiques, Oriental Mansion Building, Madame Cama Road, Opp. Regal Cinema, Dr Ambedkar Statue Chowk Area, Colaba, Mumbai, Maharashtra 400001
Timings: 10 AM to 7 PM. Closed on Sunday.
2. Mahendra Doshi Antiques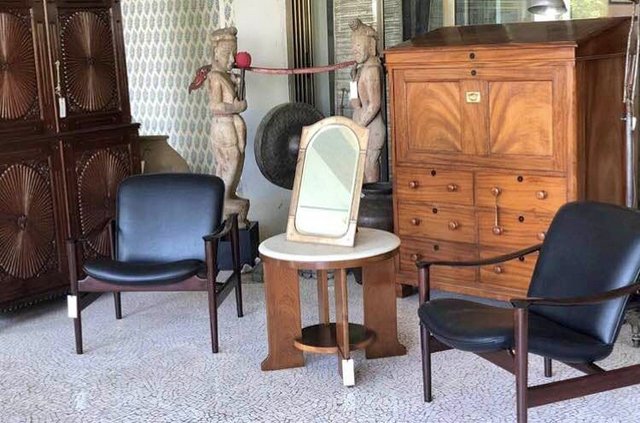 Your search for refurbished furniture pieces that date back to the colonial era will bring you to Mahendra Doshi Antiques. These classic pieces are not for the weak hearted as the items are comparatively expensive.
Location: Giriraj (Basement), 201 Walkeshwar Road Near Teen Batti, Mumbai, Maharashtra 400006
Timings: 10 AM to 6:30 PM
3. Anemos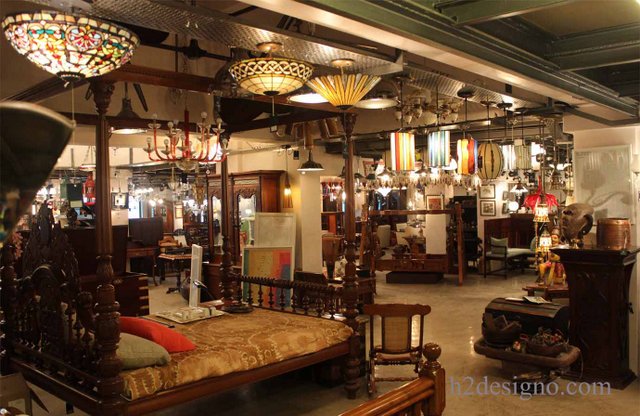 Tucked in the age-old Raghuvanshi Mills, Anemos is an antique paradise with modest yet charming artefacts and instruments of the golden era. The store also houses vintage furniture along with other objects.
Location: Giriraj (Basement), 201 Walkeshwar Road Near Teen Batti, Mumbai, Maharashtra 400006
Timings: 10 AM to 6:30 PM
4. MD Khalid Farid Khan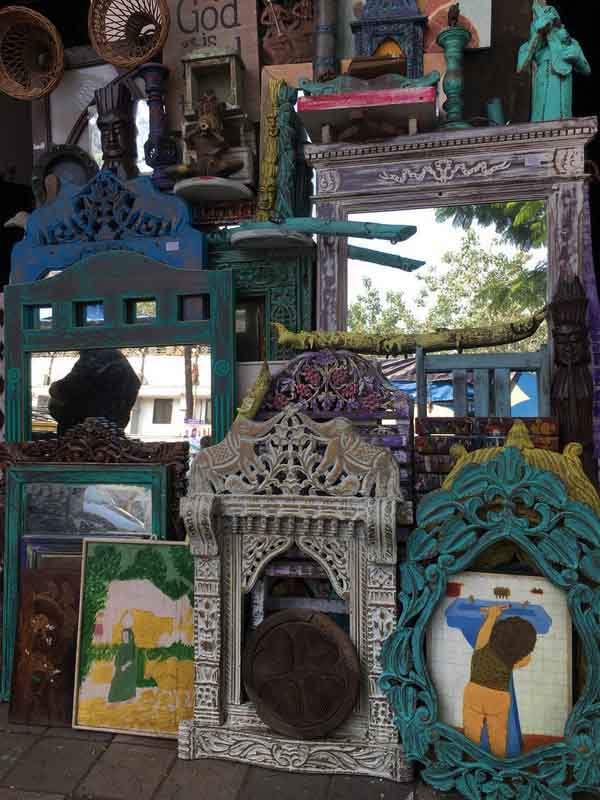 This store located at Oshiwara is an apt place to buy vintage furniture like tables, chairs or bookshelves for all those classy type of broke folks. You can easily spot a furniture piece that will tempt you to buy it, even if you didn't plan to. If you master the art of bargaining, you can easily get your hands on some great deals.
Location: HP Petrol Pump, Oshiwara, Jogeshwari, Mumbai, Maharashtra
Timings: 10 AM to 6:30 PM
5. Chandeliers And Furniture House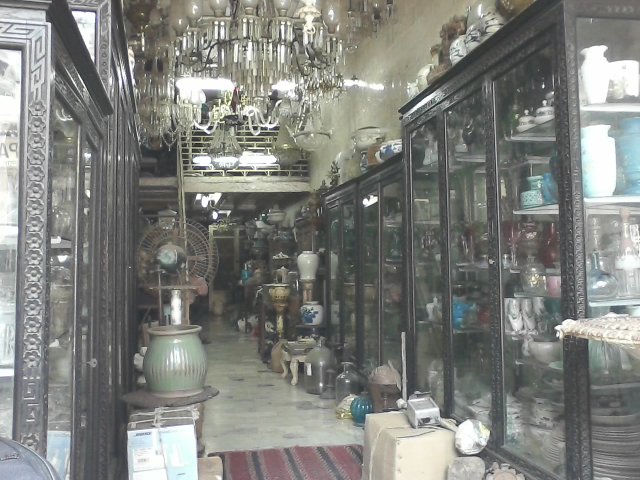 This store is famous for its extensive variety of chandeliers. The beautiful chandeliers consist of a minimum of four lights to a maximum of sixteen lights. In addition to chandeliers, there is a wide variety of crockery and pottery items as well.
Location: Shop No, 18, Mutton St, Ajmer, Chor Bazaar, Kumbharwada, Mumbai, Maharashtra 400003
Timings: 10:30 AM to 8 PM
6. International Antiques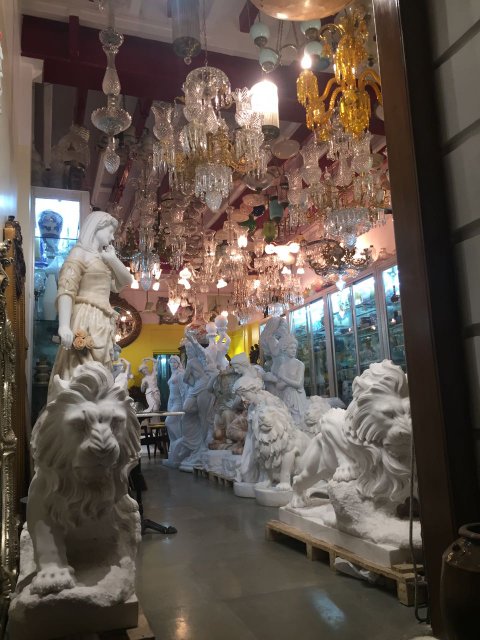 This antique store in Mumbai is a hidden gem that houses an exclusive collection of antiques from across the country. Their collection consists of decor, pottery, chandeliers, wooden furniture and paintings. It is a great store to visit if you are looking for something exclusive within an affordable price.
Location: 7, Vaswani House, Near Taj Hotel, Ormiston Marg, Colaba Causeway, BEST Marg, Apollo Bandar, Colaba, Mumbai, Maharashtra 400001
Timings: 10:30 AM to 8 PM. Closed on Sunday.
7. Natesans Antiqarts Mumbai P Ltd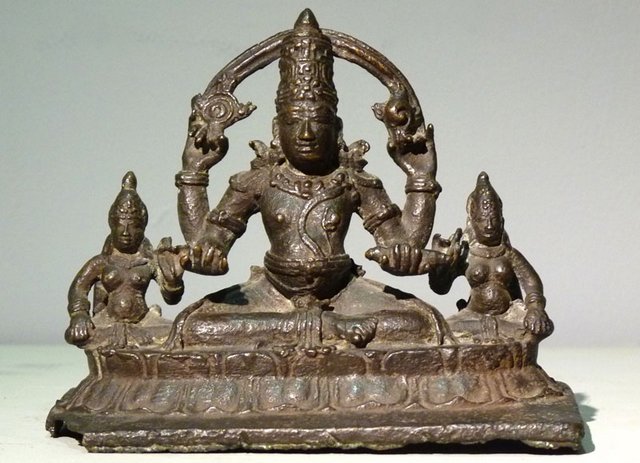 This antique store which is over eight decades old deals in exclusive artefacts. It is a government recognised antique dealer that houses some of the most alluring bronze artefacts, miniature paintings, stone figurines and wood carving items. As you step into the store, you will be mesmerised by their exclusive collection.
Location: Nagree Building, Shahid Bhagat Singh Rd, Kala Ghoda, Fort, Mumbai, Maharashtra 400001
Timings: 11 AM to 7 PM. Closed on Sunday.
8. Moorthy's
This modest store houses some of the rarest collections of colonial furniture and artefacts. One is spoilt for choice with such a variety of furniture and decor items. The intricate work on the wooden furniture and the brass items reflects the artistic skills of the workers.
Location: Block 5/1, Suryodaya Mills Compound, 136, Tardeo Road, Lane next to Bachoo Motors, Tardeo, Mumbai, Maharashtra 400034
Timings: 10:30 AM to 8 PM. Closed on Sunday.
9. Taherally's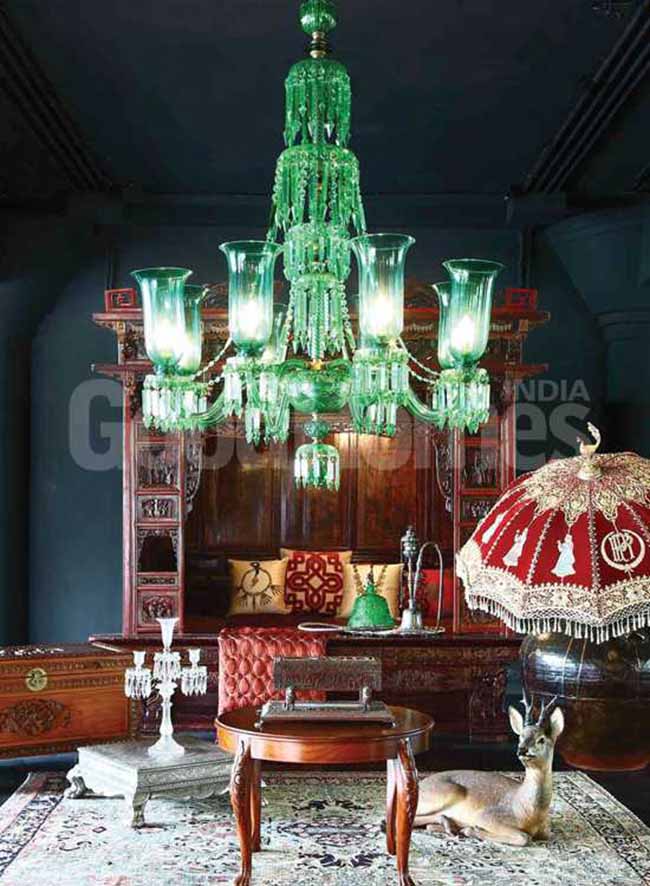 This store will provide you with an ample variety of statement period furniture, decor items and lights. While some of the items are adorned with intricate work, the others have relatively delicate work on them. You will find items made of wood, brass, marble, silver and many others. Although the items are priced on the heavier side, they are worth every rupee that you spend.
Location: Kohinoor Estate, 165, Senapati Bapat Marg, Opp High Street Phoenix, Lower Parel, Mumbai, Maharashtra 400013
Timings: 10:30 AM to 7 PM.
10. Shubham Antique's Shop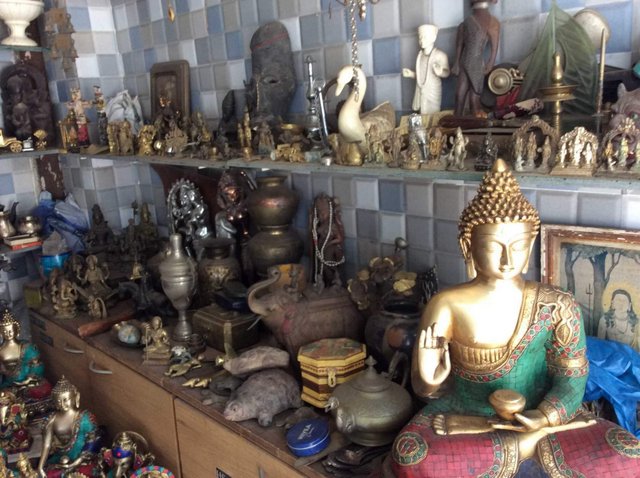 If you are on a budget and looking for some period objects, look no further than Shubham Antique's Shop. This store is a treasure-house of bronze idols and statues, rings, watches, coins and a lot more items that will not burn a hole in your pocket.
Location: Shop no.1, 4th Rd, opp. Ellora Building, Khar, Ram Krishna Nagar, Khar West, Mumbai, Maharashtra 400052
Timings: 11 AM to 9 PM.
11. Mughal Art Gallery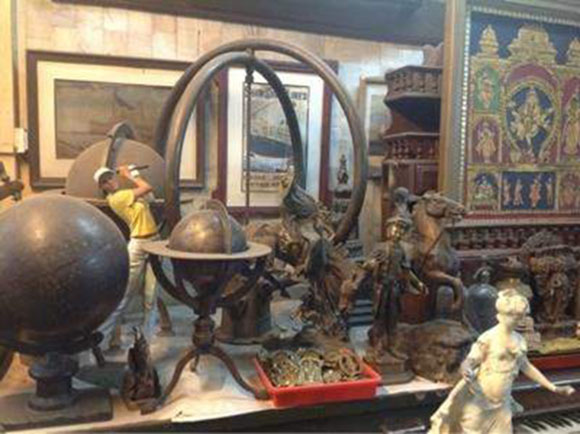 This store houses an exquisite collection of pocket-sized watches. In addition to watches, they also have a number of antique telephones and paintings that will transport you back to the twentieth century.
Location: 30, Mutton St, Ajmer, Kumbharwada, Mumbai, Maharashtra 400003
Timings: 10 AM to 9 PM.
12. Khazana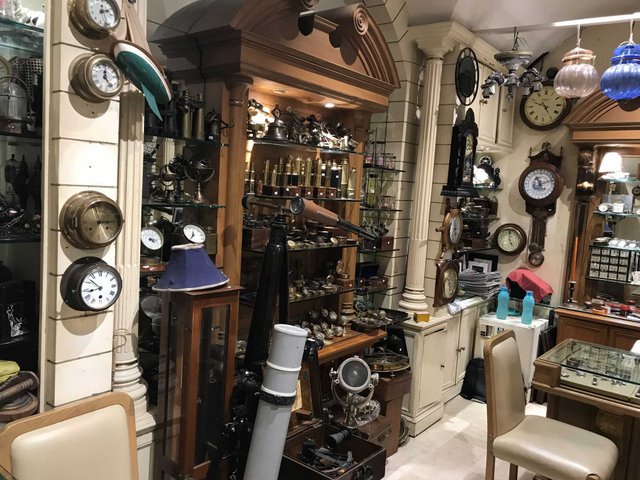 If you like to deck up your space with some antiques that would intrigue the onlookers, then Khazana will make you spoilt for choice. Their fascinating collection of pocket-sized watches and telephones will surely leave you spellbound. The store also has a wide variety of brass and bronze artefacts, crockery and musical instruments of all sizes.
Location: Shop No-5, Lobby Level, Hotel Oberoi Tower, Nariman Point, Mumbai, Maharashtra 400021
Timings: 11 AM to 8 PM.
13. The Wood Of Arts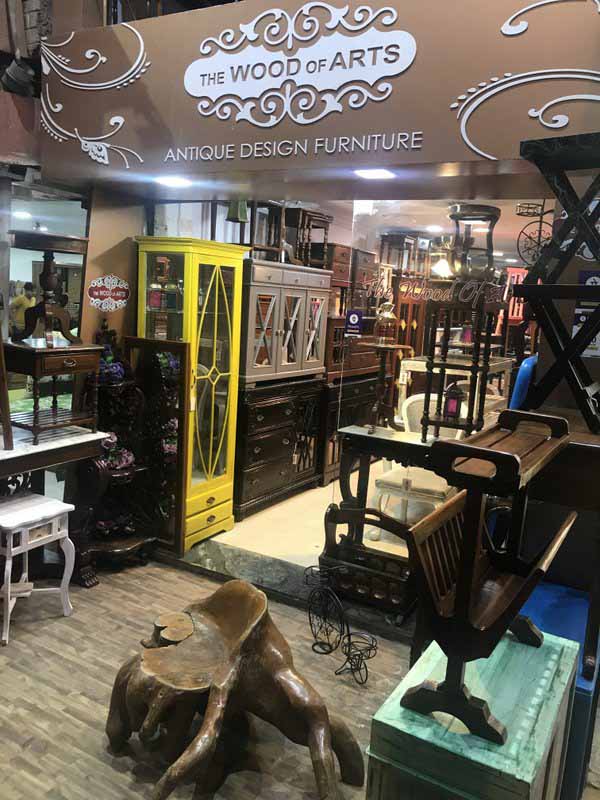 The blend of modesty and artistic work on antique furniture continues to fascinate many people till date. To fulfil the demand for such people, The Wood of Arts sells some timeless furniture that is perfect for your home. Their wide collection of period bedroom furniture like beds, dressing tables and wardrobes are favourites among many buyers.
Location: 331/2467, Opp.Bangur Nagar Police Chowki, Goregaon W, Opp.Bangur Nagar Police Chowki, Mumbai, Maharashtra 400104
Timings: 10 AM to 10 PM.
14. Shree Om Timber Mart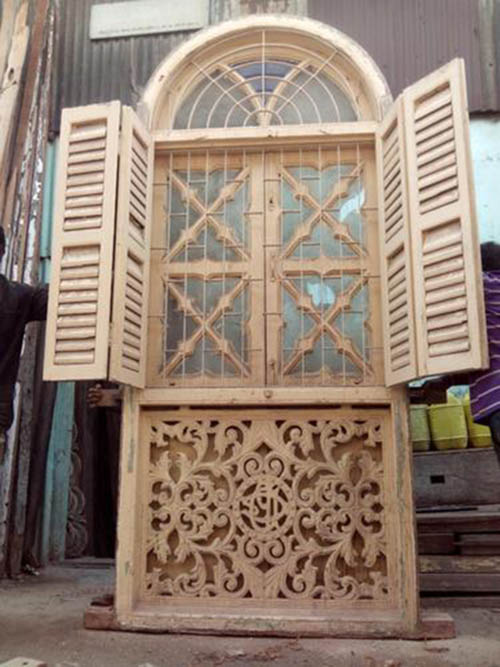 If you fancy the intricate work on period furniture or beautiful carvings on the wooden door and window frames, then Shree Om Timber Mart will delight you with its variety. You can ask them to refurbish the items to make them look grand. Their vast collection of period furniture is sure to lure every visitor to buy an item.
Location:  225, MS Ali Road Mohmadi Old Timber Market No 2,Shop No 68 Next to Royal Cinema,Doo Taaki,M.S.Ali Road 
Timings: 9 AM to 9 PM
Conclusion
The timeless pieces of artefacts and furniture of the olden days have fascinated many people till today. While some love antiques because of their unique artwork, others value them because of their age. Whatever may be the reason, antiques always intrigue onlookers and attract attention to the space they occupy.
If you know about some other antique stores in Mumbai that house some unique artefacts which are not included on our list above, then do let us know in the comment section below. Also, if you have visited any of the above mentioned antique stores in Mumbai, then please share your experience with us too!
Image Sources: LBB, Justdial, Google Maps, Good Homes, h2Designo, Twitter, Store website, IndiaMART.
Latest posts by Fateha Firdaus Barbhuiya
(see all)