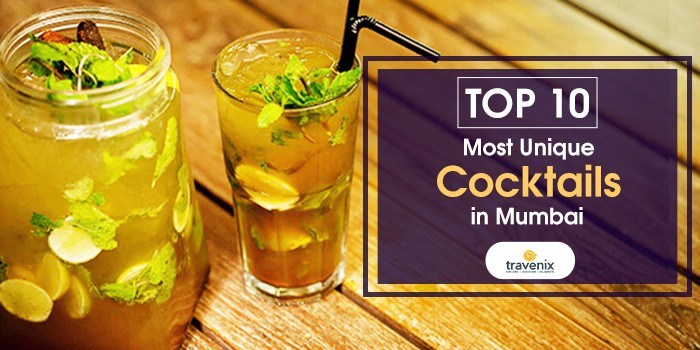 Top 10 Must Try Cocktails in Mumbai and Places to Find Them
Mumbai is known for its lively nightlife and is popular around the country for its wide variety of food and drinks. It is also a heaven for alcohol lovers and a wide variety of drinks are available here too, in places ranging from small shops to high-street pubs. You can also find a wide variety of cocktails here.
Tailing the Cocktails!
Mumbai has some of the most unique cocktails that you can find and for this very reason, we've gone far and wide across town to find out the best and most unique cocktails so that you can go ahead and indulge!
1. Masala Tea-Cheers – Bombay Canteen
Bombay Canteen is known for its unique dishes and this tea beverage is just another feather in their hat. This cocktail is specially brewed with tea and is sure to satisfy the Mumbaikar in you. After all, who doesn't love a cutting chai?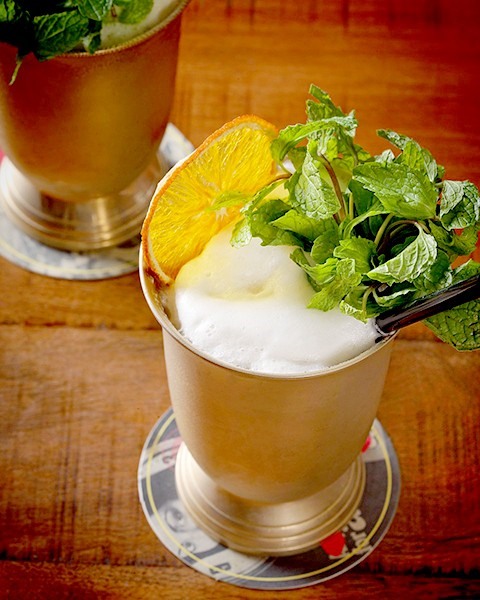 Where: Unit-1, Process House, Kamala Mills, Near Radio Mirchi Office, S.B. Road, Lower Parel, Mumbai
2. Smoking Cosmopolitan – Joss
This quirky little cocktail is served in a smoking pipe made of glass and is a mix of vodka, triple sec, cranberry juice and lime. The smoke emanating from this drink gives you the feel of smoking a pipe as well! Joss is one of the best places in Mumbai for Japanese food.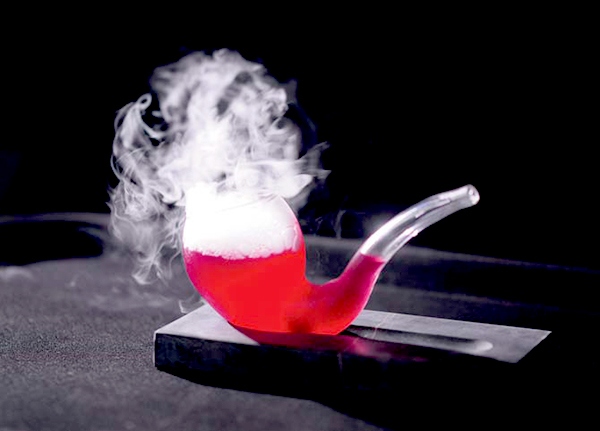 Where: Ground Floor, Savoy Chambers, Linking Road, Next to Mini Cooper Showroom, Santacruz West, Mumbai
3. Wild Card – The Daily Bar and Kitchen
This mystical cocktail is a mixture of bourbon, Orange Liqueur, vermouth and cranberry infused tea. Hickory Wood is used to smoke it and the overflowing smoke from the glass flows all over your hands and mouth! It is finally topped with orange and it gives a warm sensation and makes your head feel light too!
Where: Ground Floor Behind Shoppers Stop, SV Road, Bandra West, Mumbai
4. The Blue Pill or Red – Colaba Social
Served in a manner that'd make you feel that you're about to drink medicine, this cocktail is one of our favorites! Served with a syringe, this drink will definitely leave you craving for more and is one of the most unique drinks out there. This place is located right behind one of the best 5-star hotels in Mumbai, Taj Mahal Palace Hotel!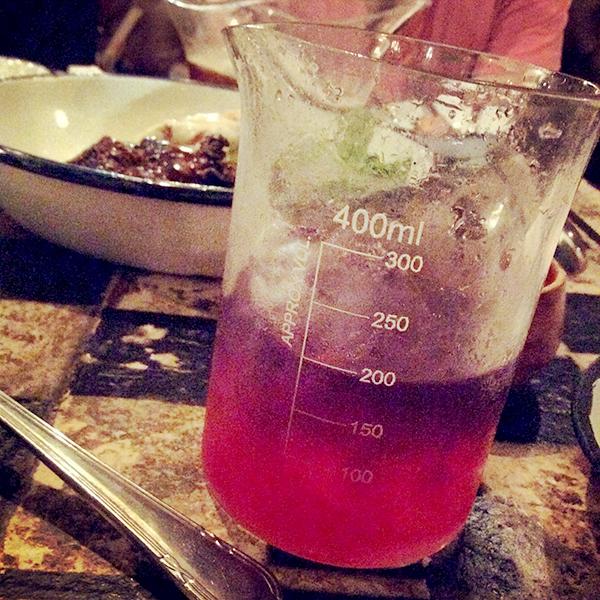 Where: 24, Ground Floor, B.K.Boman Behram Marg, Apollo Bunder, Colaba, Mumbai
5. Cha La Lai – Yauatcha
This light and smooth cocktail is made using vodka and Oolong tea and looks very alluring! Topped with lots of ice, this is one drink you can keep sipping for hours post-work. This nearly transparent cocktail will make you a fan instantly!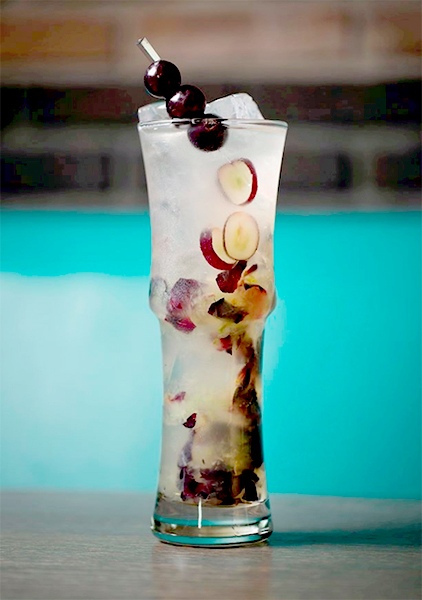 Where: First Floor, Raheja Tower, Bandra Kurla Complex, Next To Cafe Infinito, Bandra East, Mumbai
6. An Evening at Choupati – MasalaBar
Created with vodka and a curry coconut mix with some coconut fizz, this drink will leave you craving to go to the Chowpatty Beach and sip it while witnessing the sunset. Every coconut lover must try this drink!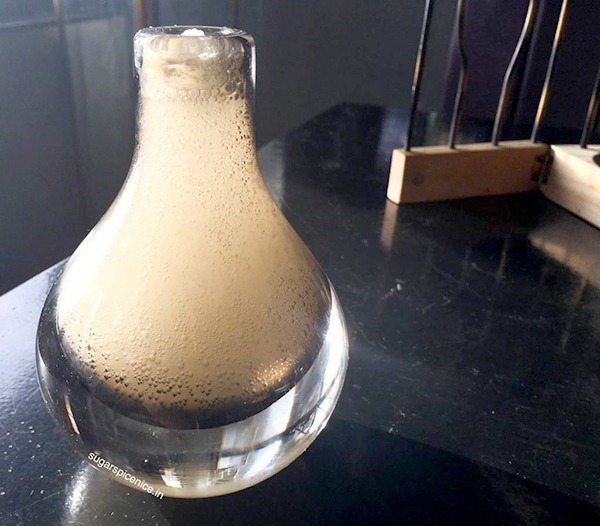 Where: 21, Carter Rd, Union Park, Pali Hill, Mumbai
7. Burnt Curry Leaf Martini – Masala Library
You can either love curry leaves or you hate them. But you simply cannot miss out on this Burnt Curry Leaf Martini that takes you on a traditional gastronomical journey through India! With a strong flavor of burnt curry leaf, this drink will leave you enchanted!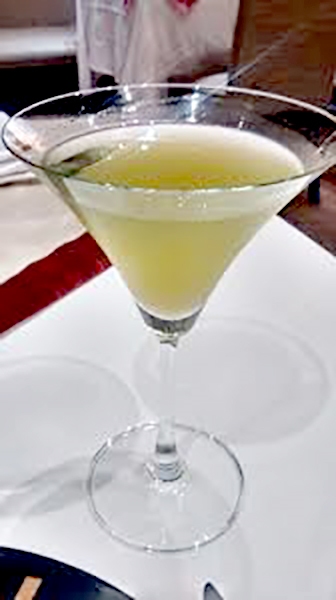 Where: Ground Floor, First International Financial Centre, G Block, Bandra East, Opposite Sofitel Hotel, Mumbai
8. Pani Puri Caiprioska – Bombay Bronx
This one's for all the street food lovers out there! Pani Puris are adored by all, but the thought of actually drinking an alcoholic beverage that tastes the same? We're definitely in on this one! This is one alcoholic infusion that must be tried by all pani puri fans.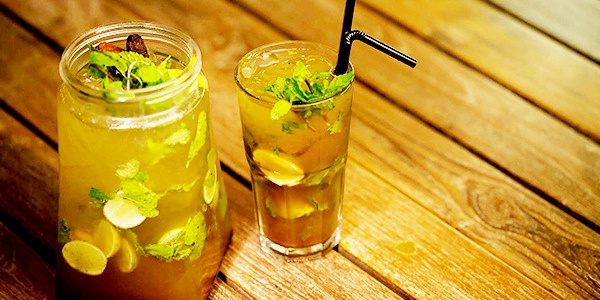 Where: 101, Hub Town, Akriti Sky Bay, Bhulabhai Desai Road, Breach Candy, Cumballa Hill, Mumbai
9. Saat Rasta – Monkey Bar
One of the deadliest cocktails out there, Saat Rasta, as the name suggests is a combination of seven different spirits – Beer, tequila, rum, gin, vodka, absinthe, Jagermeister with triple sec and ginger juice. This drink is topped with coriander and hide the power it has within. Have a sip, if you can!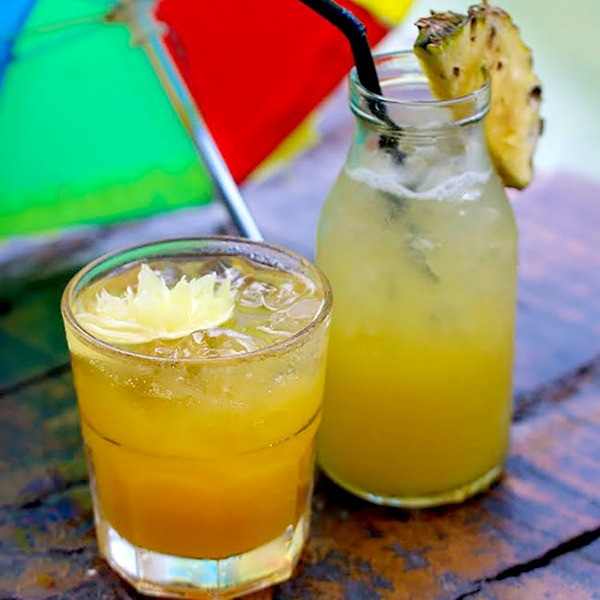 Where: Summerville, 14th; 33rd Road, Ground Floor, Linking Road, Bandra West, Mumbai
10. Lemongrass Martini – Shiro
A martini with lemongrass infused in it? We're up for this flavor ride! With the strong flavor of lemongrass accompanying the magnificence of the Martini, it is almost impossible to not order this drink!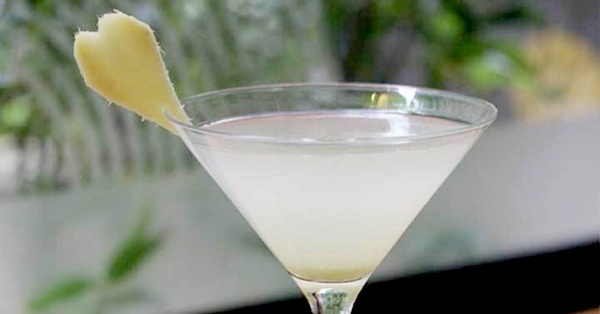 Where: Bombay Dyeing Mill Compound, Pandurang Budhkar Marg, Worli, Mumbai
If you've tried any of the above cocktails before, do let us know your experiences in the comments below. If you haven't, it's about time that you go out and try them out! If you've come across any other unique combinations of drinks in Mumbai, do let us know in the comments below!
Image Credits: Bombay Canteen, Mid-Day, Homegrown, Marcie Kunnawattana, I heart BLR, SugarSpiceNice, Salt & Sandals, CityBump, LBB, Hungry Forever, bonny vie
Latest posts by Vibha Sharma
(see all)