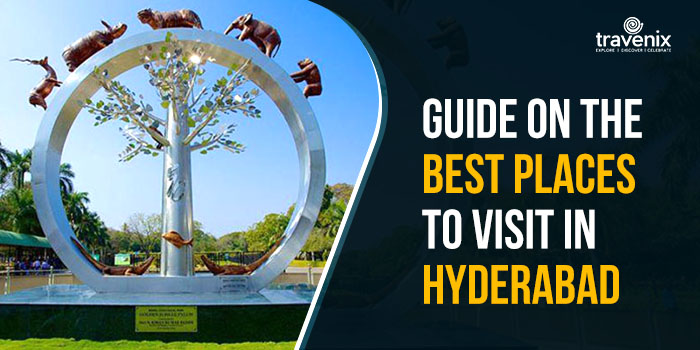 What To See In Hyderabad – 30 Best Monuments, Attractions, Activities
Hyderabad, popularly known as the "City of Pearls" and the "City of Nizams", is one of the most sought-after tourist destinations like Mumbai for both Indian as well as foreigner travellers. Hyderabad elegantly blends its rich culture and grand heritage along with the emerging IT industry, making it a true cosmopolitan city.
Explore Hyderabad
Hyderabad will amaze you with its ability to juxtapose the grandeur of its past with its present. To ensure that you have a memorable trip to Hyderabad, we have curated a list of 30 places that you must visit to explore this charismatic city.
1. Charminar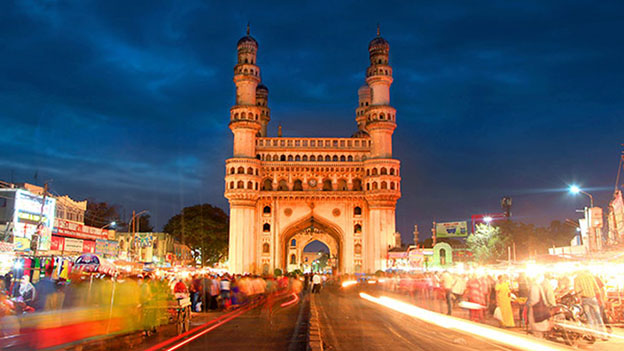 This iconic Indo-Islamic structure situated at the heart of the city has become synonymous with Hyderabad. Charminar comes from two words: "char" meaning four and "minar" meaning minarets. The 49.7 meter high minarets and the beautiful balconies are the most striking features of Charminar. It was built in 1591 AD by Quli Qutub Shah that stands tall till today, captivating its onlookers.
Location: Charminar Road, Char Kaman, Ghansi Bazaar, Hyderabad, Telangana 500002
Timings: 9:30 AM to 5:30 PM
Entry fee: ₹ 5 for Indians and ₹ 100 for Foreigners
2. Golconda Fort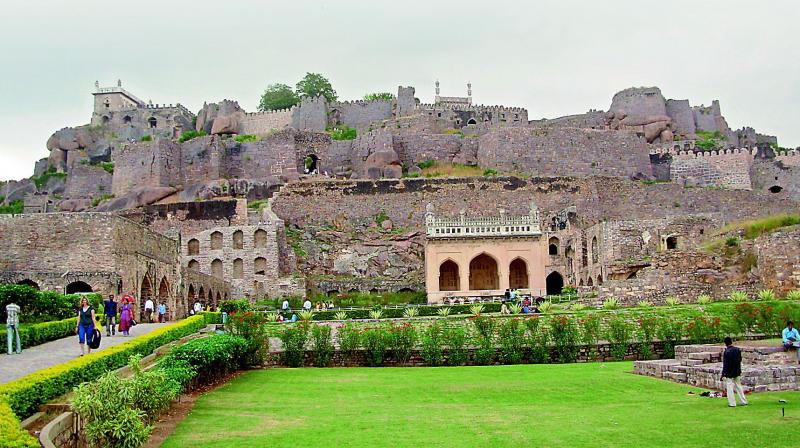 It is one of the most majestic forts in India that is spread over a massive area of 11 kilometers. Golconda is derived from Telugu words 'Golla' and 'Konda' which means Shepherd's Hills. The Kakatiya Kings laid the foundation of this fort in the 12th century, later, Quli Qutub Shah added eight gates and 87 bastions to the existing structure to make it the alluring structure that stands today. The architectural marvels of this grand fort along with the light and sound show attracts people from across the globe.
Location: Khair Complex, Ibrahim Bagh, Hyderabad, Telangana 500008
Timings: 9:30 AM to 5:30 PM
Entry fee:  ₹ 15 for Indians and ₹ 200 for Foreigners
Activities: Light and Sound Show in English, Telugu and Hindi.

Ticket counter opens from 5:30 PM
Cost of Tickets:  

For Executive class:  ₹140 for adults and  ₹110 for children
For Normal class:  ₹80 for adults and  ₹60 for children

First Show Timings: 

6:30 PM (November to February) 
7 PM (March to October)

Second Show Timings: 

7:45 PM(November to February)
8:15 PM (March to October)
3. Mecca Masjid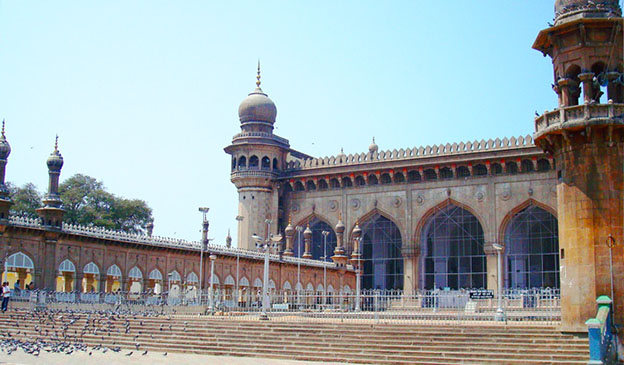 It is situated in the vicinity of Charminar and is one of the largest mosques in India with a capacity of 20,000 people. The construction of this splendid architectural marvel was started by Sultan Mohammed Quli Qutub Shah in the year 1614 and it was completed by Aurengzeb in 1694. The arches and doors of the mosque are adorned with verses from the Holy Quran. Tombs of several Nizams of Hyderabad are located in an enclosure of the courtyard of Mecca Masjid.
Location: Charminar Road, Charminar, Ghansi Bazaar, Hyderabad, Telangana 500002
Timings: 4 AM to 9:30 PM
Entry fee: No entry fee.
4. Salar Jung Museum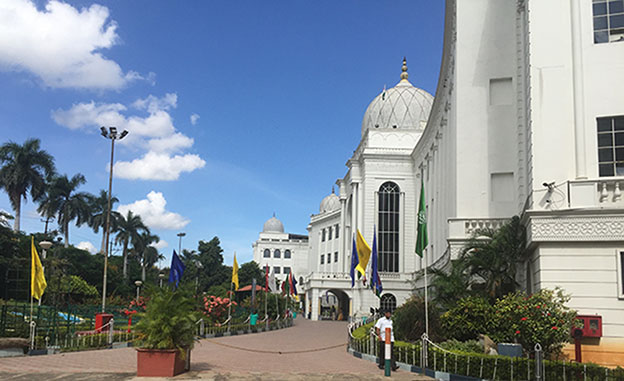 This enormous two storeyed museum is spread over an area of 10 acres and is the third largest museum in India. With 38 galleries, it is one of the finest museums to visit in the world for any art lover or history enthusiast. The museum houses a treasure of artefacts collected by Salar Jung III for about 35 years from various parts of India and across the world. The museum was opened to the public in 1951 before which it was a private museum of the Salar Jung family. The 19th Century British Musical Clock is another major attraction of this museum.
Location: Salar Jung Rd, near Minar Function Hall, Darulshifa, Hyderabad, Telangana 500002
Timings: 10 AM to 5 PM. Closed on Friday.
Entry fee: ₹ 20 for Indians and ₹ 500 for Foreigners

Free for students with ID Card (below 18 years)
50% concession for Defense personnel in uniform and organised Kian parties
5. Chowmahalla Palace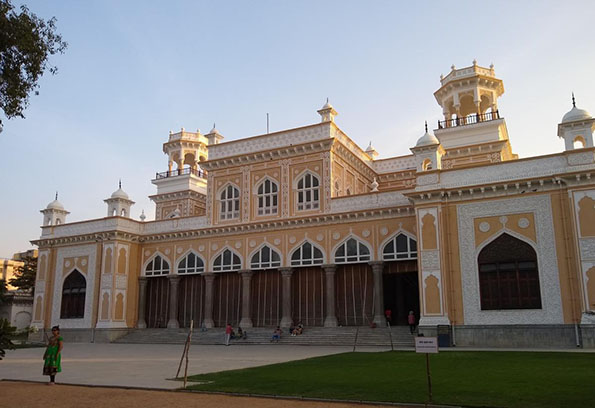 This grand palace was built during the reign of Nizam Salabat Jung in 1750 and was completed between 1850 to 1869 during the reign of the fifth Nizam, Afzal Jah V. The splendid legacy of over 200 years can be witnessed by visiting this 45 acre palace. This splendid palace was the official residence of the Nizams of Hyderabad. The lush green lawns, a huge fountain at the entrance, intricate carvings on the walls, ceilings and pillars of the palace, grand glass chandeliers, vintage cars and the elaborate display of weapons, crockery items, coins and decor items gives the visitors a sneak-peek into the lavish and opulent lives of the Nizams of Hyderabad.
Location:  20-4-236, Motigalli, Khilwat, Hyderabad, Telangana 500002
Timings: 10 AM to 5 PM. Closed on Fridays
Entry fee: ₹ 50 for Indian (Adult), ₹ 10 for Indian (Child) and ₹ 200 for Foreigners
6. Ramoji Film City

If you are a movie-lover, then Ramoji Film City is the perfect place that you must visit in Hyderabad. Spread across an area of 1666 acres, Ramoji Film City is the World's largest Film City Complex certified by the Guinness Book of World Records. It has everything from the streets of London, Hollywood signs, famous architectural structures of the world to the sets of Mahabharat and Baahubali. Ramoji Rao established the Film City in 1996 with the help of Art Director, Nitish Roy.
Location: Ramoji Film City Main Rd, Hyderabad, Telangana 501512
Timings: 9 AM to 5:30 PM (Tour Timings) and 9 AM to 2 PM (Entry Timings)
Entry fee: ₹ 1150 for Adults and ₹ 950 for Children
Activities: 

Studio Tour
Live Shows
Adventure Sports
Bird watching at Wings
Kids Park
7. Birla Mandir

This elegant temple situated on a hill top by the name of Naubat Pahad is dedicated to Lord Ventateshwara. In addition, idols of consorts of Lord Ventateshwara, Padmavati and Andal are also placed in separate shrines within the Birla Mandir. The artistic blend of Dravidian, Rjasthani and Utkala architectures lends an aesthetic look to the white washed marble structure of the temple. Since the temple had been constructed by the Birla Foundation, it is popularly known as Birla Mandir.
Birla Science Museum and Birla Planetarium are located in the vicinity of Birla Mandir.
Location: Hill Fort Rd, Ambedkar Colony, Khairatabad, Hyderabad, Telangana 500004
Timings: 7 AM to 12 PM and 3 PM to 9 PM
Entry fee: No entry fee
8. Nehru Zoological Park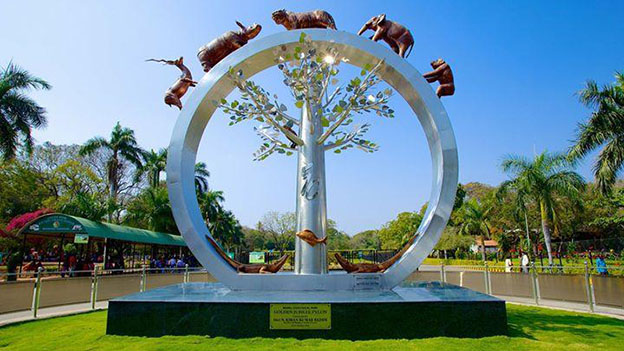 It is one of the largest zoos in India that is spread over a sprawling area of 380 acres of land. With over 100 species of birds and animals, this is a popular tourist spot. It was established in 1959 but opened to the public in 1963. It is a perfect place to visit for nature lovers as it houses some of the rare native fauna species like Himalayan Black Bear, Bengal tiger, Indian elephant, python, antelopes and deer.
Location: NH 44, Bahadurpura, Hyderabad, Telangana 500064
Timings: 8:30 AM to 4:30 PM
Entry fee:  ₹ 10 for Adults and ₹ 20 for Children
Activities:

Natural History Museum
Toy Train
Butterfly Park
Children's Park
9. Birla Planetarium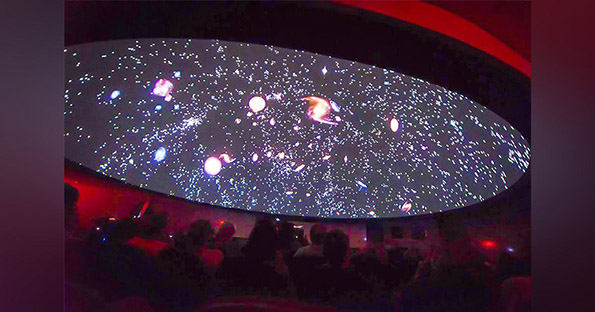 The Birla Planetarium is one of the best places to visit in Hyderabad if you love to enrich your knowledge about astronomy. It was inaugurated by late N.T. Rama Rao in 1985. The Sky Shows at Birla Planetarium attract a lot of crowds, especially children. Every year the Planetarium presents a new Sky Show in Hindi, English and Telugu.
Location: B M Birla Science Centre, Adarsh Nagar, 500004, Ambedkar Colony, Khairatabad, Hyderabad, Telangana
Timings: 11:30 AM to 7:30 PM (Monday to Saturday) and 10:30 AM to 8:30 PM (Sunday)
The Sky Show Timings:

11:30 AM, 4 PM and 6 PM on English
12:15 PM, 3 PM, 5 PM and 6:45 PM on Telugu
7:30 PM on Hindi
Please note the changes in timings for the Sky Shows.

Entry fee:  ₹ 100 per person
10. H.E.H. The Nizam's Museum

This grand facade situated at the heart of the city has a lot of interesting history attached to it. It was built by Mohammad Quli Qutub Shah, and later lost its prominence and came to be known as Haveli Khadeem. During the reign of the sixth Nizam of Hyderabad, Mir Mahboob Ali, this palace revived back to its old glory. The rich collection of antiques and Walk-In-Wardrobe attracts people to witness the glory of the by-gone era under the Nizams. The 176 feet long Walk-In-Wardrobe made of the finest Burma teak spells luxury at its best.
Location: Purani Haveli, Pathar Gatti, Hyderabad, Telangana 500002
Timings: 10 AM to 5 PM. Closed on Friday
Entry fee:  ₹ 100 for Adults and  ₹ 15 for Children
11. Hussain Sagar Lake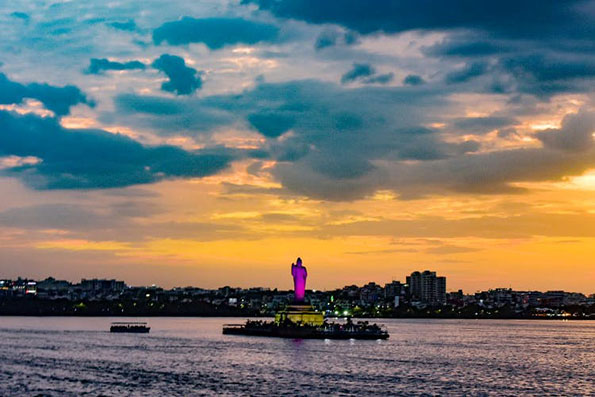 This heart-shaped lake built on River Musi is one of the most prominent tourist places in Hyderabad. Hussain Sagar Lake is the largest artificial lake in Asia built by Ibrahim Quli Qutub Shah in 1563, which separates the twin cities of Hyderabad and Secunderabad. The lake is named after Hussain Shah Wali, the designer of this lake.
Location: Hussain Sagar Lake, Hyderabad, Telangana
Timings: 8 AM to 10 PM
Entry fee: No Entry Fee
Activities: One can enjoy  boat rides on Mechanised Boat, Jet Ski Boat or Rajahamsa Boat.
12. Qutb Shahi Tombs
The proximity of the tombs to the Golconda Fort makes it another very interesting tourist destination of Hyderabad. The tombs of the various rulers of the Qutub Shah dynasty are located here. The domes of the tombs have been constructed based on the Persian and Indian style of architecture. The tombs are adorned with intricate stone and are surrounded by lush green gardens.
Location: Qutub Shahi Tombs, Hyderabad, Telangana 500008
Timings: 9:30 AM to 6:30 PM
Entry fee:  ₹10 for adults and  ₹5 for children
13. Jagannath Temple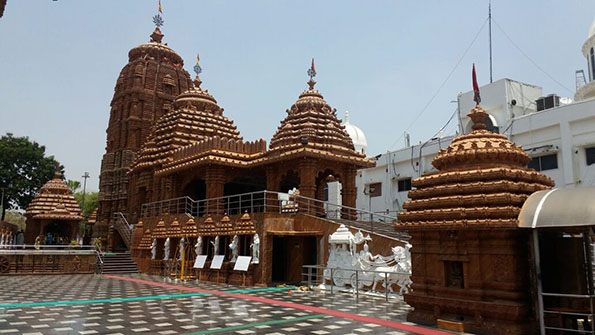 The Jagannath Temple of Hyderabad is a replica of the Jagannath Temple at Puri. The temple has smaller temples dedicated to other deities, and each of the temples have a different priest. The 70 meter high shikra of the temple is an attractive feature of the temple. Similar to the annual Rath Yatra at Puri, Hyderabad's Jagannath Temple also organises an annual Rath Yatra.
Location: Plot No- 1269, Road No 12, Banjara Hills, Hyderabad, Telangana 500034
Timings: 6 AM to 12 PM and 5 PM to 9 PM
Entry fee: No Entry Fee
14. ISKCON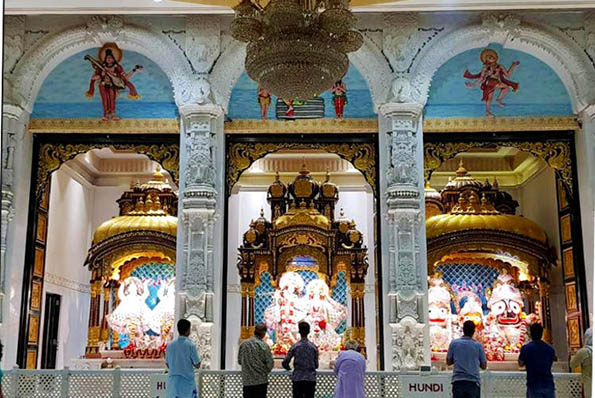 This is the perfect place in Hyderabad to find tranquility. The serene surroundings, modest architecture of the temple and the devotion for Lord Krishna and Radha attracts devotees from across the country to pay their homage.
Location: Nampally Station Road, Sri Sri Radha Madanmohan Mandi, Hare Krishna Land, Abids, Hyderabad, Telangana 500001
Timings: 4:30 AM to 1 PM and 4:30 PM to 8:45 PM
15. Raymond's Tomb
This place may not be as famous as the Charminar but is worth a visit. Raymond's Tomb is built to commemorate Michel Jaochim Marie Raymond, a French General during the reign of Asaf Jah II. The 7 meter high conical structure is constructed with black granite, which is a unique feature of the tomb. The initials 'JR' are inscribed on the tomb.
Location: Asmangadh Road, LIC Colony, New Malakpet, Hyderabad, Telangana 500059
Timings: 9 AM to 5 PM
16. Khursheed Jah Devdi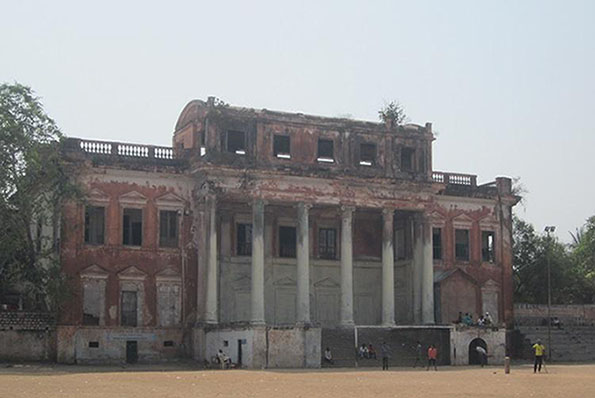 It is a 150-year old structure that is hidden in the city of Hyderabad. The two-storey European style architecture is a unique building that is a must visit when you are in Hyderabad. To witness the beauty of Khursheed Jah Devdi, it is best to visit it during the day time.
Location: Hussaini Alam, Hyderabad, Telangana 500064
Timings: Open 24 hours
17. Taj Falaknuma Palace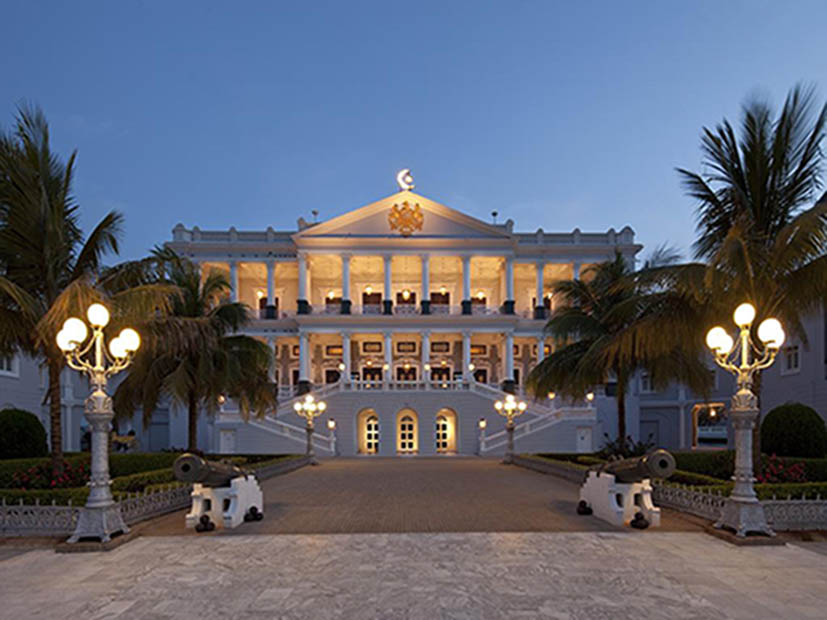 This opulent palace was originally constructed by the Paigah family in 1894 and later owned by Nizams. This five-star luxury hotel sprawling 32 acres helps you experience the royalty at its best in Hyderabad. The ancient architecture blends with the modern amenities to provide you a glimpse of the bye-gone era. The extensive menu will impress you with the global as well as local Hyderabadi cuisine.
Location: Engine Bowli, Fatima Nagar, Falaknuma, Hyderabad, Telangana 500053
Timings: Check-in from 2:00 PM and Check-out till 12:00 PM
Cost: Starting from ₹ 35,000
18. Laad Bazaar
Laad Bazaar, popularly known as Choodi Bazaar, is the most iconic markets of Hyderabad. It is spread across four streets and is famous for selling "Laad" or lacquer bangles. In addition, you will find bangles studded with semi-precious stones, imitation jewellery and pearl jewellery. Its proximity to Charminar and Mecca Masjid attracts a lot of tourists who are interested in exploring the streets of the city.
Location: Char Kaman, Ghansi Bazaar, Hyderabad, Telangana 500002
19. Begum Bazaar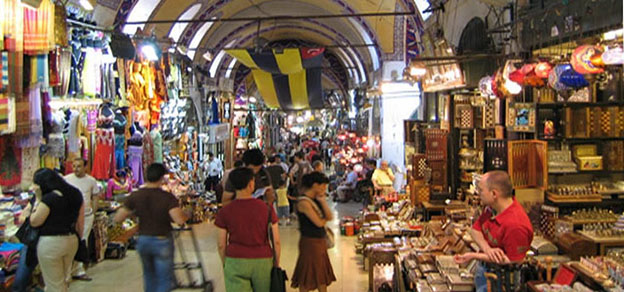 It is the oldest wholesale market and the second largest Fish Market in Hyderabad, and is a popular spot till today. The lanes of Begum Bazaar are loaded with household commodities, imitation jewellery, food items and China made toys. It is one of the most crowded markets of the city that is always bustling with life.  
According to history, Asaf Jah II's wife, Humda Begum gifted the land of Begum Bazaar to the merchants for the purpose of trade and commerce. Hence, the name Begum Bazaar.
Location: Fish Market, Afzal Gunj, Hyderabad, Telangana 500012
20. Sudha Cars Museum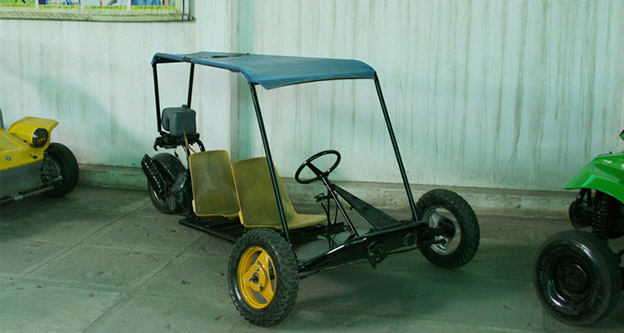 This unique museum in Hyderabad was established by K Sudhakaran, and displays a variety of vintage cars and modified cars. K Sudhakaran has been recognised for conceptualising the smallest train in India with a seating capacity of 10 people and creating the largest tricycle in the world which is about 41.7 feet in height (Guinness World Record).  
Location: 19-5-15, 1/D, Bahadurpura X Road, APHB Colony, Bahadurpura West, Hyderabad, Telangana 500064
Timings: 9:30 AM to 6 PM
Entry fee:  ₹ 50 for Adults and  ₹ 15 for Children
21. Priyadarshini Park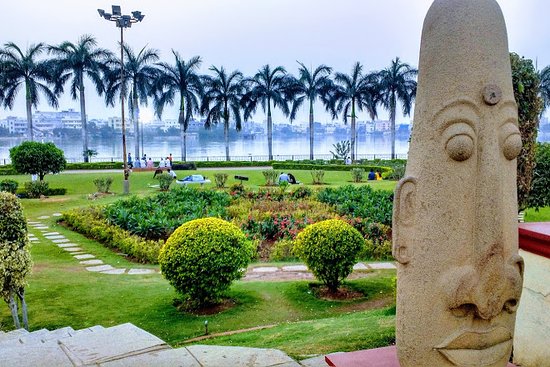 Priyadarshini Park is a perfect place to enjoy the greenery and relax for sometime while you enjoy the scenic view of the lake. The children are surely going to love spending some time playing around the lush green area.  If you enjoy boating, then you can spend some quiet time here boating on the lake nearby.
Location: Saroor Nagar Road, Malakpet, Saroor Nagar East, Habeeb Nagar, Hyderabad, Telangana 500035
Timings: 9 AM to 8 PM
Entry fee:  ₹ 5 per person
Activities: Boating on the lake nearby.
22. Firdaus, Taj Krishna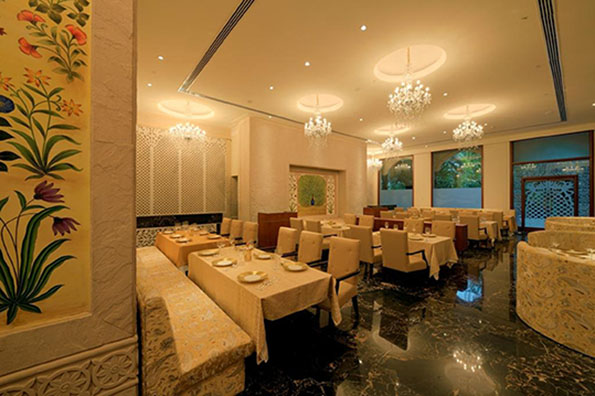 This fine dining restaurant at Taj Krishna spells luxury and excellence at every niche. Firdaus has become an indispensable name for its quality service and elaborate menu. Though they specialise in Hyderabadi cuisine, you simply cannot miss the sublime taste of the Mughlai, North Indian and Telugu food at Firdaus.
Location: Taj Krishna, Rd Number 1, Mada Manzil, Hyderabad, Telangana 500034
Timings: 12:30 PM to 2:45 PM and 7:30 PM to 11:45 PM
Cost for two: ₹ 2500
23. Karachi Bakery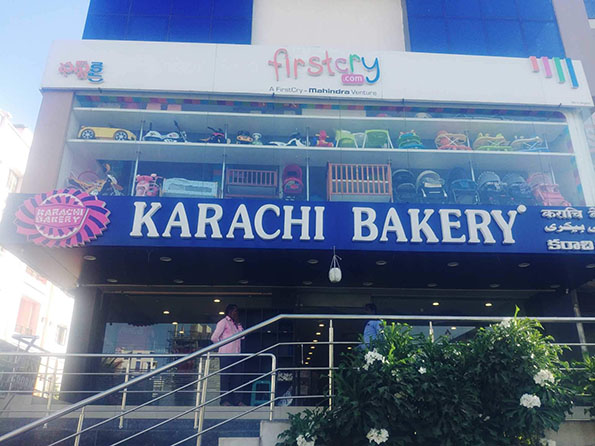 It is one of the most iconic bakeries of Hyderabad that has been pleasing its customers for over six decades. While they consistently maintain the amazing taste of their iconic bakery items, the new additions to the menu are equally delectable. Their elaborate menu consists of cakes, pastries, biscuits, rusks, cupcakes, macaroons, snack items and their special Karachi Mithai. The Fruit cake, Dil Khush and Plum cake are some of the other hot-selling items at the Karachi Bakery.
Location:  Khanchand Towers, Rd Number 1, opp. Hotel Taj Banjara, Banjara Hills, Hyderabad, Telangana 500004
Timings: 9:30 AM to 10:30 PM
Cost for two: ₹ 400
24. Paradise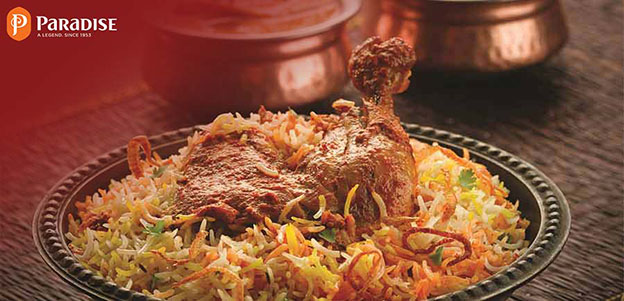 A visit to Hyderabad is incomplete without tasting their royal Hyderabadi Biryani. Paradise is a perfect place to visit if you want to taste the authentic Hyderabadi Biryani. The succulent chicken and flavourful long-grain rice makes Paradise's Biryani one of the best in the city. The warm hospitality and the delectable taste of each of their dishes wins the hearts of the customers who visit Paradise. The quality of service has only improved over the six decades, and that is the secret behind the success of Paradise.
Location: Begumpet Rd, Opp. Indian Oil Petrol Pump, Mayur Marg, Begumpet, Hyderabad, Telangana 500016
Timings: 11 AM to 11 PM
Cost for two: ₹ 800
25. Cafe Niloufer and Bakers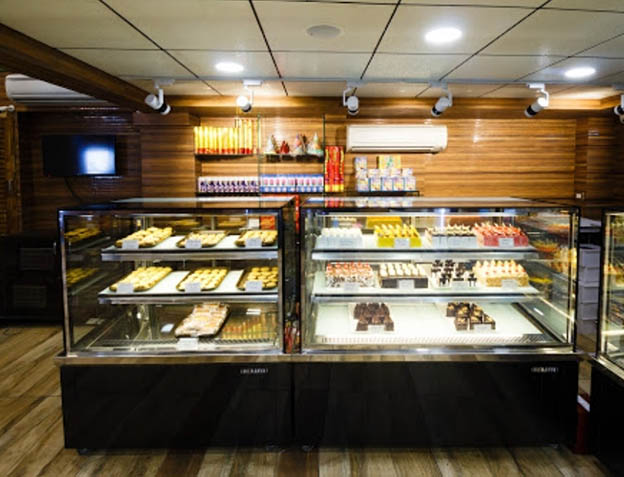 An iconic cafe and bakery that has placed itself on the map of Hyderabad, we just had to select this place without any doubt. With a modest beginning in 1978, it has established itself as a landmark in this ever evolving city of Hyderabad. Their bakery items and Irani Chai have a different fan base altogether. Cafe Niloufer and Bakers' Osmania biscuits and Bun Maska along with a cup of hot Irani Chai is a perfect evening snack to relish in Hyderabad.
Location: 11-5-422/C/B, V.P, Red Hills Rd, Lakdikapul, Hyderabad, Telangana 500004
Timings: 7 AM to 12 AM
Cost for two: ₹ 200
26. Hotel Shadab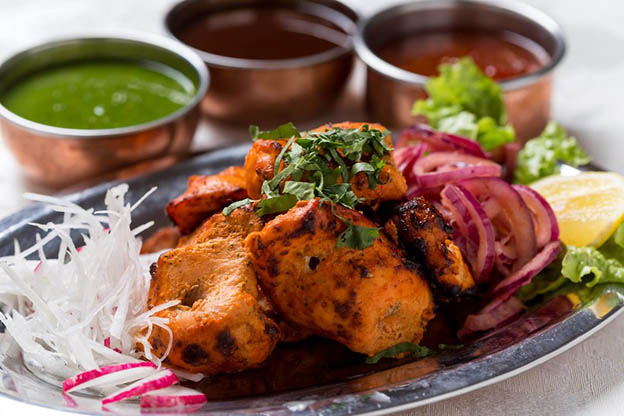 This casual dining restaurant near Charminar is another popular spot to relish some Hyderabadi Biryani. Their vegetarian Hyderabadi Biryani is equally popular as their non-vegetarian counterpart. Shadab's Mutton Paya, Kebabs, Tandoori Chicken, Naan and Falooda are also some of the popular items on their menu.
Location:  21-1-140-144, Near High Court, High Court Rd, Madina Circle, Charminar, Ghansi Bazaar, Hyderabad, Telangana 500012
Timings: 5 AM to 12 AM
Cost for two: ₹ 900
27. Bawarchi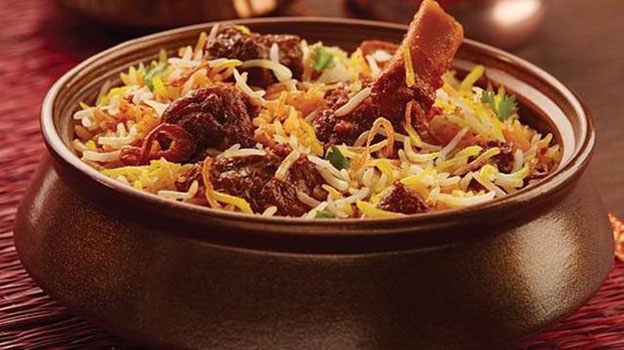 If you are craving for some Hyderabadi Biryani and North Indian food or Seafood, then Bawarchi is the best place in Hyderabad. The aromatic Hyderabadi Biryani at Bawarchi is light and mildly spiced. The Salan and Raita served here are also prepared to perfection, they are a perfect accompaniment to the biryani. 
Location: Plot No. 44, RTC Cross Road, Opposite Sandhya Theatre, Jawahar Nagar, Chikkadpally, New Nallakunta, Hyderabad, Telangana 500020
Timings: 11:30 AM to 12 AM
Cost for two: ₹ 800
28. Love Hyderabad Sculpture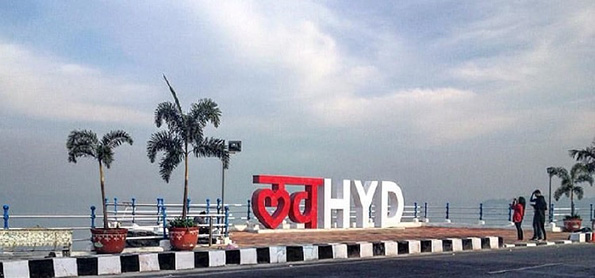 Designed by Hitesh Malaviya in collaboration with Hanif Kureshi, this structure has been able to win the hearts of the people within a small span of time. This creatively designed structure incorporates both Devanagari as well as Latin scripts, which fits in place with the contemporary Hinglish speaking generation.
Location:  Srinagar – Kanyakumari Highway, Hussain Sagar, Khairatabad, Hyderabad, Telangana 500029
Timings: Open 24 hours
29. Runway 9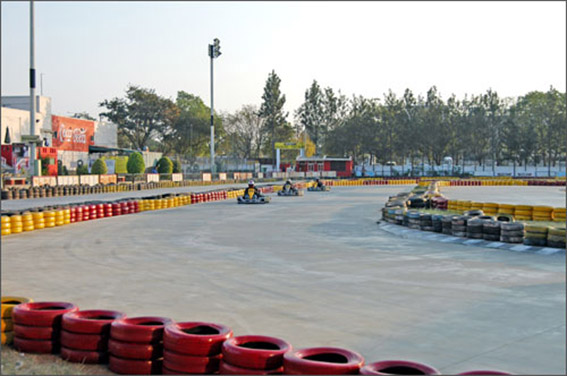 If you are looking for some fun activities in Hyderabad then Runway 9 has plenty to offer to you. You can enjoy these activities with family and friends in a safe and controlled environment. If you have not tried any of these activities, then I would recommend you to visit Runway 9 once to experience the adrenaline rush.
Location: Mahindra Showroom, 5-115, Mohan Reddy Commercial Complex, Medchal Road, Beside, Kompally, Hyderabad, Telangana 500014
Timings: 2:30 PM to 10:30 PM
Entry fee: ₹ 60 per person and additional activity charges
Activities:

Go Karting
Rock Climbing
Archery
Shooting
Bungee Trampoline
Pool Parlour
Table Tennis
Roller Skating
Children's Playground
30. Sky Zone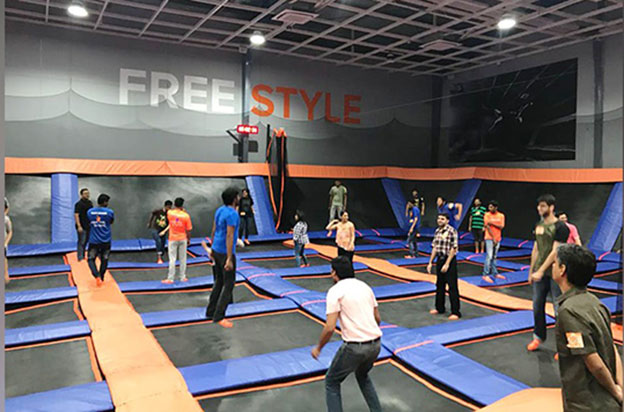 This is India's first Indoor Trampoline Park, and an ideal place to refresh your mind with some exciting activities. The huge space of about 10,000 sq feet provides an ample space for fun and frolic. As you enter, the bright orange and purple arena instantly catches your attention. Forget your worries and destress yourself at Sky Zone by engaging yourself and your tribe in these activities. In case you want to spend some time with your squad; you can host parties, get togethers and special class activities.
Location: H.No, 8-78, Shankarpalli – Hyderabad Rd, Kokapet, Hyderabad, Telangana 500075
Timings: 12 PM to 8 PM (Monday to Friday) and 11 AM to 9 PM (Saturday and Sunday)
Entry fee: Prices are fixed at an hourly rate depending on the day.

For Regular days:

₹ 650 and GST for one hour
₹ 900 and GST for one and half hour
₹1000 and GST for two hours
₹ 500 and GST for Toddler Jump

For Peak days:

₹900 and GST for one hour 
₹1250 and GST for one and half hour
₹1400 and GST for two hours
₹500 and GST for Toddler Jump
*Please visit their website to know about the change in prices and more about their packages
Activities:

Freestyle Jump
Foam Zone
Drop Zone
SkySlam
SkyLadder
SkyJoust
SkyHoops
Ultimate Dodgeball SkyLine
Warped Wall
Glow
Conclusion:
Hyderabad has something to offer to each one of its visitors according to their interests; be it art, culture, history, food, shopping or adventure. The warm hospitality, delectable cuisine, grand history and modern amenities will urge you to visit Hyderabad again.
Image Source: FabHotels, Deccan Chronicle, Make My Trip, Wikipedia, Deccan Herald, Hyderabad Tourism Travel, Thrillophilia, LBB, Justdial, The News Minute, Booking.com, Getty Images, The Hans India, India Ahead News, Hotel Shadab website, TripAdvisor, ShoutLo, BookMyShow.
Latest posts by Fateha Firdaus Barbhuiya
(see all)