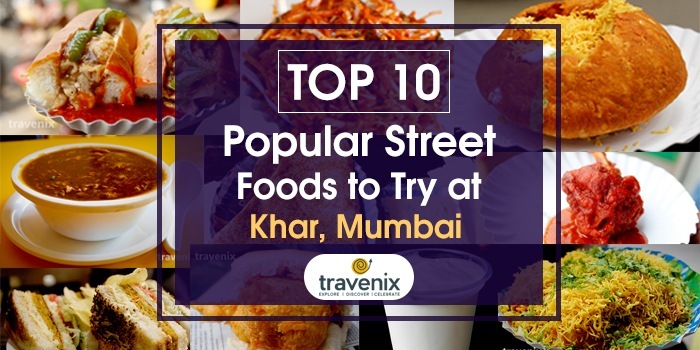 Top 10 Popular Street Foods to Try at Khar – Mumbai
The word Khar is derived from the Marathi word "Khara", which means salty; this is attributed to the fact that most of Khar was only a marshland of salty sea water in the past. Over time, Khar has developed into one of the most exclusive areas of the city and is even home to many Bollywood celebrities, probably due to the fact that it remains green and peaceful throughout the year. With such a posh crowd residing in the area, food outlets opened up quickly to cater to the population here.
Linking Khar to Food
Linking Road is one of the most famous areas in Khar, known for its street shopping. So while you do the shopping, we've done the work for satisfying your stomach's cravings; here we have compiled a list of the best places to eat in Khar.
1. Paneer Mysore Dosa- Manju Dosa
Mysore dosa combined with the softness of paneer makes this dish a great combination. The filling includes capsicums, green chilies, tomatoes, onions, spring onions and mashed paneer. The dosa is fried in butter and this gives you a distinct taste of butter with every bite; along with the tangy taste of tomatoes. The dosa is served with coconut chutney, which has a prominent taste of garlic that gives it a very homely feel and makes you want to eat more.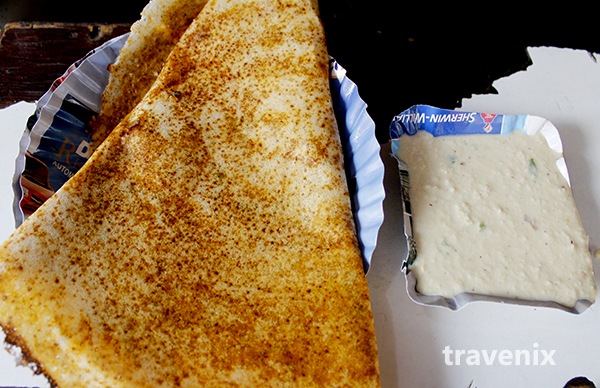 Where: Ram Krishna Mission Road, between Khar and Santacruz,
Price: ₹ 80.00
Rating: 4/5
2. Sweet Lassi- Ahmedabad Dairy Farm
This lassi is adequately sweet and has a great consistency that makes it a very satisfying and filling experience. There is a hint of rose water which gives it a royal touch, and it is smothered with a thick layer of dahi instead of the malai and this change is just delightful. It is a very refreshing drink and helps beat the hot summer heat.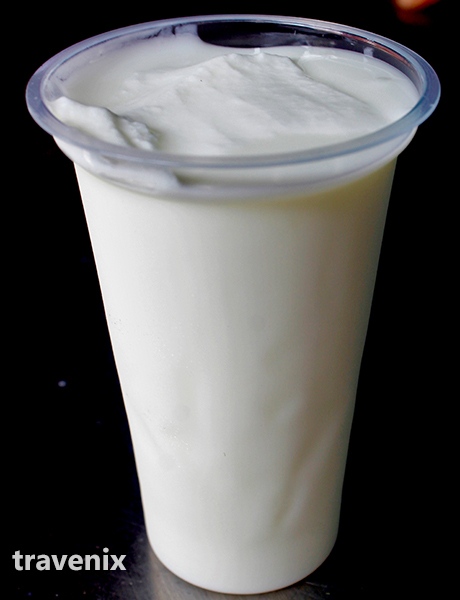 Where: 49, SV Road, Old Khar
Price: ₹ 30.00
Rating: 3.5/5
3. Sev Puri- Shankar Bhel
The puris and sev are fresh and bring the crunchy element to this dish. The puris are topped with the standard toppings of a sev puri along with 'kaccha' mango that enhances the taste and gives you a lip-smacking experience. It is sweet in the beginning thanks to the tamarind chutney and eventually becomes spicy due to the coriander chutney, and this gives you both the tastes in one bite. Chat masala is sprinkled on top of the dish and makes it all the more flavorsome.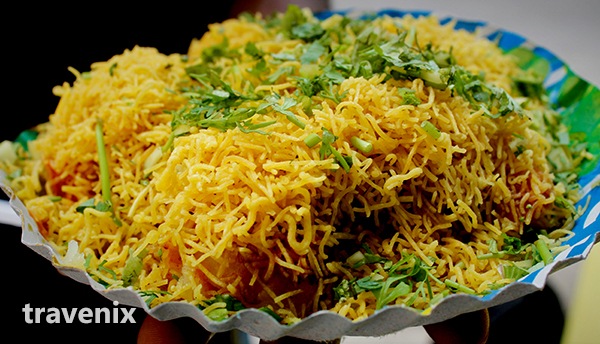 Where: 18th A Rd, Behind Beacom High
Price: ₹ 30.00
Rating: 3.5/5
Other Great Dishes Here: Pani Puri
4. Chicken Dragon Soup- Chef Kong
This soup is made from thin strips of chicken, mushrooms, black pepper, spring onions, chili flakes and broccoli. It is a combination of salty and spicy flavors, but along the way, one gets used to the salty flavor and finds it spicy. The broccoli is cooked well and the mushrooms take the spicy flavors well. This is a tasty and healthy soup that will be loved by all the chicken lovers who love vegetables as well.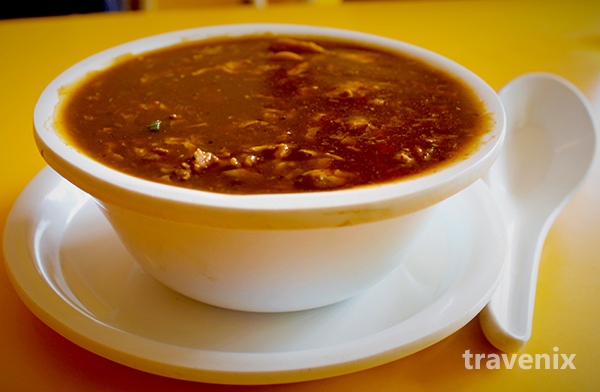 Where: Nizam Villa, opp Rizvi Spring Field School.
Price: ₹ 140.00
Rating: 3.5/5
5. Vada Pav- Vaastav Vada Pav
The best part about this place is that the Vadas are made right in front of you and served hot. This isn't something you get to see everywhere, is it? The dish is slightly spicy as it should ideally be and the dry garlic chutney makes this dish spicier in a nice way. The pav is fresh, soft and complements the vada very well. The quality of the ingredients used seems to be great and it is probably the reason why people throng to the stall as soon as it opens. Can't really miss out on some great vada pavs, can you? (Ambien)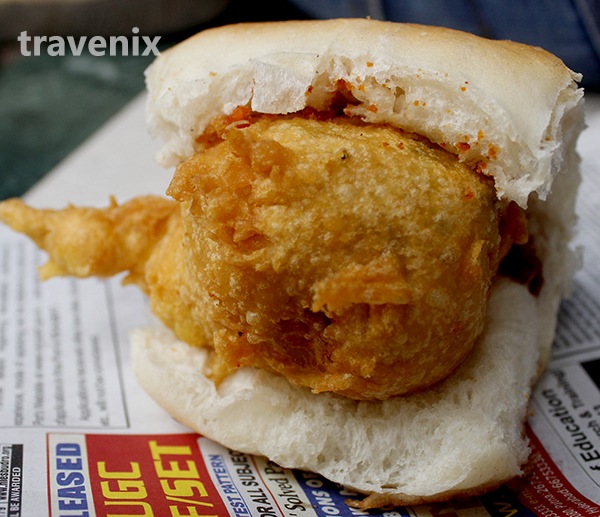 Where: Khar Danda Anand Gym, Ram Mandir Road
Price: ₹ 12.00
Rating: 3.5/5
Other Great Dishes Here: Methi Bajiyas
6. Club Sandwich- Vrindavan Restaurant
This three layered club sandwich is stuffed with some amazing ingredients that make your mouth water instantly. Generous amount of cheese is stuffed in the first layer; the second layer is packed with a thick gram flour patty and coriander leaves. The third layer is stuffed with tomatoes, cucumbers and spicy coriander chutney to add to the overall flavor. This is a big and filling sandwich that is healthy as well and comes with complementary potato chips for that extra crunch.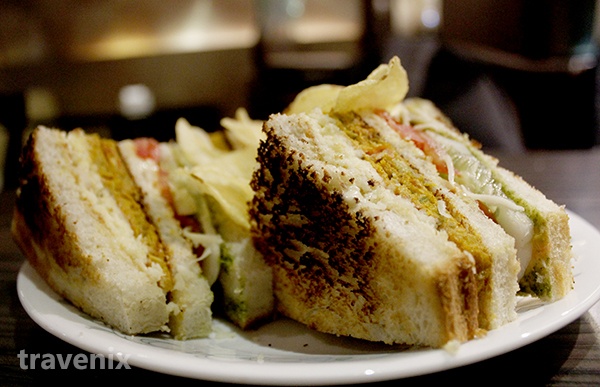 Where: 3rd Road, Cosmos Commercial Centre, Near Railway Station
Price: ₹ 130.00
Rating: 3.5/5
Other Great Dishes Here: Tea and Toast
7. Chinese Bhel- Aaradhya Fast Food Stall
Don't go by the size of this stall, because the food here is excellent! This bhel is a crunchy affair and has cabbage and spring onions in it that give it a Chinese twist. It is adequately spicy and the schezwan sauce gives it a hint of garlic flavor as well. The complete mixture of ingredients is a hands-down winner and we approve it!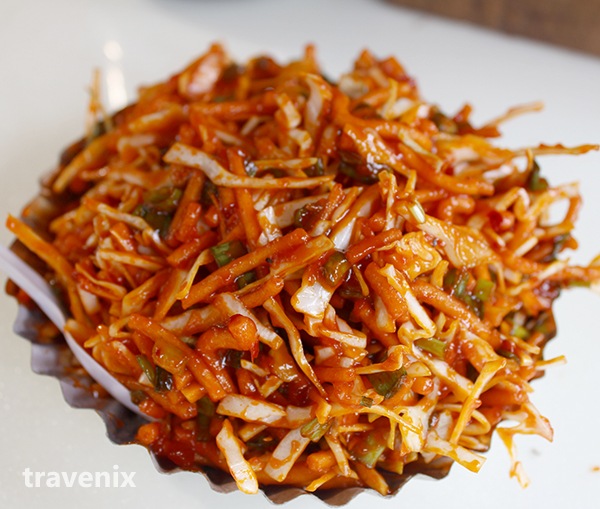 Where: Linking Road, near City Bank
Price: ₹ 15.00
Rating: 3.4/5
Other Great Dishes Here: Sandwiches
8. Dahi Kachori- Gujarat Dairy Farms
The kachori here is huge, crisp and served fresh. It is filled with spicy coriander chutney, sweet tamarind chutney, dahi and then topped with fine sev. All the flavors merge together to give an amazing experience and overcome the shortcomings of each individual ingredient in a beautiful manner. The tamarind chutney is strong and makes the kachori sweet, but the spiciness of the coriander chutney picks up towards the end and leaves a spicy taste in your mouth. The sev gives it the additional crunch element and makes it a delightful dish.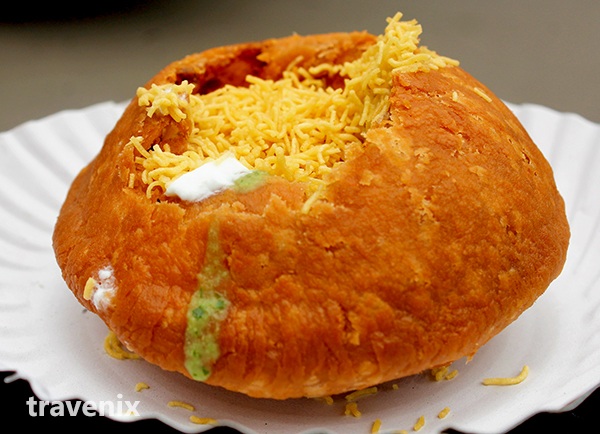 Where: 56 A, SV Road, Old Khar
Price: ₹ 30.00
Rating: 3/5
Other Great Dishes Here: Vada Pav
9. Chicken Chili Roll- Al Zaika Fast Food
This tasty chicken roll is spicy and stands up to its name; the chicken is tender and easy to bite, and is a little squishy. It is dipped in a thick sauce and put in the roll; the quantity is sufficient enough and chicken pieces are there throughout the length of the roll. The schezwan sauce is spicy and adds to the overall flavor. The roll bread is soft and melts in your mouth instantly, hence giving a delightful feeling.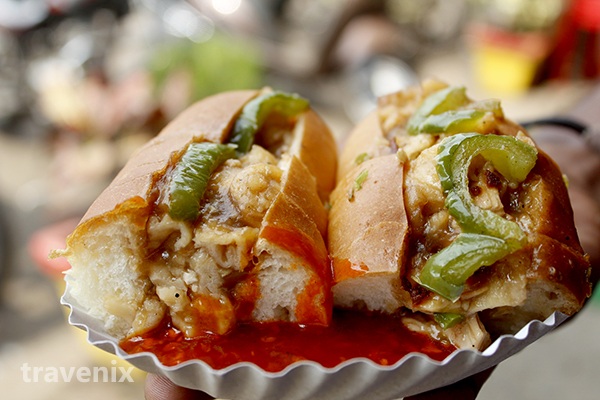 Where: Nizam Villa, opp Rizvi Spring Field School.
Price: ₹ 25.00
Rating: 3/5
10. Chicken Lollipop- Al Zaika Fast Food
This salty chicken treat is a hit! The batter is fresh and uplifts the overall flavor of the chicken which is juicy and soft. The amount of batter used is just enough to give you an amazing experience.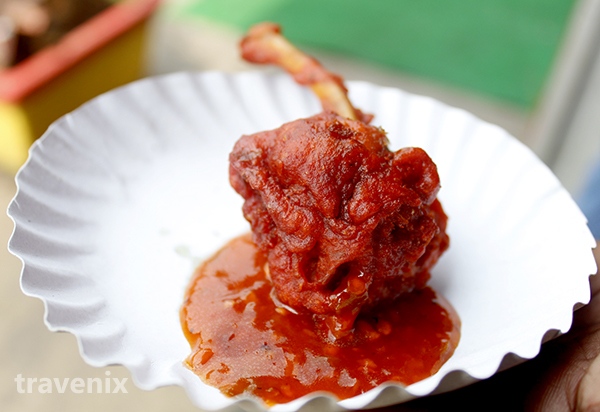 Where: Nizam Villa, opp Rizvi Spring Field School.
Price: ₹ 12.00
Rating: 2.5/5
If you have tried any of the amazing dishes listed above, do let us know your experience in the comments below. If you find any other dish that is worth sharing with our readers, write in to us. We hope that you're already on your way to Khar to try these lip-smacking dishes!
Latest posts by Vibha Sharma
(see all)