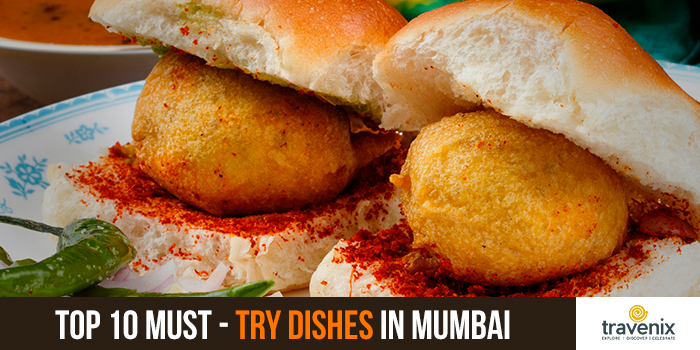 Top 10 Must – Try Dishes In Mumbai
If you're visiting Mumbai for the first time, make sure you're coming with a huge appetite, because there are too many food varieties to try out in the city. Vada Pav, Bombil Fry, Pav Bhaji, Brun Maska and so much more; the list goes on and on!
On A Food Trail in Mumbai
Even if you're short of time and don't have much time to check out all the amazing food that Mumbai has to offer, make sure you don't miss out on the ones that we've mentioned in this list. They're unlike all anything you've tried before, we promise!
1. Vada Pav
Vada Pav is to Mumbai what Chole Bhature is for Delhi, or if you're looking on a global scale, it is what McDonald's is to the USA. It's the preferred street food of everyone — from college-going students to industrial workers or even corporate honchos. It's a dish that you can have on the go, so it's convenient for everyone who is in a hurry.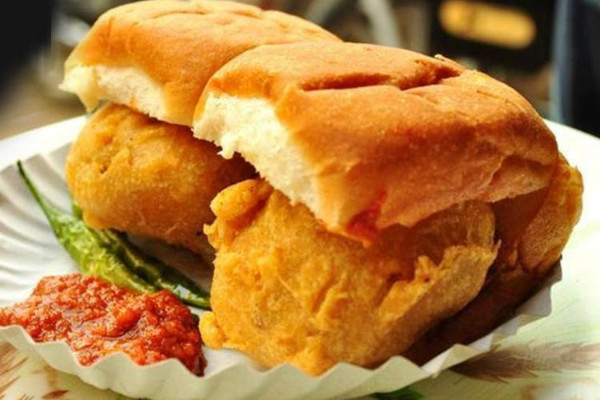 It's like burger's spicy cousin — it has a deep-fried potato dumpling covered with a bun and special chutneys. It's usually served with a fried chili to amp up the level of spice.
Recommended Places: Ashok Vada Pav, Anand Vada Pav, Aram Vada Pav
2. Pav Bhaji
Pav Bhaji is a popular street food dish all over India, but Mumbai is the place where the dish actually originated. You can trace its origins back to the 1850's when mill workers were working overtime and needed a cheap dish that was nutritious too. That's when street vendors came up with Pav Bhaji's recipe.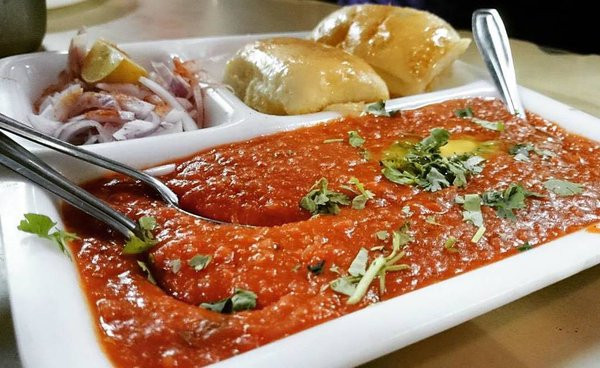 The bhaji is a spicy curry that is loaded with vegetables and spices and is served with a pav or soft bread. The curry is topped with oodles of butter so that it has a really smooth texture.
Recommended Places: Sardar Pav Bhaji, Cannon Pav Bhaji
3. Bombay Duck Fry
The name of this dish can be quite misleading. Bombay Duck Fry or Bombil Fry actually has nothing to do with a duck; it is actually a local fish variety. Some say that this fish was transported in the train, The Bombay Mail. It was often called 'Bombay Daak (Mail)' in Hindi, and over the years the second word changed its form to sound like 'duck.'
This fish, which is found in abundance near the Arabian Sea in Mumbai, can be served as a starter or can be eaten as a main course. It is prepared by dipping a flattened version of Bombil fishes in besan and then fried. While frying, a lot of spices are added to it too. You'll find great varieties of the Bombil Fry at most Malvani restaurants in Mumbai.
Recommended Places: Gajalee, Chaitanya
4. Falooda
Disguised as a dessert behind the tag of a beverage, faloodas include a combination of an unusual variety: silky vermicelli noodles are topped with ice-cream in a sea of milk, rose syrup, nuts and black basil seeds.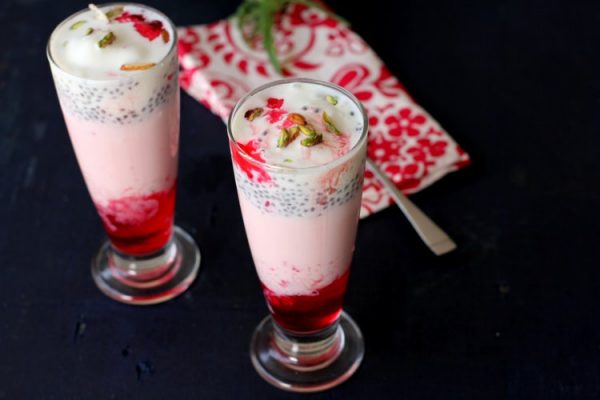 It is usually an after-meal drink, but on a summer afternoon, it can make for a meal in itself. It's a recipe that came into being during the time of Persian kings, and over the years, it has made its mark on the food scene in India, Pakistan, Bangladesh, and the Middle East.
Recommended Places: Baba Falooda, Badshah Falooda
5. Brun Maska
To an outsider who is not really a foodie, Brun Maska may seem like a simple dish that is very similar to pav with butter. But the uniqueness of this dish lies in the locally made bread or brun, which is extremely soft on the inside, while to the naked eye, it looks crumbly.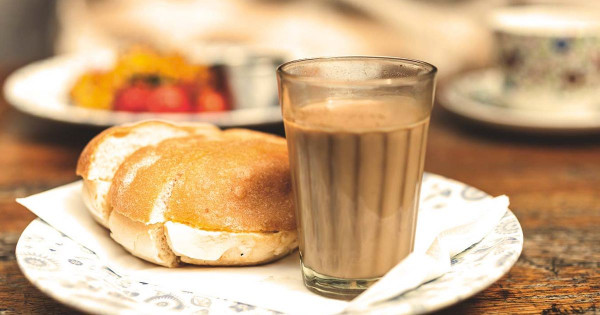 Sliced brun is loaded with butter and has a tinge of sweetness to it. Usually a breakfast favorite, it tastes the best when it is paired with Irani chai. This dish is available at all Irani cafes in Mumbai.
Recommended Places: Kyani & Co, Jimmy Boy
6. Seekh Kebabs
Seekh Kebabs are an integral part of traditional Pakistani cuisine, but Mumbai's foodies have ensured that you don't have to travel all the way there to get your hands on these fried delicacies. They are made by mixing minced meat with a lentil paste and chopped onions, coriander and chilies.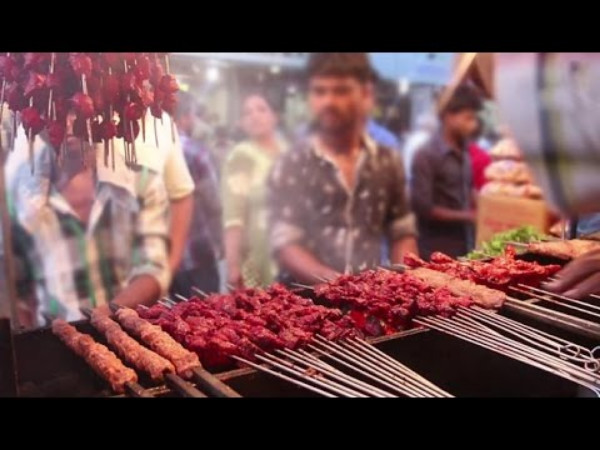 It is kneaded into the shape of a sausage and deep fried. If you're looking for the most succulent kebabs along with other non-vegetarian delicacies, visit Mumbai during the time of Ramzan.
Recommended Places: Sarvi, Kebab Korner, Mohammed Ali Road Khau Galli
7. Bombay Sandwich
Bombay has its own unique style even when it comes to a simple dish like a sandwich. In a Bombay Sandwich, soft white bread is smeared with butter and mint chutney on the inner sides.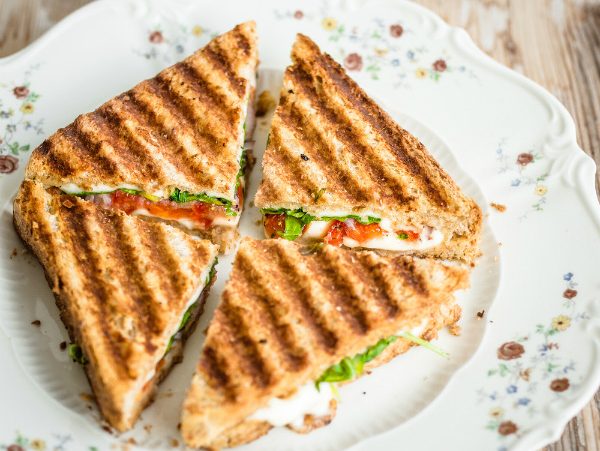 Between these slices, a layer of onions, tomato, cucumber, potato and beetroot (sometimes) is filled. A special masala is added to it and at some places, it is also grilled after adding some cheese to it. It is a common street-side snack that is available almost everywhere in the city.
Recommended Places: Sandwizza, Popular Sandwiches
8. Ice Gola
As soon as the mercury starts to dip in India, ice golas rule the street side food scene all over the country. An ice gola, which is locally referred to as barf ka gola or chuski, is basically shaved ice which is topped with sherbets of different flavors. It has a lot of sweet and sweet flavors which are often mixed to create a refreshing taste.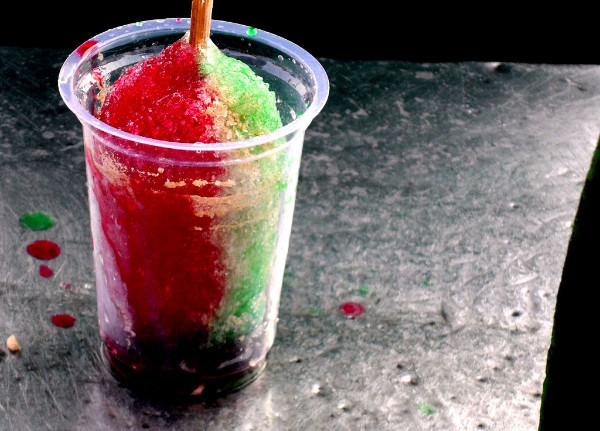 Kachi Keri, Kala Khatta, Rose, Pineapple are some of the popular flavors that you can find at all street side stalls. It even has fancy varieties where dry fruits, nuts, chocolates and other toppings are added.
Recommended Places: Islam Gymkhana Golewala, Park Malai Gola
9. Dhokla
Mumbai has a large population of Gujaratis, so it is only obvious that you'll find a lot of food varieties in the city. In Gujarat, dhokla is available in a lot of varieties: there is fried dhokla, white dhokla, khaman dhokla, yellow dhokla and more.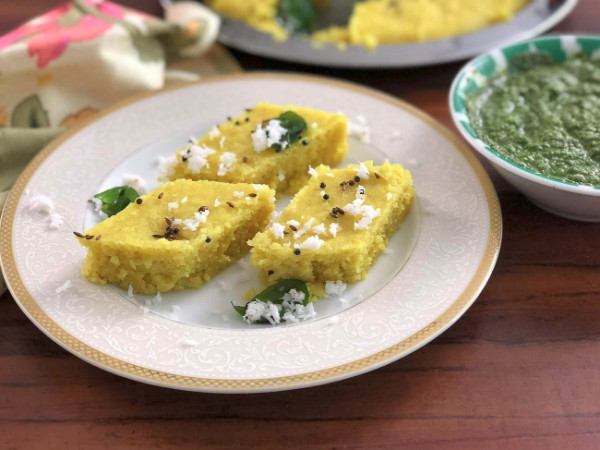 But in Mumbai, dhokla usually refers to Khamman Dhokla which is prepared by steaming a fermented batter of chickpeas. It is light and spongy and is a great snack item.
Recommended Places: Rajubhai Dhokla
10. Bhelpuri
Bhelpuri is a snack that Mumbaikars just can't get enough of! The basic recipe for bhelpuri is quite simple: puffed rice is mixed with onions, tomatoes, small fried puris, potatoes, raw mango and some chili and salt.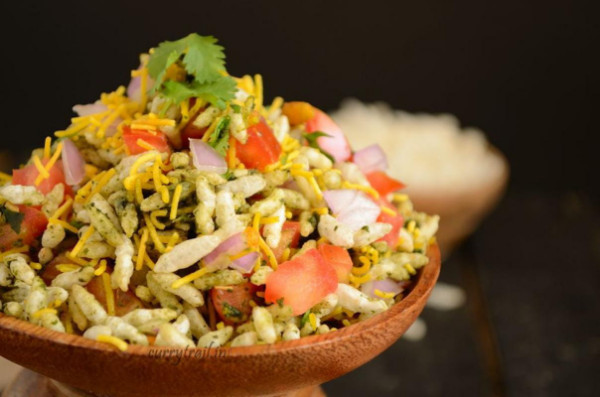 It is then topped with a  sour tamarind chutney as well as a spicy mint chutney. Bhelpuri is available at street food stalls and chaat centers all across Mumbai, but each one has its own distinct flavor because of the difference in chutneys.
Recommended Places: Streetside stalls at Juhu and Chowpatty Beach
Mumbai is a city that will always have something new for foodies to try out. This list only covered ten dishes in Mumbai, but we've missed out on quite a few popular ones too. If we had to extend the list, we'd surely put in panipuri, dosas, sevpuri and prawns up on the list.
What else do you think makes the cut to be included in the list of must-try dishes in Mumbai? Do let us know in the comments section below.
Image Credits: Food Talkies, The Better India, Archana's Kitchen, Times Kitchen, Meri Saheli, HungryForever, LBB, Aaj TV, cookpad.com, Polka Cafe
Latest posts by Vibha Sharma
(see all)