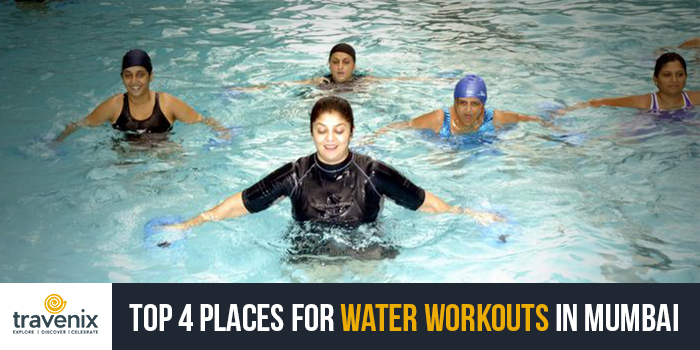 Top 4 Places For Water Workouts In Mumbai
Summer calls out to all the water babies out there to take a dip in the pool, but if you're a fitness freak, you can add some fun to your workout routine by exercising in the water itself! Aqua exercises burn your fat quickly, can help you to tone your body well and is helpful to people suffering from arthritis, diabetes and even heart patients. Ready to splash some water?
Go For A Refreshing Splash
Even if you are not a swimmer, you can take part in these fun workout routines. Just go and take your pick; there is Aqua Pilates, Aqua Zumba, Aqua cycling and more on offer. We've scouted some of the best gyms and fitness trainers in Mumbai, and have compiled the best aqua workouts for you to pick from.
1. Deepali Jain's Aqua Fitness
One of the first fitness trainers to bring aqua fitness to India, Deepali Jain vouches for the ability of water workouts to help arthritis patients. She conducts classes at various gymkhanas and clubs in Mumbai and takes up lessons at private pools.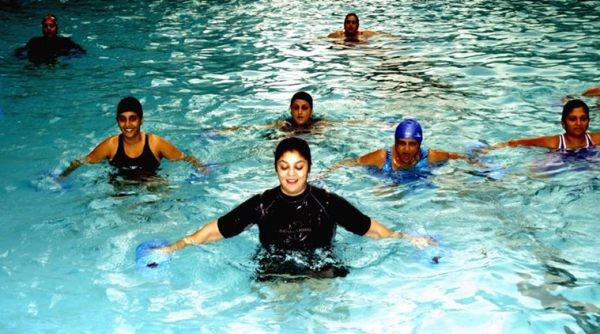 Her aqua workout plans include Aqua Kickboxing, Aqua Yoga, Aqua Aerobics and Aqualates (water-pilates). In her workouts, you'll also get to use special pool dumbbells and noodles that will help you with strength training. Each one-hour session of aqua workout has specific time designated for cardio training, strength training, and flexibility.
Where: Body Rhythm Club, Breach Candy Club, Spring Board Fitness
2. The Body Craft House
The Body Craft House's special summer fitness classes combine high energy dancing routines with strength training. You can actually light more weight in water than you can in your gym, so they've got special aqua kettleballs to get you started with weight-lifting. They end their session with some dance moves on foot-tapping music, so you'll actually come out refreshed after an exercise session!
They also conduct classes at Willingdon Gymkhana and C'est La Vie in Bandra. You can enroll yourself in a trial session at these centers for Rs 500. Apart from these, they also have pilates, kickboxing, cardio combination and more.
Where: 103, Punam Building, Linking Road next to Reebok, Ramakrishna mission signal junction, Khar
3. Body Art Fitness Studio
Body Art Fitness Studio's varied fitness programs give you the flexibility of changing workouts if at a later stage you think you are better suited for pilates rather than aerobics. They've got Circuit Training, Power Yoga, Cardio Dance, Muscle Ballet, Boxaerobics, Aerial Yoga and more.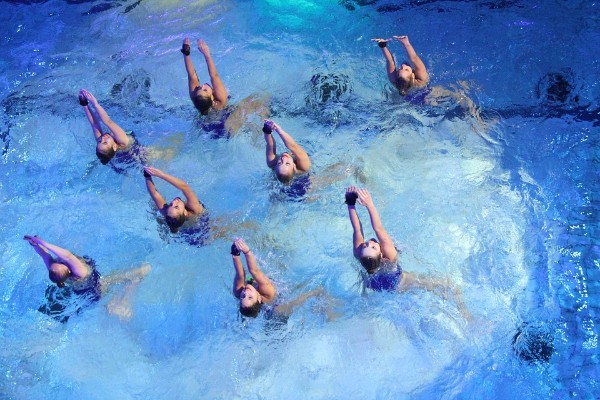 The fitness studio was started Nawaz Modi Singhania, a fitness expert for the TATA Mumbai Marathon 2018. Along with her team of professionals, she also runs aqua aerobics classes in the summer that are held in two different batches on alternate days. They have a special women's batch on Tuesdays, Thursdays, and Saturdays as well.
Where: Jyoti Sadan, Ground Floor, Corner of 'A' Road, Near Intercontinental Hotel, Marine Drive
4. C'est La Vie
C'est La View is a lifestyle club best known to host lavish social gatherings and pool parties, but they've got fitness trainers who regularly conduct workshops and swimming classes there. Just like the other facilities at the club, the swimming pool is extremely well-maintained.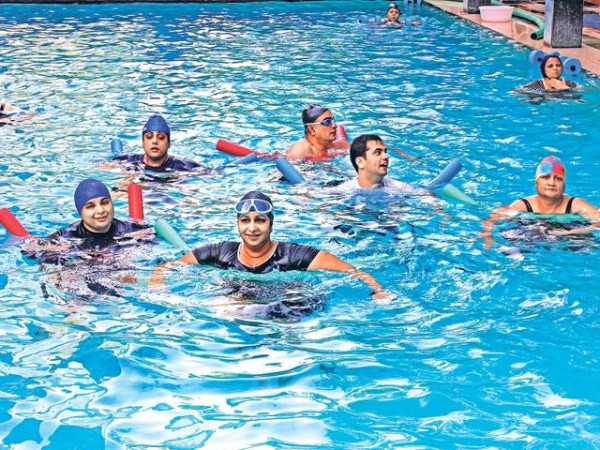 The best part about joining aqua workouts or swimming classes at C'est La Vie is that once you are done with your rigorous workout, you can relax in their steam and sauna room, or head for a massage right in the club.
Where: 164, Hill Road, (Next to Holy Family Hospital), Hill Rd, Bandra West
If you love the idea of aqua workouts but are skeptical because you don't know how to swim, we've got you covered for that as well. You can check out the best swimming classes in Mumbai and join the one that's the most convenient for you. Do you know of any other fitness centers that conduct aqua workouts? Do let us know in the comments section below, and let all the fellow water babies know where to go for a splash!
Image Credits: The Indian Express, Arthritis Ashley, Do Yoga For Health, The Hindustan Times, Polka Cafe
Latest posts by Vibha Sharma
(see all)