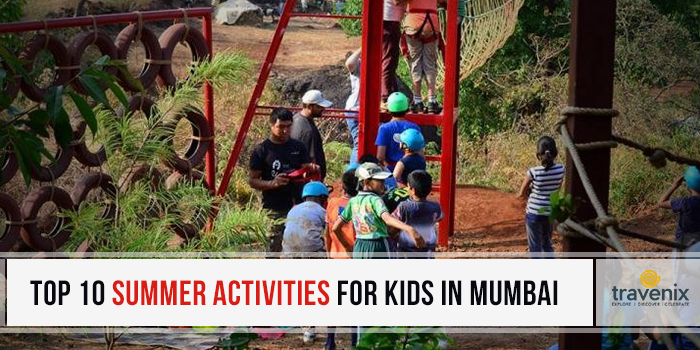 Top 10 Summer Activities For Kids in Mumbai
The mercury has started rising and the hot summer months are upon us. Summers also mean that kids will have long holidays to relax at home. With such long vacations, it is a difficult task to find activities to keep them busy and at the same time help them in learning something new in the vacations. Alternatively, you can also go to the best hill stations in India with your children.
Active Summers Are The Best!
Using this valuable time of 2 months to join various activities can go great lengths in helping your kid develop. Mumbai has loads of specialized activities for summers for your children to enjoy. Join us as we discover the very best of them.
1. Adventure Summer Camps For Kids
If your kids are interested in little adventures, we're sure that they will absolutely love this camp. Not only will they get a chance to go for more than 50 adventure activities but will also get to experience the thrill of camping and make loads of new friends. If they love bigger adventures, they can go for river rafting as well!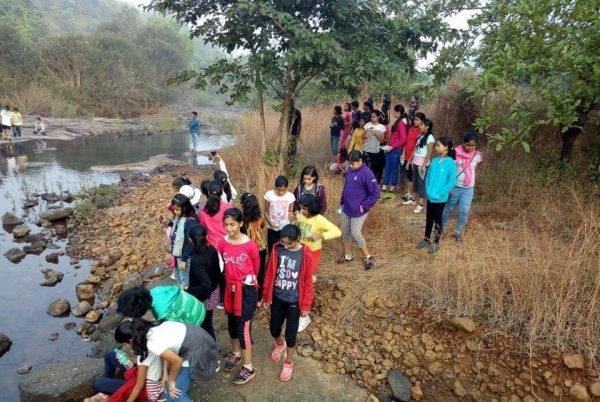 When: 29th April-1st May
Cost: Rs. 3700/- onwards
2. Me, Mom N Music
This is a special camp specifically for moms and toddlers where you can have some great bonding with your little ones. Whether you wish to sing and dance with live music or want to explore art and craft with your child, you can do it all here. They also have field trips!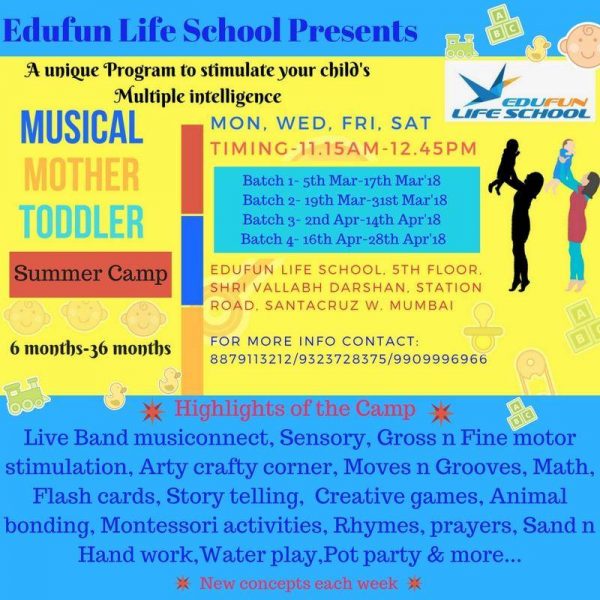 When: 2nd April-14th April
Cost: Rs. 2200/-
3. Science Crash Course
If your kid is 10 years old, you can enroll him/her for a special science crash course at Quistic Learning Centre. This course concentrates on a variety of topics to make science interesting for your children while solidifying their basic concepts of the subject. Spread out across just 20 days, this is the perfect course for your kid's summer vacation.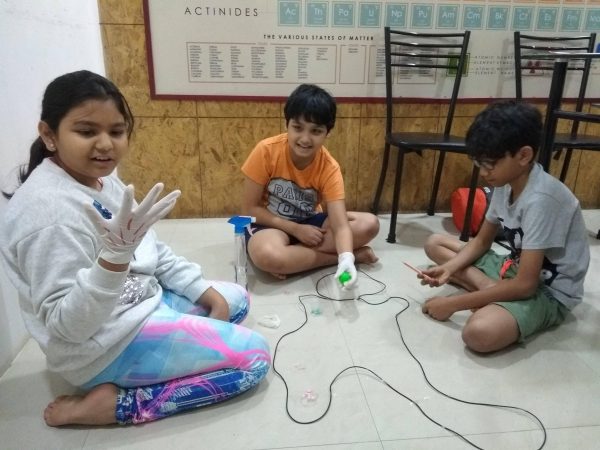 When: 1st April – 20th April
Cost: Rs. 12000/-
4. Art and Craft Summer Camp
Looking to give your kids some fun art and craft lessons? The best place to head off to is Kreativ Surprises. With 10 sessions spread out across 10 days, you can gift a great learning experience to your children this summer. With just 10 kids per batch, you can be sure that they will be given adequate attention too.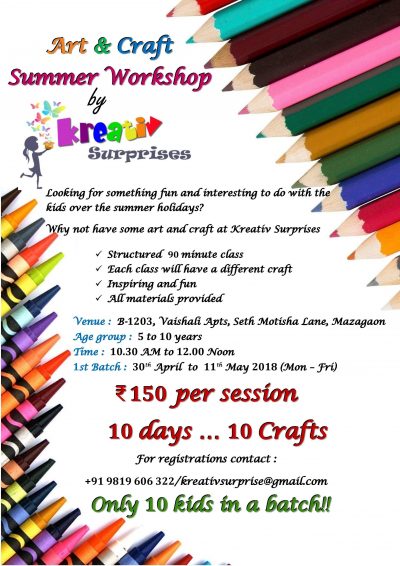 When: 23rd April – 4th May
Cost: Rs. 150 per session
5. Rachna's Funclub Summer Camp
This camp is for those children aged between 2 and 8. During this camp, many workshops will be held on day to day basis with topics ranging from Oceans and Marine Life to Photography. The kids will also get a chance to learn camping, solar cooking and even dancing!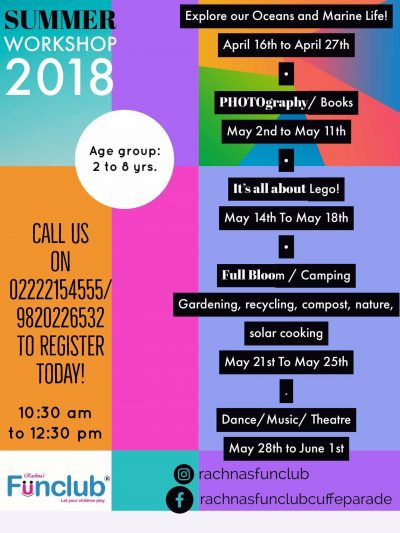 When: 16th April – 1st June
Cost: Rs. 3000/-
6. Taekwondo Summer Camp
Organized by the Paatliputraa Taekwondo Academy, this 15 day-camp is for those who are looking to go for some rigorous training in martial arts. During the tenure of the camp, your kids will get a chance to improve their techniques and also learn how to implement this Korean Martial Art. At the end of the camp, they will also be awarded with certificates for completion of training.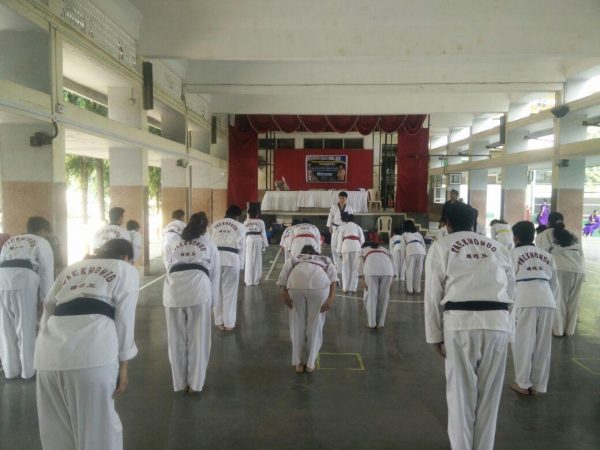 When: 16th April – 30th April
Cost: Rs. 1800/-
7. Robotron Level 1
This is an amazing opportunity for your children to excel in the field of robotics. With Robotron coming all the way from USA to India for the first time, they will get a chance to undergo a professional robotic course with them. In the course, they will not only be introduced to the mechanics of the robots but also be taught to develop dynamic models!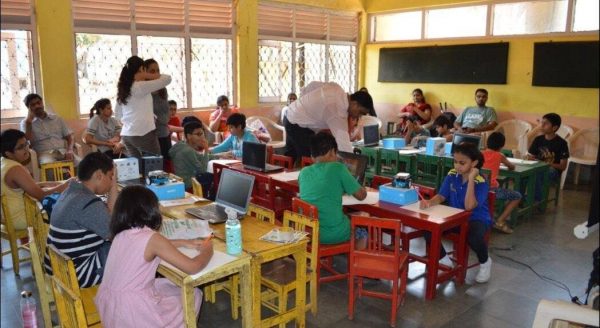 When: 14th April – 27th April
Cost: Rs. 5200/-
8. Play On
Starting April 2nd, Play On will make your child's vacation fun-filled. With 3 sessions every week, they will ensure that the kids not only enjoy their camp but also have enough time for themselves in the vacation. With fun-filled rides and obstacle courses, your kids will develop social, personality and psychological skills!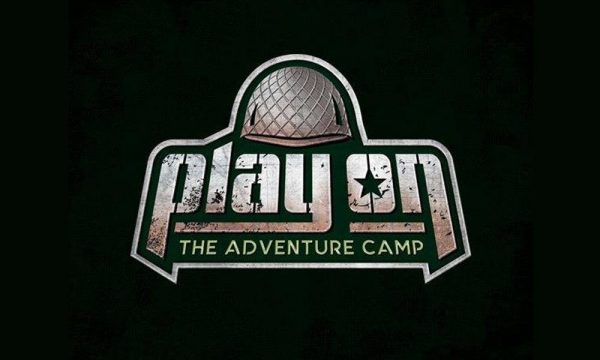 When: 2nd April – 29th April
Cost: Rs. 1999/-
9. Summer Special Fauzi Camp
If you're looking to develop your kid's overall physical fitness, the Summer Special Fauzi Camp is a great option. Kids between the age of 9 and 17 can experience some thrilling activities like obstacles, camping, archery, air-rifle shooting and more in this 3 days, 2 nights camp.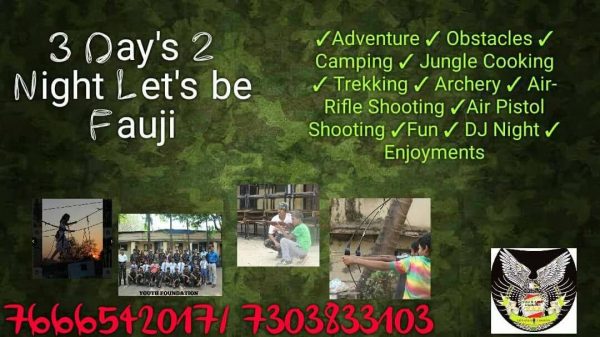 When: 20th April – 22nd April
Cost: Rs. 3950/-
10. Book Binding Workshop
This is a not-so-typical workshop for kids. The activity teaches kids how to assemble pages and then secure them in a cover, thus binding them to form a book. Your children will get a chance to bind handmade papers in a tie and dye fabric cover. All the materials are provided by them so you just need to go and learn the art.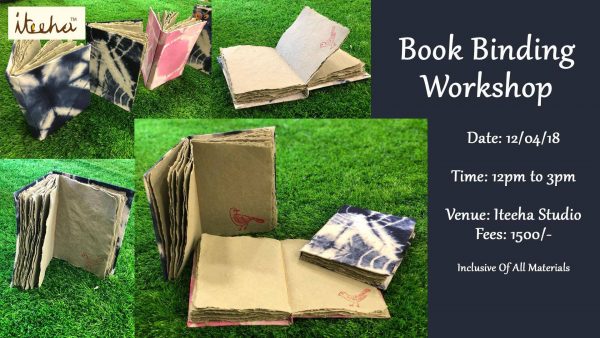 When: 12th April
Cost: Rs. 1500/-
If you know of any other activities that kids can join in for this summer vacation, do let our readers know in the comments below. Have you been to any such activities when you were a kid yourself? Leave your experiences in the comments below!
Image Credits: Z-BAC Adventures Institute, Quistic Learning Centre, Edufun Life School, Kreativ Surprises, Rachna's Funclub, Paatliputra Taekwondo Academy, Robotron, Play On, Youth India Organization, 
Latest posts by Vibha Sharma
(see all)