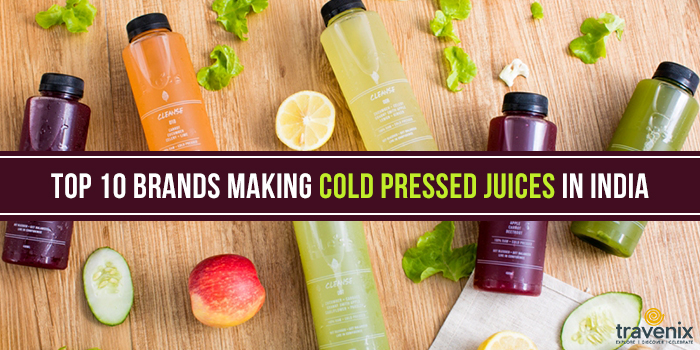 Top 10 Brands Making Cold Pressed Juices in India
Gone are the days when juice lovers were happy guzzling down juices that had artificial flavors and sweeteners in them. With a new wave of health conscious people constantly monitoring the food that's the best for their health, cold pressed juices have emerged as the new favorites.
More Than Just Pulp Fiction
For those who have no idea about this new trend, cold pressed juices differ from regular packed juices in the way they are preserved. Instead of traditional juicing methods, hydraulic press is used to extract the juices and they are then processed under high pressure, which means they have an extended shelf life and all the necessary vitamins from the fruits stay intact. These juices come in different flavors: fruits: greens and super-foods are all included. Check out the best cold pressed juices in India and see which ones you'd like to include in your daily diet.
1) Raw Pressery
The most popular of the lot, Raw Pressery made its way into the market in 2013. They started off with baby steps — initially they began home delivery in Mumbai and Pune with the help of Dabbawallas. From just eight juices, they now have a wide range of juices all split into 4 main categories which includes Benefits, Basics, Boosters and Soups. We love their Sugarcane juice as well as the Deep Cleanse Pack that is loaded with healthy ingredients.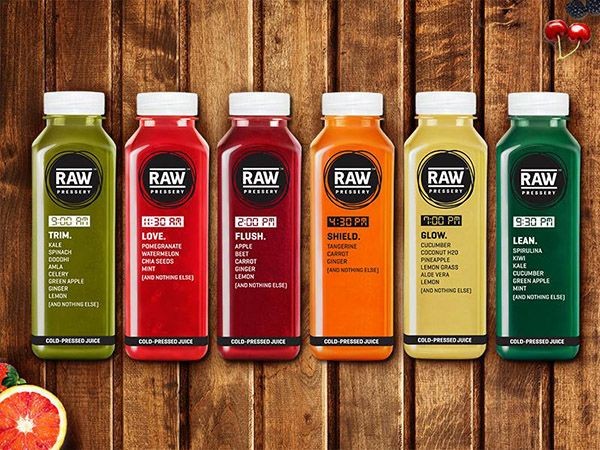 Where: Mumbai, Pune, Bengaluru, Hyderabad, Gurgaon and New Delhi
2) Rejoov
Placing a special emphasis on micro and macro nutrients such as essential vitamins, minerals, enzymes, and antioxidants, Rejoov's cold pressed juices make for great supplements to a meal. A Bangalore-based company, you can find its products at Natures Basket, MK Retail, Chef Kraft, Big Basket, Nilgiris, Namdharis, Food World and Foodhall. Their Hydra Flush and Watermelon with Ginger and Rosemary are our absolute favorites!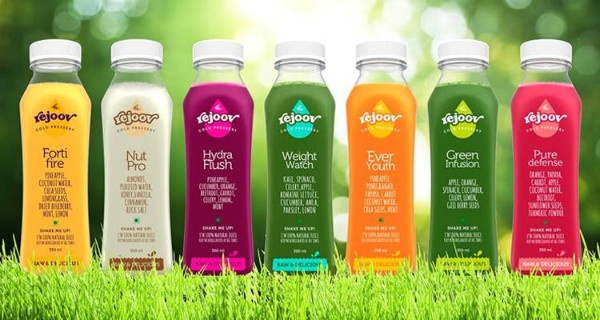 Where: Bangalore
3) Juicifix
Unarguably one of the best juice centers in Mumbai, Juicifix makes cold pressed juices really accessible too. Just take your pick from their menu and they will deliver it right at your doorstep. If you are looking to detox, try their Go Green and Pineapple Express cold pressed juices. While being extremely healthy, the combination of veggies and citrus fruits really brings out refreshing flavors in them.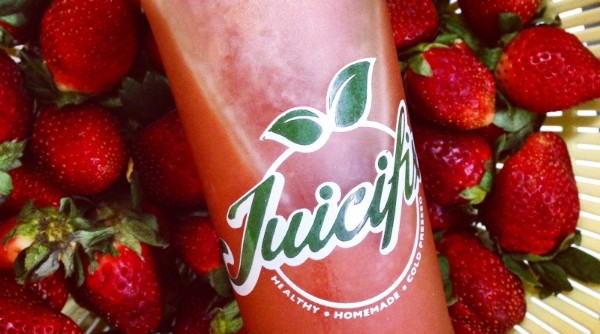 Where: Mumbai
4) Antidote
Whether you're hopping on the trend of sipping cold pressed juices for weight loss, healthier skin or a general body cleanse, Antidote has a special organic recipe whipped up for all your needs. Although the packaging looks like it is that of medicine, the taste is refreshing. They have a new Spring Cleanse for this season; don't miss out on it.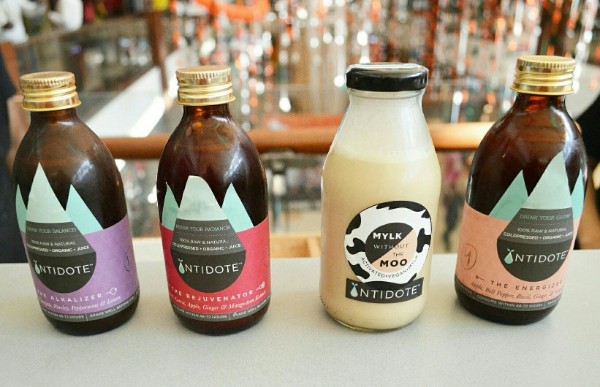 Where: New Delhi
5) Cleanse High
All of Cleanse High's juices were prepared only after consulting nutritionists, so they've ensured that all the vital vitamins and minerals are included in all their eight juices. All their juices are caffeine-free, organic and extremely nourishing. They recommend a day-long detox every week to rejuvenate your body.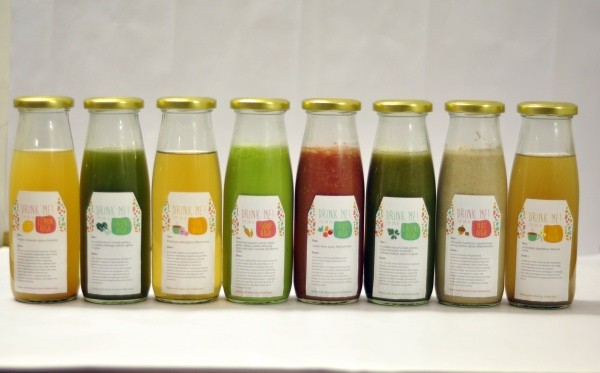 Where: Hyderabad
6) Fresh Pressery
Fresh Pressery has nine different cold pressed juices on offer, all of which are made of different combinations of vegetables with small doses of fruits. You can find their juices at the Fresh Pressery Cafes which are located at Koramangala and Lavelle Road in Bangalore. The cafe also has a delightful array of salads, smoothies, puddings and more.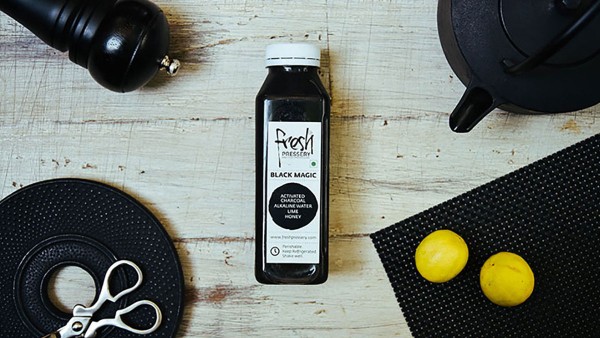 Where: Bangalore
7) Just Pressed
Just Pressed's juices are made to target specific body functions: Charge has a mix of cinnamon, coconut, cashew and chia to give you a boost of energy, while Bounce can work as an excellent juice that you can sip after a sweaty workout; it has an abundance of Omega 3 and Vitamin C. In total, they have nine juices and some other seasonal flavors. They also offer gluten free muesli, nut mixes and grains.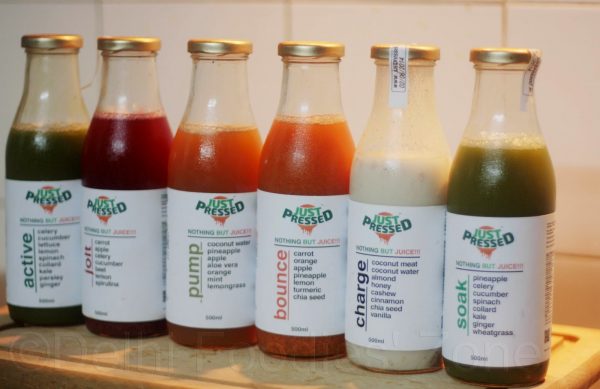 Where: New Delhi
8) Jus Divine
Jus Divine has four different categories of its juices — Only Fruits, Only Veggies, Fruits + Veggies Combo and Nut Milks. We are particularly fond of their Apple Beetroot and Carrot Juice combo in the Fruits + Veggies combo. If you're planning to go for a nutty milk, try their unique Coconut Kokum flavor; it is delightful.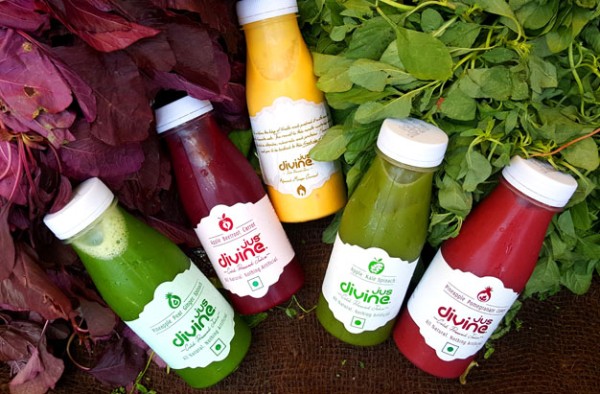 Where: Mumbai
9) Juice Up
Juice Up has eight different juices to cleanse, rejuvenate and nourish your body. Their immunity booster,  which is playfully named 'Hello Yello' is loaded with citrus. Pineapple, Pear and Sweet Lime combine to give a sweet and sour mix that is rather tasty. The Red-E-Steady juice, which has healthy ingredients like beetroot, turmeric, apple and ginger, is meant to provide tons of anti-oxidants, minerals and vitamins to your body.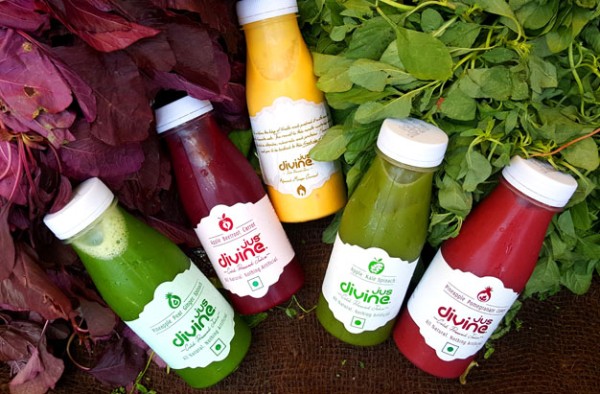 Where: New Delhi, Noida, Gurgaon
10) RawLeaf
RawLeaf has a bunch of healthy foods up its shelves: from fresh salads to wraps, shawarmas and leafy bags, they have it all. For those looking to switch to a healthy diet, they have a special 'Meal-A-Day' Plan which also includes cold pressed juices. They also have four basic monthly subscription plans with specific goals: Power Plus, Energy Cleanse, Basic Cleanse, Part Veg Cleanse are some of their offerings.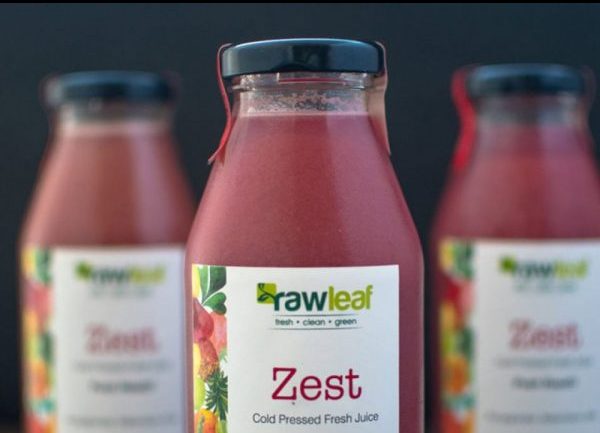 Where: New Delhi
Cold pressed juices are fast taking over the shelves in all supermarkets. have you tried one yet? Tell us which one is your favorite in the comments section below.
Image Credits: Elle Decor India, YourStory, RawLeaf, LBB, HungryForever, LetsBeOutdoorsy, Namaste Happiness, The Alternative, Bless Balance, Shopaholicx
Latest posts by Vibha Sharma
(see all)