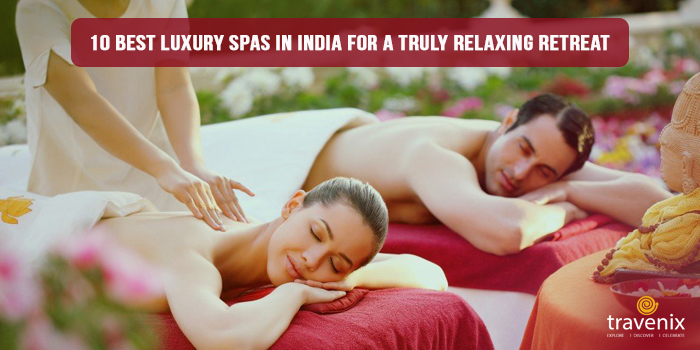 10 Best Luxury Spas In India For A Truly Relaxing Retreat
As city life is becoming more taxing on people's well-being and health, there are a number of people looking out to just take a day off or plan a vacation to detox themselves. Luxury spas are a great way to gift yourself a much-needed pampering experience; so it isn't really surprising that their popularity among tourists is also rising.
Re-Energize In The Lap of Luxury
Whether you are looking for centuries old Ayurvedic treatments to cure your back ache or just want to experience a relaxing massage, you'll find it all given to you amidst supreme luxury and opulence. Most of the spas are also in popular tourist destinations; so next time you're planning a trip, check out the best luxury spas near you.
1) Ananda In The Himalayas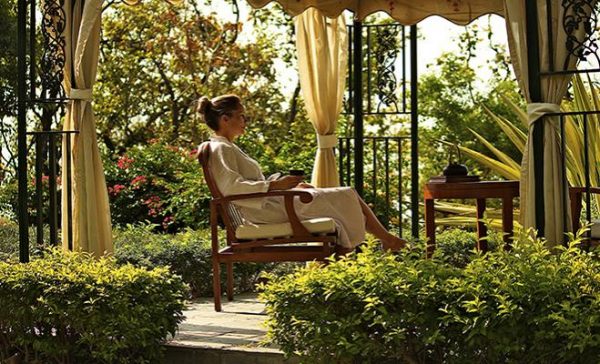 Located in the foothills of Himalayas, this luxury destination spa resort offers separate wellness programs targeted specifically for de-toxification, de-stressing, anti-aging, weight loss, and various other areas. Spread over 100 acres, it is surrounded by Sal forests and the Ganges river valley; offering a tranquil backdrop. Their programs integrate traditional Yoga methods, Ayurveda, Aromatherapy, as well as other Tibetan treatments for a holistic wellness experience. They also offer workshops on Chinese medicines, Buqi and other ancient practices from masters all over the world, but a minimum stay of 3 days is required to avail the spas' services.
Where: Rishikesh
2) The Maya Spa at the Zuri Kumarakom
Located on the banks of the beautiful Vembanad Lake, The Maya Spa spoils its guests for choice when it comes to spa treatments. They offer Oriental massage treatments, Ayurvedic treatments, therapeutic treatments, as well as hydrotherapy and other unique spa therapies. For a peaceful yoga session, head over to their Body Temple, which is serenely located in the middle of a lagoon.
Where: Kumarakom
3) The Oberoi Amarvilas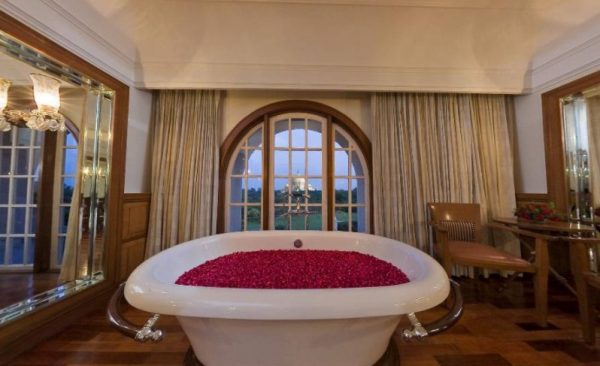 The Oberoi Amarvilas' Mughal architecture and grand interiors give off a vibe of supreme grandeur; and their spa only takes it a notch higher. Their dome roofed, white marble steam room is a place where you can enjoy some uninterrupted solitude; while at their therapy rooms, breathtaking views of the iconic Taj Mahal will keep you company. They have a multitude ofwellness treatments to choose from: specialty baths, Ayurveda-inspired rituals, touch therapies, skin care therapies are only some of the many options there.
Where: Agra
4) Sereno Spa at the Park Hyatt Resort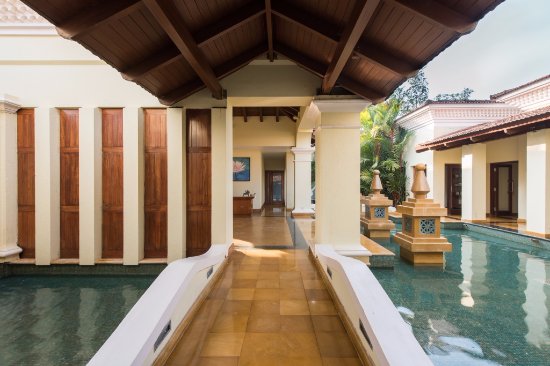 Sereno Spa promises a transformational experience for all its guests with its customized therapies that combine traditional Ayurvedic traditions with contemporary principles of energy healing. Indulge in an aromatic steam bath with your loved one or restore the radiance of your face with their mineral-based luxury therapies, or enhance your body's beauty with their saffron-infused milk massage; the possibilities for experiencing luxury at the Park Hyatt Resort are endless.
Where: Goa
5) Mayfair Spa Resort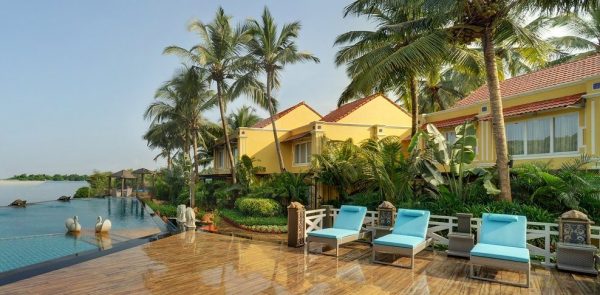 The Mayfair Spa Resort makes it to our list of top spas in India mainly because of its unique therapies: it claims to be the only spa in India that offers a 'Zero Gravity Bed' where you can relax while feeling the motion of sea waves on your bed. Its signature Cloud 9 treatment is again unusual; it treats you on dry floatation beds that will make your body feel light instantly. Apart from these, they have several packages that include beauty and salon services too.
Where: Goa
6) Wildflower Hall Spa at the Oberoi Shimla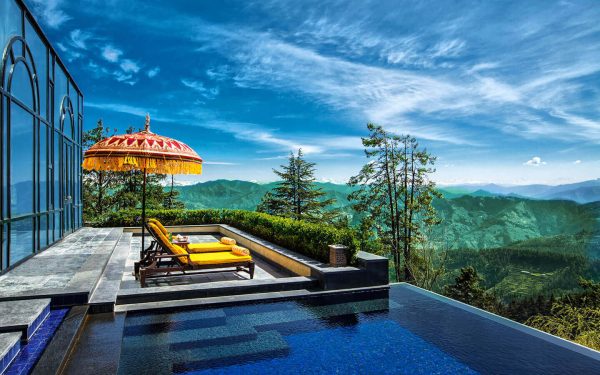 The Wildflower Hall Spa's picturesque location draws in tourists who are looking for a luxurious experience. Living up to the Oberoi name, their spa offers some of the best services, some of which you can enjoy while absorbing in the idyllic views of the Greater Himalayas. Their spa services menu has a mix of traditional Ayurvedic treatments along with Oriental therapies and aromatherapy. As an extension of their wellness programs, they also offer body scrubs, Himalayan cedar baths and other similar beauty treatments.
Where: Shimla
7) The Khyber Himalayan Resort & Spa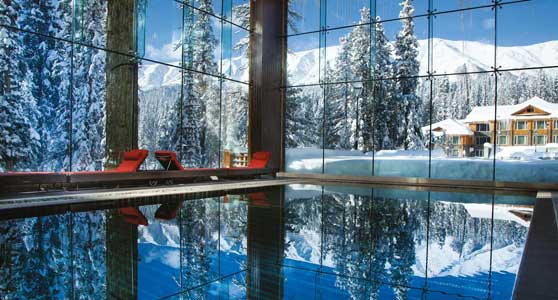 At the Khyber Spa, you can soak in the stunning views of the Himalayas as you embark on a holistic well-being experience. Their anti-ageing facial massages and indulgent body massages combine the best of the east and the west; you can choose from massages inspired by Swedish, Hawaiian, Balinese and Shiatsu techniques. Their soothing steam baths, revitalizing aroma therapies and body toning treatments are highly recommended for those looking for a pampering session that will reinvigorate the body.
Where: Gulmarg
8) Amanbagh Spa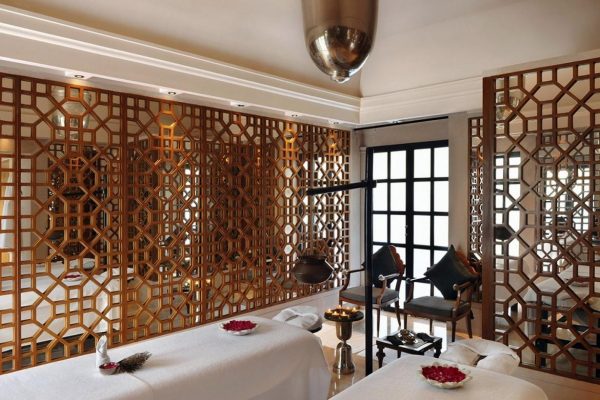 Amanbagh Spa stays true to the typical Rajasthani grandeur and hospitality and goes to great lengths to ensure that your experience is truly luxurious. Their massages incorporate a combination of Swedish and deep tissue techniques done with herb infused oil; so while you feel relaxed, your skin takes the goodness of herbs. They also have special sessions for henna and yoga, and are also open to special requests to accommodate your needs.
Where: Alwar
9) The Roseate Aheli Spa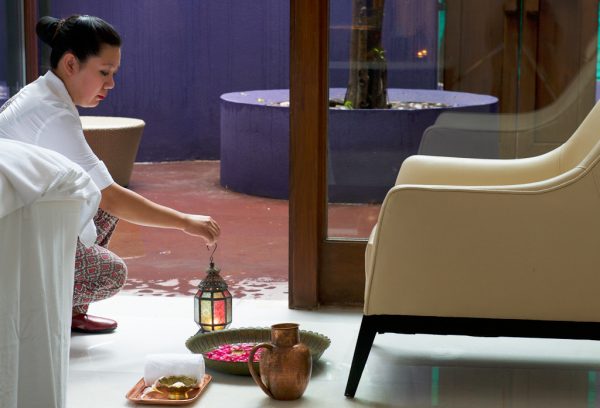 Nestled among soothing greenery in the outskirts of New Delhi, the Aheli Spa believes that nature has a unique healing power; so some of their wellness therapies are even conducted outdoors. For the more reserved, they have the regular indoor treatments as well. Their a la carte massage menu has Swedish, Thai, Ayurvedic, Aromatic and other therapies.
Where: New Delhi
10) Kaya Kalp Spa The Royal Spa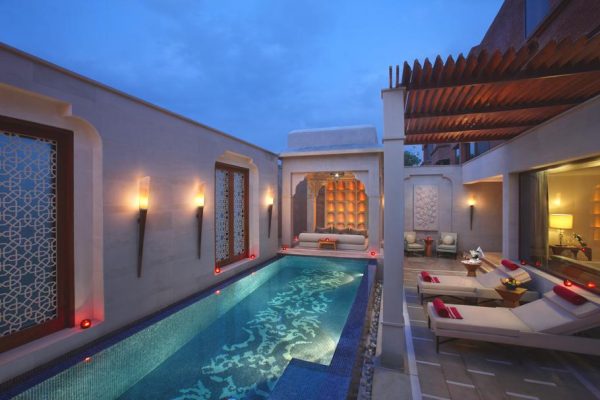 Located in the premises of the ITC Mughal Hotel in Agra, everything about the Royal Spa is grand. From the opulent interiors to their unique gemstone treatments that promise to set your chakras right, you won't feel pampered any less than royalty. Along with a number of Ayurvedic treatments, the spa also offers hamam, where indigenious herbs are applied all over the body.
Where: Agra
Nothing completes a good vacation like a luxurious spa. If you've been to any of these or are planning to pamper yourself with a spa day, do let us know about it in the comments sections below. If these destinations seem too far away for you, check the best luxury spas in Mumbai, for a taste of luxury near you.
Image Credits: Oberoi Hotels & Resorts, Spabulous, Mayfair Hotels & resorts, Trip Advisor, PG Patki Architects, Zuri Resorts, Ananda.roomdeals, Outlook India, Khyber Hotels, Luxury Launches, Luxury Magazine
Latest posts by Vibha Sharma
(see all)