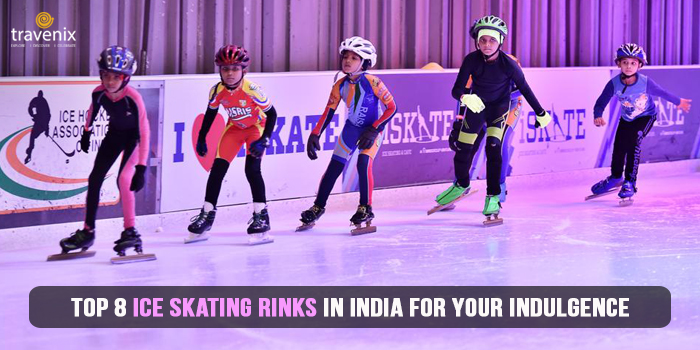 Top 8 Ice Skating Rinks in India For Your Indulgence
Summer is almost here and the sun has started shining bright and unleashing its heat on all of us. It is that time of the year again when we need to go to different places to cool off and fight off the summer heat. Other than ice creams and ice cold summer drinks, there's more ways to cool off during this heat, and here's something you must try!
Beat The Heat
The summers are harsh in India and an ice cream or a cold drink is not enough to fight off this heat. However, there are a huge number of ice skating rinks and snow parks that have opened up in the country to help you beat the heat.
1. Snow World Mumbai
One of the best fun places in Mumbai, the Snow World in Phoenix Market City is one of the largest artificially created snow parks in the country and also has a huge ice skating rink where you can skate, slip, fall, get up and skate off again in the chilled environment of this place.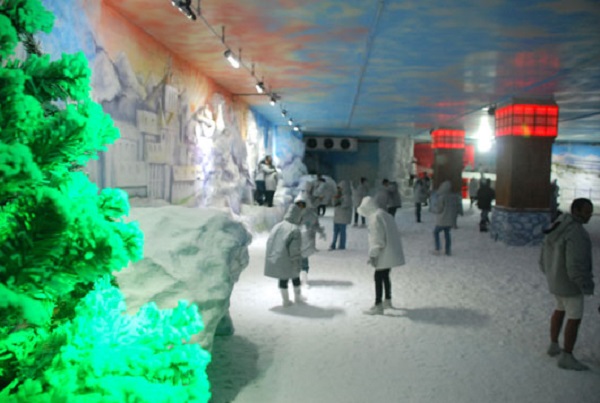 Where: Ground Level 58 – 61, Phoenix Market City Mall, Between Atrium 2 & 6, 15 L.B.S. Marg, Kamani Junction, Kurla West, Lal Bahadur Shastri Road, Mumbai, Maharashtra 400070
2. Essel World
This theme park located in Gorai is a great place for the people of Mumbai to have a great fun day outside the city. Not only does this park have some thrilling rides, but also a small ice rink where you can practice your skating skills on solid ice. You could also go to Water Kingdom and have a day out on the water rides.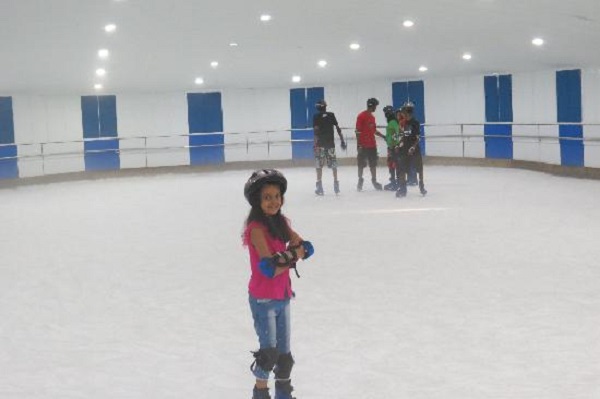 Where: Global Pagoda Road, Gorai, Borivali West, Mumbai, Maharashtra 400091
3. iSkate
This indoor skating rink is located in the Ambience Mall in Gurgaon. It is probably the only indoor ice skating rink in the northern region of India. Rest of the rinks are all located outdoors. The rink also has a cafe next to it for cooling off post the heavy skating session. You can enjoy some beverages by the rink here too.

Where: 6th Floor, Ambience Mall, National Highway 8, Gurugram, Haryana 122001
4. Sparkys Ice Skating
Probably the only ice skating rink in south India, this place in Kerala is a favorite of many with a beautiful roof that always keeps changing; sometimes with colorful umbrellas or maybe even designs of various colors. You can spot learners coming here and falling while skating and then getting back up to learn this amazing sport.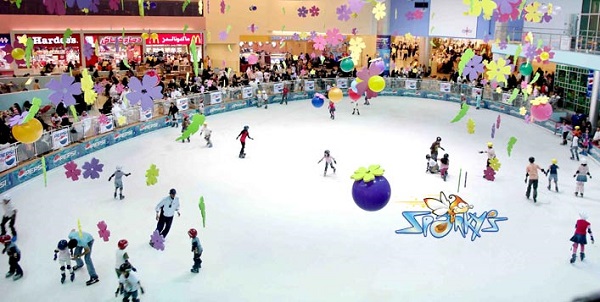 Where: Lulu Mall NH 17 Entrance, Nethaji Nagar, Edappally, Ernakulam, Kerala 682024
5. Shimla Ice Skating Rink
This is an outdoor ice skating rink in Shimla, and it is the only natural ice skating rink of India that is easily accessible. Founded way back in 1920, the Shimla Ice Skating Club is the oldest ice skating club in India and South East Asia. This place attracts huge crowds during winter days when the ice rink is in its complete form!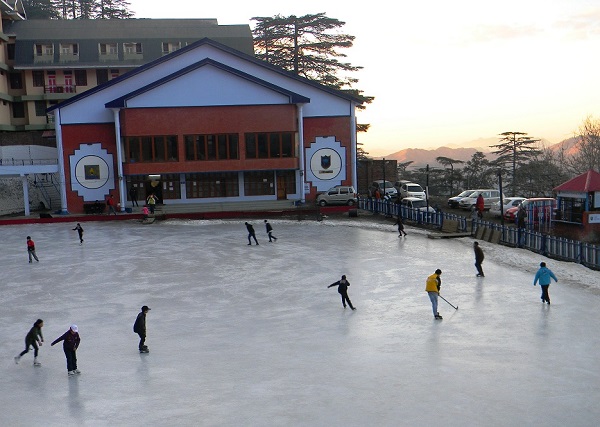 Where: Circular Rd, Shimla, Himachal Pradesh 171001
6. Ice Skating Gulmarg
The Switzerland of India is definitely a place you can't miss out for ice skating. You can find this ice skating rink right next to the cable car station in Gulmarg, right in the middle of the city. The city is always cold, and hence the open ice rink remains open throughout the year. This is easily overshadowed by the skiing attraction here, but this sport is just as much fun.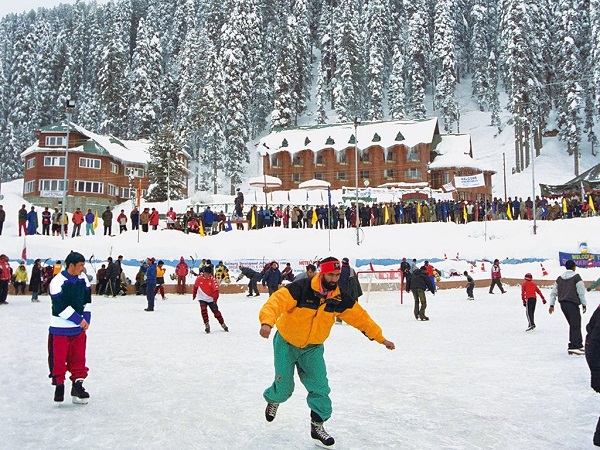 Where: Next to Gondola Base Station, Gulmarg, Jammu and Kashmir
7. Ice Skating Rink Pahalgam
The beautiful region of Pahalgam has a new ice rink that just opened up two years back and also features a roof with cool infrastructure like lights and night skating facilities! This place attracts tourists throughout the year and is always filled with people coming to Pahalgam.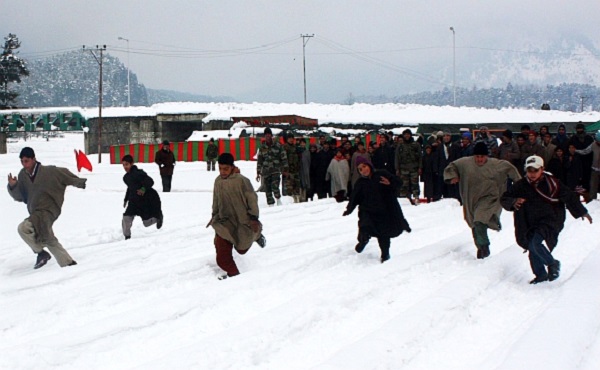 Where: Nunwan, Pahalgam, Jammu and Kashmir
8. Ice Skating Leh and Ladakh
While there is no fixed place in Leh and Ladakh to do ice skating, the chilling temperatures at this location are the reasons for many lakes freezing and becoming natural ice rinks where you can skate in the backdrop of beautiful mountain ranges and enjoy the beauty of nature.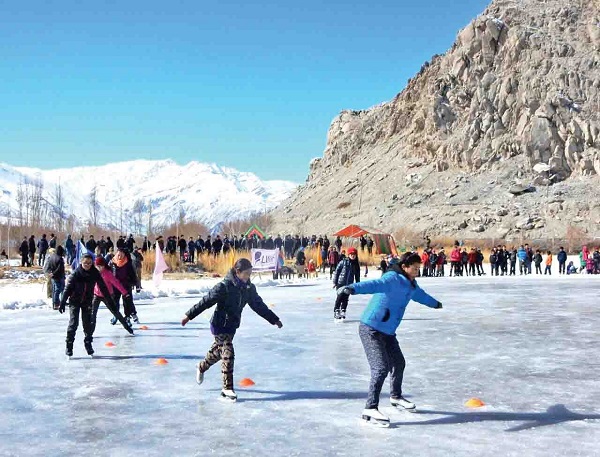 Where: Leh and Ladakh
Apart from these, India's only world standard ice sports facility, The Doon Ice Skating Rink located in the Maharana Pratap Sports Complex is the largest in the country, measuring 60 m by 30 m, with a seating capacity of 3000 people. However, this rink has remained closed for the past 8 years. Let's hope it opens soon, again!
Ice skating is a sport that is not very widely present in India and is one that should still be explored by everyone not just professionally, but even as a hobby or activity. Even one short session of ice skating is enough to light up one's interest in the sport. If you've given this a shot, do let us know your experiences in the comments below!
Image Credits: iSkate, Erco Travels, Rediff, Nat Geo Traveller India, TripAdvisor, MissMalini, The OK Travel, Cobone, BookMyShow
Latest posts by Vibha Sharma
(see all)