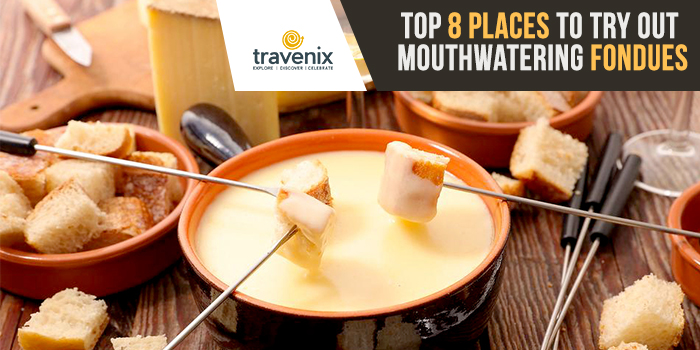 Top 8 Places To Try Out Mouthwatering Fondues
The Swiss are a lot that loves all the fine things in life. Wine, chocolates, watches, and cheese — we're thankful to them for giving the world the best of these. Among these tasty offerings, the crowning jewel is definitely their fondue.
On A Fondue Trail
Originally, the idea for this dish was conceived when people were looking for ways to use their stale bread and cheese. Initially, the dish was just very simplistic — dunking leftover bread in molten cheese. As the trend caught on, people took their creativity one notch higher and came up with chocolate fusions and regional versions.
1. Häagen-Dazs
Häagen-Dazs's reputation as a chocolate heaven lives up to its expectations when it comes to their exotic European Fondue. It is really a dessert melange that includes cakes, macaroons, waffle pieces, crepe slices, and an assortment of mini scoops of Belgian Chocolate, Cookies & Cream, Vanilla & Strawberry ice-cream and melting Dark Chocolate. It's really expensive, so reserve this dish for a special occasion.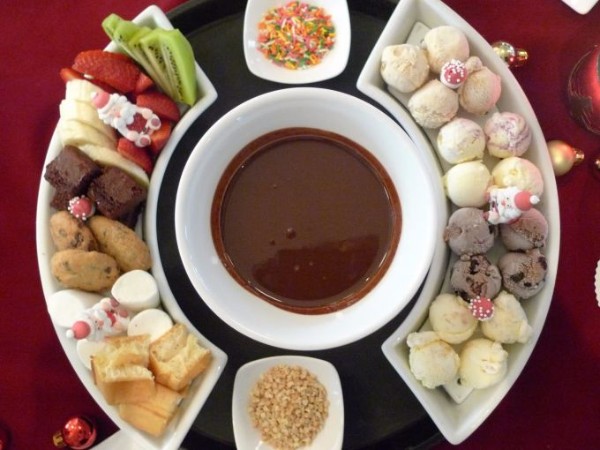 Where: Ground Floor, City Park, Hiranandani Gardens, Powai, Mumbai
2. MRP
MRP's version of a fondue has all the makings of a star-dish: it is exotic, yet local. Their Vada Pav Fondue is a creamy and cheesy take on the city's street food staple and ranks high on the uniqueness quotient. Mini versions of vada pavs that are stuffed with masala are served with a yellow sauce that has cheese in abundance. For an extra spicy touch, bite into a raw chili and let your taste buds go on a tingling experience.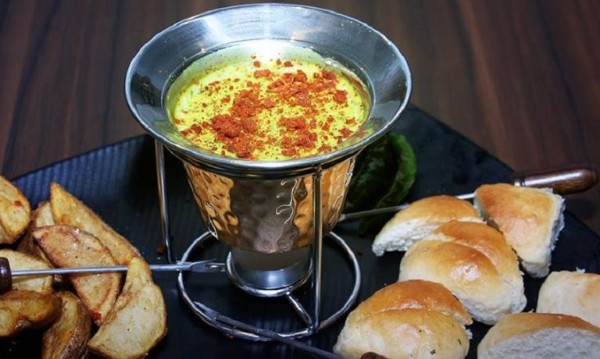 Where: 3rd, Floor, Om Heera Panna Mall, Oshiwara, Andheri West
3. Spice Klub
Pav Bhaji has the perfect makings to fit into the fondue template — the light and airy buns can replace the bread, while bhaji fills in for the cheese. The combination is already a thorough winner, and when you add the signature touch of fondue and a garnish of onions to it; it gives you a fusion dish that is local and exotic, in equal parts.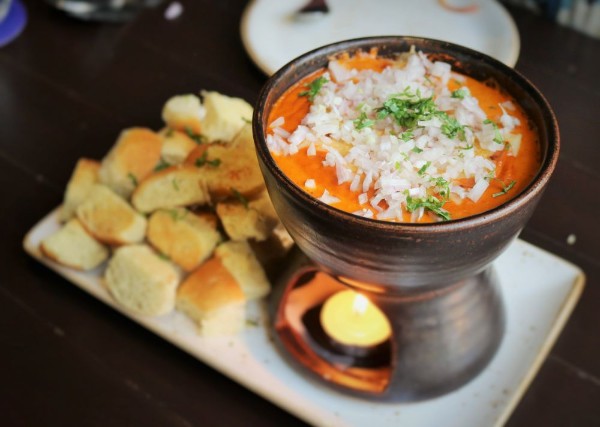 Address: 8A, Janta Industrial Estate, Opposite Phoenix Mills, Senapati Bapat Road, Lower Parel, Mumbai
4. Out Of The Blue
Out Of The Blue has a special section dedicated to different types of fondues; you get to choose from Chicken and Ham Fondue, Fiesta Cheese Fondue, Cheese Fondue, Desi Fondue and Out of The Blue Crack Pepper Fondue. Their signature crack pepper fondue brings together cheese and wine, a classic combination, along with garlic, black pepper, and nutmeg. It's a rich blend of flavors that are not too strong, yet they stand out distinctly.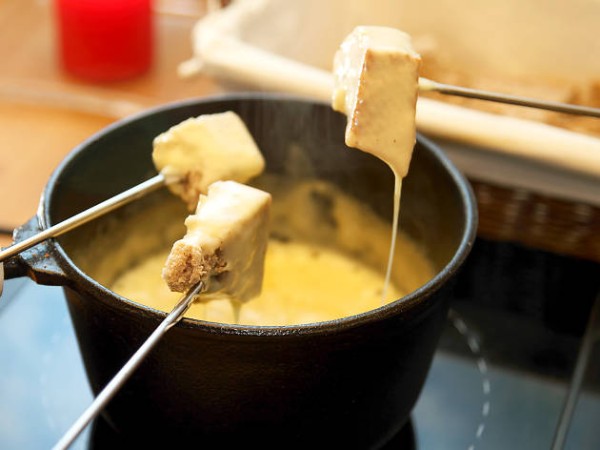 Where: Le Sutra Hotel, 14 Union Park, Off Carter Road, Khar West, Khar
5. Chocolateria San Churro
Chocolateria San Churro gets the credit for popularising churros in the city. The original dish is a savory fried snack made out of pastry dough that is eaten with melted chocolate sauce; but at Chocolateria San Churro, you get to play around with the rules a bit. You can add brownies, marshmallows or seasonal fruits and couverture chocolate for an added burst of flavors.
Where: 11, Silver Pearl, Waterfield Road, Linking Road, Bandra West
6. Ovenfresh
Ovenfresh's Italian and Mexican dishes often overshadow their French and Swiss offerings, but if you're willing to be a little adventurous and experimental, do give them a try; you won't be disappointed! Their Classic Swiss Fondue is like a hug served on a plate — the warm and creamy fondue gives the dish some smoothness, while the white wine adds a hint of flavor to it.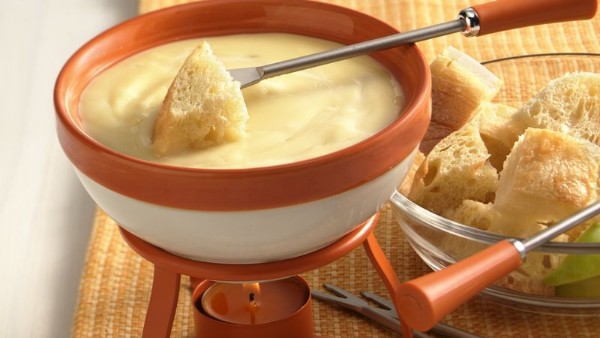 Where: Kiran Building, Ranade Road, Dadar Shivaji Park
7. The Irish House
The Irish House's collection of beers and lively ambiance is what makes it a popular hangout place, and staying true to their style, their fondue too has a touch of beer to it. The creamy cheese sauce is spiked with beer and is served with mushrooms, roasted potatoes, tomatoes, toasted focaccia croutons and fresh fondue bites. The same dish also has a spicy version with jalapenos replacing beer.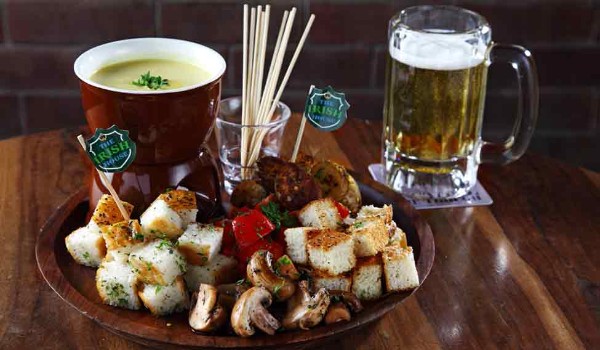 Where: Lower Parel, Malad West, Thane, Veera Desai Road, Fort, Bandra, Kurla, BKC
8. Harry's Bar + Cafe
If you're feeling guilty about stacking up all those calories with a cheese fondue, Harry's Bar + Cafe has a way of convincing your conscience. Their cheesy fondue comes with charred broccoli; so you can tell yourself you're eating healthy too! Their Cheesy Veg Fondue includes charred broccoli, paneer bits and baby corn which are all served with croutons that have a strong aftertaste of garlic. It's an innovative burst of flavors that works effortlessly well together.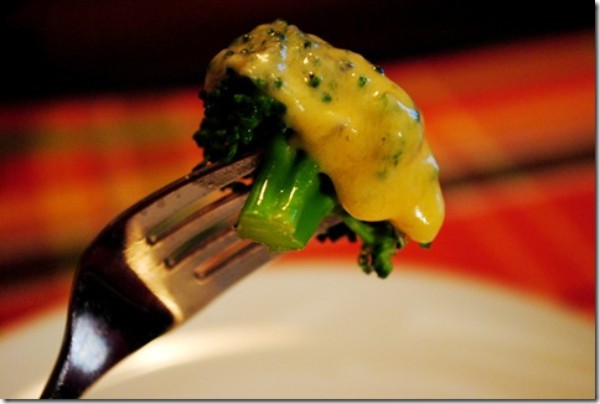 Where: Powai, Juhu
Do you know of any other fondue varieties or any other places that have great fondues in Mumbai? Use the comments section below to send in your recommendations and suggestions to us. We'll be happy to try out all the new places in town!
Image Credits: Vicinto, Foodspotting, Time Out, Pout Pretty, Betty Crocker, The Week, Wisconscin Cheese Talk, 30 Seconds
Latest posts by Vibha Sharma
(see all)