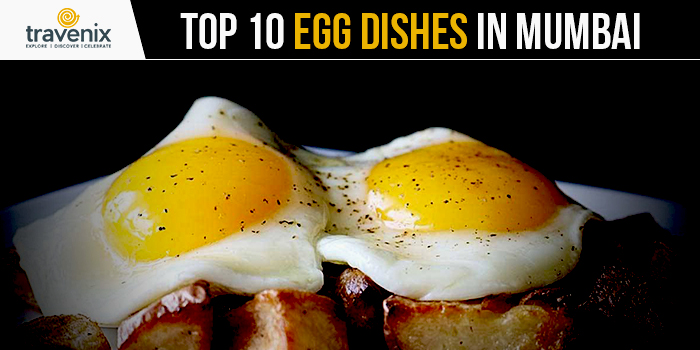 Top 10 Egg Dishes In Mumbai
When you're looking for a quick breakfast, there's no better savior than eggs. While sunny side up, boiled eggs and egg omelets are the preferred choices because they are easy to make and extremely healthy, there are a lot more egg dishes out there to explore.
Let's Get Yolked!
Being a versatile food option, each region and culture around the world has its own unique way of incorporating eggs into their diet. From the classic American Eggs Benedict to the Middle Eastern-styled shakshouka or the latest fusion of Maggi and eggs, Mumbai has everything for the ultimate egg-lover. Join us as we head out to explore the best egg preparations in Mumbai.
1. Eggs Florentine
Often confused with the American brunch-menu favorite, Eggs Benedict, this dish is just a slight variation of it. The basic recipe remains the same for both: two halves of an English muffin are topped with a poached egg and hollandaise sauce.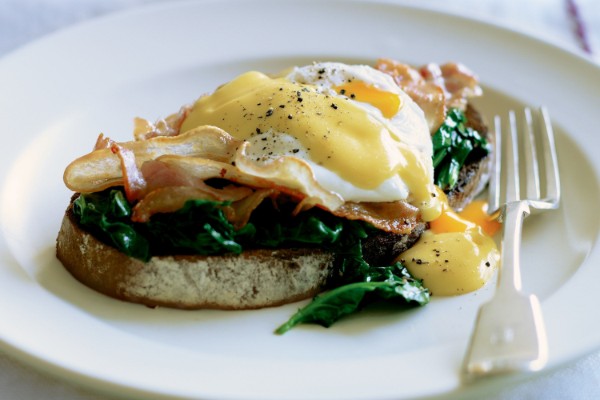 Eggs Florentine's recipe tops this up with spinach and sometimes mushroom cream and artichokes, while Eggs Benedict is mostly just bacon or ham. Some places also experiment by topping it up with salmon, hash browns and more.
Recommended places: Indigo Deli, The Pantry, Smoke House Deli
2. Eggs Kejriwal
Eggs Kejriwal may seem like it has a hidden political connection with Mr. Arvind Kejriwal, but the dish has been a popular one in Mumbai even before he entered the political scene. Willingdon Sports Club in Mumbai is accredited with coming up with this simple dish. One of their patrons, whose family was a strict vegetarian, got a liking to this simple dish, and that is how 'Kejriwal' got added to the name itself.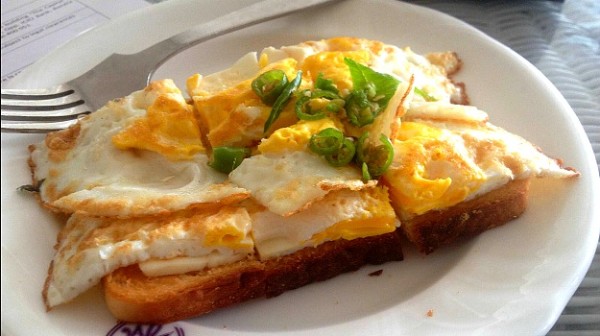 The dish is something that all people with just basic culinary knowledge can prepare at home: it has eggs on toast with a lot of cheese splattered in between and a dash of green chilies added on top.
Recommended places: Willingdon Sports Club, The Bombay Canteen, Soda Bottle Openerwala
3. Shakshouka
Shakshouka is a recipe that originated in Tunisia but has caught the fancy of much of the Middle East and North Africa. In this dish, eggs are poached in a spicy vegetable stew of tomatoes, chili peppers and onions.
More spices, herbs, and cheese are also added according to taste. Although it is more of a brunch item, it is available at a few places with salads and slices of bread for dinner as well.
Recommended places: Le Cafe, Bohemian Brew, Grandmama's Cafe
4. Egg Biryani
Biryani is an evergreen classic that is equally popular in North as well as the South regions of the country. Each place has its own unique spin to it, and while Egg Biryani may not be very different from the regular one, it is equally delicious.  It is a dish that is made with the best of Indian spices and the richness of boiled eggs.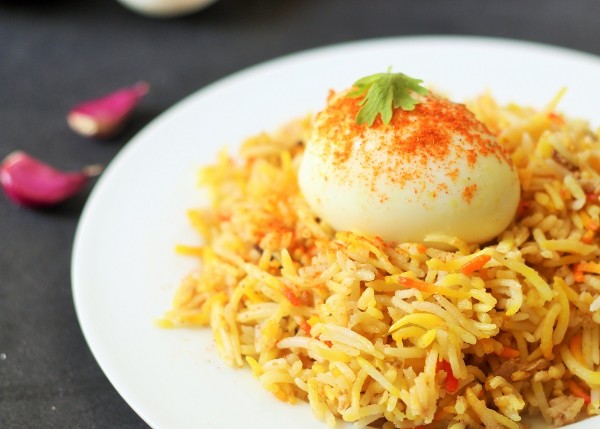 Recommended Places: Go Biryan, AndaMental, Jaffer Bhai's Delhi Darbar
5. Sali Par Eedu
A traditional breakfast recipe from Parsi cuisine, Sali Par Eedu is made by layering up deep fried potato juliennes, to which tomatoes, coriander, pepper and eggs are added. Some prefer to top it up with baked beans as well, to make it more filling. It is a dish for those who are looking up to add some carbohydrates and protein to their diet.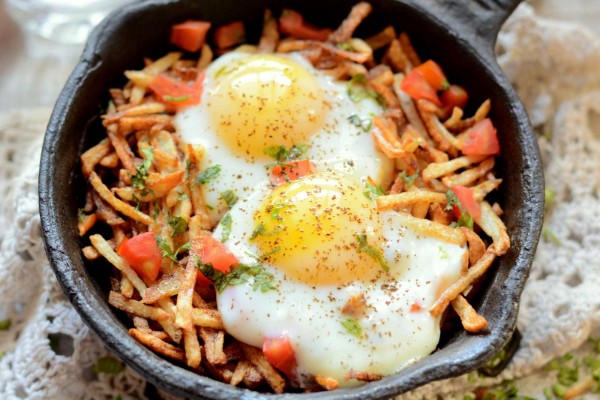 Recommended Places: Jimmy Boy
6. Akuri
Another Parsi favorite, Akuri is a spicy take on the classic scrambled eggs recipe. This dish is cooked with a mixture of spices and the eggs are cooked enough to be soft and slightly runny. It is served with bread and salad and usually garnished with coriander.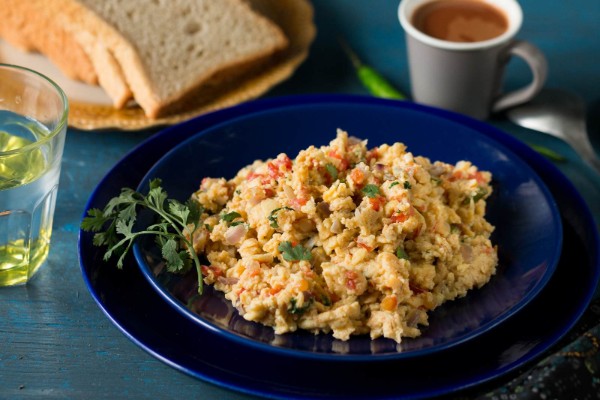 Recommended Places: Cafe Irani Chaii, Kyani, Britannia & Co
7. Egg Dosa
Dosa and eggs are two versatile dishes that surprisingly go well even together. The dish is simple — crispy dosas are filled with a half fried egg inside. Sometimes they are even double fried, according to preferences. It's a healthy breakfast combo that will give your body a good boost of energy right from the start of the day.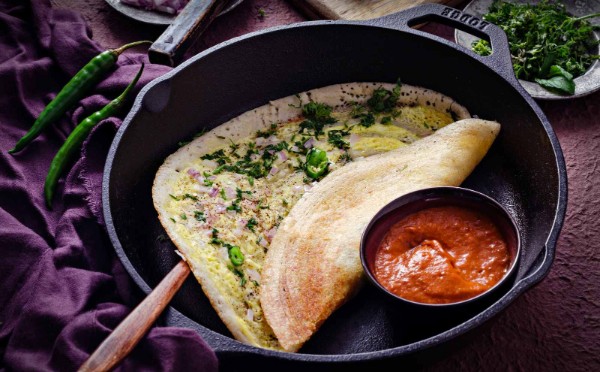 Recommended Places: Eggsplore, The Eggelicious
8. Egg Rolls
Egg Rolls are the perfect dish to experiment. While the basic recipe is just limited to wrapping beaten eggs in a parantha or a roti, there is a lot to play around with by adding salads and spices. Each place serves it with a different sauce too, which only adds to the flavor.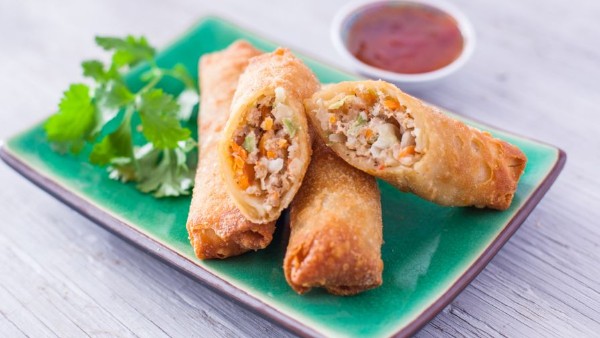 Recommended Places: Anda Apna Apna, Prithvi Cafe, Hangla's
9. Egg Curry
A few spices, onions, tomatoes, eggs and a handful of Indian spices is all it takes to dish out the ultimate comfort food. Egg Curry also differs in taste depending on the region of India that you're in. In South India, you might find coconut milk and bay leaf added in some recipes, while in the North, kasoori methi and cream are preferred. Mumbai has a mix of both, along with Nizami and chicken egg curry varieties.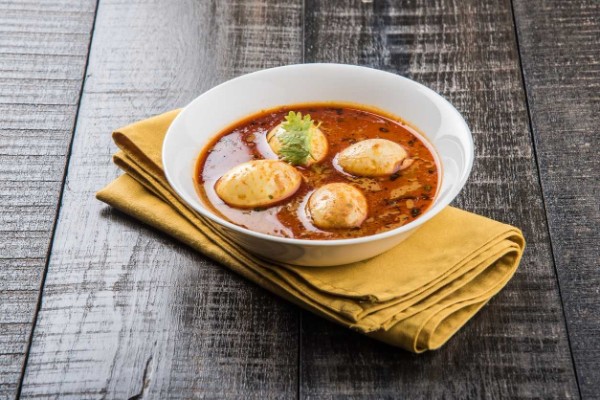 Recommended Places: Everyday Anday, Egg Factory
10. Baida Roti
This Mughlai dish can be a filling meal in itself as it has eggs as well as minced mutton or chicken in it. These are stuffed inside paranthas and are shallow fried on a tava. It's like an egg pocket that can also be served with chutneys.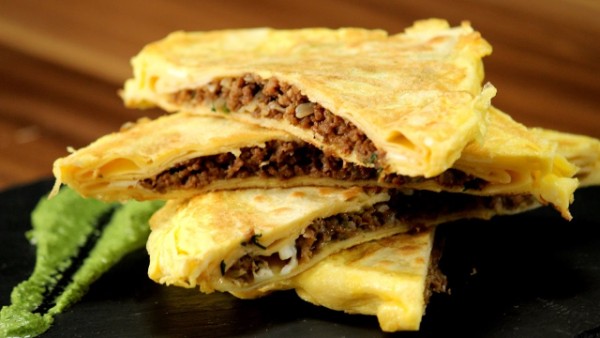 Recommended Places: Ayub's, Bade Miya
What are your favorite egg dishes? Do share them with us along with your recommendations for the best places to eat in Mumbai, in the comments section below.
Image Credits: Sanjeev Kapoor Khazana, NDTV Food, Archana's Kitchen, Genius Kitchen, Fas Kitchen, Taste.com.au, Home Cooking Adventure, Hungry Forever
Latest posts by Vibha Sharma
(see all)