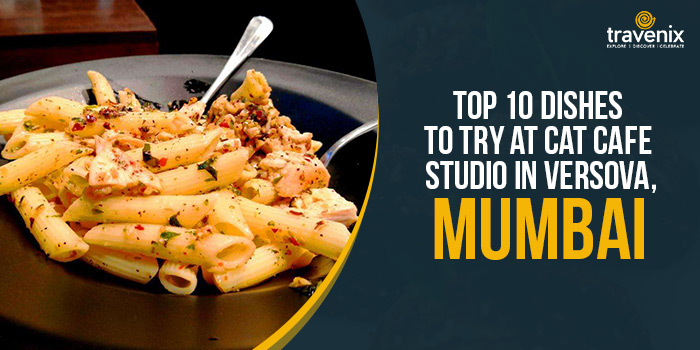 10 Must Try Dishes at Cat Cafe Studio in Andheri West, Mumbai
The experience of playing with cats and enjoying delicious food is truly one of a kind! What if I say that there is a cafe in Mumbai where you can find delicious food and furry friends? Surprised? The Cat Cafe Studio in Versova, Andheri West is one of a kind cafe that is home to many cats that are eager to find a new home.
Cat Cafe Studio is a cosy cafe that helps you spend some amazing time with scrumptious food, amiable furry friends, good books, and free Wi-Fi. Can you find a better place for any cat-lover in Mumbai?
10 Most Popular Dishes at Cat Cafe Studio
Enjoy some delicious light-meals and refreshing drinks with your furry companions at Cat Cafe Studio. Here's our recommendations:
1. Nutella and Banana Bagel
Nutella lovers, this is divine for you! Bagels are delightful, and when they are combined with Nutella, the taste is just extraordinary. The sweet taste of the banana lends the Bagels a home-made taste. The Nutella and Banana Bagel is the star of Cat Cafe Studio, that will win your heart.
Cost: ₹170
Travenix Ratings: 4.5/5
2. Cream Cheese Bagels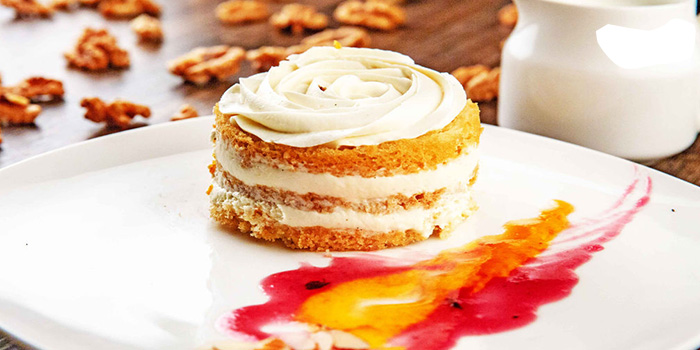 Here's yet another tempting Bagel from Cat Cafe Studio. The Bagel topped with Cream Cheese is worth trying. Every bite of the flavourful Cream Cheese Bagel is to be relished while enjoying the company of the friendly cats. 
Cost:  ₹130
Travenix Ratings: 4.4/5
3. Barbeque Chicken  Pizza
The unbeatable taste of Pizza makes it irresistible during any time of the day. If you love non-vegetarian food then, nothing can be better than Barbeque Chicken Pizza. The smoky flavours of the barbequed chicken pieces along with creamy mozzarella that melts in the mouth is pure joy for the pizza lovers. The excitement of seeing the strings of mozzarella cheese when each slice of pizza is pulled out is incomparable, not just for kids but also for grown-ups.
Cost: ₹250
Travenix Ratings: 4.4/5
4.  Aglio e Olio Pasta
If you think that only dishes that are loaded with spices can be flavoursome, then you must try Penne Aglio e Olio. This dish will convince you that simple dishes can also be equally delicious. The humble pasta recipe with minimal ingredients like fresh garlic, olive oil, fresh parsley and parmesan cheese is a great healthy option. The aroma and taste of the fresh ingredients enhance the taste of the pasta. 
Cost: ₹299 (Veg), ₹349 (Vegan) and ₹359 (Non-Veg).
Travenix Ratings: 4.3/5
5. Hot Chocolate
The creamy and chocolaty Hot Chocolate from Cat Cafe Studio is sinful. The Hot Chocolate is a popular beverage that is loved by most millennials. Leisurely sip on the Hot Chocolate as you pat your furry friend beside you.
Cost: ₹140
Travenix Ratings: 4.2/5
6. Cheesy French Fries
Forget your diet for a day and please your heart for once in a while! French Fries are always tempting, and when a generous amount of cheese is topped upon them, it becomes irresistible. Cheesy Fries are ideal to satisfy your cravings for some sinful snacks. Nothing can be better than enjoying the Cheesy French Fries and some playful time with feline friends.
Cost: ₹200 (Veg), ₹250 (Vegan) and ₹260 (Non-Veg)
Travenix Ratings: 4.2/5
7. Cool Blue Lemonade
The intense blue colour of the Cool Blue Lemonade is the instant eye-catcher. To all the lemonade lovers, a visit to Cat Cafe Studio is incomplete without having to enjoy their variety of lemonade. This refreshing drink is best enjoyed with the company of the French Fries.
Cost: ₹150
Travenix Ratings: 4.1/5
8. Lemongrass Cooler
If you are looking for a refreshing drink that can quench your thirst, then Lemongrass Cooler is a perfect choice. The citrus flavoured lemongrass has some excellent health benefits associated with it. Lemongrass Cooler is a perfect drink to beat Mumbai's heat. (georgetownallure.com) If you are looking to try out some new drink, then this Lemongrass Cooler is a must-have.
Cost: ₹160
Travenix Ratings: 4.1/5
9. Green Apple Iced Tea
Iced Tea is always refreshing! This healthy drink satisfies your thirst and cools you down on any hot day. For all those who love Iced Tea, try the Green Apple Iced Tea at Cat Cafe Studio, which boasts of a perfect blend of sweet and sour flavours.
Cost: ₹160
Travenix Ratings: 4/5
10. Chicken Hummus Grill
Chicken Hummus Grill is an excellent option if you are looking for something that is filling and nutritious. The creamy hummus enhances the succulent taste of the chicken. If you love hummus, Chicken Hummus Grill won't disappoint you. You can relish this dish with the ample variety of bread options available in Cat Cafe Studio.
Cost:  ₹200 (Brown/ Multigrain), ₹250 (Panini/ Garlic/Focaccia)
Travenix Ratings: 4/5
Conclusion
If you love cats, then Cat Cafe Studio must be ticked from your bucket list at the earliest. If you have already fallen for one of those furry friends while munching on something, then you can take it home.  So if you are looking to adopt cats or spend some quality time with cats in Mumbai, I hope you now know the exact place to be in.
The lovely ambience of Cat Cafe Studio will attract you to visit it again. If you have visited Cat Cafe Studio before, then please share your experience in the comment section below. Also, if you know any other place in Mumbai where the feline lovers can spend time with cats, then do let us know by commenting below.
Image Source: TripAdvisor, Zomato, Zomato, Dineout, Zomato, Zomato, Zomato, Zomato, Zomato.
Latest posts by Fateha Firdaus Barbhuiya
(see all)