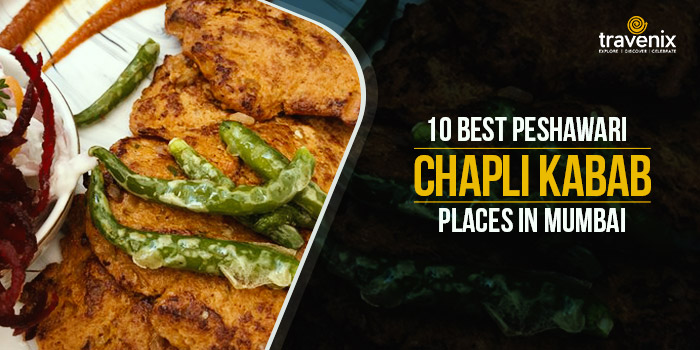 10 Famous Chapli Kebab Restaurants in Mumbai
Who doesn't love succulent kebabs? There's so much flavour and taste to it that fans come from far away places just to get a bite of their favourite kebabs. A traditional dish loved by many, kebabs have found their way into Mumbai's sprawling food scene.
Mumbai has some of the best kebabs in the country, one of the variations is the "Chapli Kebab". Also known as the "Peshawari Kebab", the kebab finds its origin in Pashtun, where the word "chapli" means "flat".
Best Chapli Kebabs In Mumbai
There is no dearth of good kebab places in Mumbai. What separates chapli kebab from others is the minced mutton or chicken meat that is spiced, for a memorable culinary experience. Here's a list of some of the best chapli kebab places in Mumbai.
1. Kareem's
Kareem's is perhaps one of the best places in Mumbai to get your hands on succulent Chapli Kebabs. Not only is Kareem's an institution when it comes to the kebabs; they also live up to their hype with the quality and service. While we love their Santacuz outlet, they have around 11 outlets all over Mumbai.
Location: 2, Gwens Premises CHS Ltd., Kalina Kurla Road, Opp Prakash Jewellers, Kalina, Santacruz East, Mumbai
Cost: Rs.500 for two
Timings: 11 am to 4 pm, 6.30 pm to 12.30 am
2. Biryani Hazir Ho
Who can say no to a delicious plate of biryani? Especially if you get to order a side of meaty and flavourful chapli kebabs. This delivery outlet in Versova will satiate all your kebab cravings in the comfort of your own home. If you're in or around Versova, the chapli kebabs from here are not to be missed.
Location: Shop 2, Juhu Versova Link Road, Kapaswadi, Versova, Andheri West, Mumbai
Cost: Rs.550 for two
Timings: 11 am to 12 midnight
3. Chenab
Folks in Navi Mumbai need not worry as they too can enjoy some mouth-watering kebabs without having to travel a lot. Chenab in Vashi is the perfect restaurant to go and have a bite of some delicious chapli kebabs. Perfect for a meal with your friends and family, this dine-in restaurant is a must-visit.
Location: 133 A, Near Sagar Vihar, Sector 8, Vashi, Navi Mumbai
Cost: Rs.1200 for two
Timings: 6.30 pm to 1 am
4. Naka
While you may not get chapli kebabs at every corner, you'll certainly get good ones at this Naka. Not only is this a traditional restaurant, but also one that serves a good serving of your favourite chapli kebabs. If you are in Thane, this is the place to be at.
Location: 221, Pankhanda Lane, Near Blue Roof Club, Ghodbunder Road, Owale, Thane West, Thane
Cost: Rs.800 for two
Timings: 5 pm to 1 am
5. Ostaad
If you're feeling a little fancy and have a special night planned, Ostaad in Lower Parel is a must-visit. With its exquisite ambience and stunning decor, you'll feel like royalty while dining here. Let's not forget the delicious chapli kebabs that you can order on your visit here. The rich Afghani cuisine is sure to win you over.
Location: Unit 2, Ground Floor, Trade Tower B, Kamala City, S.B. Marg, Lower Parel, Mumbai
Cost: Rs.2,000 for two
Timings: 12 noon to 4 pm, 7 pm to 1.30 am
6. The Red Charcoal
Bandra isn't too far behind with their kebab offerings. The Red Charcoal in Bandra east is the ideal delivery joint. Who wouldn't want delicious chapli kebabs delivered to their home along with a myriad of kebabs and biryani options? You're definitely spoilt for choice!
Location: Shop 4, Building 7, Motilal Nehru Nagar, BKC, Near Fire Brigade, Bandra East, Mumbai
Cost: Rs.600 for two
Timings: 11 am to 11 pm
7. Baikoz
This cute restaurant in Oshiwara is an unexpected place for some of the best chapli kebabs in Mumbai. Serving both mutton and murgh or chicken chapli kebabs, it is loved by locals a lot. The best part is that it is not on the menu and has to be specifically asked for. They're also open until 2 am, so it is perfect for midnight hunger pangs.
Location: Shop 20, Meera CHS, Oshiwara, Andheri West, Mumbai
Cost: Rs.1000 for two
Timings: 12 noon to 2 am
8. Chaubara 601
Dine like royals at Chaubara 601; with its Middle-Eastern and Mehfil decor, you are bound to get a wholesome dining experience. The upscale dhaba style decor along with a sumptuous Mughlai food is the best combination for your dining experience.
Location: Rooftop, CKP Hall, Kharkar Alley, Next to NKTT College, Behind Thane Court, Naupada, Thane West
Cost: Rs.1300 for two
Timings: 5.30 pm to 11.30 pm
9. Hitchki
Hitchki is a well-known pub serving Indian food with a twist. They are well known for their take on Indian food. Along with some amazing music and ambience, Hitchki serves a good chapli kebab. Named the 'Charlie Chapli Kebab', the minced mutton dish is a hit among patrons. We love the Powai outlet for its liveliness and ambience, but you can visit other outlets in BKC, Thane and Ghatkopar as well.
Location: 5, Transocean, Hiranandani Business Park, Lake Boulevard Road, Powai, Mumbai
Cost: Rs.1600 for two
Timings: 12 noon to 1 am
10. Trumpet Sky Lounge
Keeping up the trend of lounges dishing out delicious chapli kebabs, Trumpet Sky Lounge in Andheri rises to the occasion. This outdoor lounge with trendy music and live sports screenings serves up sumptuous chapli kebabs during the visit. We recommend that you go here on a weekend or anytime during the evening to make the most of the ambience.
Location: 2nd Floor, Dalia Estate, Off New Link Road, Near Fun Republic, Andheri Lokhandwala, Andheri West, Mumbai
Cost: Rs.2,000 for two
Timings: 6 pm to 1 am
In Conclusion:
While Lucknow is more well known for its kebabs, Mumbai definitely doesn't hold back. Even fine dining restaurants serve some of the best chapli kebabs in Mumbai. Want to share your experience with having a chapli kebab in Mumbai? Let us know in the comments below!
Image Source:  TripAdvisor, Facebook, Zomato, Architectural Digest India, MagicPin, Weddingz.in, Dineout, LBB.
Latest posts by Vibha Sharma
(see all)