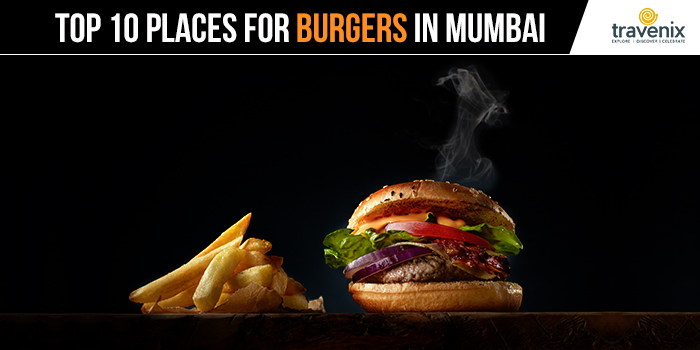 Top 10 Places For Burgers In Mumbai
McDonald's may have brought the burger craze to India, but there are a lot of new names that prop up when you're talking about the best burgers in Mumbai. We've tried some of the juiciest burgers in Mumbai and come up with a list of the ones that really warrant every foodie's attention.
Battle Of The Burgers
After skimming through fine bistros, trendy cafes, fancy-schmancy restaurants, and diners, we've compiled the list. So you can be sure to find complex towering burgers rubbing shoulders with simple patties in there. We've tried to ensure that there is a burger for every taste bud and every budget range.
1. Howra Burger
With more than 20 different types of burgers, Howra Burger definitely makes it to the top of the burger bucket list for most foodies around.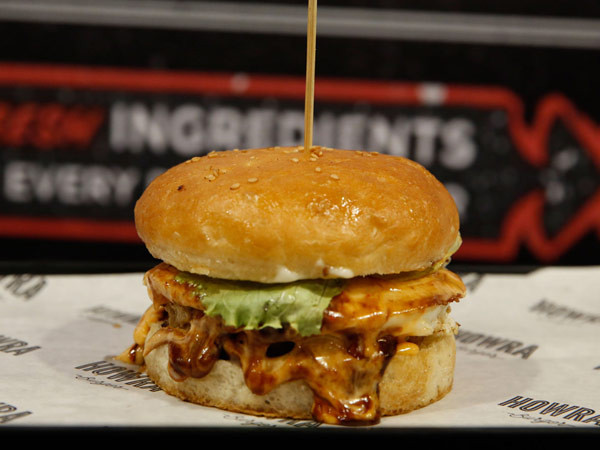 From Old School Chicken Burgers that come smothered with melted cheese to whole burger towers that are generously filled with veggies, there is a lot to try out there. Their mighty 12-layered Godfather Burger is perfect to challenge every glutton's appetite.
Where: Bandra, Malad, Lower Parel, Powai
2. Jimi's Burger
It is best to get your whole group gathered when you're planning a trip to Jimi's Burger. Their range of meters Burgers are monstrous, yet sinfully delicious. Their 7-incher burger and Jawbreaker Meat Cake look imposing and overwhelming, thanks to their towering appearance.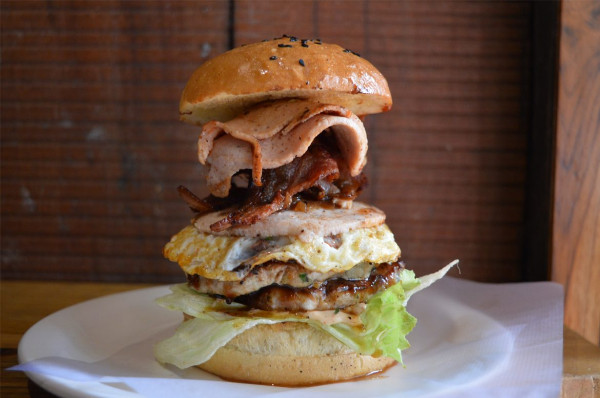 It's impossible to not get your hands messy while finishing off this one, but the heavenly sauces will make sure it's all worth the mess. For those looking for something simpler, their Classic Veg Burger and Crunchy Fried Chicken Burger are highly recommended.
Where: Andheri, Malad
3. Hard Rock Cafe
Hard Rock Cafe knows how to get the right kind of crowd – get the booze flowing, whip up some delicious burgers and turn the volume up! The cafe attracts music lovers, thanks to karaoke nights, live gigs and a great music collection in general.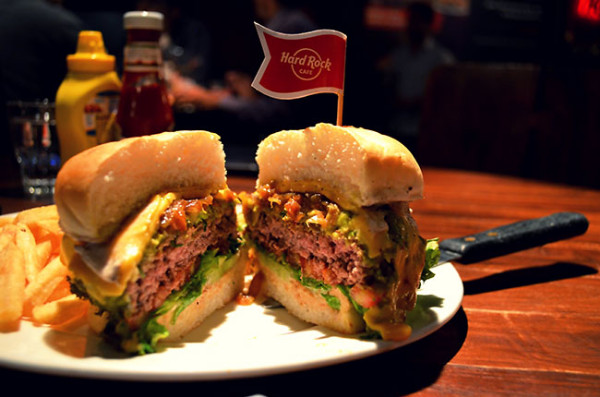 But the Original Legendary Burger is what draws all the foodies in. It is topped with smoked bacon and oodles of cheddar cheese to drown you in a sea of flavorful delight. Golden fried onion and crisp lettuce add a crunchy twist to this delicious treat.
Where: Lower Parel, Veera Desai Road
4. Cafe Universal
Cafe Universal's prime location makes it an ideal spot for office-goers to head there for a quick bite post work. Though they have everything from seafood to Mughlai cuisine, burgers are what they absolutely excel at. Their American Style Chicken Burger and Hamburger Slider are quite popular for those looking for a not-so-heavy dinner option.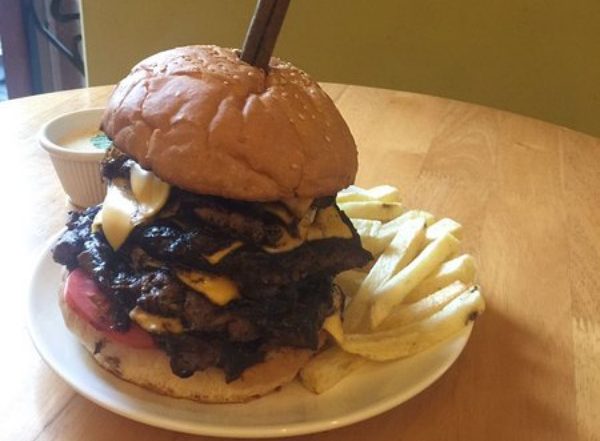 If you are on the other end of the spectrum and are up for a gluttonous meal, their six meters OMG Burger is for you. With five layers of buffalo meal patties complemented by five slices of Britannia cheese, it's a delicious delight that is only for those with a big appetite.
Where: 299, Shahid Bhagat Singh Road, Fort
5. Frisbees
This burger chain whips up some kickass burgers that are pretty high on innovation. Where else will you find burger options with beetroot and eggplant? Their classic burgers are equally delicious too.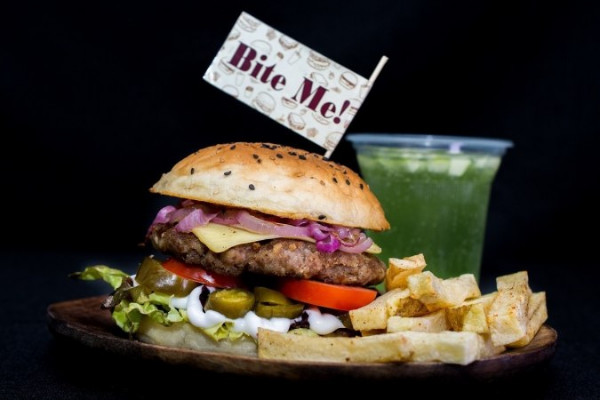 Pair up their Daddy Burger, Chicken Crisp Burger or BBQ Bazooka Burger with a Chocolate Shake for a heavenly meal. Be warned, the portion sizes can be big!
Where: Andheri, Dadar, Bandra
6. Woodside Inn
Gourmet pizzas, delicious burgers, classy ambience or great beer — what's your reason to go to Woodside Inn? If you're a burger lover headed there with hopes of melt-in-the-mouth patties, be assured, you won't be disappointed!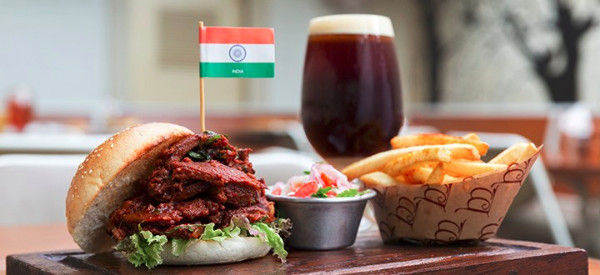 We can vouch for their super-sized Stake-Out Burger. Bacon combined with their chicken, pork, and tenderloin patty work wonders for the dish.
Where: Andheri, Colaba
7. Three Chicks And A Bear
Three Chicks And A Bear is bringing out the concept of 'Naked Burgers' for those who would rather stay away from bread and buns. These burgers are served with a salad instead, so you can load up on some nutrition too.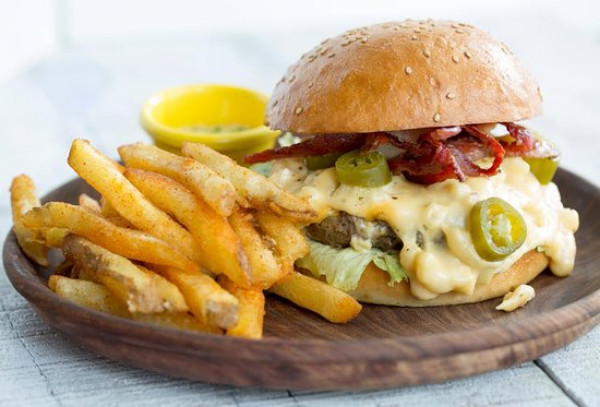 They refuse to follow convention even with their regular burgers. Their Hawaiian Chicken Burger is served with grilled pineapple and pineapple salsa. Sounds weird, right? But it isn't. It's actually pretty delicious; even the chef there recommends it!
Where: Lodha Supremus, Survey 453, Senapati Bapat Marg, Railway Colony, Lower Parel
8. The Burger Brasserie
It's easy to miss this small burger cafe in the buzzing Lokhandwala streets. It has modest decor and doesn't attract much attention, but the food here speaks for itself.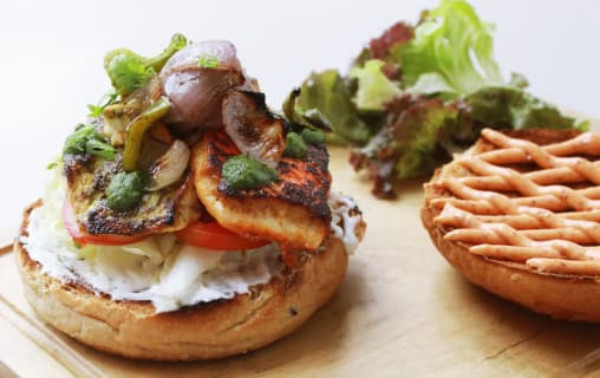 Their Galaouti Kebab Burger and Pahadi Murg Burger are delights that definitely warrant the attention of every burger lover in Mumbai. For those who want to get more experimental, their Veg Palak Paneer and Veg Paneer Makhani Burgers are great options.
Where: 9, Mayfair CHS, Oberoi Complex, New Link Road, Andheri Lokhandwala
9. The Serial Griller
Just the restaurant itself, and the names of the burgers at this burger cafe are quite quirky. We love how Silence of the Lambs, Jungle Bandit and American Mafia have found their burger equivalents in their burger menu.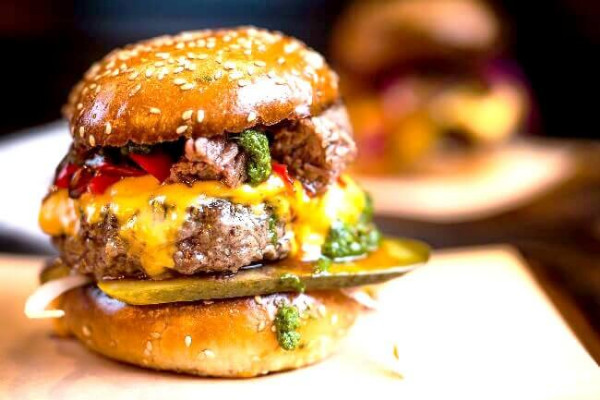 They even have burgers for all your romantic roller coaster rides: the first look, the first date and break up are all covered. Whatever you order, the patty will be cooked to perfection for sure!
Where: Khar, 4 Bungalows
10. BYOB
Bring your own beer? Naah. Build your own burger! BYOB in Andheri lets you get as creative as you want with your burgers. You are in charge of the chef hat, so go ahead and pair up the wackiest of sauces, buns, and veggies together.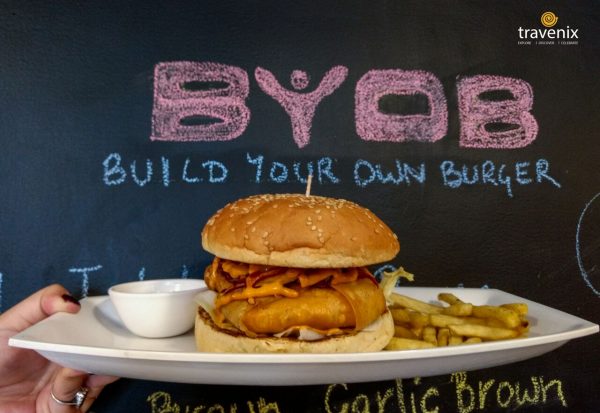 For those who want to go with the tried-and-tested combinations, their Mother Clucker Burger and Cottage House Mafia Burger from their Signature Burgers section are great choices.
Where: Shop 1, Opposite Lotus Grandeur Building, Next to Country Club, Veera Desai Area
Do you know of any other great burger joints in Mumbai? Do let us know in the comments section below and also tell us which burger you liked the most there.
Image Credits: Ketchupp, Swiggy, Just Dial, Hipcask, Zomato, TripAdvisor, Hard Rock Cafe, howra.in, couplethatgetstogether, bombayreport
Latest posts by Vibha Sharma
(see all)