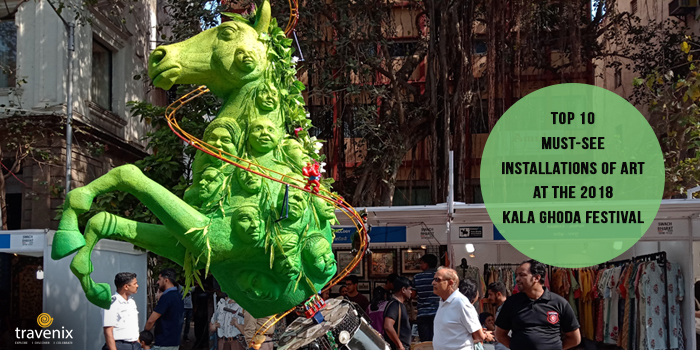 Top 10 Must-See Installations of Art at The 2018 Kala Ghoda Festival
Probably one of the biggest cultural fests in India, the Kala Ghoda Festival is back in Mumbai for the 20th time. This 8-day extravaganza is the time when the whole city comes to life with people buzzing around the Kala Ghoda vicinity. This year, the festival has gone green and moved towards eco-friendliness. Each year, it has grown in size, and this year is no different. However, its essence of art has remained the same and even this year you will be able to see many classic art displays here. This festival is indeed one of the best annual events in Mumbai.
Celebration of Art
We are extremely excited to simply see the hundreds of events that are going to take place over the week. Don't even get us started on the marvelous creations of art that are on display here. When visiting the festival this week, these are the installations that you simply cannot miss. You can also find things to do at the festival in the ultimate guide to Kala Ghoda Arts Festival 2018.
1. Trojan
Named after the famous Trojan Horse of the Greeks, this installation is an abstract take on the same. This green-colored horse is one of the most prominent structures here and you'll be surprised to see the creativity with which it has been designed to resemble the original Trojan Horse. And no, we're not talking about the infamous virus.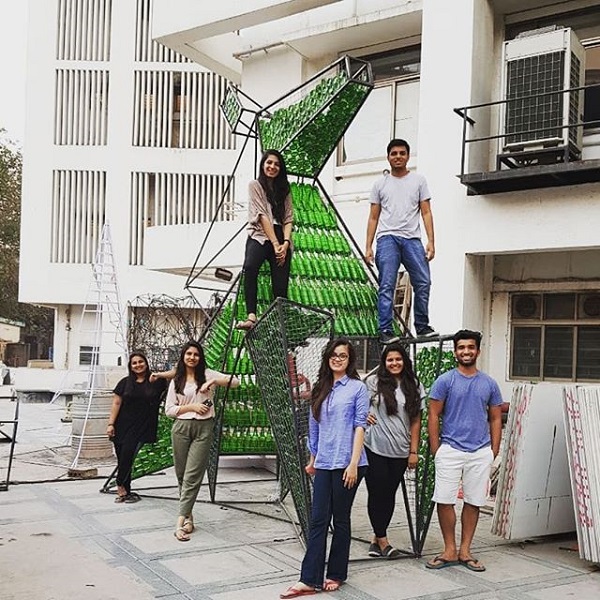 2. Tree60 Degrees
Created by the Chhatrapati Shivaji Maharaj Vastu Sangrahalaya, this installation depicts a tree which is cut to create the modern day forests – cities. At the same time, you can see haldi-kumkum applied to it, which shows the religious value of these trees too. The installation goes on to show how urbanization is actually destroying nature.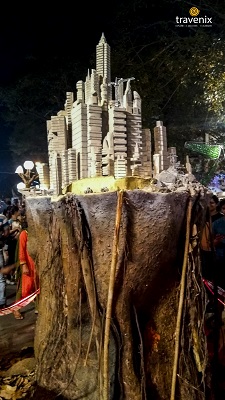 3. Aparshakti
You can see this installation hanging from a tree. It consists of several artworks that showcase ancient Hindu texts and mythology. The Madhubani style of art is very well-depicted here, with the use of acrylic paints.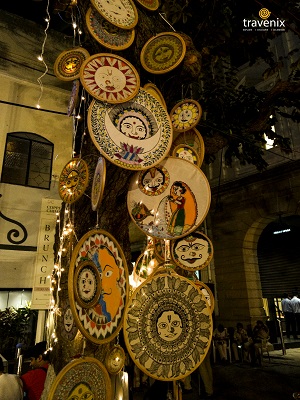 4. Urban Tree
As the name suggests, this installation is indeed an urbanized version of a tree. It is made to give you an idea of how it would feel to walk through forests. With various strings attached to create triangles on various poles and a mirror on top, you get the effect of a canopy created by shadows, amplified by the mirror as you keep looking higher. Quite some creativity, eh?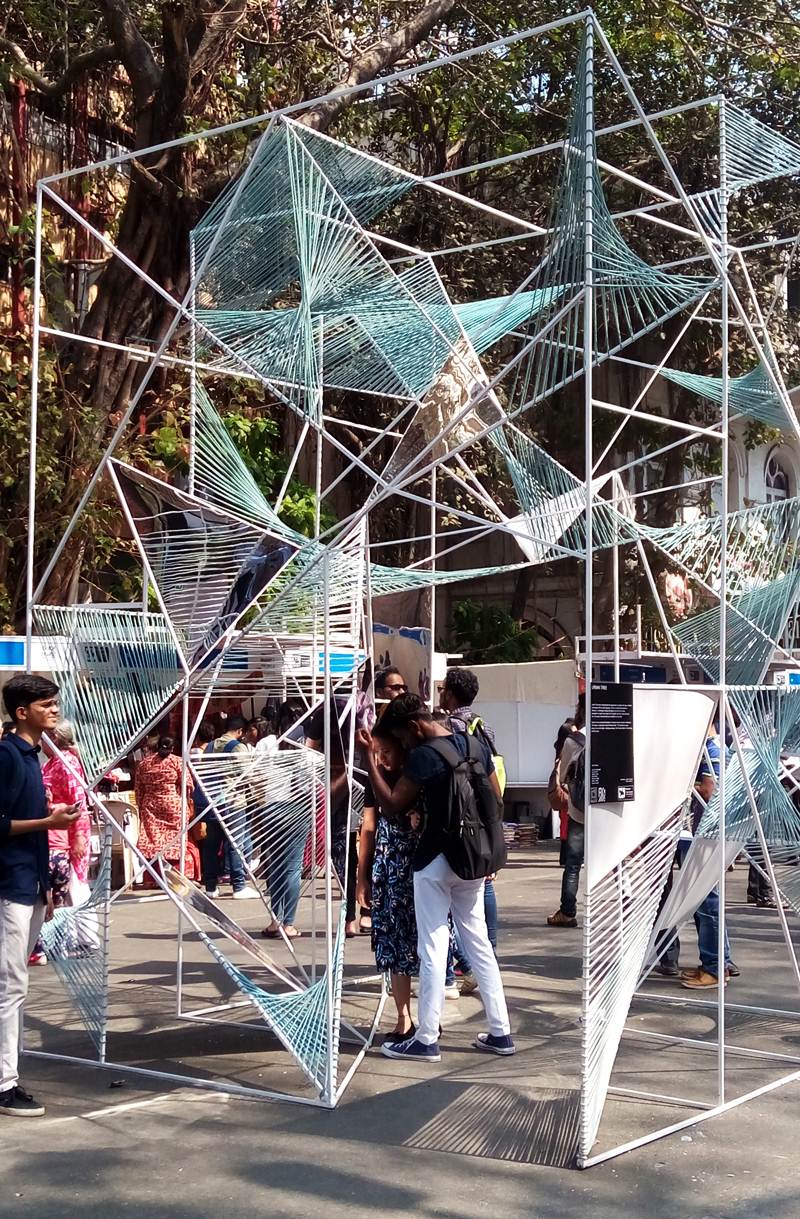 5. Embodying National Unity
This quirky looking structure looks like a very complex organic chemicals' molecules arranged together at first look. However, on a closer look you'll find that this installation has been created to showcase the national unity of India. As the name suggests; it indeed represents the map of India.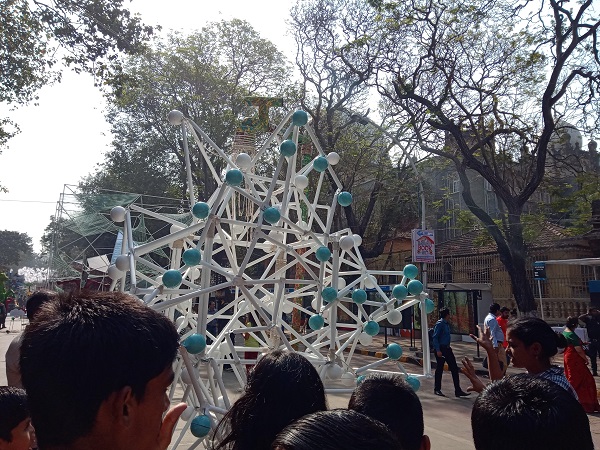 6. Little Pockets of Hope
Created from the most basic building blocks of tall trees, seeds — this installation showcases the plant lifecycle. In line with the green theme of the Kala Ghoda fest this year, this installation has been put up to create awareness about how saving trees is of paramount importance to the sustenance of life on the planet.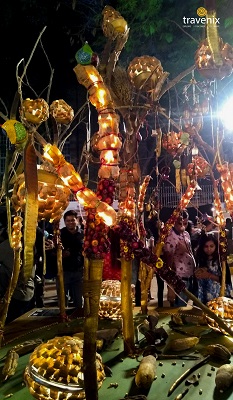 7. I Am That I Am
This installation looks like a tree right from the moment you see it. Elegantly designed with a bunch of mirrors and pipes, this structure represents life and sends out a very clear message to the viewer — life is exactly like a mirror; all that matters is how you see it.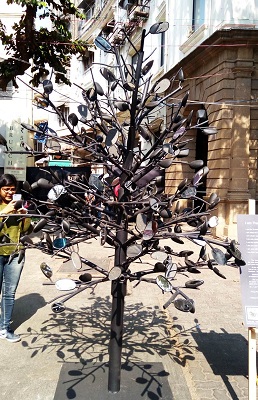 8. Prakriti
Prakriti means 'Nature' and this installation depicts exactly that. The four main elements of nature — earth, air, fire and water — are shown in this installation in a creative manner. This particular art blends perfectly into the motto of this year's festival, "Hara Ghoda", which aims to promote an eco-friendly approach for development.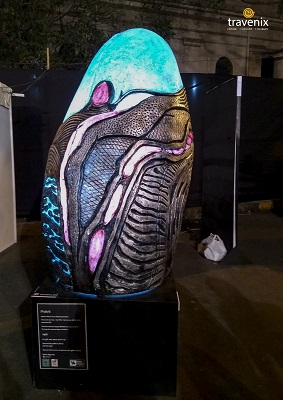 9. Kalpavriksha
As the name suggests, this installation is a tree and borrows its name from the divine wish-fulfilling tree from Hindu Mythology. This tree shows the various attractions of Maharashtra state that matter to tourists, including food and history.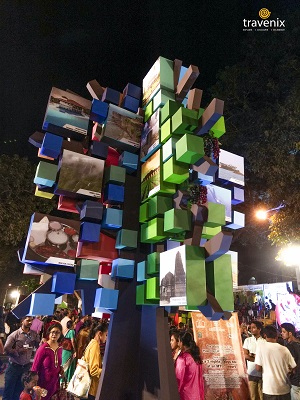 10. Skywards
Representing the overcrowding of Mumbai, this installation showcases the city as a tree with homes and communities being built on top of each other due to lack of space. Blending into the overall 'Hara Ghoda' theme, this tree also shows how this population increase is affecting the environment.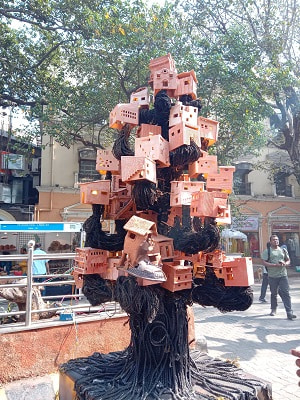 With such thought-provoking installations and some crazy events lined up throughout the day for the next week, you are assured a gala time at the Kala Ghoda Festival 2018. Don't miss out on the wonderful opportunity of visiting this fest if you're in Mumbai on any of the days between 3rd and 11th February!
Image Credits: Instey, Free Press Journal
Latest posts by Vibha Sharma
(see all)