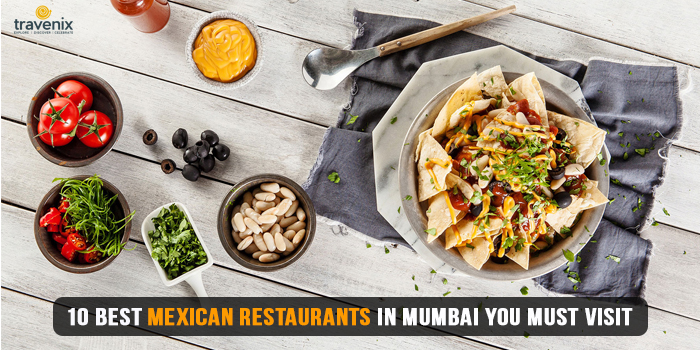 10 Best Mexican Restaurants in Mumbai You Must Visit
Mexican cuisine's popularity in India does not come as a surprise. With robust sauces, flavorsome recipes and fiery spices, Mexican food is well suited for the typical Indian palate that feeds on hot curries. Though tacos and nachos are the popular picks, Mexican cuisine has a lot more on offer.
A Burst Of Flavors
With a combination of savory and earthy flavors, most of the Mexican recipes use corn, beans and chili peppers in abundance. Mexican cuisine is quite elaborate too, you havetortilla bases, enchiladas, quesadillas, burritos, chalupas and so much more. Follow us as we discover the best restaurants in Mumbai to try some delicious Mexican food.
1) Sammy Sosa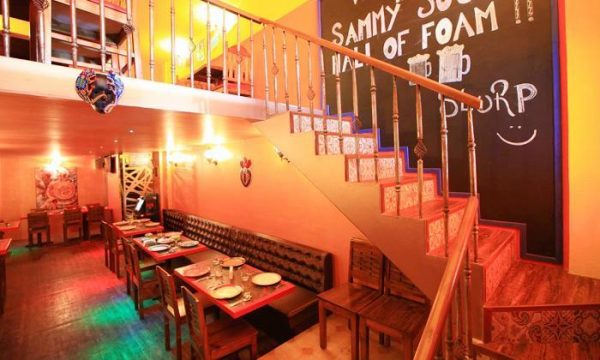 Sammy Sosa's interiors are like those of cozy Mexican homes — complete with bright orange walls, colorful tables and sombreros lying around; they have managed to capture the essence of it. Try out their cilantro craze, smokedillas and chimichangas along with a mean margarita or Pina colada, and we're sure you'll have this place at the top of your list every time you crave good Mexican food.
Where: Andheri
2) Quattro Ristorante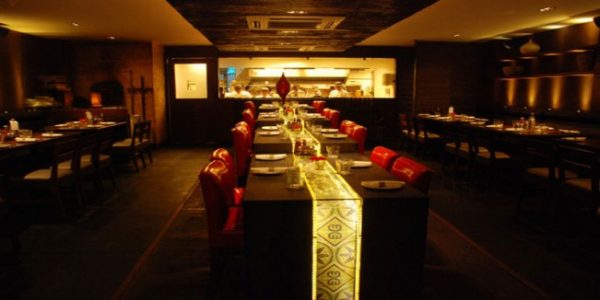 A fully vegetarian restaurant, Quattro Ristorante is known toput together some delightful Mexican treats and serving it with a dash of molecular gastronomy. Their menu includes a wide array of Italian and Mexican dishes, and boasts of some fun live food options that include making guacamole from scratch, and infusing liquid nitrogen for a better balance of flavors. Also check out their special Magical Candle dessert; it is covered with white chocolate on the outside and stuffed with a generous amount of chocolate mousse and molten chocolate on the inside. All of it breaks down and mixes beautifully as you blow the candle on top.
Where: Lower Parel
3) RISO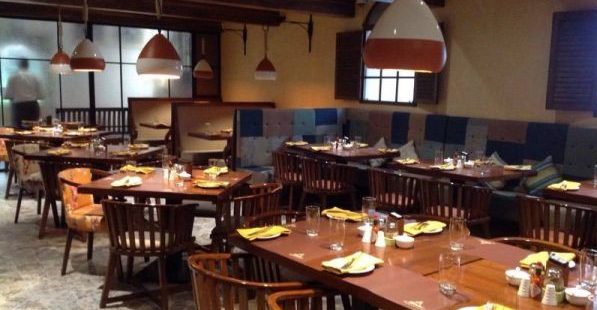 RISO's rustic interiors give the restaurant a clean and somber look; but its food is as vibrant as it gets. Though their menu has a lot of variety of Mexican and Italian dishes, their mushroom cappuccino, ravioli in barbecue sauce and the Tex Mex sizzler stand out among the rest. The restaurant is not too harsh with its prices too; so you can enjoy your food without having to worry about the bill.
Where: Lower Parel
4) Chili's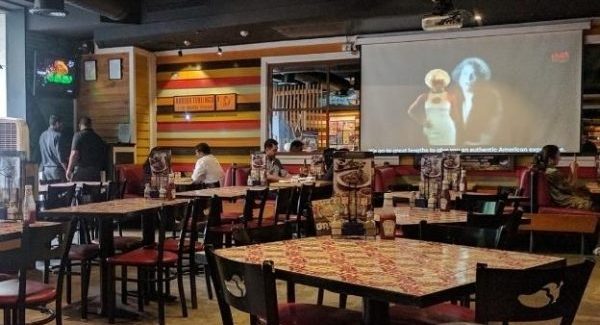 One of the best American and Mexican food restaurants in India, Chili's has lots to offer to non-vegetarians. Guzzle down some good beer and enjoy a platter of seafood or team it up with a plate of nachos and grilled chicken for a laid-back, relaxing afternoon lunch at this bar. Chili's is a great place to head if there is an important cricket match or football league going on; you can enjoy it on the big screen there.
Where: Powai, Kurla, Malad
5) The Fusion Kitchen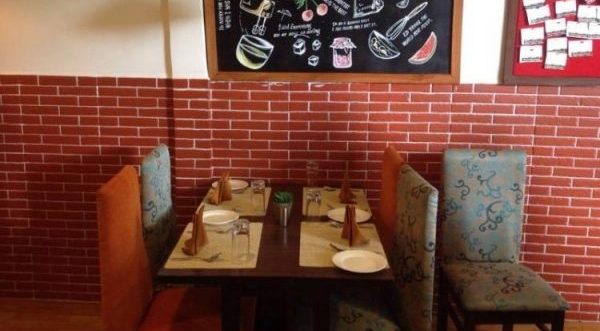 The Fusion Kitchen's upbeat vibe is inspired by movies and music; so all the walls are all covered with funky quotes and pop culture references. While the restaurant also serves North Indian, Chinese and Italian cuisine, their Mexican food is extraordinary. If you are up for some fusion food, try their chicken tikka nachos and sizzler with chipotle sauce; they are absolutely tasty.
Where: Borivali
6) Taco Bell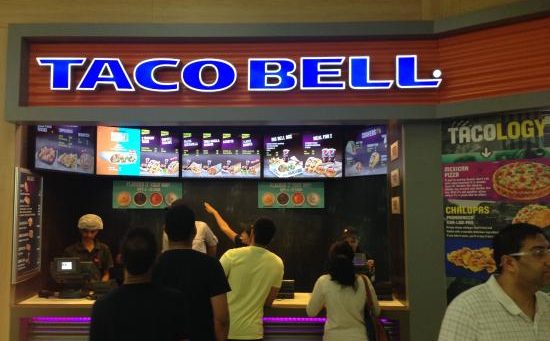 If you're discussing Mexican food, you can't miss out on one of the most popular food chains in India, Taco Bell. The taste is close to authentic, and yetthe food is very affordable. Taco Bell offers a good variety too; they have crispy tacos, chicken burrito, chicken soft tacos and a lot more. Taco Bell also has some great discounts going on every now and then, so keep an eye out for that.
Where: Goregaon, Ghatkopar, Thane
7) Mexican Express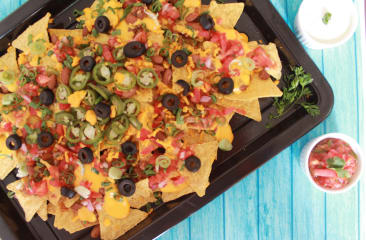 Focusing solely on Mexican food, Mexican Express has a reputation of providing the best Mexican food in Mumbai among food lovers. An all-vegetarian food joint, their menu has the traditional dishes along with some innovations. Their Nutella Quesadilla and Churros are highly recommended too if you'd rather go for something sweet than savory.
Where: Pali Hill
8) Burrito Factory
Armed with a slew of burrito combinations, The Burrito Bowl is a great place for those who love experimenting and are open to trying unusual combinations. An example in case is their seafood burrito which is served with spicy, crispy shrimp. Their burrito bowl is not for the ones with a tiny appetite; it is quite heavy.
Where: Pali Hill
9) Spesso Gourmet Kitchen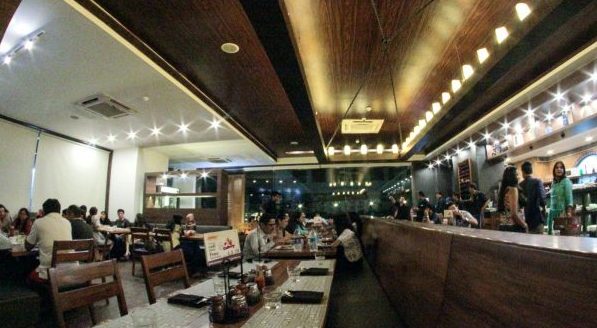 A multi-cuisine casual dining restaurant, Spesso Gourmet Kitchen's menu has a mix of Mediterranean, Italian and Mexican dishes. Their Mariachi Burritos, 7 Layered Mexican shots, Jalapeno N Cheese Poppers are presented very well, making you conscious of the gourmet experience.
Where: Nariman Point
10) Old Wild West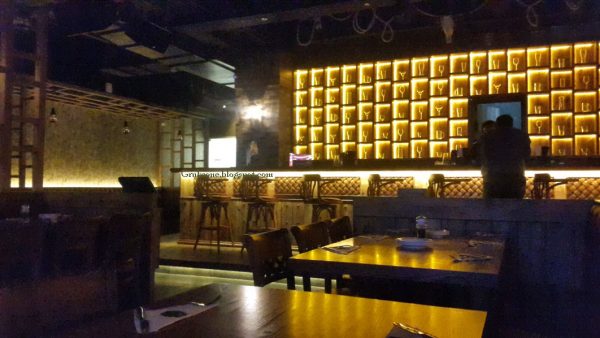 Complete with a booth style set up, Old Wild West brings to you the typical cowboy experience in Mumbai. While the ambience is quite peppy, the highlight at this place still remains the food. Start off your meal with some tasty Veg Toastada and Nachos and wrap it up in style with their bubbly drinks. One of the most pocket-friendly pubs in Mumbai, it also has a rodeo-bull in the center to take you on an adventurous, bumpy fun ride. They have great discounts during their Happy Hours, so make sure you check up on the timings before you step in.
Where: Lower Parel
Are you ready with your cowboy boots for a great Mexican meal in style? Do us let know if we missed out on your favorite Mexican restaurants in the comments section below.
Image Credits: Just Dial, Apna Coupon, The Urban Vibe, Just Dial, Grubzon, Eat Click Sleep, Swiggy, Old El Paso, Swiggy, Trip Advisor
Latest posts by Vibha Sharma
(see all)