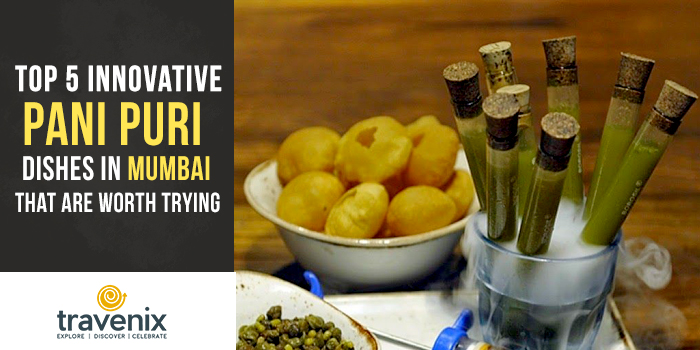 Top 5 Innovative Pani Puri Dishes In Mumbai That Are Worth Trying
When it comes to street food, pani puri remains the undisputed favorite all across India. While ardent fans of the street food dish are rooting for its traditional avatar, some restaurants are getting creative with the dish and adding their own little twist to it.
Golgappa Version 2.0
Be it replacing the spicy flavored water with alcohol or filling the crispy round puris with prawns and chocolate, restaurants in Mumbai are giving it a completely new avatar. If you are an adventurous foodie, join us as we check out the most innovative takes on pani puri.
1. Tangy Pani Puri Tea
Indians love their cup of chai as dearly as they love their pani puri. At Taj Mahal Tea House, they have managed to bring these two favorites together to create one dynamite of a beverage, the Tangy Pani Puri Tea. It is actually a cross between a sherbet and a tea — it has Darjeeling tea spiced with roasted jeera and black salt.To add a touch of tanginess, just like in the original dish, tamarind is used, though not in the form of a chutney.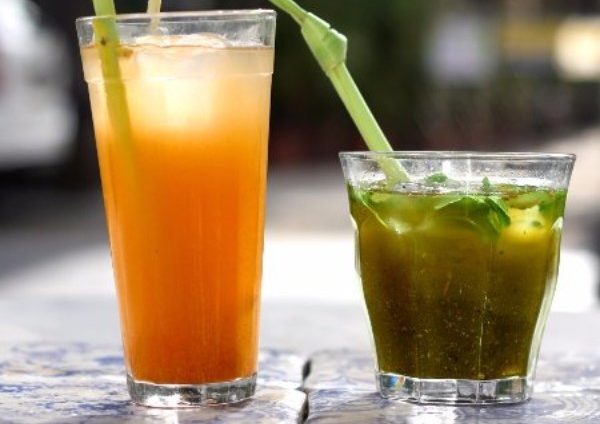 It's a delightful drink that really changes the way you perceive pani puri. Innovation is the main USP here which makes it one of the finest tea cafes in Mumbai. Gulkand Paan Chai, Bold Spices Tea and Rum and Raisin Libra Bubble Tea are other innovative teas that are worth trying.
Where: Taj Mahal Tea House, 36-A, Ground Floor, Sanatan Pereira Bungalow, St. John Baptist Road, Reclamation, Bandra West
2. Hot Cheese Fondue Batasha
Cafe Haqq Se in Lower Parel combines the tangy flavors of pani puri with the goodness of cheese and mushrooms. In addition to the crispy puris and mint chutneys, melted cheese is added to it. It isn't your average cheese that is just melted over it; the fondue is made from a mix of emmental cheese, cheddar cheese, and parmesan cheese.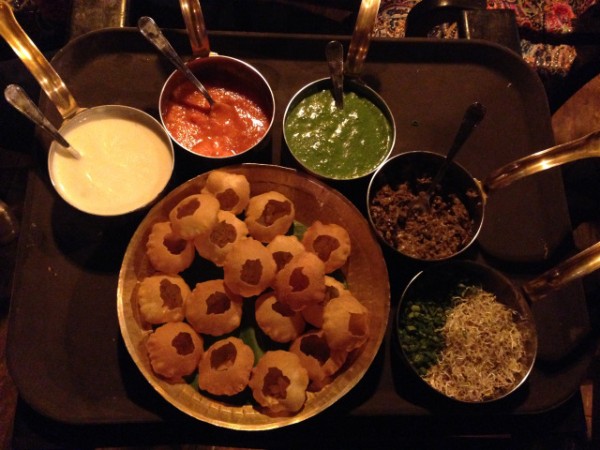 A finely chopped mixture of mushroom and some herbs are sprinkled over it for an added dash of flavor. This explosive filling is finally with green onion and Alfalfa sprout. The range of flavors that this dish packs in each bite is just mind-blowing! Also, check out their fusion drinks section; it has lime pickle and tamarind mixed with gin!
Where: Cafe Haqq Se, Ground Floor, Trade View Building Oasis Complex, Gate 4, Kamala Mills Compound, Lower Parel
3. Gastro Pani Puri
In Mumbai, molecular gastronomy is fast gaining popularity and the concept of deconstructing your food is a hit with those who like to experiment. Presentation and the visual appeal is what grabs your attention as your gastro pani puri arrives at SpiceKlub. It is like going back to your chemistry lab, except this time, it's going to be a lot more gluttony and fun.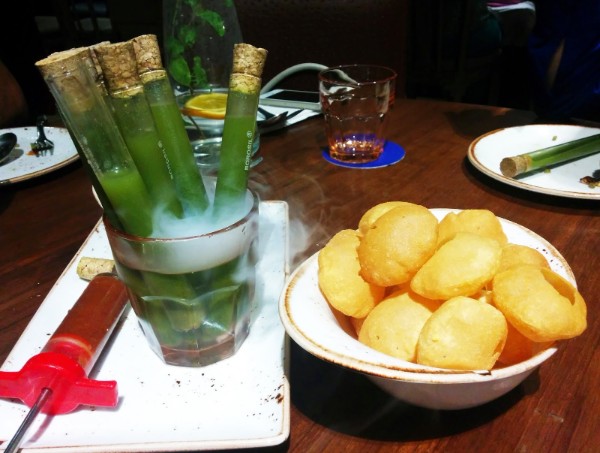 The spicy mint pani is served in test-tubes, while the tamarind chutney id filled in a thick syringe. The pani puri is almost the same as your regular one, but it's an altogether a new experience to pour the chutneys out from the test tubes and the syringe.
Where: SpiceKlub, 8A, Janata Industrial Estate, opposite Phoenix Mills, Senapati Bapat Marg, Lower Parel
4. Pani Puri Sorbet
Desserts usually consist of sweet foods, right? Well, Papacream is set to change your definition. They have churned a savory dessert that also incorporates street food flavors in it. Coming up with that sort of a creative dish is a feat in itself, we'd say. But not just that, they've managed to pull it off well too.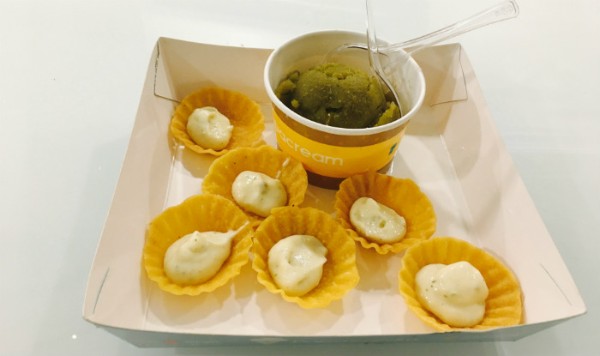 Made with liquid nitrogen in front of you, the pani puri sorbet only takes about five minutes to get ready. This pani puri sorbet is served with flat canape like puris that hold a potato mousse. It is crunchy, spicy and super refreshing! Be warned though, if you end up with too much sorbet atop your puri-canapes, you're likely to get a mini-brain freeze!
Where: Churchgate, Juhu, Oshiwara
5. Prawn Golguppa With Solkadi Shots
What if you take the filling away as well as the chutneys? Is it still pani puri? Craftbar in Bandra says it is, as long as the puri is intact. Giving golguppas a taste of Malvani cuisine, they've whipped up a recipe that sea-food lovers are sure to love. A plate of their Malvani-style panipuri comes with small glasses filled with solkadi that are topped with prawn-filled puris.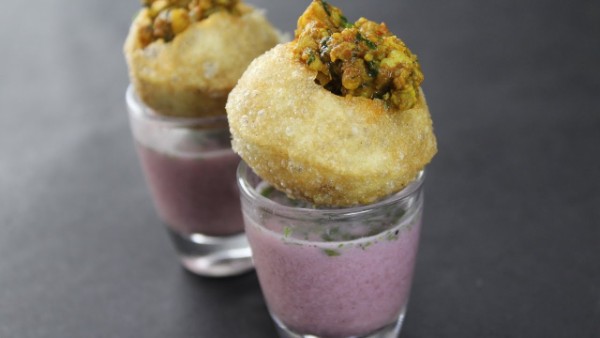 It is nothing like your panipuri, but to be fair, in itself, it is an extraordinary dish. You may have least expected prawns to be eaten with a puri, but the addition of solkadi really makes all the difference; it just brings the dish together.
Where: Craftbar, Hallmark Business Plaza, Sant Dyaneshwar Marg, Near Chetna College, Kalanagar, Bandra East
Do you know of any other innovative pani puri dishes that we should try out? Do let us know about it in the comments section below.
Image Credits: Foodiewomanblog, India.com, Sanjeev Kapoor Khazana, TripAdvisor, Kalpita Deshmukh
Latest posts by Vibha Sharma
(see all)