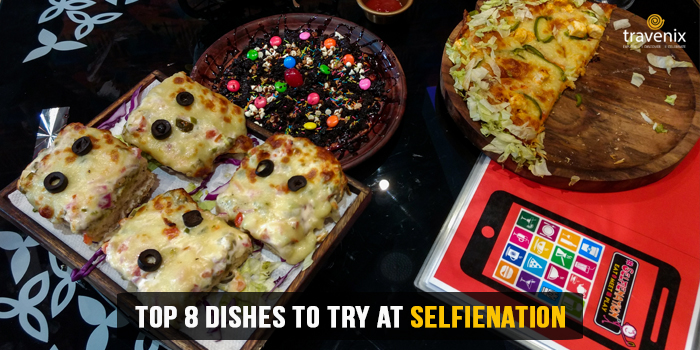 Top 8 Dishes To Try At Selfienation
Selfies have grabbed the attention of the world and nowadays, it is common to spot people clicking selfies everywhere. With advancement in technology, it has become possible to even print things on cream now and this is exactly what Selfienation does for you! A newly-opened cafe in Dombivli, this place has a lively vibe and quirky decor.
Selfie Le-Le Re!
At Selfienation, you can find a refurbished scooter from the 90s as a table and swinging chairs where you can eat while swinging like you used to as a kid. Moreover, they have some amazing games that you can play with your friends like X and O or Snakes and Ladders! Let's check out the best dishes that you can try out here.
1. Paneer Tandoor Pizza
If you're a cheese lover, you simply must not miss out on this pizza. It is loaded with cheese and we mean it when we say it was loaded. Right from the first bite, you'll get a cheesegasm! It is paired with soft paneer jubes that will simply melt in your mouth and give you a distinct flavor of paneer which goes very well with cheese. The pizza is served fresh and is topped with cabbage pieces which give it an added crunch and flavor.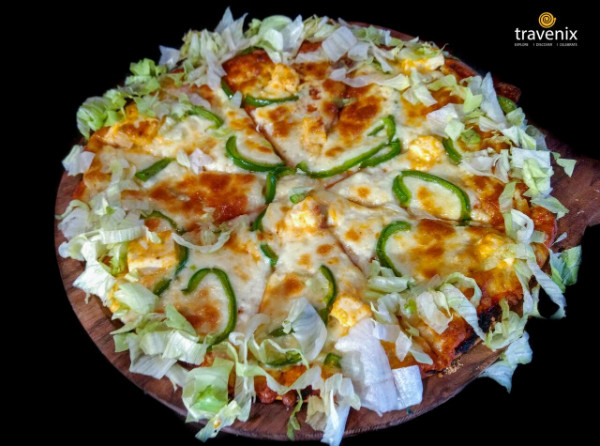 2. Selfie Ferrero Rocher Shake
This is the signature shake of Selfienation and it is on this very shake that you can get your very own selfie printed right in front of your eyes! All you need to do is click a selfie and WhatsApp it to them. The shake looks picture-perfect (literally!) and you will find it hard to put a straw and spoil the image. But the goodness of Ferrero Rocher combined with the milk is too good to resist. This is the perfect shake for all chocolate lovers!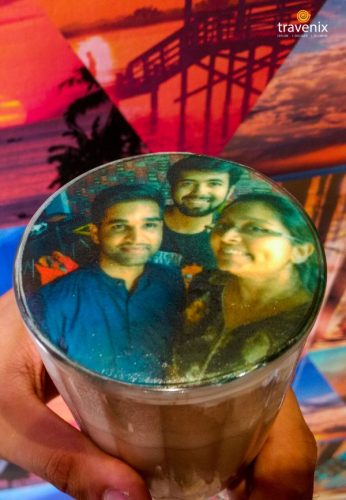 3. French Fries
These are your typical French fries that are served in a cute mini-cycle with ketchup. These fries can be paired up with any of the dishes that they serve and go perfectly well as a side dish. The best part about these fries is that they are freshly made and are crunchy to bite!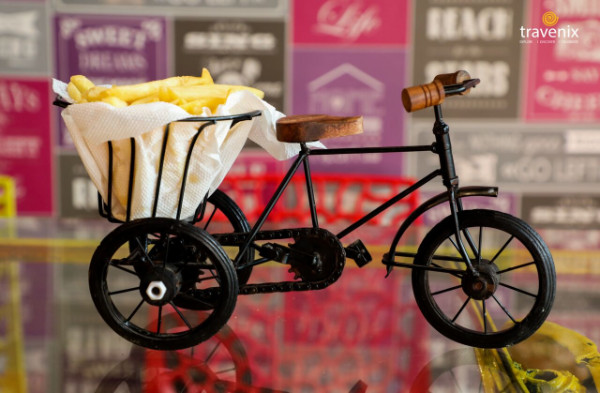 4. Selfienation Open House Panino
Love Paninos? This dish will make you fall in love with them even more. Italian bread with herbs is served in a mini-cart with loads of veggie and mayonnaise stuffing. It is then topped off with a thick layer of melted cheese which is further topped with some chilies! The paninos are served with loads of salad to give you an indulgent experience.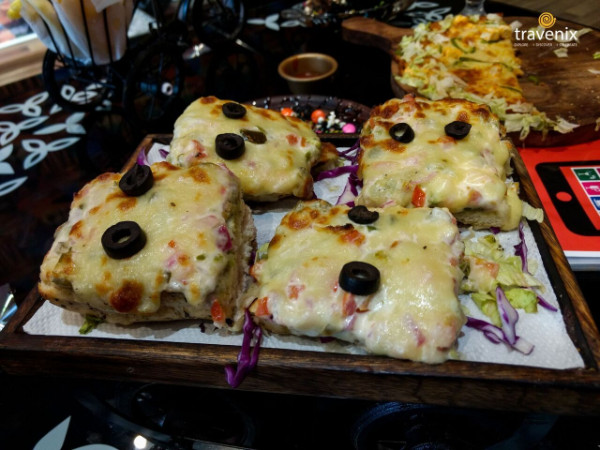 5. Chocolate Ecstassy Surprise
Have you ever thought how a pizza would taste if it was combined with chocolate? This dish gives you a chance to explore that flavor. A thin base of pizza is topped with mashed chocolate sponge cake. To this, white chocolate chips and pieces of gems are added for the added crunch element. The dish is finally served with chocolate sauce as a topping. This pizza gives you a truly chocolaty experience which will make you fall in love with it.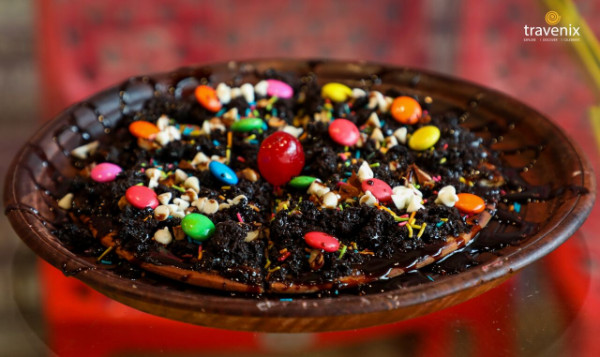 6. Thank God Its Sundae 
This sundae has got chocolate written all over it. It is a combination of chocolate mousse, chocolate brownie, chocolate fudge, chocolate truffles, and chocolate ice cream. The dish itself looks so alluring that you will not feel like spoiling its look by dunking your spoon into it. A completely chocolaty affair, this dessert is a must-have for chocolate lovers. This definitely has to be one of the best desserts in Mumbai!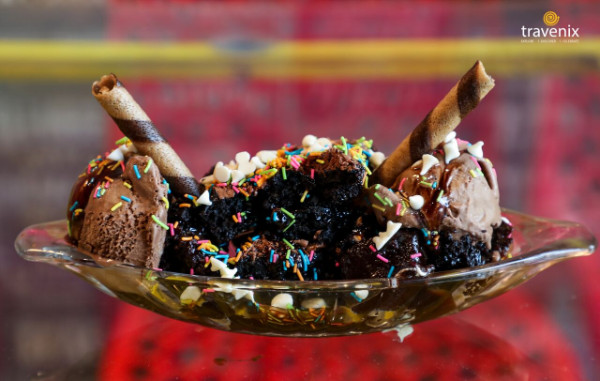 7. Cold Coffee
Served in a bulb-shaped glass, this cold coffee is a perfect mixture of both milk and coffee. Moreover, its sweetness level is adequate too which makes it an affable drink for those who don't like sweet drinks too. Served chilled, this drink is all you need to cool off after a walk in the hot sun.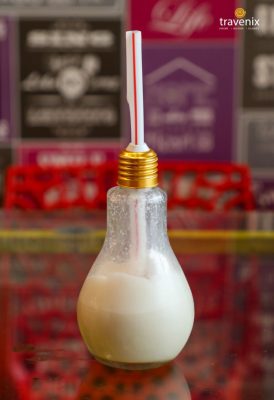 8. Black Mojito
You've seen green colored mojitos, but have you seen a black colored one? Selfienation has its very own version of black mojito which uses Coca-Cola to give it a black tinge. This refreshing drink has a strong flavor of Coca-Cola and mint and works miracles on cooling you and helps in beating the summer heat.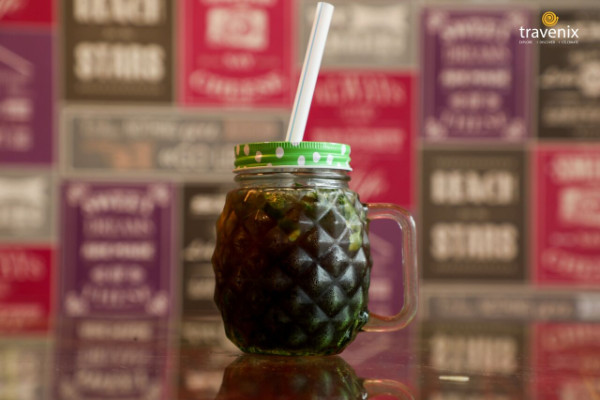 Have you visited Selfienation before? If so, do send in your selfies printed on the shakes in the comments section below.
If you haven't checked out this amazing place yet, you can find them at Shop No. 26, Citi Mall, Next to Royal Enfield Showroom, Opposite Pendarkar College, Dombivli East, Maharashtra 421203
Latest posts by Vibha Sharma
(see all)