Top 7 Dishes To Try Out At Cafe Bambai
Bambai – this word takes you back by a century to the olden days when Mumbai was commonly addressed as Bambai. Cafe Bambai in Mulund takes you on a journey into the olden days with its retro-yet-urban ambience. This lively cafe was started by three friends Nikhil Naik, Rajbir Dhawan and Rushabh Ganatra who were passionate about opening their very own food joint and left their corporate jobs to follow their dreams.
The Mumbaiya Experience
The ever-enthusiastic owners of this cafe make sure that everything that you need is made available as soon as possible. Their friendly nature combined with the goodness of the food has made Cafe Bambai a well-known name in the suburb in just under 2 months! Let's check out their unique offerings.
1. Hukkum Ka Ekka
If you've ever wished for a giant burger, this one is all you need to make your dream come true. Hukkum Ka Ekka comes loaded with lots of cheese and two patties – one paneer and one potato. Along with this, small pieces of nachos are added to the burger to give the crunchy element. Mayonnaise and chipotle sauce are added to give you the sour and spicy flavor. It is served with loads of freshly cut fries topped with piri-piri masala! We dare you to bite it in one go!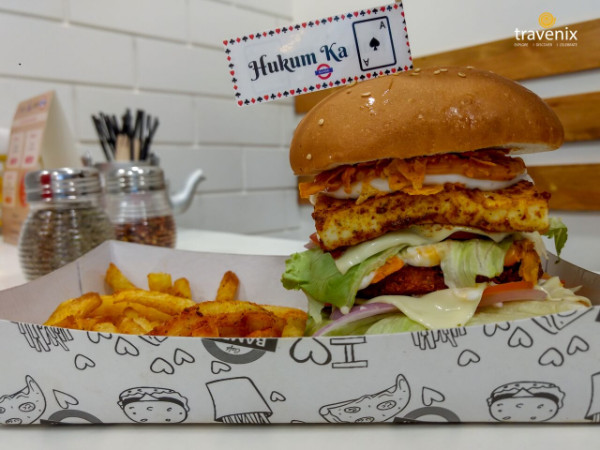 2. Cheese Overload Frachos
Frachos is a combination of french fries and nachos. The fries and nachos are mixed with loads of lettuce, onions and tomatoes. The whole mix is then topped with a generous serving of chili sauce and creamy cheese. But this is cheese overload we're talking about so they top this dish off with a layer of shredded cheese! The delightful crunchy and spicy combo is simply amazing! One plate of frachos is enough to be a complete meal in itself!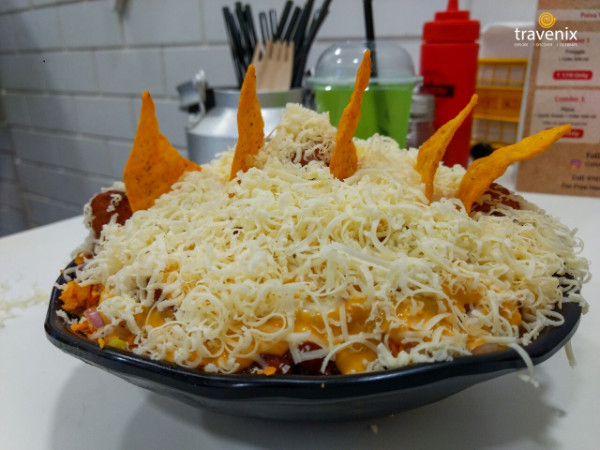 3. BBQ Fraggie
Fraggie is a combination of french fries and our beloved Maggi noodles. The noodles come with a twist though; they are fried and are crisp to bite and chew! Along with the noodles, freshly cut french fries, onions, tomatoes and jalapeno are mixed. It is then topped off with loads of melted cheese and barbecue sauce. The spicy and crunchy 'Fraggie' is truly a delight for all Maggi lovers. If you love spicy food, you'll absolutely fall for this dish. Do keep in mind that their serving size is huge; it may even take two people to finish one dish!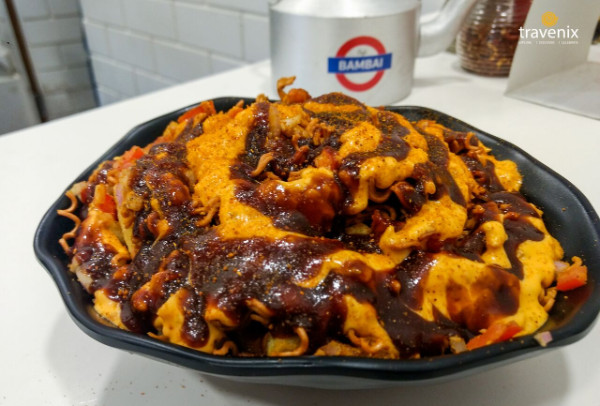 4. Bambai Ki Ma Fries
If you're a vegetarian and have wondered what kheema tastes like, Cafe Bambai is the place you should head to. This Mumbai version of kheema is made of chunks of soya and with this, freshly cut fries are mixed. The fries are then topped off with chili sauce to give you a zesty experience. The dish is both spicy and tangy at the same time and will give you the exact flavors of kheema!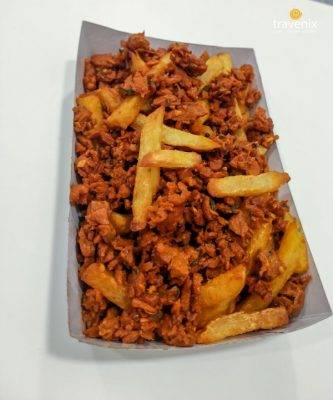 5. Kachi Kairi Lemonade
In the hot summer months, nothing is better than a glass of kachi kairi juice or aam panna. This good ol' raw mango juice with a hint of lemon juice is given a Mumbaiya touch to give you a refreshing experience. One glass of this drink and you'll be ready to head out into the sun again!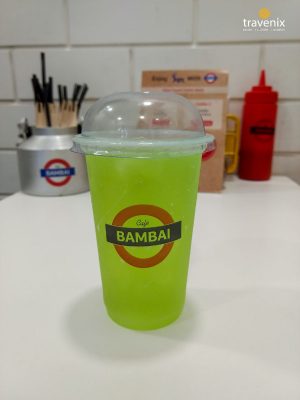 6. Salted Caramel Bourbon Shake
Caramel and Bourbon, need we say anything more? This divine combination is a hit among all those who have been visiting this place regularly. Salted caramel is not too sweet nor too salty; it is just perfect. Served in a huge glass, the consistency of this shake is such that it is sure to fill your stomach without the need to even order anything else.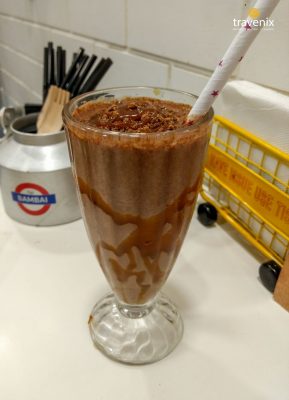 7. Blueberry Oreo Shake
Blueberry and Oreo is a quite a unique combination and at Cafe Bambai, they get it right, everytime. The thick shake is served chilled and is very popular among Oreo lovers who visit here. Pair this shake with one of the spicy dishes or with the Hukkum Ka Ekka and you'll have a complete meal ready!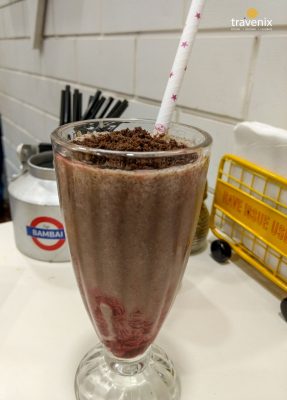 The cafe cares about the environment too and so they use only wooden forks and paper straws. You can choose between both indoor and outdoor seating here as well. Do not miss out on checking out the quirky posters on their walls; they are quite funny! They are also coming out with a full-fledged Jain menu soon!
Have you visited Cafe Bambai before? If you have, do let us know your experiences in the comments section below. In case you haven't, visit this only Mumbai-themed cafe in Mulund and discover their take on modern food!
Latest posts by Vibha Sharma
(see all)