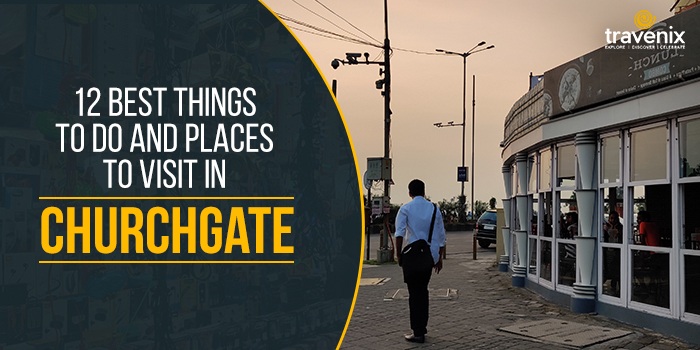 Top 12 Things To Do When Visiting Churchgate
Churchgate is one of the oldest areas of Mumbai and has been an integral part of the city's history. It is called so because it was the Church Gate of the Fort St. George of Mumbai. This area has become a hub for many-office goers thanks to its multiple corporate offices. The vibrant Marine Drive also passes through Churchgate.
Discover Churchgate
There's a lot to discover in Churchgate apart from its heritage structures and winding lanes. Let's check out what Churchgate has to offer to the discerning traveler.
1. Visit Bombay High Court Museum
Who knew there was a museum inside the Bombay High Court? This tiny museum houses a lot of valuable law-related artefacts that have been preserved and kept on display including Mahatma Gandhi's barrister certificate, it will surely transport you into a different era through its artefacts.
Location: Bombay High Court, Dr. Kane Road, Fort, Mumbai
Timings: Monday to Friday, 10.30 AM to 2.30 PM
2. Enjoy Sea at Marine Drive
No mention of Churchgate can be complete without the most vibrant area of Mumbai, Marine Drive. This stretch of road and pavement next to the Arabian Sea forms the shape of a necklace and is thus called the Queen's Necklace too. From here, it is possible to see the entire skyline of Mumbai along with the Arabian Sea. Sit here for hours together or walk and jog, the choice is yours. But a visit to Mumbai is incomplete without Marine Drive.
Location: Churchgate, Mumbai
Timings: Anytime
3. Dine At Dome Intercontinental
Dome Restaurant at Intercontinental not just serves fine food but is a must-visit place in Churchgate for a completely different reason – it's stunning views of the Arabian Sea. The rooftop restaurant affords some of the best views of the Arabian Sea in the city and is a must-visit place for those who wish to dine by seeing Marine Drive from an aerial perspective.
Location: InterContinental Hotel Marine Drive, Churchgate, Mumbai
Timings: Open all 24 Hours
4. Eat at Rustom's Ice Cream
Standing tall for decades, Mumbai's famous K. Rustom's Ice Cream has been around for over 50 years now and this place is always packed with ice cream lovers. You can try out their fresh fruit ice cream sandwiches which come at extremely affordable rates. Do try out their lassis as well.
Location: 86, Veer Nariman Road, Churchgate, Mumbai, Maharashtra 400020
Timings: 9:30 AM to 11:00 PM
5. Eat at Pizza By The Bay
What's better than authentic Italian pizza? Italian pizza with a view of the Arabian Sea. For all fine-dining enthusiasts, Churchgate has one of the best Italian restaurants in Mumbai. Not only do they offer authentic pizzas, but the view is also to die for. It is located right opposite the iconic Marine Drive and is perhaps one of the most romantic places to have a meal in Mumbai.
Location: Soona Mahal, 143, Marine Dr, Churchgate, Mumbai, Maharashtra 400020
Timings: 7:00 AM to 12.30 PM Everyday
6. Visit Churchgate Heritage Museum
Are you a history buff? Then the Churchgate Heritage Museum is the perfect place for you! It houses a lot of railway memorabilia from the 18th century along with other historical artefacts. It also houses a steam engine model that is sure to pique your interest and it is also free to visit.
Location: Ahilyabai Holkar Chowk, Churchgate, Mumbai
Timings: Monday to Saturday, 10:00 AM to 5:00 PM
7. Visit NCPA
Love art? Don't forget to check out NCPA in Nariman Point. It is a renowned centre for performing arts and sees regular plays and musical events being hosted. If you are someone who enjoys theatre, NCPA is a must-visit.
Location: NCPA, Nariman Point, Mumbai, Maharashtra 400021
Timings: 9:00 AM to 7:00 PM Everyday
8. Eat at Khau Galli
Located just outside Churchgate station, the Churchgate Khau Galli is every foodie's paradise. Everything from Chinese, South Indian and Cheese Pav Bhaji is at your disposal. Relish some delicious juices and milkshakes while you're there as well.
Location: Churchgate, Mumbai, Maharashtra 400020
Timings: 24 Hours
9. Visit Wankhede Stadium
One of the two main cricket stadiums of Mumbai is Wankhede Stadium. It is located in Churchgate and give you splendid views of the Arabian Sea from the aerial perspective. The massive stadium is a treat to visit for all cricket and sports lovers. Do try to catch on some cricket matches there!
Location: Vinoo Mankad Rd, Churchgate, Mumbai, Maharashtra 400020
Timings: 11:30 AM to 7:30 PM
10. Colaba Causeway
Colaba Causeway is equal to Shoppers Paradise. It has everything from clothes and accessories to home decor items right on the street! It is a good place to source quality items at a bargain. If you are good at the art of negotiation, you are sure to get a great deal here. The best part is that it is just 10 minutes from Churchgate Station.
Location: Colaba Causeway Market, Colaba, Mumbai – 400005
Timings: 10:00 AM to 9:00 PM
11. Eat at Raju Sandwich
At walking distance from Churchgate station are the famous HR and KC colleges. However, we aren't talking about them. Raju Sandwich near KC college is a well-known sandwich stall. It is a crowd-favourite and loved by all college-goers. Their delicious cheesy paninis and sandwiches are not to be missed.
Location: Behind Samrat Hotel, Next to The J, Near HR College, Churchgate, Mumbai, Maharashtra 400020
Timings: 9:00 AM to 9 p:00 PM
12. Eros Cinema
One of the oldest theaters in the city, Eros Cinema is located right outside the Churchgate Railway Station and has a seating capacity of over 1000! This is one place where you can catch the latest cinema flicks and can travel back in time. While it has shut its doors for a while now, the building is still at its prime and is a must visit spot.
Location: 42, Cambata Building, North Wing, Maharshi Karve Road, Churchgate, Opposite Churchgate Station, Mumbai, Maharashtra 400020
Timings: 10:00 AM to 11 PM
Conclusion
Have you been to Churchgate before? If so, have you visited all the places mentioned above? Do let us know how your experience was, in the comments section below, if you have visited them before!
Latest posts by Vibha Sharma
(see all)