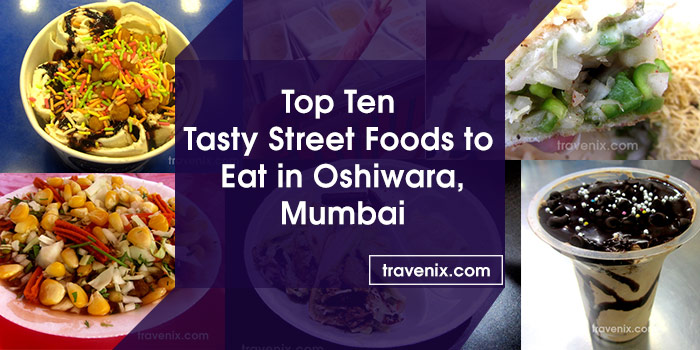 Top 10 Tasty Street Food Snacks to Eat in Oshiwara – Mumbai
The name Oshiwara is attributed to the Oshiwara river. It is located between the western sides of Goregaon and Jogeshwari and has a large number of industrial estates. With such a large number of industries, the area is filled with people during the day. To cater to this vast crowd of employees and residents, several small food joints have opened up and offer affordable food throughout the day. With some unique dishes on the offering, this area should be visited for street side food as well.
Riverside delights of Oshiwara
With more and more food outlets opening up every day, this area will soon be known for street food as well. Those who frequent this area know the best places around to eat; but for the rest, choosing may be difficult, and that's where we come in. Here, we present the best places to eat in the area so that you can choose where to go with ease.
1. Jaggery Ice Cream – Barfu
From the name, one may think that jaggery will make the ice cream excessively sweet, but this isn't the case here. The sweetness is just perfect and gives you a very homely feel. The cone is crisp and fresh. Try this unique ice cream here.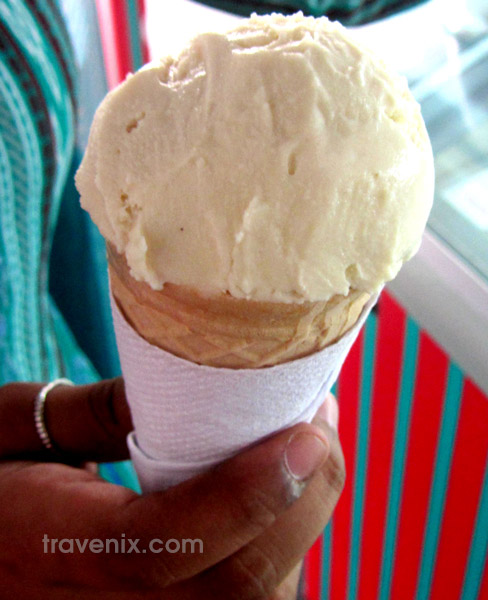 Where: Near Cafe Coffee Day, in the lane of Havmor, Oshiwara, Mumbai
Price: ₹ 65.00
Rating: 3.5/5
Recommended Combinations: Jackfruit, Litche, Mango, Non Fruit-Belgian Chocolate, Cookie Cream, Pan
2. Mix Salad – Street Side Stall
This salad consists of corn, cabbage, moong dal and soya beans. Served with this, are a Manchurian soup and schezwan sticks. It has the distinct flavor of every ingredient and the soup goes extremely well with the salad. This stall operates only from evening till night and is open every day of the year.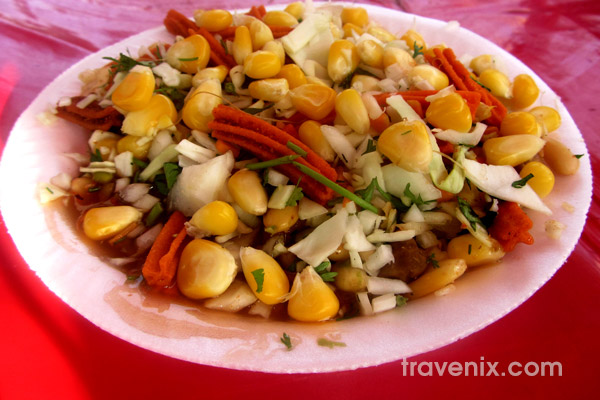 Where: Off New Link Road, opp Walawarkar Udyan, next to Green Park, Oshiwara, Mumbai
Price: ₹ 50.00
Rating: 3/5
Recommended Combinations: Chilled Juices and Manchurian Soup
3. Artisan Krafts – Icekraft
The very intriguing name turns out to be that of a dessert served here. The marshmallow base is soft and spongy, with hot chocolate fudge used as the sauce. The dessert is topped with rainbow sprinkles, butterscotch and vanilla sponge. The marshmallow flavor is hardly present or probably subdued by the others. The chocolate sauce and rainbow sprinkles overpower the other flavors and the vanilla sponge leaves a lasting taste in your mouth. The butterscotch adds the crunchy element to the dish. Overall, the dish is appropriately sweet and is very satisfying to consume.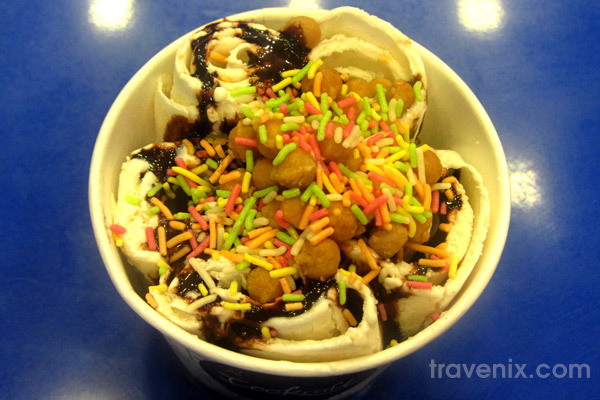 Where: Off New Link Road, next to Lukhnowee Legacy, near 5spice
Price: ₹ 105.00
Rating: 3/5
Recommended Combinations: Absolute Freak Shake, Absolute Berry
4. Hot n Spicy Chicken Shawarma – Al-Shawarma
Ah! This Arabic dish is a must have. The chicken is cooked perfectly and is tender and juicy. The pita bread is soft and melts in your mouth. The French fries are slightly soft, but surprisingly go very well with the dish. The sauce added to it has a distinct flavor and the mayo is slightly sweet. This gives it a perfect balance of sweetness and spiciness. Black pepper is sprinkled in excess over the dish and leaves a hot sensation in your mouth, so the dish truly lives up to its name.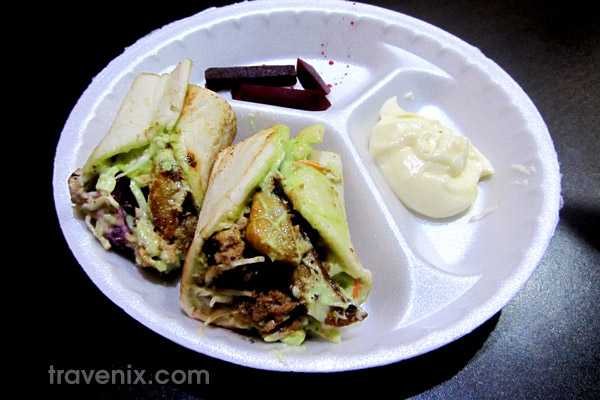 Where: Near Mega Mall, off New Link Road
Price: ₹ 100.00
Rating: 3/5
Recommended Combinations: Regular Shawarma
5. Asharfilal Anar Kulfi – Barfu
The kulfi is dotted with pomegranate seeds, which give you something grainy to chew. The kulfi itself is perfectly sweet and hits the spot. The malai content however, is in excess and overpowers the other flavors to a certain extent. All in all, a good "Cool"fi to try out in the summer!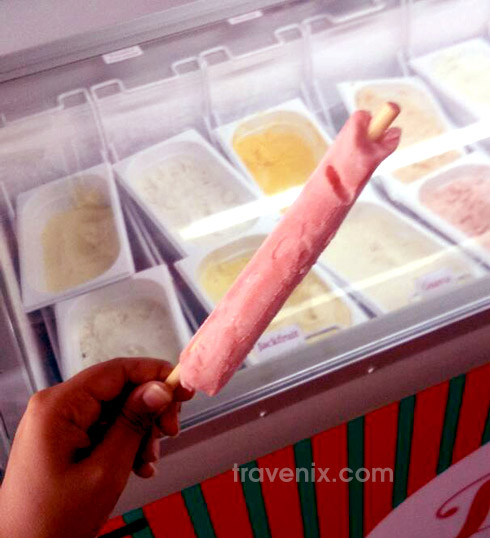 Where: Near Cafe Coffee Day, in the lane of Havmor, Oshiwara, Mumbai
Price: ₹ 50.00
Rating: 2.5/5
6. Thali – Street Side Stall
This basic thali has a good serving size that can fill one's stomach. The rice is undercooked and is chewy. The gravy available is that of soya and has a good consistency and flavor. The dal is diluted, and it feels almost like you're having water with some dal mixed in it. The flavor of the dal is great though. With this thali, a mixed vegetable pickle is also served.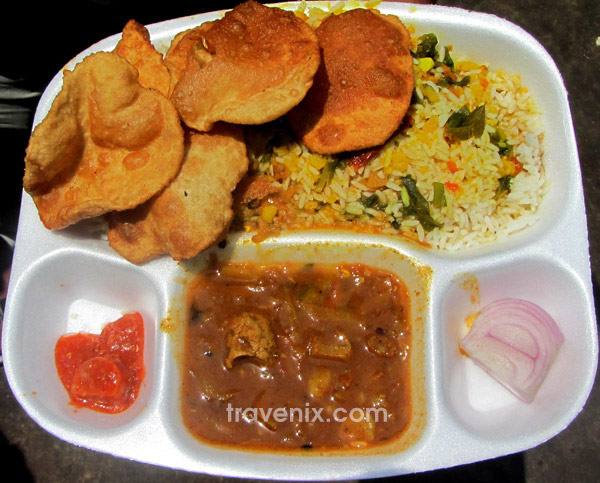 Where: Off New Link Road, near Walawarkar Udyan, opp Green Park Building, Oshiwara, Mumbai
Price: ₹ 30.00
Rating: 2.5/5
7. Maska Pav and Cutting Chai – K.G.N Nagori Tea and Cold Drinks
The tea here is made for the cutting chai lovers. Less sugar ensures that the tea flavor is prominent and strong. The consistency though isn't the best; it's slightly watery, but the cardamom flavor makes up for this. The maska pav is very soft and fresh. It's slightly sweet and loaded with butter. This standard Tea-Bun combination here is definitely worth trying.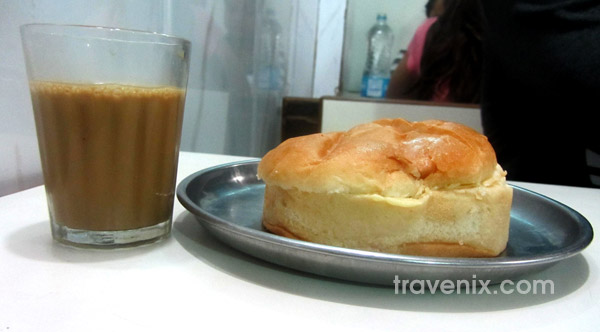 Where: opp Relaible Business Centre, near Hera Panna Mall.
Price: tea-7/maska pav-10
Rating: 2/5
8. Chili Cheese Toast – Raju Snacks
This is no ordinary chili cheese toast with just chilies and cheese. The filling consists of onions, capsicums, cheese and chutney. The chutney seems to be tasteless, but the cheese has a very distinct taste which overpowers the taste of the other ingredients. The toast gives off a spicy flavor due to the addition of onions. It is topped with sev and served dry. Try this different chili cheese toast here. This place is open throughout the year.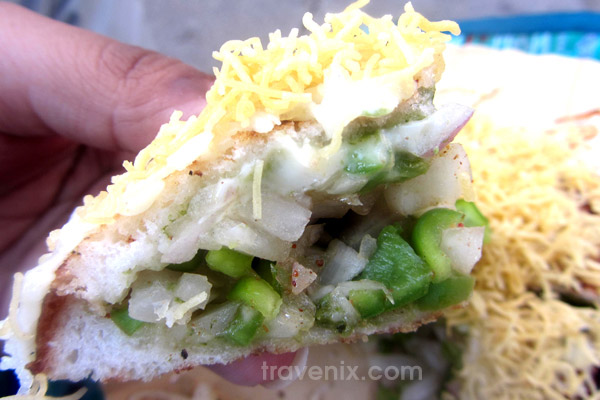 Where: Off New Link Road, opp Walawarkar Udyan, next to Green Park, Oshiwara, Mumbai
Price: ₹ 50.00
Rating: 2/5
9. Belgium Mousse – Mother's Bakery
This creamy delight is an average dessert after all. The cream is sweet and tasty; but an excessive amount of gelatin seems to be added to it. It's adequately sweet and the chocolate chips are delicious as toppings. The texture is smooth and the presentation makes it appear very tempting.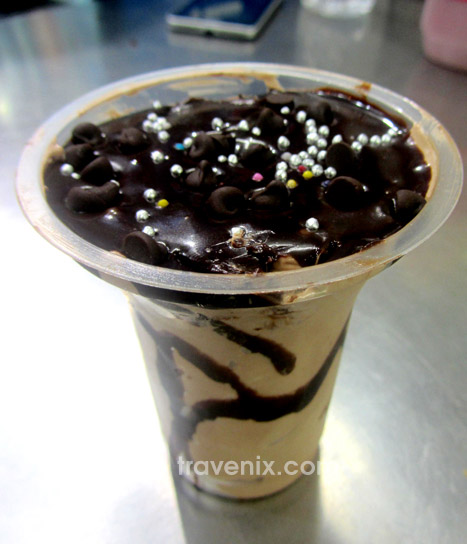 Where: Near Hera Panna, next to Cafe Safar
Price: ₹ 50.00
Rating: 1.5/5
10. Kanda Bhajji – Hathi Kheda Thakur Vada Pav Shop
Besan lovers will absolutely love this bhajji. With fewer onions and more besan, this is an absolute treat. The salt content is proper and the oil content is minimal as well, but the bhajji is very hard, probably because it wasn't freshly made when we went. The accompanying pudina chutney is a great sidekick and is tasty, and the sweet chutney is slightly watery yet tasty.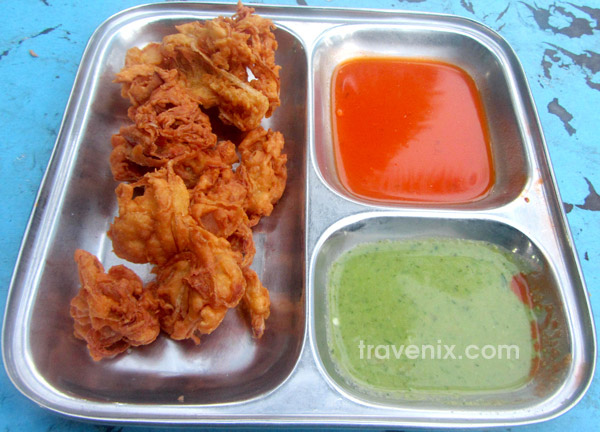 Where: opp Relaible Business Centre, near Hera Panna Mall.
Price: half-10/full-20
Rating: 1/5
If you do happen to visit any of the above places or find some other places that grab your attention and think that you should share it with our community, do write about them in the comments below!
Latest posts by Vibha Sharma
(see all)