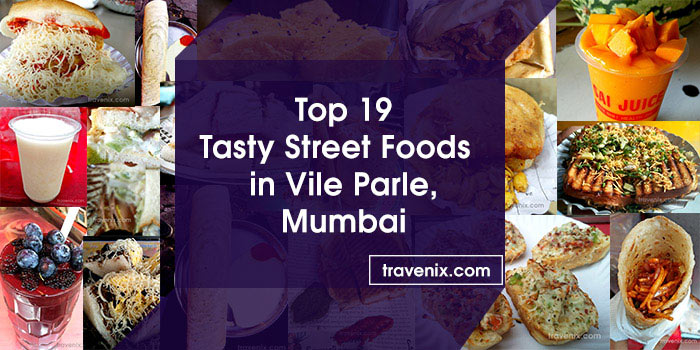 Top 19 Tasty Street Foods to Try in Vile Parle, Mumbai
Vile Parle is a name synonymous with small cafes and restaurants, but does the latter half of the name ring a bell? It is Parle, ji. This area has a connection with the decades old Parle brand, as it used to be home to the first Parle factory. Vile Parle's proximity to the domestic airport makes it a popular spot for travelers to stay at. Despite this, there are many small food joints that stay unexplored. Here, we've listed down our top 10 picks to eat at in Vile Parle.
It's all pocket-friendly in Vile Parle!
Remember the days when money used to be short and mess food was inedible? Ah! The street food and small cafes were the perfect saviors back then, weren't they? This is what this area has to offer- A journey back to college life! With plenty to offer for the budget conscious college crowd, Vile Parle has the perfect pick of snacks that won't burn a hole in your pocket.
1. Get Lucky at the Lucky Sandwich Corner!
The heavenly taste of the sandwiches at Lucky Sandwich Corner is sure to bring out the glutton in you. Each bite is a sinful blend of cheese and butter that just melts in your mouth effortlessly. Stuffed with potatoes, cucumber, capsicum and onion, the beauty of this dish lies in its simplicity. Standing tall since the last 36 years, this stall is a must visit for all sandwich lovers.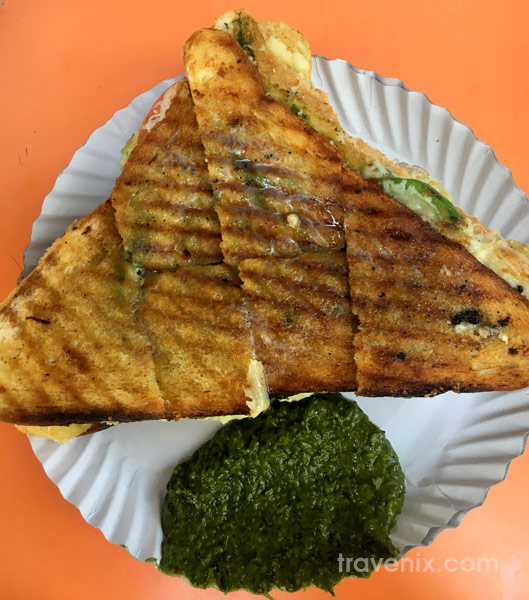 Where: Bajaj Road, Near Station, Vile Parle West, Mumbai
Price: ₹120.00
Rating: 4/5
Recommended Combination: Veg. Cheese Grill Sandwich
2. Jinnie Dosa – Sai Samarth Dosa Center
Jinnie Dosa's appeal lies in creating mystery with its name. Nobody seems to know the reason for it, but it sure has made it to the top of popularity polls. Smothered with butter on the inside, the extra smooth texture of the dosa makes it unique. The stuffing inside is pretty standard- a mix of onion, tomato, little pieces of paneer and some capsicum. However, the surprise lies in its coating.  Sweet and sour tamarind is countered with fiery schezwan chutney to create bursts of flavors in each bite. To add a little more drama to your palate, it is served with the traditional coconut and coriander chutneys. Try this dish for the variety of flavors, all served in one dish.
Where: Bajaj Road, Near the skywalk, Vile Parle Station (W), Mumbai
Price: ₹120.00
Rating: 4/5
Recommended Combination: Pasta Dosa
3. Vada Pav – Babu Vada Pav
Eating in Mumbai is incomplete without savoring the famous Vada Pav, isn't it? Here, the Vada Pav is served hot and fresh along with spicy coriander chutney, tamarind chutney and red garlic powder. The soft bread ensures that each bite is filled with bliss. This generations old stall offers one of the best Vada Pavs in town and is always crowded due to its popularity.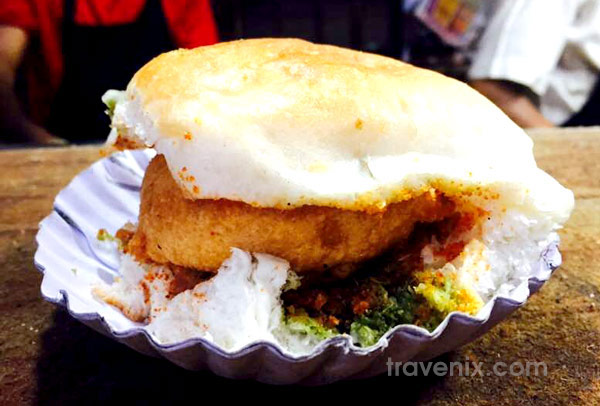 Where: Opp. Parle Tilak English Medical School,Hanuman Road, Vile Parle (E), Mumbai
Price: ₹12.00
Rating: 4/5
4. Ice Cream Sandwich – Ice and Rolls
Nutella, Bread, and Ice cream- this combination is sure to make anyone drool. Moreover, the sandwich is made right in front of you! Generous amount of Nutella with two scoops of Kesar Pista ice cream make this dish irresistible. The dish is topped with chocolate shavings and cheese. Innovative, isn't it? Try it when you are in the mood for something chocolaty, yet different.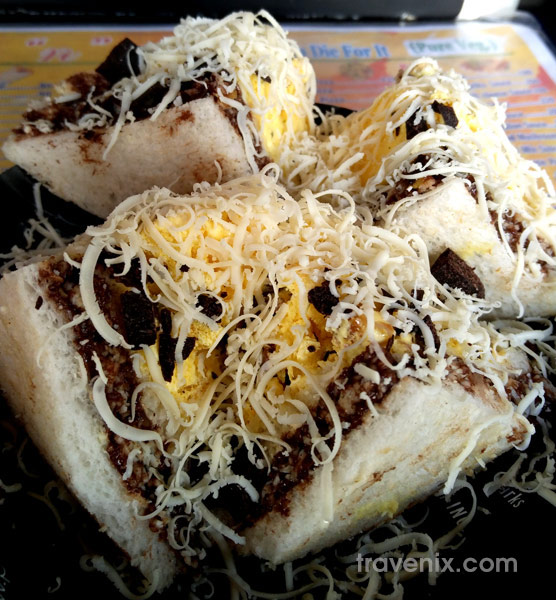 Where: Opp. Bhaidas Hall, Vile Parle (W), Mumbai
Price: ₹120.00
Rating: 4/5
Recommended Combination: Fererro Rocher Milkshake
5. Mango Juice – Sai Juice Center
Yet another place popular among students. The reason? The mango juice here is divine. The juice is made right from scratch in front of you with just a spoonful of sugar added. This assures that there is no other added ingredient, and one gets the natural taste of the king of fruits! The thick consistency of the juice and the quantity is totally worth the money spent and gives you the feel of having aamras. One glass is enough to leave your tummy satisfied for quite some time.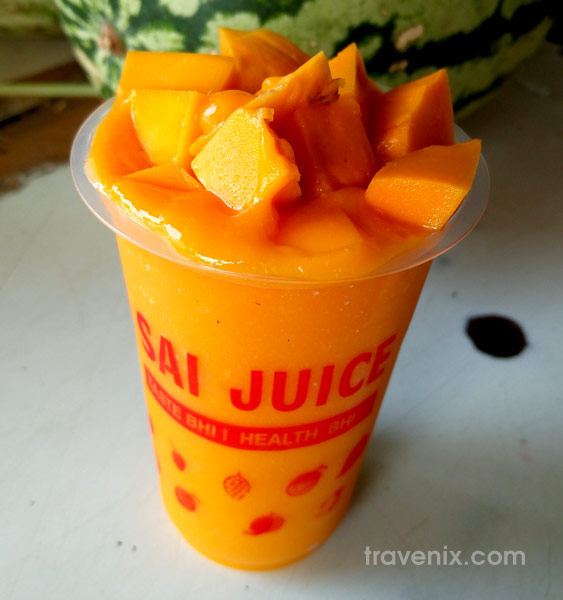 Where: Opp. Bhaidas Hall, Vile Parle (W), Mumbai
Price: ₹120.00
Rating: 4/5
6. Four Berries Mocktail – Hari Om Juice Center
The delightful flavors of berries are combined into one mega mocktail at the Hari Om Juice Centre. You can see pieces of strawberry, raspberry, cranberry and blueberry floating in your drink, which gives it a richness of taste.  This stall has been serving customers for more than two decades now and is definitely one of the top places to have mocktails.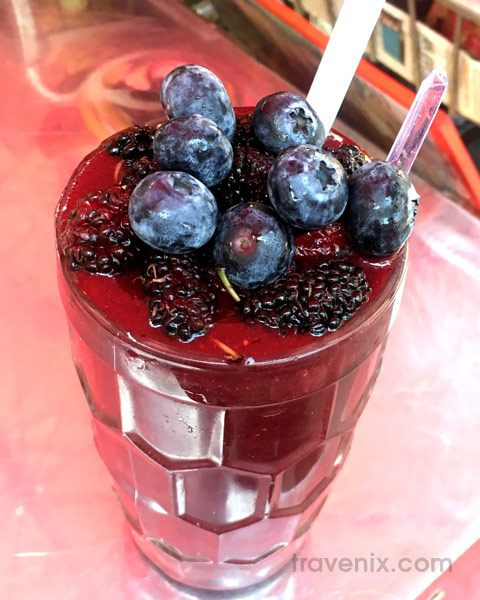 Where: Bajaj Road, Near Station, Vile Parle West, Mumbai
Price: ₹240.00
Rating: 4/5
Other Great Dishes Here: Five Berries, Passion Delight, Golden Glow
7. Chicken Shawarma – Baberia
A well-made chicken shawarma's strength lies in the tenderness of the chicken in it. Here, the marinating was spot on. No wonder then, the cook showed off his skills by generously flooding the wrap with chicken. In addition, the softness of the pita bread and mayo made it a great dish. The wrap also gets some flavor from the potatoes and cabbage inside it. This dish is a must try for all the Arabic food and chicken lovers out there.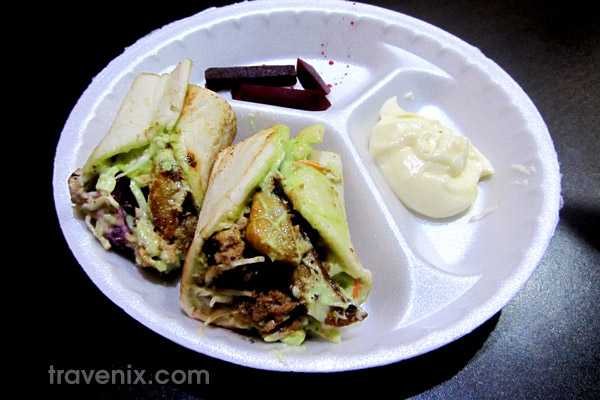 Where: Beside McDonald's, Hanuman Road, Vile Parle (E), Mumbai
Price: ₹100.00
Rating: 3.5/5
Recommended Combination: Bestselling:- Bhootkolotia Shawarma Made
8. Dabeli – Kach Guj
This buttery dabeli is crispy right from the first bite. This sweet and spicy dish gives you the very best of both worlds. The pomegranate seeds enhance the taste with little bursts of sweetness in your mouth. The schezwan sauce and tamarind chutney are used to create a perfect combination of sweet and spicy. The schezwan sauce gives it a Chinese twist and makes you want to eat more.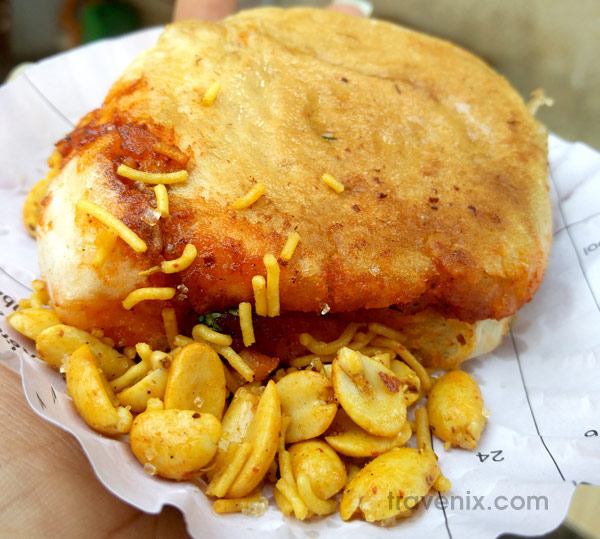 Where: Below the Sky Walk, Opposite Gift Gallery, DG Road , Vile Parle (W), Mumbai
Price: ₹15.00
Rating: 3.5/5
Recommended Combination: Jumbo Dabeli
9. Vada Pav – Vada Pav Stall
Get the typical Mumbai Vada Pav experience here with the zesty green chutney and sweet-sour tamarind chutney. The owner ensures that the dish is adored by all the spice lovers out there by adding extra masala to it.  What makes this Vada Pav different from all the others is the addition of peanuts like in Dabelis and this makes it all the more crispy! The Vada was slightly salty and the Pav wasn't fresh though, which spoiled the overall experience.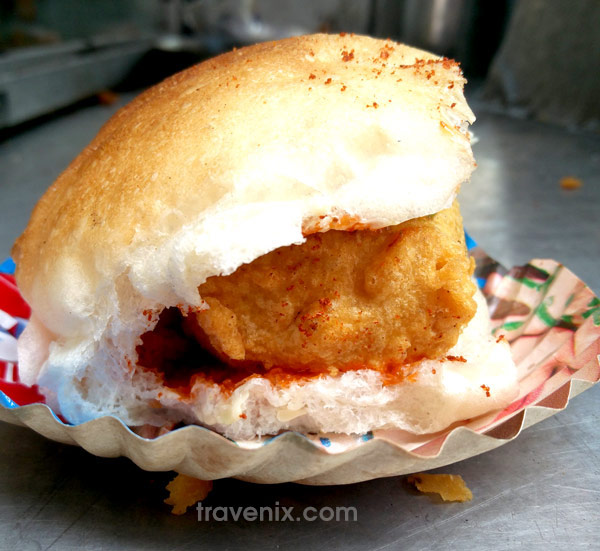 Where: Below the Sky Walk, Opposite Gift Gallery, DG Road , Vile Parle (W), Mumbai
Price: ₹12.00
Rating: 3.5/5
10. Dhokla – Saurashtra
How can one miss out on little Gujarat here in Mumbai? Freshly made dhoklas at Saurashtra are perfect to give your tongue a tangy twist. These soft and juicy dhoklas with sev sprinkled over them are perfectly complemented by the sweet green chutney that they are served with.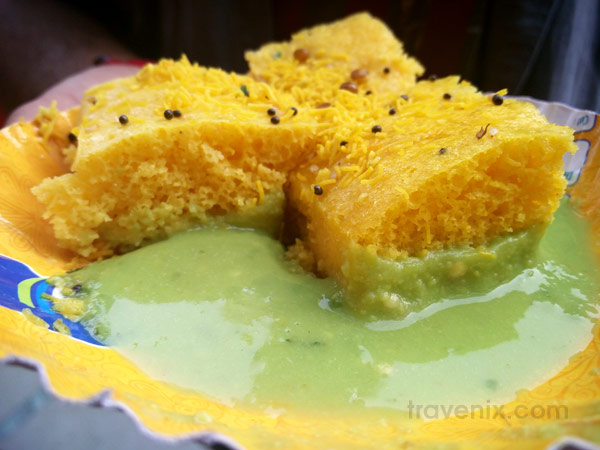 Where: Opp. IndusInd Bank, Nehru road, Vile Parle (E), Mumbai
Price: ₹24.00
Rating: 3/5
11. OTC Garlic Bread – GVC
Keeping it simple, OTC Garlic Bread's name is enough to give you an idea of its flavors – Onion, Tomato and Capsicum. Tomato gives this garlic bread a unique twist that blends well with the other toppings. The flavor of the garlic stands out well amongst the toppings and it really goes well together. For all the garlic bread lovers out there, try this if you want a break from the usual garlic bread.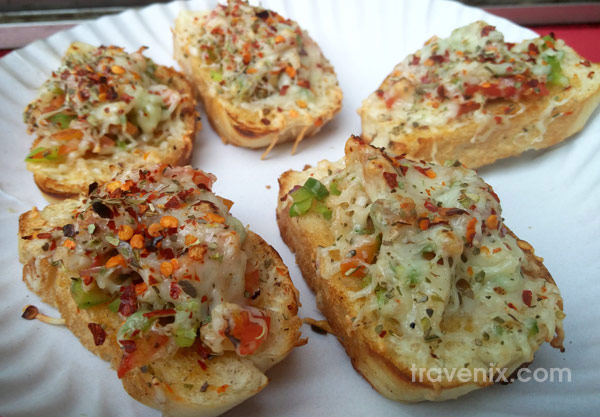 Where: Opp. Sathaye College, Vile Parle (E), Mumbai
Price: ₹60.00
Rating: 3/5
12. Plain Sandwich – Hari Om Sandwich Center
Adding a dash of beetroot and butter to your plain sandwich, Hari Om Centre redefines plainness. The beetroot in it gives it an interesting color twist while the sandwich masala gives it a tangy taste. The freshly chopped vegetables make the whole experience delightful. Served along with spicy chutney, it only gives the flavors an interesting spin.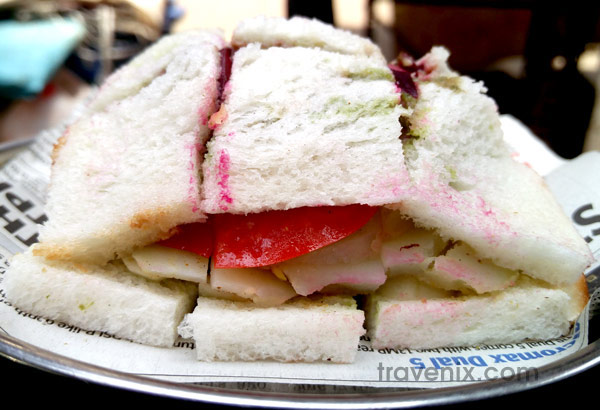 Where: Below the Sky Walk, Beside Gift Gallery, DG Road , Vile Parle (W), Mumbai
Price: ₹20.00
Rating: 3/5
13. Schezwan Cheese Vada Pav – Gayatri Snacks and Cold Center
This dish stands up to its name with the whole Vada being covered with grated cheese! The quantity of cheese used is so much that it even masks the taste of spicy chutney and schezwan sauce, making it less spicy. However, the Vada could have been better cooked, to make the dish a complete star.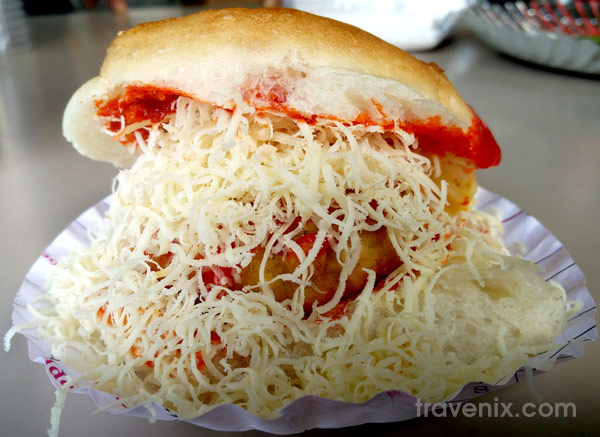 Where: Opp. Usha Pravin Gandhi College, DG Road , Vile Parle (W), Mumbai
Price: ₹50.00
Rating: 3/5
14. Sandwich Sev Puri – Viru Snacks Bar
This combination of the traditional Sev Puri with bread is worth trying for its uniqueness. The puris and sev make the sandwich crunchy and delightful to eat. The sandwich is topped with "kaccha" mango which gives it a good sour taste. However, if you are a hardcore sev puri lover, the bread might seem to interfere with the goodness of the traditional sev puri taste.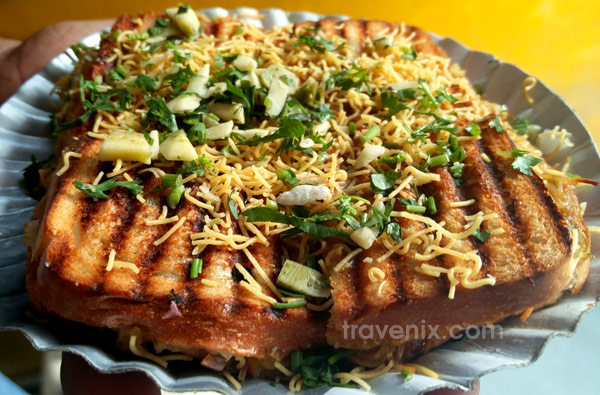 Where: 3, Prashal Co-Operative Housing Society, Sant Janabhai Marg, Vile Parle East, Mumbai
Price: ₹35.00
Rating: 3/5
15. Veg. Toast – Shri Aarey Doodh
This well toasted sandwich is crisp in each bite. The taste of the potato filling used in the sandwich resembles that of the one used in samosas. It is served along with two chutneys – one which has a strong taste of ginger and the other one, of garlic. Along with the potato filling, the sandwich includes tomatoes, onions and capsicum. It is moderately spicy.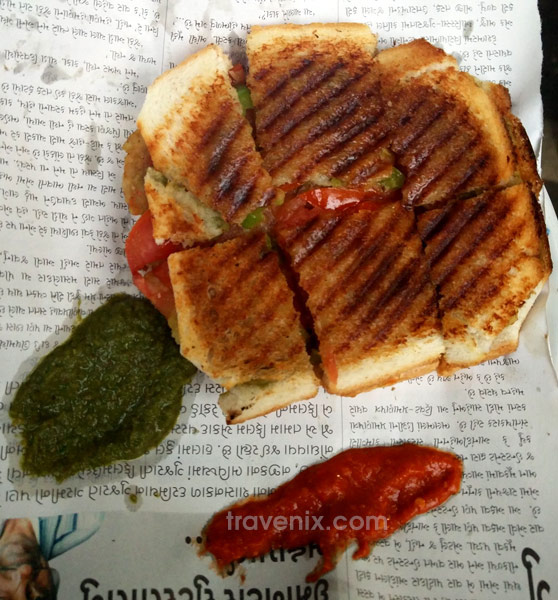 Where: Firoz Shah Mehta Road, Near BMC Office, Vile Parle (E), Mumbai
Price: ₹35.00
Rating: 3/5
16. Pudina Dosa – Sanmitra Dosa Center
This freshly made dosa brings a great balance of softness and crispiness. The dosa has a prominent taste of fresh mint, but the chutney isn't as great as the dosa. It's spicy, but lacks the flavor that can perfectly complement the amazing dosa. Better chutney will really make this a great combination, but nonetheless, go here for the delicious dosa!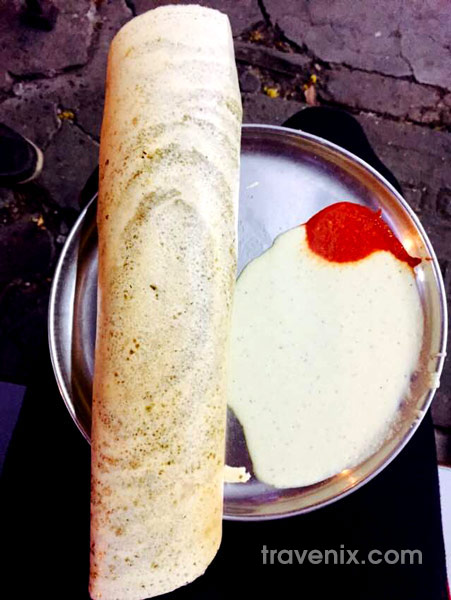 Where: Opp. Parle Tilak English Medical School,Hanuman Road, Vile Parle (E), Mumbai
Price: ₹30.00
Rating: 3/5
17. Noodle Manchurian Frankie – Veg. Roll Frankie
For the love of adding the Indian touch to Chinese dishes, this roll is a hit.  The savory dish is filled with a large chunk of well cooked noodles covered in spicy schezwan sauce. The Manchurian is soft enough for you to comfortably bite into. On the contrary, the roti could be cooked a little more. Overall, the roll also has a prominent vinegar taste.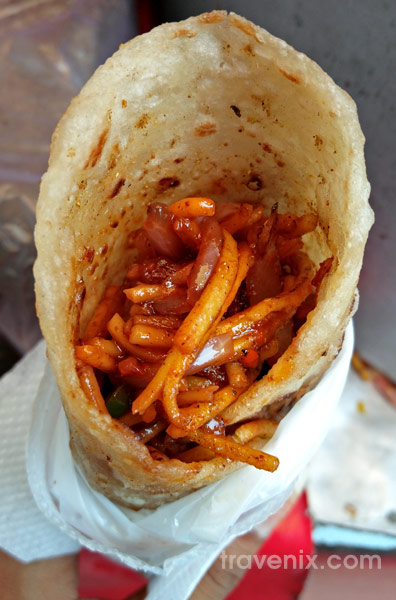 Where: DG Road, Opp. Vile Parle station (west), Mumbai
Price: ₹50.00
Rating: 3/5
18. Mayo Sandwich – Dhiraj Enterprises
This simple sandwich is very popular among youngsters. The garlic mayonnaise is mixed with onions and capsicum and spread generously. The smooth texture of mayo along with garlic, onion and capsicum is a combination that just can't go wrong. The chutney served with the sandwich is spicy and goes well with the sweet and sour taste of the sandwich. The only drawback in the sandwich is its saltiness.
Where: Opp. Sunanda Divatiya School of Science, Vile Parle (W), Mumbai
Price: ₹60.00
Rating: 2.5/5
19. Butter Milk – Chaas
The traditional Gujarati "Chaas" is sure to cool down your mind and body and works perfectly against the scorching sun. The taste of coriander in it overpowers the taste of buttermilk. The masala used in the buttermilk is homemade and should give you a feel of having buttermilk at home – probably the reason why this place remains crowded.
Where: In front of the Video Game Parlor, DG road, Near the station, Vile Parle (W), Mumbai
Price: ₹10.00
Rating: 2/5
Whether you're a street food lover or not, some of these places can actually give restaurants a run for their money and are definitely worth trying. Add these places up in your list of places to eat!
If you have been to any of these places or visit them after reading this article, do comment about your experience in the box below. Share this with your friends so that they don't miss out on amazing food while in Vile Parle!
Latest posts by Vibha Sharma
(see all)