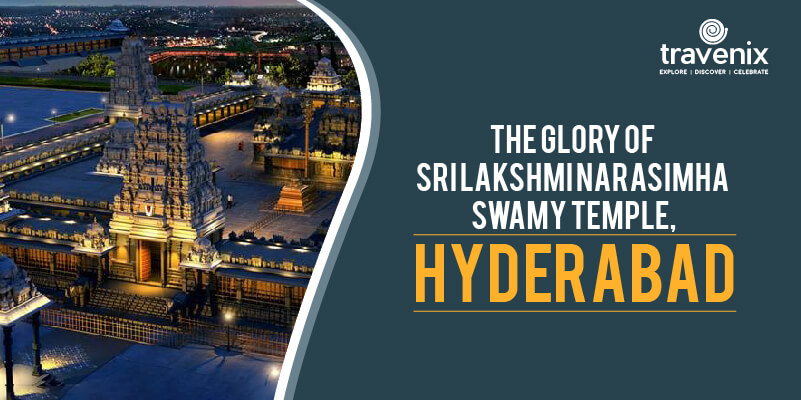 The Glory of Sri Lakshmi Narasimha Swamy Temple, Hyderabad
The city of Telangana, Hyderabad is widely known for various beautiful temples, old and new dotting its landscape, catching the attention of devotees from India & abroad. This temple is highly popular in Hindu mythology dedicated to Lord Narasimha Swami; an incarnation of Lord Vishnu. Many people visit the temple in Summer and winter seasons and worship, believing that Lord fulfills the devotees wishes.
Fascinating Facts About Sri Lakshmi Narasimha Swamy Temple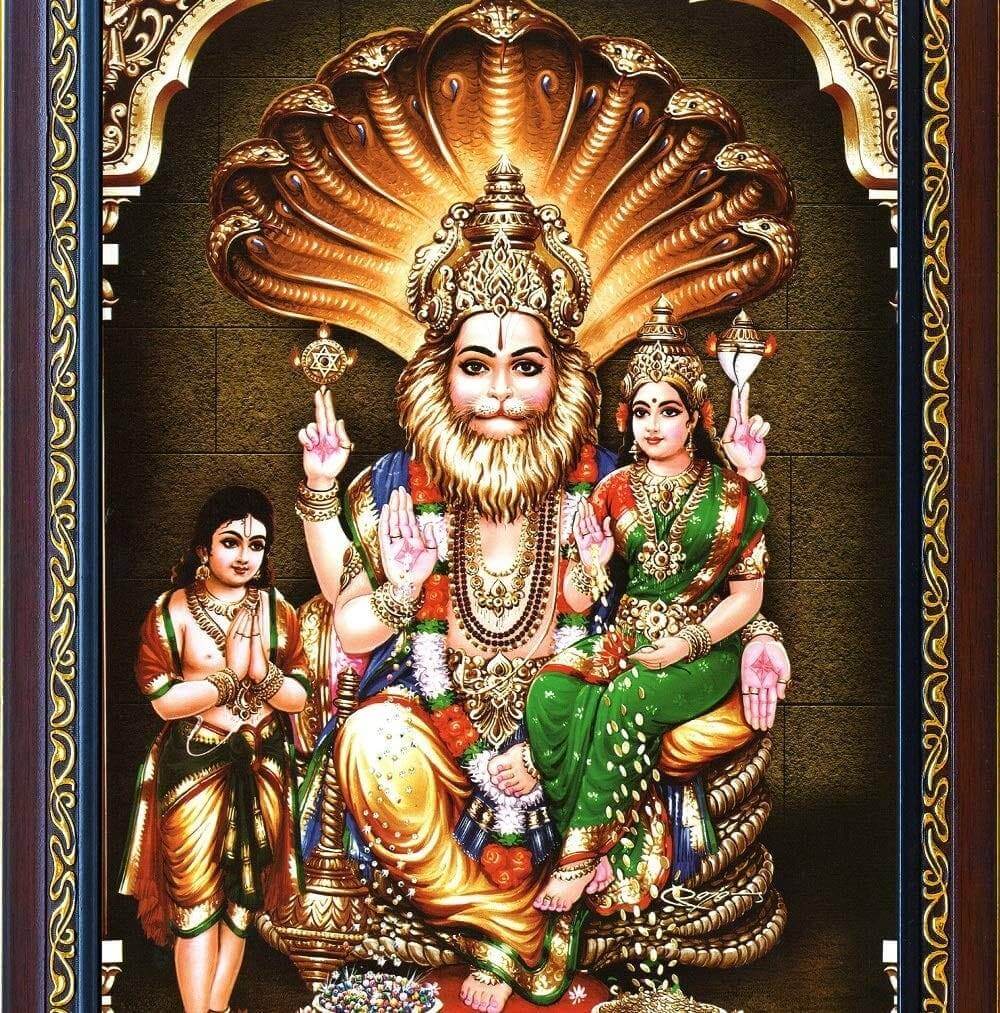 During the Chola dynasty period, this temple was built over 400 years ago, where people celebrate Narasimha Swamy kalyanosthavam in the month of Vaishakham every year. The temple's presiding lord; Sri Lakshmi Narasimha Swamy is an ancient Swayam Vyakta Deity (Swayambhu) that seemed on a Udbhava Shila in a standing posture which is extremely rare.
It is said that, in the year 1907, Maharaja Sri Krishna Prasad Jagirdar devoted land to the extent of 47.19 acres to the Deity, and the temple has come under the purview of the endowment department since 1993. It is also said to be one of the largest saligramas in this world. It contains the water of the River Ganges, i.e., "Jala Garbha Narayana Saligrama Shila" which known to take millions of years to build in a river called Gandaki (in Nepal), which is a blessing that it has arrived at this kshetra. Devotees offer prayers to Sri Lakshmi Narasimha Swamy to remove all obstacles and receive health and happiness blessings.
The Story Behind The Temple
If we look deep into Hindu mythology, Jaya and Vijaya, the dwara palakas of Vaikuntam didn't allow 7 sages to Lord Vishnu darshan once so they cursed to stay away from Lord Vishnu for three life spans. So, they took birth 3 times as enemies of Lord Vishnu as Hiranyaksha-Hiranya kasipa, Ravana-Kubhakarna and Shishupala-Danthavaktra.
Hiranya Kasipa stormed as Lord Vishnu in his Varaha incarnation and killed his brother Hiranyaksha, who wanted to take revenge on Lord Vishnu and all other Vishnu followers. So, he prayed hard to Lord Brahma to acquire more powers and also asked not to be killed by humans or animals, gods or demons, not to be killed day or night, neither inside nor outside of a residence, nor on the ground nor in the sky by any weapons or non-living things. With this list of clauses, he could be able to rule the whole Universe without humanity. Then Prahlada took birth as his son who became a devotee of Lord Vishnu being influenced by his mother (a devotee of Vishnu). Hiranyakasipa got angry and ordered his help to kill his son. His servants tried hard to kill the innocent child, but there is no effect on him being saved by Lord Vishnu every time. Then Hiranyakasipa asked Prahlad to show Lord Vishnu's omnipresence in a pillar, lord Vishnu came out in deadly fearsome form (varah avtar; half man and half Lion) and killed the demon with his nails, at twilight on his lap while sitting, ripped his stomach and wore his intestines garland. This displays Lord Vishnu's power and love towards his devotees.
Architecture of Sri Lakshmi Narasimha Swamy Temple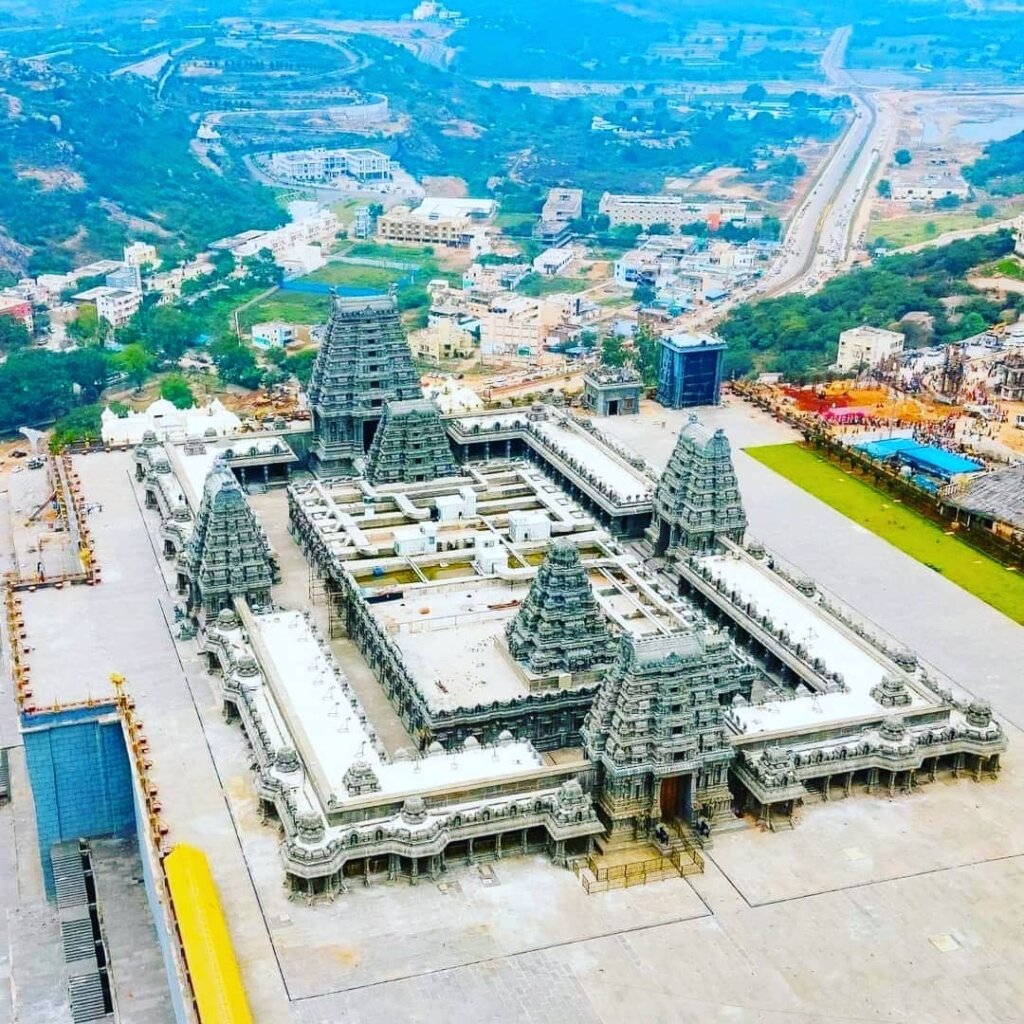 The Sri Lakshmi Narasimha Swamy temple is in a cave about 12 feet high and 30 feet long. People worship the silver image of Laxmi Narasimha, meditating & sitting in yoga position. The top of inner most sanctum of the temple has the Lord Vishnu's golden Sudarshan chakra. It is also believed that the chakra moved in the direction of where the devotees used to enter the temple, just like a compass that guides devotees inside the temple. The Garvagriha is inside the cave, under a gage slating rock covering half the abode.
Sri Lakshmi Narasimha Swamy Temple Festival
Brahmosthavams is celebrated every year for 11 days in the month of phalgunam (February & March); from Sudha Vidaya to Dwadashi. In addition, the Narasimha Jayanti is also celebrated in the month of Vaishakha.
Sri Lakshmi Narasimha Swamy Temple Timings
The temple remains open from 4.30AM to 9.30PM every day as Lord Vishnu's daily puja include Aarchana, Aarti, and Abhisekham. The puja vidhi or procedure was set by Late Sri Vangeepuram Naramsimhacharyulu who composed Yadagiri Suprabhatam, Prapatti, Strotram, Mangalashasanam and served as Sthanacharya of the temple.
How To Reach Sri Lakshmi Narasimha Swamy Temple?
As Sri Lakshmi Narasimha Swamy Temple is located in forest 3 kilometers to Chukkapur Village, Machareddy mandal of Kamareddy district, the nearest airport is in Hyderabad, which is about 102km from Yadagiri Gutta. The main railway station is 14km far from the temple at Bhongir, and the nearest railway station to yadagirigutta temple is in Raigir which is only for passenger trains. Yadagirigutta temple buses from Hyderabad is well connected and available for all the visitors from other cities of the state. The temple is also having sufficient number of cottages, dormitories and choultries to the stay of the devotes, & V.I.P.s including A.C rooms to stay in the uphill.
Places To Visit Near Yadagirigutta Temple
The Sri Lakshmi Narasimha Swamy temple has undergone a majestic transformation with towering gopurams, soul-soothing sculptures and mandapams, which have undeniably turned the temple into an artistic modern architectural marvel that can beat other noted Indian temples. The devotees can also visit some other awesome places nearby such as Bhongir Fort, Kunda Satyanarayana Kala Dhaman – Surendrapuri, Lokanupak Swetamber Jain Mandir, Surendrapuri, Sri Guru Raghavendra Swamy temple etc.
When Are You Planning to Get the Blessings of Lord Vishnu?
India is a land of temples, and South has always been a place of attraction for the deities in the temple from every corner having historic landmarks. The darshanam of Lord Shri Soorya Narayana is itself a serene place to worship and will be a treat to the eyes & soul of everyone who visits. This temple is ancient and intricately designed to make us spiritually connected with the supreme lord and our rich cultural heritage. So, what are you waiting for? Book your Yadagirigutta temple darshan tickets for a heavenly and must-visit place to nurture an interest in history, architecture & spirituality!
The list of tourist places in Hyderabad contains a variety, including temples, cities, dams, and national parks. Plan your vacations for Vishnu darshan to rejuvenate yourself! This pearl city has it all to keep you glued, from historical monuments to natural getaways to mouth-watering world-famous cuisine to happy shopping places and thrilling entertainment parks.
Latest posts by Fateha Firdaus Barbhuiya
(see all)