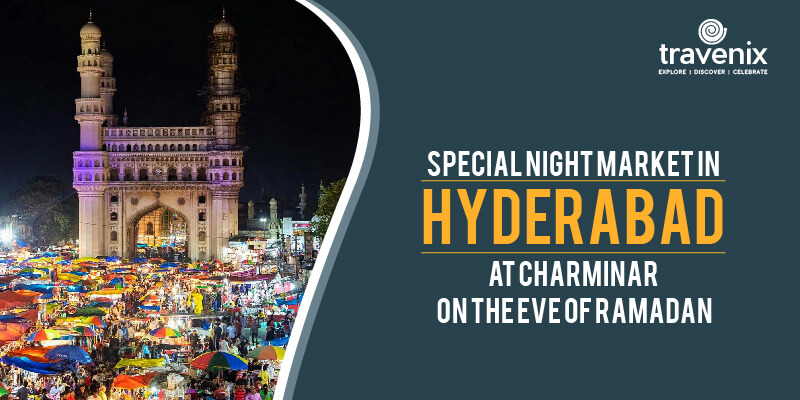 A Walk Through the Special Night Market in Hyderabad at Charminar on the Eve of Ramadan
When we speak about the city of Hyderabad, the images of Charminar and the fort of Golconda dominate our thoughts. But, in reality, Hyderabad has grown into something more than a hub for India's architectural finesse and artists' paradise. Today, the capital city is competing hard with Bangalore and Chennai for the crown of India's IT capital.
Besides that, the night of Hyderabad is as alive as the crowded streets are during the day. But, the most striking feature is the unique blend of old with new, which is worth experiencing. And, do not forget to check the night market in Hyderabad. You can always find something or other to adorn your closest or appease your taste bud.
A Walk through the Night Market in Hyderabad
India has a comparatively younger population than China and Japan. A major part of the population is concentrated in urban metro cities like Bangalore, Hyderabad, Chennai, Noida, and so on. Being young at heart, the working urban Indians turn to weekend nights to burn out their week-long exhaustion. Hence, the nightlife is a major part; Hyderabad has its share to offer to the young crowd.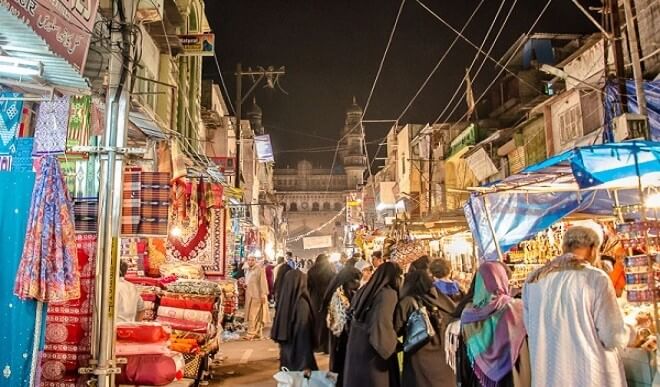 Image Source: prabhasakshi
However, the most appealing factor of this city lies not in the glitz and glamour of modern pubs but the old, dusty, crowded night markets in Hyderabad. These old streets, especially around Charminar, are shoppers' love nests. Here, one can find goodies to designer jackets at incredibly budget-friendly rates. But, believe it or not, there's a whole market dedicated to ladies' favorite – bangles. And the sellers wouldn't mind if you wear a few bangles to click pictures of your decked-up wrists.
Beware! The aromas of Biriyani and other Mughlai delicacies adorning the streets of the Night Markets in Hyderabad might distract your shopping. You might be in a fix between listening to your hunger pangs or fulfilling your shopping dreams. Whatever is your choice, rest assured Hyderabad Street markets will have something or the other to appease your whims.
If you choose to visit Hyderabad during Ramadan, you will be treated to the best of what Hyderabad offers.
Ramzan Special Night Shopping – In and Around Charminar
Ramzan, also spelled as Ramadan, is the ninth month in the Islamic calendar. Muslims spend an entire month fasting, praying, reflecting, and serving the community to celebrate Ramadan. They avoid eating and drinking, including water, while the sun is up. The old city of Hyderabad has more Muslims than the newer parts. Hence, to enjoy the festival fervor of Ramadan, this is where you should be, especially around the monument of Charminar.
Besides being significant for its larger-than-life architecture, Charminar has a 400-years-old mosque built on the top floor and is surrounded by the famous 'chudi' bazaar or Laad Bazar as it is popularly known.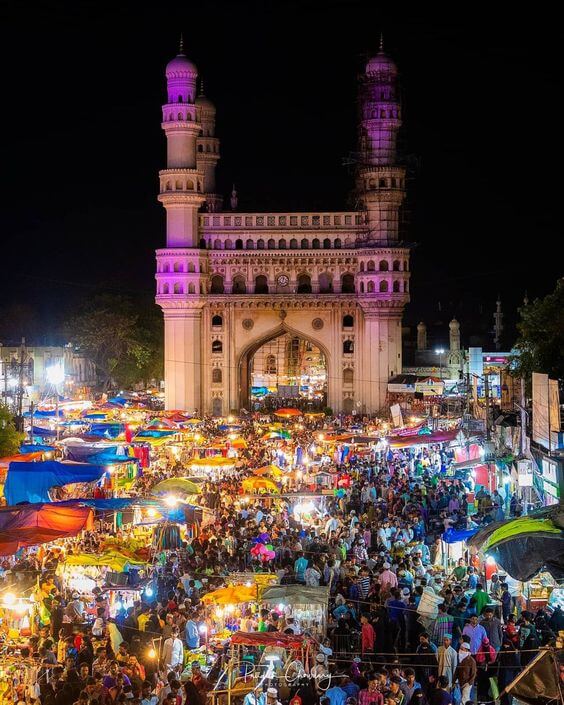 The night bazaar near Charminar is always bustling with life. But it is only after sundown you can see waves of people coming in to break their fasts and shop to their hearts' content. The mixed aroma of Biriyani steaming and rose Attar (perfume) is your constant partner; shopkeepers calling customers loudly in Deccani on one side of the street, followed by the clinking of bangles coming from the other end, a pleasant rhapsody. The vibe and energy are contagious, and sooner it catches up with you.
Ramzan night markets in Hyderabad can bring you closer to the old flavor, with its musty, dusty, and spicy smell. It bears a striking contrast to the clean, five-start scent of the urban areas. However, one thing you will miss – is the hospitality of the simple, smiling, and welcoming shopkeepers of the streets. That's what Indian festivals are all about and Hyderabad Night Markets truly uphold the spirits of festivities.
Things to Do Around Charminar During Ramadan
When the party is in full swing, you will have thousands of things to do. You can start the evening with a cup of very special Irani Chai.
1. Sipping a Cup of Steaming Irani Chai
When you wish to taste the special Irani chai, why not try it from an Irani Café? Nimrah in Hyderabad lets you savor the royal view of the Charminar as you take one sip or two from the famous chai.
Irani Chai first entered the menu years ago when immigrants from Persia chose Hyderabad to start their business. Sooner, this special tea became a staple of Hyderabadis. Nimrah Café and Bakery has been serving Irani chai since the 1970s alongside 18 different biscuits to bite as you sip. In addition, the small café has an assortment of delicious cookies and other baked goods to divert your attention from the specialty. But if you miss sipping into it, you missed experiencing a significant part of the old Hyderabad.
2. Try Some Palm Tattoos
Since your tea-time was served well, let's give your palms an artist's touch. Mehendi is rooted deep in Indian culture, and Indian women love decking their palms with mandala-style drawings in dark brown. It is a must during weddings and festivals like Eid. So, during Ramadan, this is one thing you need to try when visiting the Nights Markets in Hyderabad near Charminar. Get your hands painted with henna.
3. Something for Your Wrists, Ladies!
Oh, yes! Bangles are another must-have festive/wedding accessory finding a solid place in every closest in India. And, since it's the occasion of Ramadan, buying bangles has become a top priority. But, can you make a wise purchase when you have a whole market dedicated to bangles?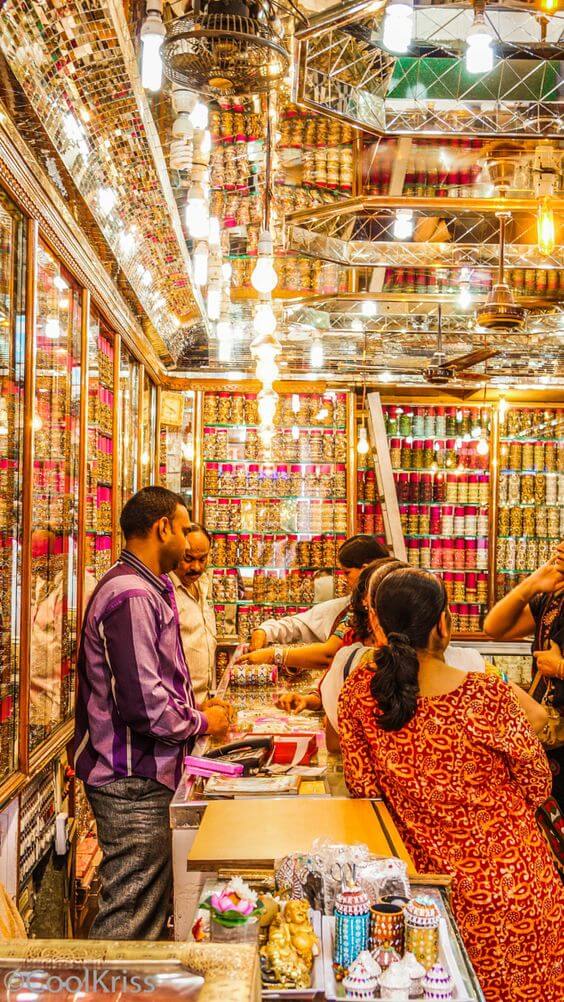 Laad Bazaar is mostly frequented by ladies during Ramzan, of course! Both sides of the street have shopkeepers lined up selling incredible sets of bangles or chudis, as locally known, each vying with the other to catch your attention. You will be awestruck by the designs and colors, more varied than you have ever seen in your entire life. The constant jingling and clinging sounds of bangles will enchant you to buy more. You better do it because you can never come across such beautiful bangles at a budget-friendly rate anywhere in India. The bangles pave the way for cosmetic and imitation pieces of jewelry lining up to entice you too!
So, plan your next few years and get all the matching sets for your future occasions.
4. A Quick Treat for Your Grumbling Tummy
Well! You really can't blame your stomach when aromas of Haleem fill your nose. Ramzan special night shopping will remain incomplete if you miss out on one of the worldwide famous Mughlai delicacies, Haleem.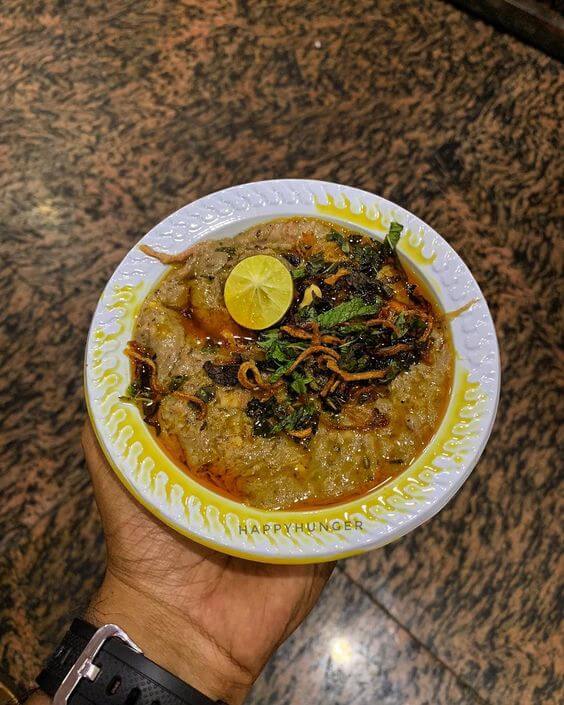 Charminar has always been the cornerstone of Ramzan food, and the city of Nizams will not keep you unsatisfied. So, without much ado, let's dig into a bowl full of steaming stew made of wheat or barley, meat, and lentils. The Dahi Wada, an Indian chaat comprising dahi and vadas, will look equally tempting. Take a dig at both and relish Hyderabad's Street food flavors.
5. Let's Redo Your Closest!
You would want to check the variety of apparel, shoes, and other wearables displayed in front of your eyes at affordable rates. Panther Gatti is a shopper's paradise, and rightfully so. All sorts of apparel, right from ethnic, casual, regular to party wear, are available here, including all sizes.
You can pick a few handsome-looking crockeries from this market too! So if you're looking for budget shopping at Charminar, you have the location.
6. Catch the Fragrance of Ramadan in a Bottle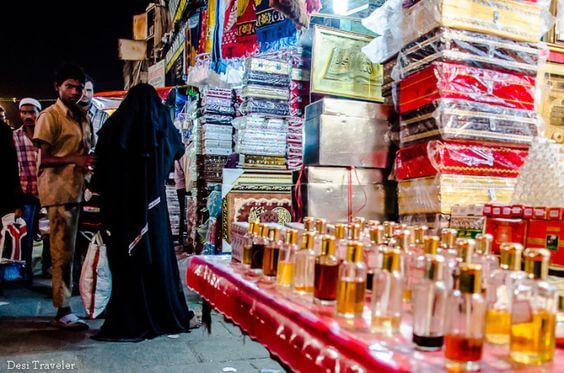 Ramadan shopping will remain incomplete if you fail to add Ittar/Attar to your list. Popular attars like Jannat-ul-Firdous, Kashish, and Anam are famous for their enchanting fragrance and should find a place in your closest.
7. Start the Day on a Sweet Note
Since Ramadan Night Market in Hyderabad stays open till the wee hours of the morning, you can end your shopping heist on a sweet note or begin the day in a sugary way.
As you step further from Chatta Bazar, you can smell the difference in the air. The fiery spices are mellowed down to a soothing sweet and Kesari smell of Seewaiyyan. This is one of the most popular and most cherished Indian desserts. But, its distant cousin, Sheer-Qorma, holds a special place during Eid and Ramadan festivals. The very sight will make you want more, so eat as much as you want. All are available at reasonable rates.
Charminar Night Bazar Timings
Even though the Charminar remains open to visitors from morning 9:30 am to evening 5:30 pm, the night market in Hyderabad during Ramadan continues to pulse with life till early in the next morning. Therefore, this festival provides immense short-term business opportunities to small vendors so that both the sellers and buyers can make the most of the festival.
You can always come back for more for the entire month as long as Ramadan continues to experience the vibrant Night Market of Hyderabad.
Latest posts by Fateha Firdaus Barbhuiya
(see all)