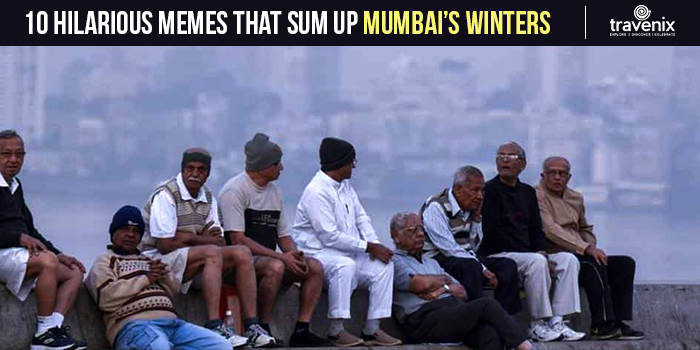 10 Hilarious Memes That Sum Up Mumbai's Winters
Kashmir wears a snowy look while New Delhi is already experiencing chilly mornings. Winter has arrived in most parts of India. But Mumbai is still struggling with sweaty weather. But that's normal.Talk to any Mumbaikar and you'll know winter only gives a guest appearance of sorts in the city. Mumbai's winters give a lot of fodder for meme-makers to fill the internet with hilarious jokes to lighten the atmosphere.
Winter… Almost!
Last year, the mercury dipped to 13 degree Celsius in Mumbai. For rest of India, that's just mild winter. For Mumbaikars, it was the lowest temperature of the seasons. Every year, Twitterati has a field day making jokes about Mumbai's winters. Here are winter jokes that will give you a fair bit of an idea about Mumbai's cold months.
Had to turn down the fan from 5 to 4 this morning. Winter is here Mumbai!

— Gappistan Radio (@GappistanRadio) November 21, 2016
When someone says it's cold in Bombay pic.twitter.com/ansjGIdHJH

— Damsel in This Dress (@secondofhername) January 11, 2017
Mumbai's definition of cold – "Aaj 25 degree se kam hai" #Winteriscoming #Mumbaicold

— TheDarkCat (@Andher_Billa) January 11, 2017
Winters in Bombay mean shorts and sunglasses in the day and then feeling cold at night cause you don't have a jacket and are in shorts with sunglasses #Bombay #MumbaiWinter #Winterishere #MumbaiProblems

— Rohan Hattangdi (@RohanHattangdi) November 18, 2017
"Itni sardi hai kisika lihaaf layi le
Jaa padosi ke chulhe se aag layi le"
Lyrics you could never relate to in Mumbai.#Gulzar #MumbaiWinter

— Arundhati Chatterjee (@Arundhati1312) January 11, 2017
Mumbai : temperature 20 degrees Celsius
People : omg is Mumbai freezing or what omg

Delhi :4 degrees
People :is baar itni thand nahin padi

— Pakchikpak Raja Babu (@HaramiParindey) January 11, 2017
Bombay is so cold, you can unfold your sleeves.

— Numbyaar (@NumbYaar) January 11, 2017
It is freezing in Bombay just like it is freezing in the Sahara desert at noon. I am still using the AC.

— Maneet (@maneet) December 28, 2016
Making a joke on Bombay winter is tough cause it gets over before you reach the punchline.

— jack tractive (@floydimus) January 11, 2017
Mumbai is the only city where Winters are declared when temperature falls below 16°C.

— Thain Thain Chikna (@Madan_Chikna) January 11, 2017
What do you think about the weather in Mumbai? Tell us about your experiences and share your opinions in the comments section below.
Latest posts by Vibha Sharma
(see all)