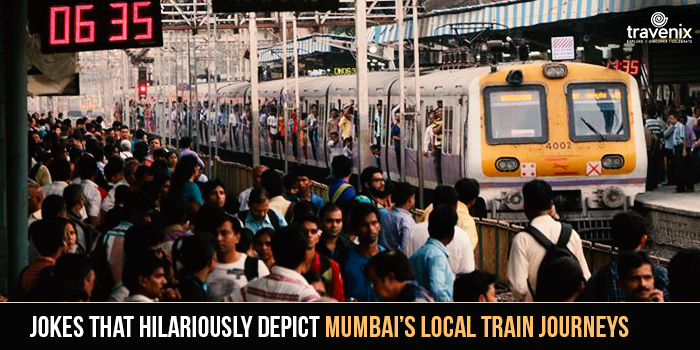 Jokes That Hilariously Depict Mumbai's Local Train Journeys
Mumbai's local trains get a bad reputation for its overwhelming crowd. Traveling in a Mumbai local train does come with its own share of problems, but it's accessible, cheap, and super quick. So, lakhs of Mumbaikars prefer to take the local train over braving the road traffic. Here are some Twitter users explaining hilarious what traveling in a Mumbai local train feels like.
Brace Yourselves!
If you are new to Mumbai and are still trying to figure out if it is worth using the local train system and how to survive in all the hassle of the commute, here is a quick guide to familiarize you with Mumbai local trains. It might seem overwhelming, but here are some jokes that will help you cope with the stress of traveling.
I have never strategized, analyzed or calculated my moves until I traveled in trains. #MumbaiLocal @mumbairailusers

— ASHLESHA MUMBARKAR (@iAshlesha) September 21, 2016
when You enter in local Train Compartment and reserve Seats for ur friends #MumbaiLocal pic.twitter.com/zge9G3982U

— piyush (@friendlii_ghost) November 22, 2016
Whenever I run on the treadmill I always image myself trying to catch a local train for a 9 am lecture #mumbailocal

— srishti rhea jayin (@HumHeroine) October 7, 2016
Virar trains are so packed..you might even touch someone's soul while travelling.. #MumbaiLocal

— Dadhiwala (@IdiocreLife) October 10, 2016
The Virar trains are so compressed that it should be renamed as we.rar #MumbaiLocal

— Jerry Bhai (@Jerrynomy) September 26, 2016
In Mumbai… 🤥

The Rain Is Not Measured In 'cm' Or 'mm' …

It's Measured In
"Train chalu hai ya band hai"… 😅#MumbaiRainsLive#MumbaiRains

— Savage (@sandytweetss) July 9, 2018
Interviewer: Can you handle pressure?
Candidate: I travel in #MumbaiLocal #Hired 😁

— Charanraj (@charanrajgolla) December 17, 2016
Everyday is a battle that you must give it all you got, or else all is lost. #MumbaiLocalTrain

— Uffo Uppu (@upasnicueta) March 5, 2014
Of all my #MumbaiLocal tweets,this is among the most delightful ones! A bunch of young men beatboxing, strumming & singing in an improm jam! pic.twitter.com/HUkdD9bnLC

— Blessen Varghese (@blessenv) December 12, 2016
Got some more wisecracks about Mumbai local trains? Share them with us in the comments section below.
Latest posts by Vibha Sharma
(see all)