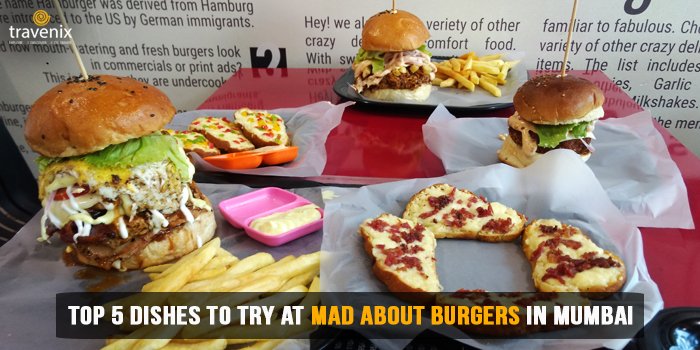 5 Best Dishes To Try At Mad About Burgers In Borivali
Our quest to find the best burgers in Mumbai led us to explore legendary cafes as well as newly opened ones. If you're anywhere near the Western Suburbs, we'd got some meaty burger suggestions for you. Check out Mad About Burgers in Borivali for some really affordable burger options!
Burger Attack!
This quaint cafe at IC Colony in Borivali West is great for those who aren't willing to compromise on food quality even when they have gone broke. There are only 3-4 tables there, but they have ensured that the seating area is well decorated with funky posters and illustrations.
We love how they've put in some effort in making the interiors pretty! We tried some of their dishes and here is our final verdict on them:
1. Triple Threat Burger
Dig those gigantic burgers that really challenge your appetite? Then the Triple Threat Burger is for you! This three-layered beauty is stuffed with three crispy chicken patties. Bacon and double omelettes fill the space between them to form a formidable food tower.
It's all glued together with a generous amount of cheese poured all over it. It's has all the right makings of a great burger, and the softness of the bread only adds to the list of things that go in the favor of this dish.
2. Freakshake
Freakshakes are always the answer when you can't decide if you want to go for a drink or dessert. They are a blessing, that let you have the best of both worlds.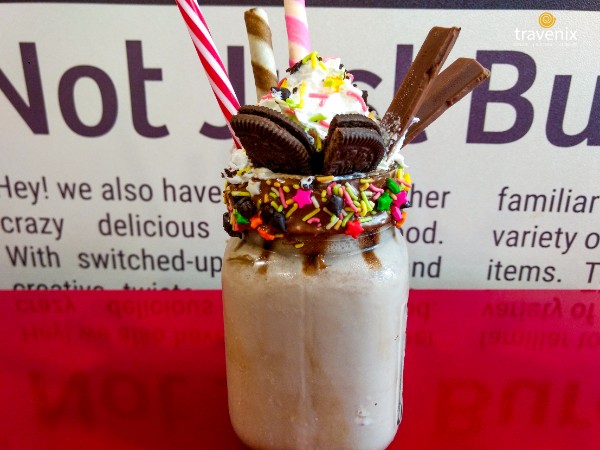 Mad About Burgers' freakshakes come loaded with ice-cream, kit-kat, oreo and some wafer rolls. It's a treat for chocolate lovers really. They have added rainbow sprinkles over it, which makes this freakshake an absolute treat for the eyes too!
3. Bacon And Cheese Garlic Bread
Few ingredients go together as well as bacon and cheese. It's not a surprise then that they work together really well even when you give it a garlic bread twist.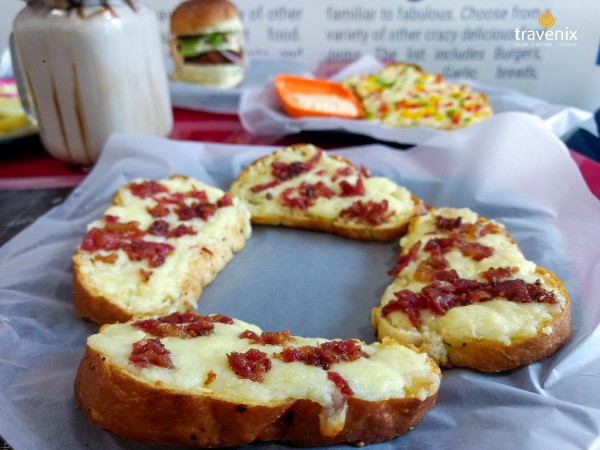 Melted cheese does the trick of adding some juiciness to the crispy toast while small bacon pieces take care of giving it a unique element. This Bacon and cheese dish just the right amount of sweet and salty, and melts right in your mouth!
4. Peppers And Cheese Garlic Bread
A simple yet impressive appetizer, this Peppers and Cheese dish is a flavorful mix that can be a great addition to any meal.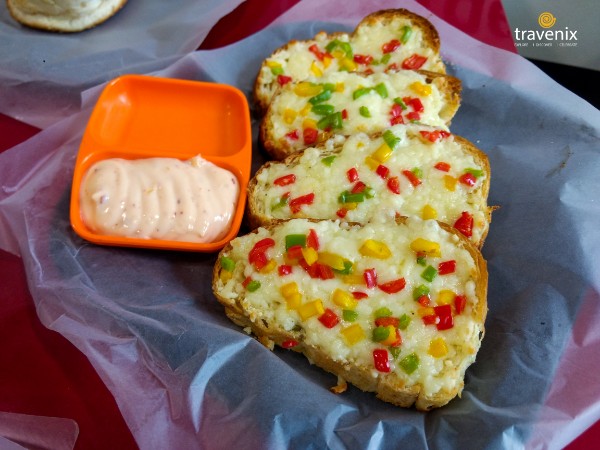 It's got a mix of green, yellow and red peppers – so it's pretty colorful too! It's balanced on the hotness scale despite all the peppers. So even if your spice tolerance is low, you can enjoy this appetizer.
5. Indo-Veg Burger
If you're a fan of desi burgers, Indo-veg Burger is sure to impress you. There is nothing complicated about this burger, but it's simplicity works for it. It's your average burger with a crispy patty and some veggies.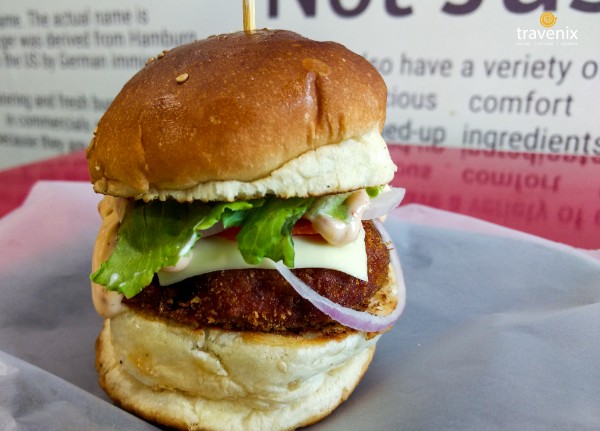 The only thing that sets it apart from the plain old veggie burger are the spices added to it. The spices aren't very strong though, so it won't leave your tongue burning.
We tried these five dishes, but there is a lot more on offer at Mad About Burgers. They've got more varieties of burgers, pizzas, garlic breads, milkshakes and more. Have you been to Mad About Burger yet?
If you have, tell us about your experience and give us some food suggestions in the comments sections below.
For those who are yet to try out their delicious burgers, plan a food trip there soon! If you don't want to step out in the Mumbai rain, just give them a call. They will deliver your food right at your doorstep. You can find them at Shop 12, Avirahi Homes, New Link Road, IC Colony, Near Sardar Vallabhbhai Patel college, Borivali West.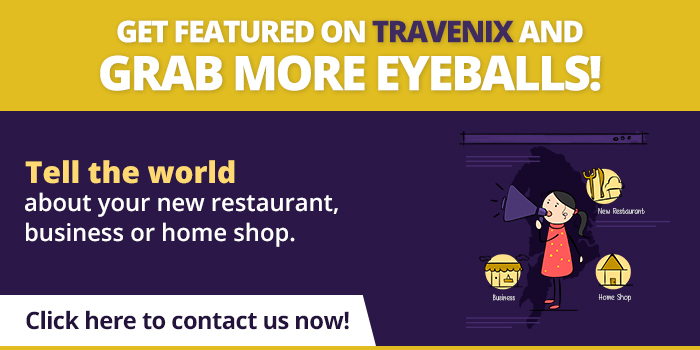 Latest posts by Vibha Sharma
(see all)